My name is Shelley
(And yes, that's with an "EY at the end, thank you)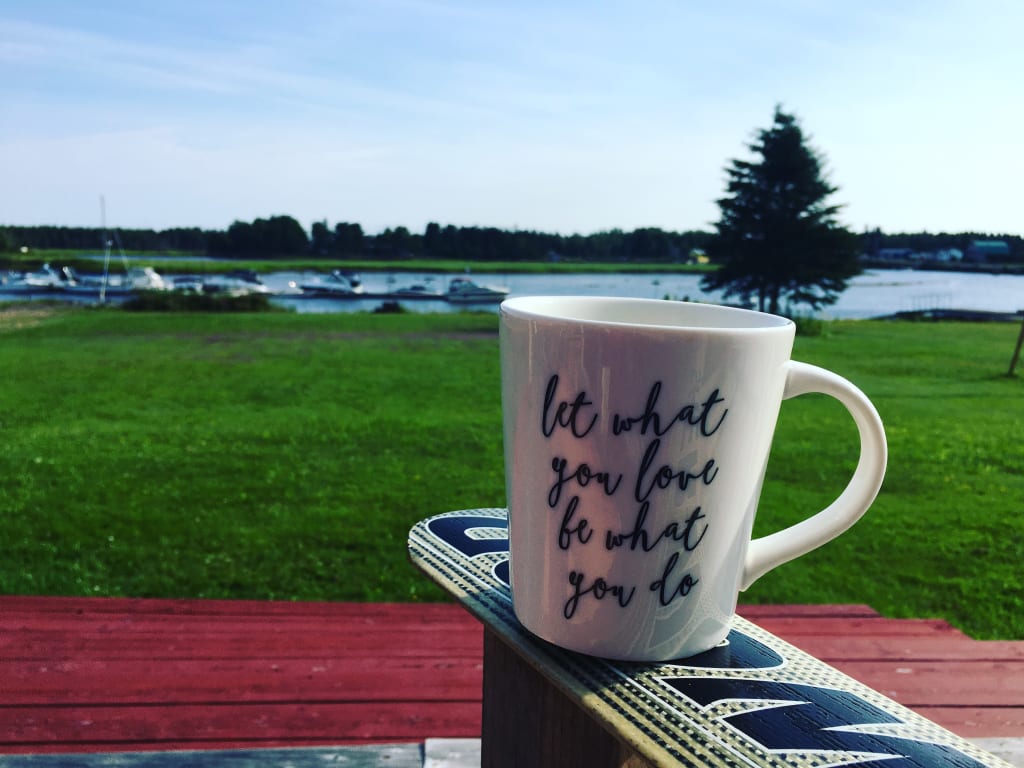 Let what you love be what you do… by any name!
On the morning of my 49th birthday, I FaceTimed with my parents and asked them to tell me about the day I was born.
It's not lost on me that I have such blessing and privilege to have been able to do so. Many of my contemporaries do not share in this and I am wont to both recognize it and express my own good fortune for it.
I was born on July 17, 1973 at 6:43 pm in Montreal QC. I weighed 8 lbs 11 oz and measured 21 1/4 inches. I was the first child born to Herbert and Joyce. They were in their third year as a married couple. Dad was 28; Mom was 23.
I remembered some of the details from past stories… that Mom had been hanging clothes on the line and a neighbour's cat walked by and brushed against her leg, frightening her… that once her contractions began, Dad decided to make some coffee and filled the kettle full of water, placing it on the stove, and turning the burner on low… that it was a Tuesday and a very hot day. These things I remembered being told.
But I was also pleased to learn a few new things… or at least be reminded of things that I'd forgotten. That, knowing things might take awhile, Dad opted to go into work that day. "Hmmmm," said Mom. "I haven't thought about that for awhile. I'm sure I'll bring it up to him again at some point today." That, it not being the common practice that it is today, Dad was not in the delivery room with Mom at the time of my arrival. Instead he was in the waiting room when the doctor came out to announce that I was a "spontaneous" or "simultaneous birth" (meaning that I was born breathing) and Dad first thought it meant that he was now the proud father of twins. That Dad first saw me in the nursery before he saw Mom. And that it was Dad who named me, clearly vetoing Mom's preference for "Petra". (Thanks, Dad).
"Wait now…", said Mom during our call. "You're not going to write about this now, are you?". At the time, I said no. But I've had some time to think it over since then and now it seems like a good idea. (Thanks, Mom).
My name is Shelley Eileen. My middle name is also the middle name of my maternal grandmother Bernice Eileen of Cape Wolfe, PEI. I was her second grandchild and the first born to one of her daughters. My grandfather Jamie had said at the time "We might have known the baby was coming… Bernice has been having birthing pains all day."
I have to write these things down while I can still have my questions answered. As Ringo Starr has been quoted, "tomorrow never knows".
***
Last weekend, it was my honour to accompany my partner Hal to Truro, NS to a ceremony of apology to the descendants of the 2nd Construction Battalion*, the first Canadian Black battalion to join in the fight in the First World War. The members were not given rifles to fight. Rather, they were given hammers and saws with which to build. They were not recognized as heroes much less as contributors upon their return home. The apology and the recognition for their contribution to the war effort has been 106 years in the making.
At the ceremony, I was privileged to sit beside Evelyn (Clyke) Borden. She proudly informed me that she will turn 95 years old next month. Several of her family members have served in the military, at least one of whom was a member of the 2nd Construction Battalion. Her husband and son, both named Charlie, have also served our country. Charlie Sr., aged almost 94 years, was also on hand that day and along with his son, marched in with the other veterans to mark the occasion.
Evelyn was quite chatty and sharp. She told told me that she was the eldest of 20 siblings but that she and Charlie "only had 9 children". As the ceremony went into its third hour, she told me "they keep talking about sacrifice… I don't think they realize that this is the longest I've been out of my house in 5 years. Every bone is my body is aching. You want to talk about sacrifice," she chuckled.
I asked her to share the secret to her longevity. She insisted that it wasn't good luck or good health but rather her faith in the Lord. She believes in His Plan.
When it was time to go, I bid her farewell. She told me in return "God bless you". I was touched, even by my own agnostic standards. She followed up with "and I'll remember you, dear. One of my daughters is also named Shelley". I smiled and asked "with an EY at the end?" She assured me that "yes, that's the right way to spell it".
No offence to the other "Shelleys" out there. But I firmly believe that Evelyn is correct.
Dad was onto something.
************
*I would encourage the reader to click on or copy/paste this link into your web browser to learn more about the 2nd Construction Battalion and the National Apology:
https://pm.gc.ca/en/news/news-releases/2022/07/09/prime-minister-delivers-apology-descendants-no-2-construction
About the Creator
Ms. Carroll is a 40-something year-old veteran public servant and mother of three adult children. She and her partner Hal live in Amherst NS with a sweet, anxiety-ridden rescue dog. Shelley loves running, red wine, and laughter.
She/Her
Reader insights
Be the first to share your insights about this piece.
Add your insights