My Five-Star Experience
A day inside the five-star hotel
For the first time in my life, I visited and stayed in a Five Star Hotel in India. This visit happened last month, at Grand Hyatt, Kochi, India. Even though I have stayed in a Five Star Hotel in Bangkok as part of a tour package, this is for the first time I have ever gone inside and had an overnight stay in a five-star hotel in India itself. That too in my home city of Kochi, where I never stayed in any hotel because I already have a lot of houses of friends and relatives.
Aim of the article
This article is not meant for showing or flexing myself. This is just an article based on my experience and also explains some things which I found exciting and interesting. Also, this article is also aimed at people who may not be able to go to a five-star hotel but are yet able to read and comprehend from my experience. For an average person from India, going to a five-star hotel is out of reach. A bit of info on how exactly you can get offers.
I would consider myself very privileged to have this once in a lifetime opportunity. For any person of middle class, it is not possible to stay in a five-star hotel and it is very expensive. Maybe they get opportunity rarely if they are able to save a lot and maybe if they opt it on a tour package. Other than going there for a purpose, it is impossible for any average person to just go there for relaxing or for leisure.
Dream comes true
There are only 15 Five-star hotels in the entire state of Kerala, of which the majority are in Kochi only. So that is like a rare case where you even have access there. Every time, I used to take the route near Grand Hyatt, I could see the massive building on the lakeside made of glass and having lit at night. Never had I thought that I would be here sometime soon. It was out of reach for me and my family. Maybe I used to believe that there would be some kind of conference or programme which would be there, conducted by someone or an organisation and I could at least attend that. I often have seen a lot of programmes and events being held there on TV and News. Often have seen YouTube videos on their grand buffets as well. It was a haven for YouTubers, Vloggers and Content creators.
Behind the scenes
It was last year, post the first wave of COVID-19 that my mother and her colleagues from the office for a buffet dinner. Since the economy was down, and a lot of businesses were in crisis and were picking up, there were a lot of offers and incentives from hotels. My mother was a beneficiary of it and got a membership in Hyatt Diner's Club. That was the gold. If it was not for that my family would have never had the membership. That was the luck we had.
A few days later my mother informed everyone that she purchased the membership and we got a complimentary stay, discounts and also free movie tickets for entire family. This was the rare gem moment for us. What my thought was to redeem this when we are out on some trip so we can save a lot on the accommodation cost but that couldn't happen. For a long period, we couldn't redeem this offer as no one were free, I was in Bangalore and amidst all of this, we had to go through a lot of pain and grief. It was after a very long time of planning that we had to fix it last month and I think it was the best option we had.
It is not like you will get the stay as and when you like. You will have to register on the hotel app and also pre-book well in advance, they will have to accept it and assign you the entry pass. If it is a crowded time or weekend, things will be hard for you.
Experience
Starting from the time I woke up; I was excited about this special day. After a slow start, we started packing up for a day's stay. By afternoon, we packed, had lunch and set out in our car. The road we took was very good, National Highway 966A aka Container Terminal Road. Just a few minutes after the check-in time, we reached the hotel.
Guards at the gate examined our luggage and asked us to proceed for the hotel. Then as soon as we arrived at the entrance, staff followed our car, took it from us and parked it safe. Our luggage was kept on a trolley and they informed that we will get it at our room. All this VIP treatment was really novel experience. For a few minutes we waited in the lobby looking at the seats, the lights, welcome articles, and a lot more. My mother provided the booking details and ID proofs at the counter. There, we were provided with a welcome drink poured in a small cylinder glass. After our booking was confirmed, we got the room card key. Key details read room 337 and thus it was time to proceed.
There were multiple lifts, so we didn't have to wait much. Although, we couldn't press the 3rd floor and we got confused. Then only we figure out that we should show our card key and then only we will be able to press the floor number.
After a long wait, we arrived at the room. It had a massive window but no balcony. The weather was gloomy, hence there was no sunlight. But the best part of the room is you can see the heart of the city from the room- The Marine Drive. You can also see the backwaters, lush green areas of the Bolgatty island and a lot more. The windows had automatic curtains. With the joy of having reached the room, I and my brother jumped to the bed to test its comfort level. The TV was on with all info about the hotel, city, tourist info, restaurants and activities inside the hotel, etc. We could also preview all the Cable TV channels available. The bed was placed looking of the window, so we can recline and sleep watching the city. On the side, there was a sofa and working table with a night lamp which really impressed me.
The bathroom was very big, with a wash area, a bathtub, a separate toilet area and a shower area. The Bathtub is not available in Indian homes, so taking advantage of these if we are on such trips, is the best choice. In the wardrobe, there were bathing suits, an iron box and hangers. There was also a hot water electric kettle, coffee sachets and tea bags. We tried a cup of tea each and relaxed.
First one hour we just took time to explore the room, get comfortable and familiarise ourselves. Then we took the elevator to the top most floor to see a mesmerising evening view of the sea, with boats, after that, we decided to explore the hotel before it gets dark. We directly went to the lobby and saw a lot of snack stalls serving continental dishes. After that, we proceeded to the underground floor, which is located at the same level as the backwaters. You can see the ships, the container terminal and a lot more. Faraway we could also see the sunset. After a photo shoot and seeing the hotel transition from daylight to nightlight was fascinating.
On the same floor, there was a big lawn, a park and an indoor play area. Brother and I played table tennis and mini-golf, and also saw the Play station area. We didn't have enough time to play games. There was also a Thai restaurant which served Chinese and Thai dishes but it was out of budget for us. Outside the restaurant, as we waited to go back, a person dressed as an artist called me and said he will do a free caricature of mine. Within 15 minutes of waiting and me sitting still, he came out with a good caricature of mine. I must commend his artistic skills and also his mentality to do it for free.
After spending time on the lawn, park and taking photos we went back to our rooms. After some time, we decided to have our dinner from outside. In the car, we went out and ate yummy momos. It was really good and I suggest everyone have it at least once. As we came back to the hotel, we went directly to the room. I had a shower, interestingly that was the first time I saw two different knobs, one for controlling water flow and the other for temperature. It was a very compact user-friendly design. To my surprise, there were two shower heads, one normal and the second one over the head. So accidentally I got that experience of using a direct shower as well. Since we three were there for the stay, hotel authorities assigned an extra bed. I worked for some time, while everyone spoke to friends and relatives before falling asleep.
Next day, we woke up to a very gloomy da. It was lightly raining and that was when my brother and I decided to get into the pool. The water was too cold due to rain. Luckily, a staff informed us that there is a lukewarm water pool available. The water wasn't so warned but was much better than the cold-water pool. Even then we decided to get down into the ordinary cold-water pool, sit on the side, get few photos clicked. After pool time, we were provided with towels to dry up. We then head to the room, had proper bath and head for breakfast.
For breakfast, we preferred the buffet breakfast, which was a mix of continental and Indian dishes. There were different types of continental bread, jams, cereals, juice, jams, chocolate, eggs, sautéed vegetables, idly, paneer, puri, fruits, salads and a lot more. Indian dishes like dosa, parathas, and appam, were to be pre-ordered. I saw dosas were the star amongst North Indian Guests present there. Since I'm an ova vegetarian, I'm not going to focus too much on non-vegetarian dishes. For deserts, there were cake counters, waffle counters, cookies, cakes, and other sweets. In the beverages section, I really liked the strawberry shake. After the buffet, the chefs gave away Yakult's fermented milk bottles.
We all came back to the room took some rest and had to pack ourselves up to leave. It was close to 22 hours but never felt to leave. We gave away the luggage to the baggage section, completed the checkout and started roaming around in the garden, the lawn, poolside and clicked a lot of photos before getting out of the building. At the exit, we gave the token to get back to our car. After getting the car, we said goodbye to the building where we spend a day, not knowing if at we will be able to come back and stay here once more.
It was really a funfilled and exciting 24 hours. The weather was the actual spoiler but the good thing is that hot sun was absent to get us exhausted. The only disappointment is that we could have tried playing a few games if we had more time. Other than t
hat, I would say, a productive and energetic way of taking a break.
Tips and things to know before going to a five-star hotel
It is mandatory to present an ID proof while you book and check in to a hotel. It is also best to prebook the hotel and confirm the vacancy before going there. If you wanted a less chaotic and less crowded place, ideal to visit on weekdays. Use cards and memberships to avail of discounts and stay aware of where and what to spend before you get there. Don't forget your card key inside the room or lose it. Know the perks of your stay and complimentary items before you arrive to avoid confusion. For pool and other water activities, carry your swimming clothes, preferably synthetic. Extra beds will always be charged, more than three people cannot stay in one room, and it will depend upon the hotels. Before going to the buffet it is best to reserve tables beforehand and reach on time in the morning.
Pictures we clicked on our camera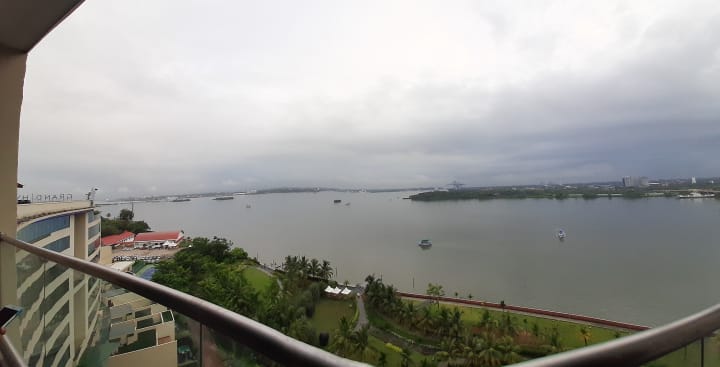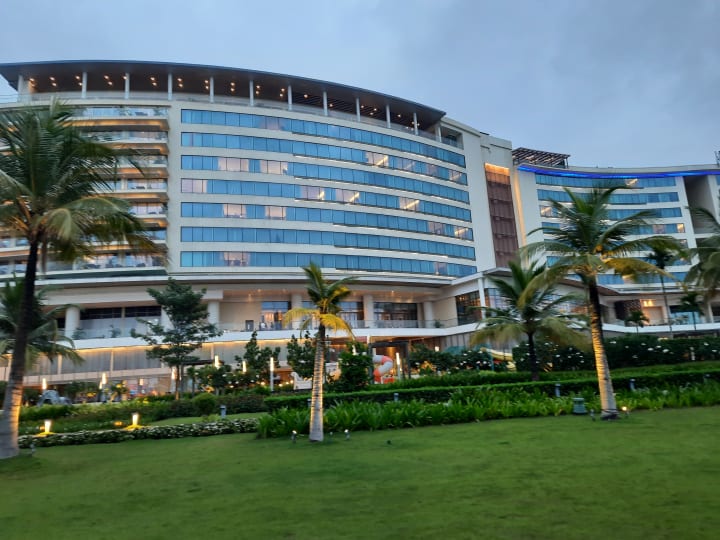 Hope you have a pleasant stay and a grand experience 😊
travel
About the author
Content Marketer|Engineer|Blogger|Podcaster. Political and International Relations Analyst|Writes on Science, Technology, Politics|Infodaily Blog and Journal of Knowledge Podcast|6 languages|Join on my journey to gain and share knowledge.
Reader insights
Nice work
Very well written. Keep up the good work!
Top insights
On-point and relevant

Writing reflected the title & theme

Easy to read and follow

Well-structured & engaging content

Expert insights and opinions

Arguments were carefully researched and presented
Eye opening

Niche topic & fresh perspectives

Excellent storytelling

Original narrative & well developed characters

Masterful proofreading

Zero grammar & spelling mistakes
Add your insights