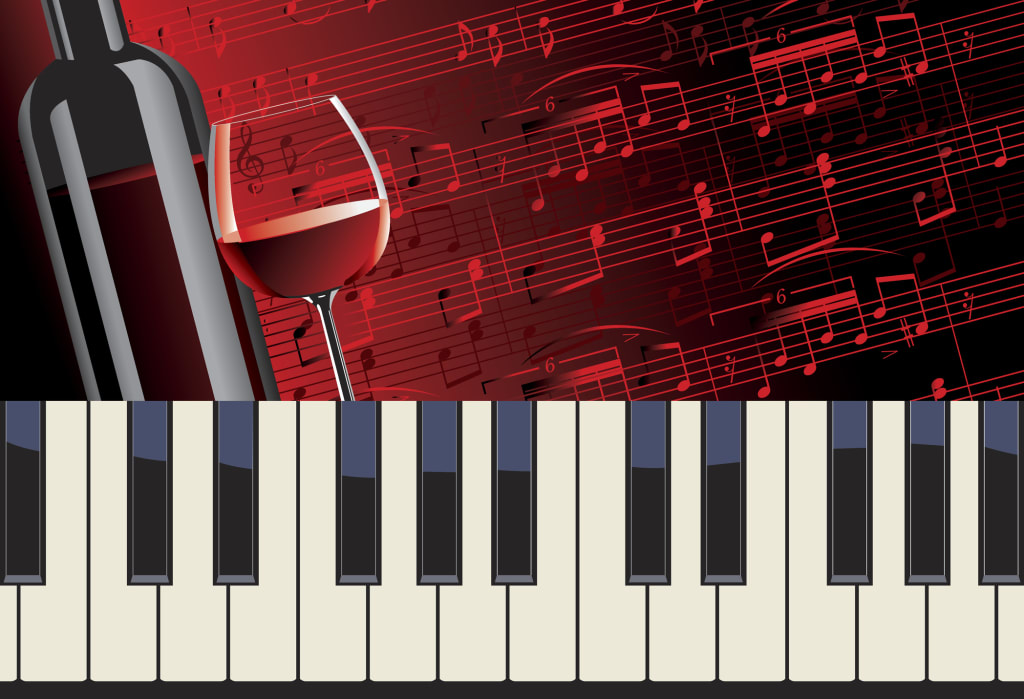 Photo by roripond
The dance floor lights filtered through machine created fog. The air was cool, and rave music pumped from the speakers. Despite the weekday evening, the dance floor was crowded with bodies wearing an eclectic mix of clothing and hair styles. Clare took a sip of her wine and started to turn her attention to her friend, Amelia. However, the commotion of a fight breaking out on the dance floor pulled her eyes back towards the dancers. Adding to the disturbance, a man pressing through the bodies in front of the bar, bumped into her, sending her red wine splashing onto her yellow, silk dress.
"Excuse me." Brad said, taking in her long, black hair and green eyes.
"You're fine."
"I can't say as much for your drink and dress."
"No worries. The dress is last season."
"Waiter. What were you drinking?"
"No really, It's okay."
"Merlot." Amelia said, winking at Brad.
Brad made himself comfortable on the bar stool next to Clare and ordered a glass of Merlot, and a beer for himself.
"You come here often?" He asked, watching Clare's eyelids flutter.
"No. Only when my friend can persuade me to get away from my blog."
"This is my first time here. And I have to say it's not to my taste."
"Oh. What brought you here?"
"Funeral." He said, looking down at the floor.
"Sorry for your loss."
"My sister, who I haven't spoken to in six years. I despise the man she married. I've been wondering why I even came to see her lowered into her final, resting place." He said, downing his beer, then, ordering another one.
"I'm famished. Do you know of any good place to get dinner?
"There's a Greek restaurant down the street."
"Will you be my guide?"
"I don't know…"
"She'd love to." Amelia said, raising an eyebrow at her friend.
"Are you sure you don't mind?"
"Of course not. The dance music is calling me. And I know you have an aversion to pub…"
Clare pinched Amelia's hand. She didn't want the handsome man next to her knowing that she loved to dance in private but was embarrassed to do it in public. She said good-bye, took a final sip of wine, then, headed towards the exit.
The winter air was cool, and a light breeze sent litter tumbling down the sidewalk. Clare brushed a few stray, hair strands away from her face, before, shoving her hands into the pockets of her long, black coat. The almost full moon shone bright until heavy, dark clouds, that warned of rain, passed over it. No words were exchanged as they walked in silence, and she wasn't as nervous about it as she normally was. She always felt the need to end any silence that permeated from a social gathering.
"What was your name?" She asked.
"Brad."
"I'm Clare."
They walked the remainder of the short distance without words, and just before reaching the shelter of the restaurant's entrance, a light rain started.
"Just in time." He said, opening the door and holding it until she was inside.
"Definitely. We need the rain. The Monsoon didn't bring much this year."
She walked over to a booth and sat down facing the front window, where she watched the downpour of rain accumulate along the sides of the street. She could have kicked herself for suggesting the restaurant. She didn't know why it hadn't occurred to her that it was the place where her husband had proposed, and she had accepted.
"I can see why you suggested this place. The candlelit tables make me feel like everything is going to work out." He said, running a hand across the maroon, crushed, velvet seat.
"Do you want to talk about it?"
"Not really. It's just, I felt driven to drink myself into oblivion tonight."
"It's difficult. Losing someone."
"I did love her. She made me so angry when she married that abusive man. And now she's gone because of it." He said, pounding a fist on the table.
"I'm so sorry. I had no idea." She said, raising her palm to her mouth and sucking in a breath of air.
"Tell me Clare. What loved one did you lose?"
"I uh, my husband was crippled in a vehicle accident. A land mine exploded. He was in the Army. He refuses for me to see him that way.
"Married?"
"Until the divorce is finalized. It's his wish that I move on and be happy." She said, wiping a stray tear from her cheek.
"Look at me. It's been two years."
"It's good to let it release. You don't want to go on a self-destructive, drinking binge.
"Wise advice."
When their drinks arrived. Clare drank all the wine from her glass, then, smiled at him.
After eating, another round of drinks was ordered because the rain was still coming down hard. She didn't want the evening to end, but the restaurant was closing soon. She felt it would be too suggestive of romantic entanglements to invite him over to her house. Still, meeting him was what she needed to feel alive and new, again.
"Can I persuade you to join me at the hotel I'm staying at? There's a beautiful, grand piano there."
"Sure." She said, delighted to not be going home to an empty house where the ghosts of her marriage still hovered in the closets, and in the pictures displayed in the living room.
The classical song he played was somber and moved her soul. The music brought bittersweet tears to her eyes, which threatened to slide down her cheeks. She felt like they were arranged to meet by angels from above. She had never taken the time to listen to solo, instrumental music and was fascinated by the clarity and eloquence of the tones. The piano's music was not a distraction like the pop, radio music she listened to. Instead, it beckoned her to be still and listen. When the song ended, she turned to face him, and he tucked a few stray strands of her hair behind her ear, tilted her chin upwards, and kissed her.
love
About the author
My educational background beyond the traditional, public schools includes an Associate of Mechanical Drafting and a Bachelor of Psychology. After being a numbers person for half my life, unfortunate circumstances put me on a fine arts path.
Reader insights
Be the first to share your insights about this piece.
Add your insights