Lychees
Second Place in Dads Are No Joke Challenge
Chicken Tongues and Unexpected Returns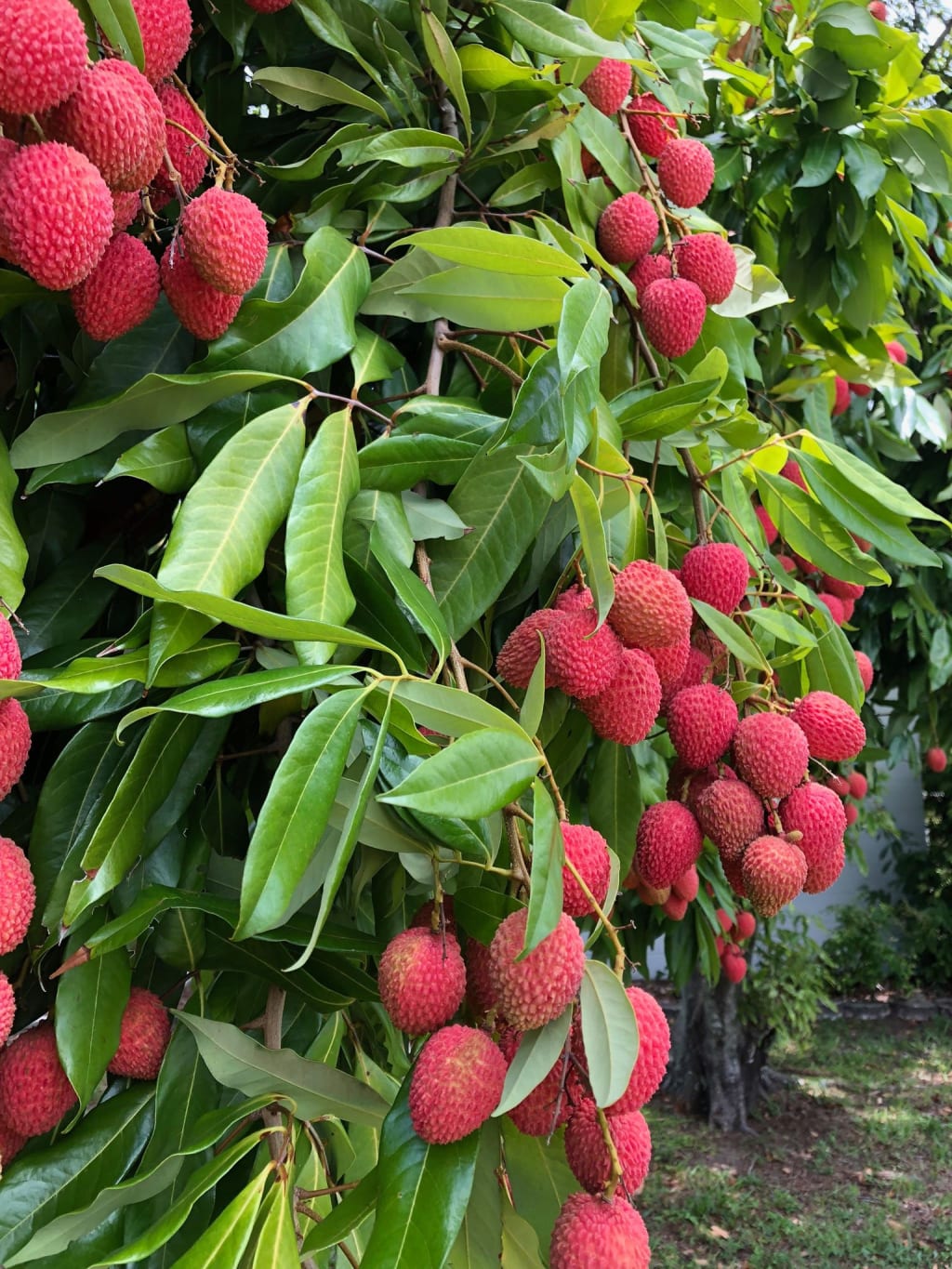 A lychee tree at my aunt's house, the summer the small grove sprung to life
She pops one into her mouth. The tongue works, the eyeballs widen, and a pensive look crosses her face.
"Hmmm… The texture is really… different. And the flavor…"
"Like a rose-flavored grape," I state definitively.
She agrees.
And so it begins.
One of my greatest joys in this life is sharing lychees with people who have never tried them before and partaking in their reaction. Not everyone likes them. In fact, many people are put off by their unexpected flavor and texture, significantly less predictable than the average orange. But that doesn't matter to me. I am sustained by the shared experience and the knowledge that I have provided someone with the unique gift of an exotic fruit, fresh from the tree, as well as the memory of summers spent with my dad.
Originating in China but grown in various warm corners of the world, the lychee, pronounced "lee-chee" and sometimes spelled "litchi," is a fleshy, oval or heart-shaped fruit about the size of a large grape or small plum. It is covered in a reddish-pink roughly spikey skin that peels off to reveal translucent white flesh with a nutlike pit in the center.
The sweetest lychees have the smallest pits and connoisseurs refer to them as "chicken tongues" because of the shape of said pit.
My father, an unexpected farmer of lychees, was always striving for chicken tongues and the joy that glinted in his eyes when he bit into one and discovered it as such made me smile, too. I say "unexpected" because he was a Depression Era-born Jewish cardiologist from New England come lychee farmer by pure chance.
A college scholarship followed by medical school took him to Nashville. Eventually, the purchase of a retiring doctor's medical practice brought him to the Gulf Coast of Florida in 1954. He fell in love with thoroughbreds in Tennessee and when he acquired his medical practice, he also bought a nearby horse farm. The farm contained a grove, and June meant mangoes, macadamias and fruit from 250 lychee trees.
My dad had discovered his own little paradise. He had never even heard of lychees before, let alone tasted one, but it was love at first bite. The farm was before my time. So, I grew up hearing stories of long-ago summers spent horseback riding, picking fruit off the trees and eating them along the way. But there was work involved as well. My father recruited the family to process the abundance of lychees and export them around the globe. By the way, it wasn't until I started discussing lychees with people outside my family circle that I determined the correct pronunciation since dad called them "lie-cheez." The "y" must've thrown him off. To this day, my 95-year-old aunt refuses to pronounce it correctly.
In any case, by the time I came along in 1978, he had sold the farm and the only remaining trees were the two he had planted in front of my aunt's house and one outside his office. This was usually enough to provide us with daily lychee-fests throughout June and into July. But these lychees were hard won. Crows, squirrels and other wildlife threatened our relatively small crop. The disdain my father felt for these creatures exceeds description. He was constantly searching for the right weapon- dangerous but not deadly- to deter the marauders. On a trip to New Orleans, he bought a wooden gun that shot about twenty rubber bands in one go. We were unsure if it was going to be removed from his carryon bag at airport security. And one of my most beloved memories of my dad was seeing him run out of his office, as always well-dressed in a suit and tie (and lab coat), cursing and dousing a murder of crows with water from a giant super-soaker.
Smell, taste and texture memories run strong and so deeply connect us to our pasts. For me, sucking the fruit off a lychee pit brings back a flood of childhood emotions; primarily, the joy of spending summers with dad and coming inside from the sweltering Florida heat to share in the pleasure of sitting at his table pounding lychees. The ever-present hope that this next one would be a chicken tongue. The joint exuberance when one or the other (or both!) of us was greeted with a deliciously sweet specimen, followed by that tiny, shriveled pit.
When I left for college, my father retired from practicing medicine. He decided it was time to plant another, albeit smaller, lychee grove. He assumed control of my aunt's backyard (not a lover of lychees herself, she was less than thrilled) and put down about a dozen trees. This work became his passion. I was told he was out there at all hours, perfecting the irrigation, fertilizing, or any other lychee-related task he deemed necessary. But lychees are finicky trees. The new grove took years to flourish, and my father's health was in decline. By the time I graduated, he was caught in the throes of Parkinson's Disease and the ensuing dementia. When he died in 2007, the new trees were young.
His death, while expected, was shattering to me. The lychees couldn't be further from my mind.
I still lived in the state, but not close by. My now elderly aunt could not tend the grove. The large, old tree in her front yard continued to yield a good crop when the weather was forthcoming, so on an ample year, the inevitable farmer would knock on her door and offer to clear the tree and pay her by the pound. From that harvest, myself and a few other loved ones were given all the lychees we could eat. Or, in my case, eat and gift.
In my time, I have introduced hundreds of people to lychees. The array of reactions has varied from sheer delight and burgeoning addiction to utter disgust. I love it all. It is a fun game to try to guess who will like them and who will not. But I relish being surprised when I am wrong.
And I believe in karma.
Several years after my dad's passing, I moved back to the town where I grew up. By then, the fledgling lychees had matured and were producing fruit, though not very much. Then, one summer, upon visiting my aunt, I noticed a couple of the trees in her backyard were on fire with fruit. And more were about to be.
Throughout June and July, the trees produced like never before. I was outside every day gathering what I could, eating some, and providing other people with the rest. Several bags went to my friend who directs a sea turtle watch and rescue and she shared them with her volunteers. A few more bags went to neighbors up and down my street. Some bunches were express shipped to friends on the West Coast. I even provided about ten pounds to a local restaurateur who incorporated them into cocktails and recipes.
What I realized was that my dad had planted multiple species which ripened at different times, so we would have a variety of types throughout the summer, many of which were chicken tongues, no less.
What an amazing and unexpected gift. One that gives and never takes. Representative of my father's love. And my love of gifting.
My aunt no longer lives at her house. She sold it last year. When it went on the market, I assumed (with great sadness) that whoever bought the property would cut down the trees and dig a swimming pool. This is Florida. But, alas, according to my aunt, the man loved lychees and the trees remained!
So, I gathered some bags and took a drive to her old house the other day, determined that if there were any lychees I might be able to convince the new owner to share. As I approached, I looked beyond the roofline, hoping to see the crests of the trees in the back lined lychee-pink. Unfortunately, a long, cool spring meant a bad year for the fruit and the branches were bare.
But the trees remain and this is not the end. Future years may yield even greater bounties. The gift of the grove itself was unexpected. Just like when my father purchased his farm, all those years ago. Just like the random surprise of a chicken tongue.
And so it goes.
humanity
About the author
Reader insights
Outstanding
Excellent work. Looking forward to reading more!
Top insights
Excellent storytelling

Original narrative & well developed characters

Heartfelt and relatable

The story invoked strong personal emotions

Eye opening

Niche topic & fresh perspectives
Add your insights