Lizzie's Mokacar
Through the Eyes of a Child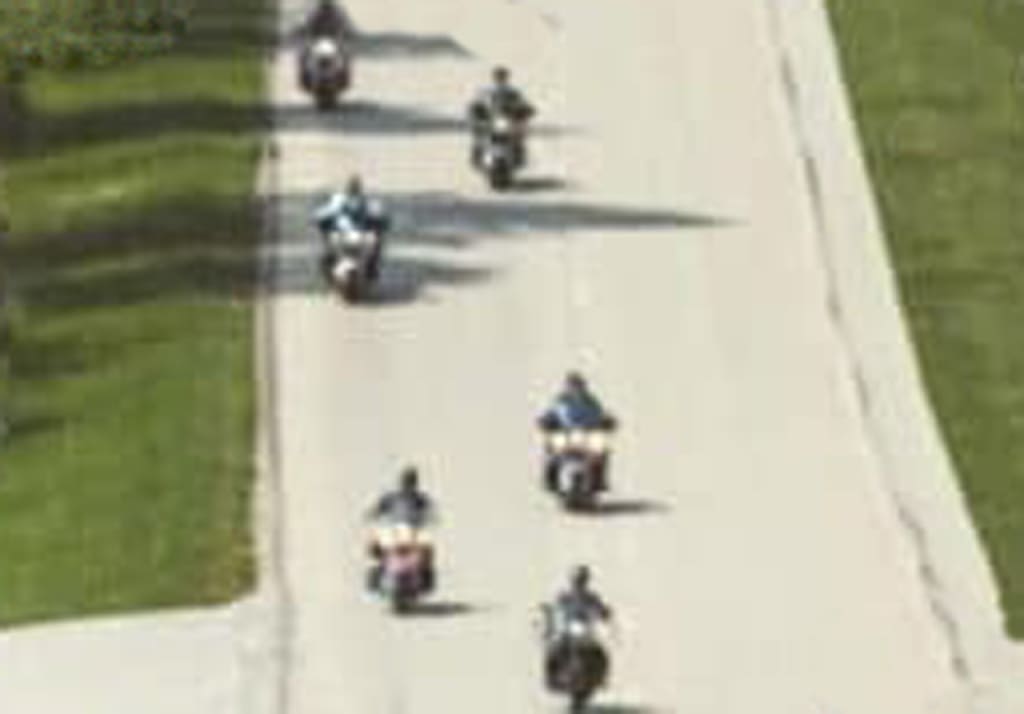 When I was a kid, we seldom saw motorcycles on the streets of the part of Brooklyn where I lived. Most motorcycles were seen in the movies. We would hear of the escapades of "bikers" from the newsreels. You know the kind: those stereo-typical leatherjacket wearing toughies that you know where just looking for trouble. It was just that era of movie sensationalism.
As time passed and times changed, motorcycles became more noticeable and alluring. Still, not many young people owned one; they enjoyed their cars where they could stuff their friends in the backseats and go to drive in restaurants and movies.
However, again, as time went on, more and more motorcycles were seen on the various city streets more as a means of transportation than recreation.
We were a young, innocent generation back then in the late 40s and early 50s. However, we were also impressionable.
The more motorcycles we saw on the streets, the more problems we anticipated. Yet, my little neighborhood of Greenpoint, seemed to stay quiet. Nonetheless, we had our trouble-making teens but as I said earlier, they enjoyed their cars, not motorcycles.
In the beginning, in more of the suburban areas, those who could afford motorcycles had dreams of emulating James Dean.
And yet, as time passed, all those James Dean wannabes, grew up. Where did the time go? It sped by so quickly, before we knew it, those dreamers calmed down and became family men. They began to shake the image that for so long, they wanted desperately to adopt.
If they kept their bikes, it was now to form clubs where they could just go for rides on weekends. During the week, it was cars that took them to work and back home. Cars also enabled them to take their families on summer picnics. Couldn't do that on a motorcycle.
James Dean wannabes no longer existed. They turned into the Ozzie Nelson's and Robert Young (Jim Anderson, Father Knows Best), or Lorne Greene (Ben Cartwright, Bonanza) or a host of other wonderful, understanding TV fathers.
After my sister and I married, I moved to Long Island and she down south. We managed to visit each other every few months, but August was the big family vacation. Our parents would rent a house in Virginia Beach, and we'd all plan our vacations around that time.
One year, my niece had just turned two years old. My sons were eight and ten. Being with Lizzie gave us a chance to see the world, once again through the eyes of a child.
Being not much more than a baby, she still had trouble pronouncing certain words. Wadis, we realized was what's this and wook was look and so on.
We enjoyed her innocent curiosity on so many things. On the beach, she'd grab a seashell wanting to know wadis as she screamed with fascination when a small crab crawled out of it. She'd giggle with delight as the ocean waves rushed to shore and tickled her feet.
One a hot August afternoon, we were about to walk across the street from the beach to the rented house when we heard a loud roar thundering down the road. As the roar became louder and its cause a lot closer, we knew without looking several motorcycles were approaching.
Not knowing how fast they were going, we decided since Lizzie was a toddler, to wait until they passed. We weren't going to put her in harm's way should the bikers be going faster that we'd anticipated.
As the bikers grew even closer, Lizzie began jumping up and down, waving vigorously, while screaming, "Mokacar! "Mokacar!. Wook, a Mokacar!"
Where she found the name "mokacar," we have no idea, but it didn't matter what name she used. We knew what she meant – and so did the bikers.
Then to our surprise, lead biker, saw Lizzie and raised his hand signaling the other behind him to slow down.
The bikers whose ages seemed to range from eighteen to fifty, both men and women, slowed to almost a crawl. As they passed us, every rider pointed to Lizzie, waved back, and hollered, "Hello, little girl!"
Two of the bikers, actually made a complete circle which enabled Lizzie to scream louder in her excitement.
My family stood in awe.
First of all, we never expected a group of vacationers to notice us, never mind a screaming little toddler. But they did.
Secondly, not only did they notice us, but they made Lizzie's day better than it was by giving her special attention. She babbled for hours about the "mokacar" and the people on them.
Not only did these awesome people make Lizzie's vacation more special, but they also did that for our vacation as well.
We also realized that we can never judge people by how they look or what vehicle to use for transportation. Lumping people into one group is like saying that all foods taste the same. After all, it's food – forget about whether or not it's chicken, or beef, or pork.
Gone were the days of "Biker Bullies" and in rushed the days of the every-day person.
Gone were the days of stereotyping people by gender, race, religion.
From the eyes and enthusiasm of a child, we learned that while we are all different, we are all the same in the eyes of God and a child.
We are just different enough to make the world a more interesting and exciting place to live.
humanity
About the author
I am a 75 year old grandmother who loves to write, fish, and grab my camera to capture the beautiful scenery I see around me.
My husband and I found our paradise in Punta Gorda Florida where the weather always keeps us guessing.
Reader insights
Outstanding
Excellent work. Looking forward to reading more!
Top insights
Compelling and original writing

Creative use of language & vocab

Easy to read and follow

Well-structured & engaging content

Eye opening

Niche topic & fresh perspectives
Add your insights