Life to 5th January 2021
Bad manners, Virginia Woolf, electric hearses, new car, the New Scientist and wasps causing air crashes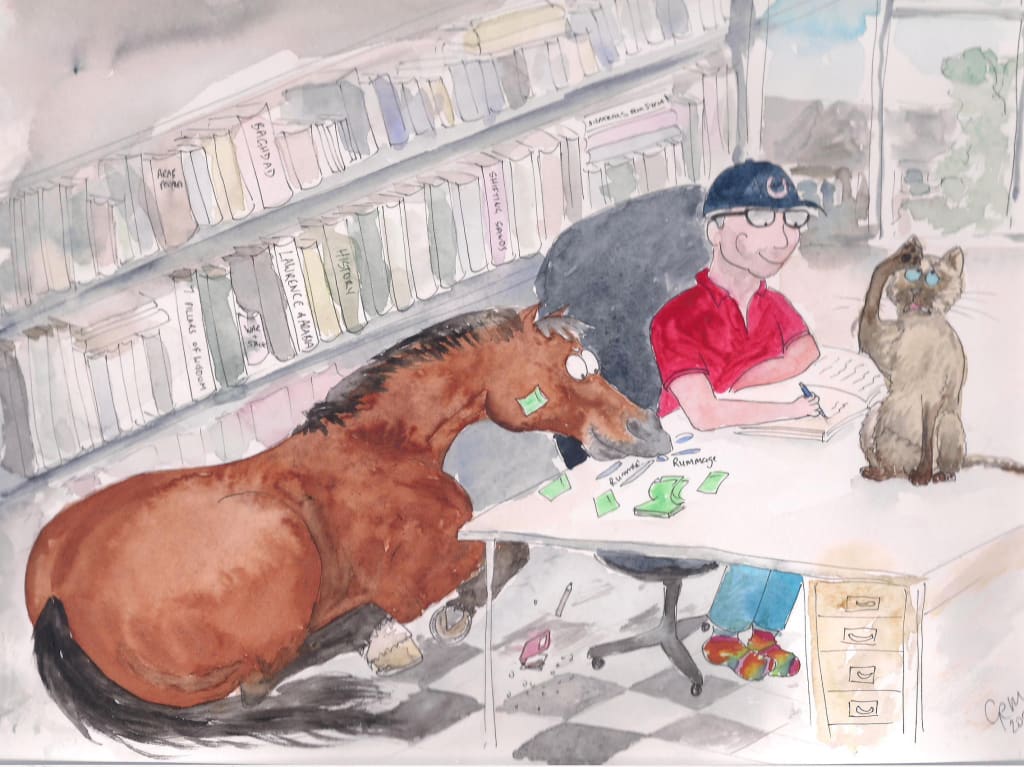 Thanks to the much talented Gemma Gill of Peg's Pony Pictures
Oh well, here we are waiting for midnight to strike heralding the imposition of a national lock down here in England. Deja vu; again.
BAD MANNERS
My parents ingrained in me, before the age of the email and text, the etiquette of always responding to letters. Some one has taken the time and trouble to put pen to paper they would tell me, so it is only right to respond to them in turn.
I will give full marks to our local Member of Parliament(MP) who, although we disagree on pretty much everything he stands for, he does respond to every question or comment I make. I even think I riled him once as his reply was handwritten on House of Commons note paper and the pen had been pressed so hard the ink indented the paper to the extent that his full stops were holes.
Over the weekend the Rt Hon Suella Braverman QC MP and currently Attorney General in the Government was quoted as saying:
"The thousands of judgements handed down by the Luxembourg court every year...."
And she goes on referring to those judgements impacting on competition, health and safety, manufacturing and the environment.
The court she is referring to was established in 1952 and between then and 2019 passed judgement on approximately 40,000 cases. That is 40,000 judgements over 67 years which by my reckoning gives an average of approximately 600 per year. That hardly counts as the "thousands" the Rt Hon Suella Braverman is referring to. Even as recently as 2019 there were less than 2,000 judgements made.
I have contacted her asking how she arrived at her numbers but to date there has been no reply.
How rude!
It may feel that writing to politicians is an exercise in futility but, Virginia Woolf summed things up in her book "Three Guineas" being convinced we should write to these people:
"...in their home haunts and prod them (him) if even with the end of an old inky pen."
PS The Attorney General is an ardent supporter of BREXIT and therefore anything institutionally derived from Europe and the EU is an anathema to her.
GREEN TO THE END
The green revolution has extend further into the undertaking business.
A company here in the UK, Coleman & Milne, has produced the first British battery powered hearse with zero emissions based on a Tesla vehicle. It comes with a price tag of £150,000 ($200,000) and boasts can "deliver efficiency and elegance in harmony with social change". Its name is the "Wisper".
NEW CAR
We have acquired a new car. That is new to us as it is preloved. Much to Omar's annoyance it is another "Red Thing" hence the name "Red Thing 2", is not the discrete limousine he was longing for and to add insult to injury it is classed as an SUV.
LEISURE READING
Apart from the continual flow of books into the house for reading there has been a build up of copies of the New Scientist.
When I first saw this magazine I wondered if I would be able to understand its contents and if my wife, who bought it, had wasted her money. The articles do cover some esoteric subjects such as "hyper-systemisers" which have been the driver to our sense of innovation and invention as a species or, the possibility that AI can be developed to read our emotions. Both of these cited articles are written to be accessible and understandable. At the other end of the intellect scale is a short piece about how wasps can bring down aircraft. Not by a swarm creating an airstrike but by building nests in the pitot tubes located inside the engines for measuring airspeed giving pilots misleading airspeed indicators resulting in crashes.
Apart from the continual flow of books into the house for reading there has been a build up of copies of the New Scientist.
From that inflow my books on the go are "The Wild Silence" by Raynor Wynn; a sequel to her debut best seller "The Salt Path" which I can highly recommend for anyone questioning the value of materialism. I am having trouble with "The Wild Silence" as the author writes through a lot of time shifts and a couple of times I have had to reread parts to sort out the sequencing and context of the stories. And "A Promised Land" by Barack Obama where have only got as far as where he dropped the bombshell of running for the Presidency on his wife who was worried about their credit card accounts. I heard him reading extracts from this book on the radio and he has one of those rare voices that is so easy to listen to so I keep that sound in my head when I am reading his book.

Alan Russell
I am a very lucky person. I live in a beautiful area,the New Forest,have a happy home that I share with my wife and two felines. More,much more than this I travel many highways,to interesting places and meeting interesting people.Carp diem.
See all posts by Alan Russell →