Wicca religion, paganism and witchcraft are three different concepts
During the last few years the United States has experienced an incredible growth in the number of followers of polytheistic religions. Those who profess pagan beliefs exceed one and a half million people and continue to add followers. Most of them grew up in families of monotheistic religions such as Christians, Catholics, Jews, etc. As time went by, they became disillusioned with the religious education they received and began to follow the Wicca religion, to have pagan beliefs or to practice witchcraft.
Today it is possible to come across a Wiccan believer, someone who has pagan beliefs or performs esoteric rituals. In this context, it is easy to get confused and believe that the Wiccan religion, paganism and witchcraft are the same. In reality, they are three different concepts and each one has its own particularities. Basically Wicca is a polytheistic religion, paganism is a varied set of beliefs and witchcraft is an esoteric practice.
Below, learn more about these three concepts to understand the new trends in faith and religion.
Wicca Religion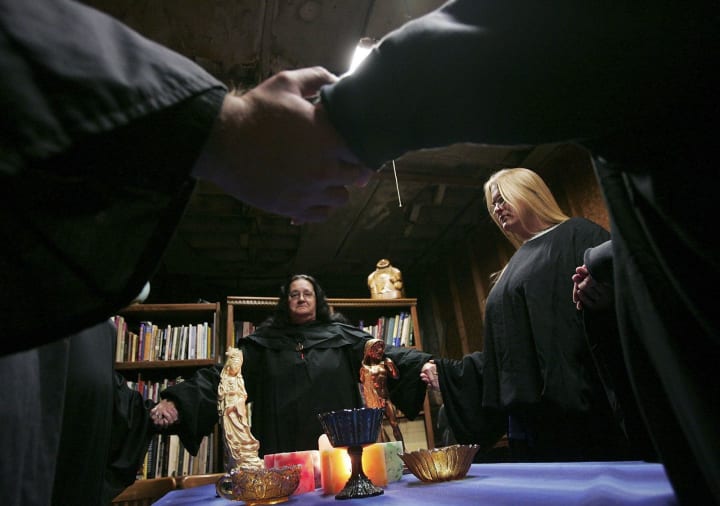 The term Wicca designates a neo-pagan religion that originated in the first half of the 20th century in England.
The Wiccan religion is related to magical practices and many principles of ancient polytheistic religions. For this reason, monotheistic religions often link it with satanic practices. However, the figure of Satan is not part of the mythological imaginary of Wicca.
This pagan faith was introduced by the British Gerald Gardner in 1954 and continued by Doreen Valiente. It is a duotheistic religion, since it accepts the existence of two gods: a female goddess known as the Moon Goddess or Triple Goddess, and a male god known as the "horned god".
The Moon Goddess or Triple Goddess represents the maiden, the mother and the old woman. In turn, these symbolize the phases of the moon and the rule of heaven, underworld and earth.
Paganism
Paganism refers to the practice of polytheistic religions that are not accepted by Christianity, Judaism and Islam. Originally, the term pagan comes from the Latin "paganus" which means "inhabitant of the countryside".
The application of the term "paganism" to polytheistic religious practices is related to the officialization of Christianity, a religion that was formally established in the 4th century. When Christianity became official, it was quickly incorporated into the urban centers of the empire. However, its expansion to the more remote areas of the countryside took longer, so that they practiced polytheism in parallel to what was happening in the political centers. In principle, paganism refers to the practice of polytheistic religions, considered false. Paganism is not a religion in itself, but a set of beliefs. In this case no particular doctrine is followed, but each individual is responsible for his actions.
Witchcraft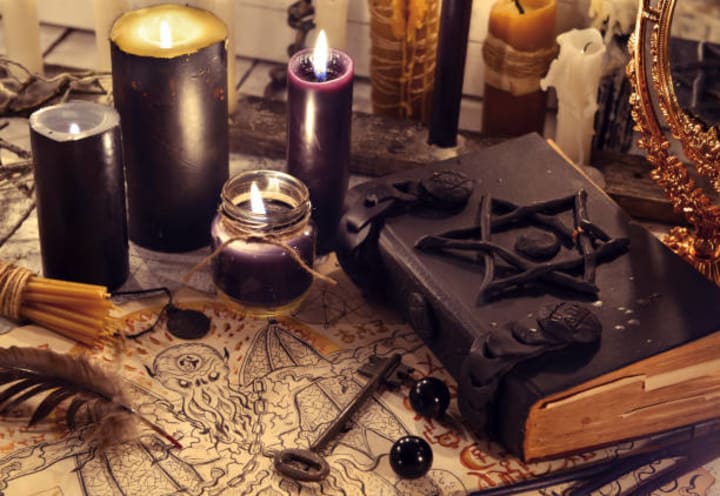 Witchcraft is the art of invoking spirits to achieve any goal. Witchcraft is associated with magical, ritualistic arts and paranormal events. The word witchcraft derives from witch, which refers to a woman who practices rites and activities considered magical or inexplicable. Witchcraft appeared in the mid-13th century to designate those people, especially women, who were believed to have powers to invoke the devil.
Witchcraft was celebrated in meetings of witches who supposedly invoked the devil. These meetings were called covens. In them, pagan rites were celebrated that were believed to include the practice of sorcery and the creation of potions.
Witchcraft or magical practice is divided into two main groups, according to the nature of the intention: white magic, which are practices that include spells that are not intended to do harm. On the other hand, there is black magic, which consists of rites that have bad intentions and seek to affect another person negatively.
It should be noted that not all Wiccans are witches even if they practice some kind of magic. Pagans have diverse beliefs that belong to different religions and not all of them are Wiccans. Those who practice some type of magic can belong to any religion, even one that is monotheistic. The practice of spells does not require adherence to any particular religion.
About the Creator
Journalist.Content Creator. Media Lover.
Pop culture content made with ♥♥ in Buenos Aires City.
Reader insights
Nice work
Very well written. Keep up the good work!
Top insights
Expert insights and opinions

Arguments were carefully researched and presented

Eye opening

Niche topic & fresh perspectives
Add your insights