Lamenting Yellow Peril During AAPI Month As We Face Evil And Rise
Because Hope Comes in the Mourning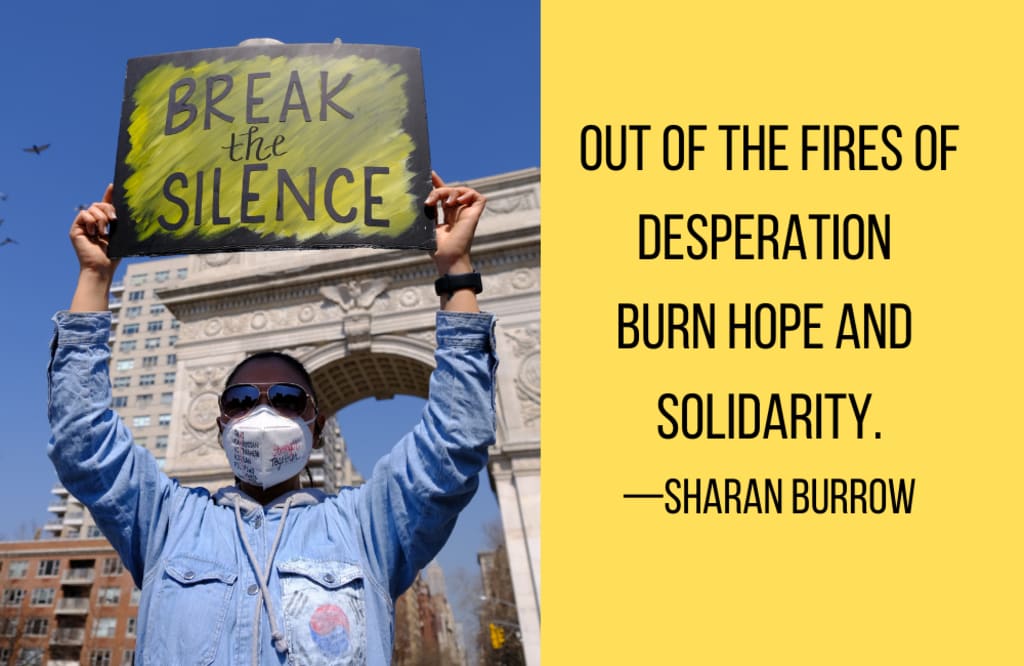 Created in Canva by Nancy Blackman
If you didn't know, there was another Asian Hate Crime in Dallas last week. A man walked into a hair salon and began shooting. I happened to wake up to this news on Thursday morning. It felt like another punch of fear to my gut as I thought about another one of my sisters (자매), brothers (형제), aunties (이모), or uncles (삼촌) fallen prey to evil. Another terrorist thinking that all Asians look alike? I'm not sure where this hatred comes from. But I know God, and with God I face evil and rise.
But before I can rise, I lament. I groan and I cry my prayers to God.
The three victims were Korean women who worked at the salon. They are all doing fine. One of the women had a four-hour surgery, but she is doing well.
But all of that does not remove the mourning and grief of another Asian fallen prey to the hands of evil. This is also just outside the anniversary of the Atlanta shootings last year. If you have seen news regarding AAPI (Asian American Pacific Islander) hate crimes, there has been an over 300% increase in hate crimes since COVID began.
"An elderly Thai immigrant dies after being shoved to the ground. A Filipino-American is slashed in the face with a box cutter. A Chinese woman is slapped and then set on fire. Eight people are killed in a shooting rampage across three Asian spas in one night." —BBC News
You can nod your head. You can say to yourself, "of course." Whatever that means to you, it doesn't remove the yellow peril, which, by the way, is a phrase coined by Jacque Novikov in the 19th century as racist ideology of "core imagery of apes, lesser men, primitives, children, madmen, and beings who possessed special powers."
In case you didn't know, Asians come from a variety of countries—Afghanistan, Armenia, Azerbajan, Bahrain, Bangladesh, Bhutan, Brunei, Cambodia, China, Georgia, India, Indonesia, Iran, Iraq, Israel, Japan, Jordan, Kazakhstan, Kuwait, Kyrgystan, Laos, Lebanon, Malaysia, Maldives, Mongolia, Myanmar (Burma), Nepal, North Korean, Oman, Pakistan, Philippines, Qatar, Russia, Saudia Arabia, Singapore, South Korea, Sri Lanka, State of Palestine, Syria, Tajikstan, Thailand, Timor-Leste (East Timor), Turkey, Turkemistan, United Arab Emirates, Uzbekistan, Vietnam, and Yemen.
Are you surprised? Yes, there are 48 countries that reside in the continent of Asia, which means that all people from these countries are considered Asian, but it seems that Asian Hate Crimes seem to focus on those individuals who are descendants of East Asia and Southeast Asia.
In other words, the hate is pointed towards individuals who have almond-shaped eyes and yellow/brown melanin.
Since I happen to be biracial Korean, this affects me deeply. It shifts my energy and thoughts to fear and having to look over my shoulder when I go out.
But I don't like to live in fear, so I ...
Face Evil And Rise
I rise with hope. I rise with the knowledge that hope exists through all layers of evil. It doesn't mean that it's easily attainable. Sometimes when there is long term trauma, it takes time and help from professionals and/or leaning into your faith.
Psychology Today published an article about lament being a good thing because (and I agree) the process of grieving is healthy. It is through the process that you see hope on the other side.
"Lamentation, then, is essential to psychological health, and is often the main pathway to personal growth, to greater equanimity, compassion and wisdom." —Larry Culliford
How You Can Be an Ally to The AAPI Community
• check in with people you know: an email, text or phone call can be the encouragement and knowing that someone cares.
• offer a listening ear
• offer to help with errands or better yet, accompany an AAPI person
• participate and stand up instead of being a bystander: stand up if you witness any hatred — The Right to Be organization has an upcoming one-hour training on June 2, 2022. It's free, too!
• share stories and amplify content on your social media
• be an advocate: contact local elected officials in your community to let them know that racism and hate crimes demand action from them and other governing officials.
• report hate crimes to Stop AAPI Hate: Many Asian victims won't report crimes because of the ever-prominent shame culture.
• learn more about the history of Anti-AAPI racism: dismantle the Model Minority Myth. There is a bevy of resources from Cornell University.
• support AAPI-owned businesses and organizations, especially if they are female-owned.
• educate yourself on Perpetual Foreigner stereotypes.
• educate yourself on examples of microaggression, primarily experienced by the AAPI community, which is also referred to in that article as "death by a thousand cuts," which is such an accurate description of the toll it takes on a person's stress level and health.
The definition of solidarity is "unity or agreement of feeling or action, especially among individuals with a common interest" or "mutual support within a group."
I also see solidarity as a way to help someone not feel alone. Solidarity is doing the work together, and all people of color need white allies. So, don't be afraid to use your voice.
Be a voice of kindness and reason. Lean in and be empathetic.
Kindness wins every time.
humanity
About the author
Find my writing in "Mixed Korean: Our Stories," "Together At Last: Stories of Adoption and Reunion in the Age of DNA," Cultural Daily and Women in Theology. Passionate about herbal health and inspiration.
Reader insights
Nice work
Very well written. Keep up the good work!
Top insights
Expert insights and opinions

Arguments were carefully researched and presented

Eye opening

Niche topic & fresh perspectives
Add your insights