Kaleponi
California born. Hawai'i raised.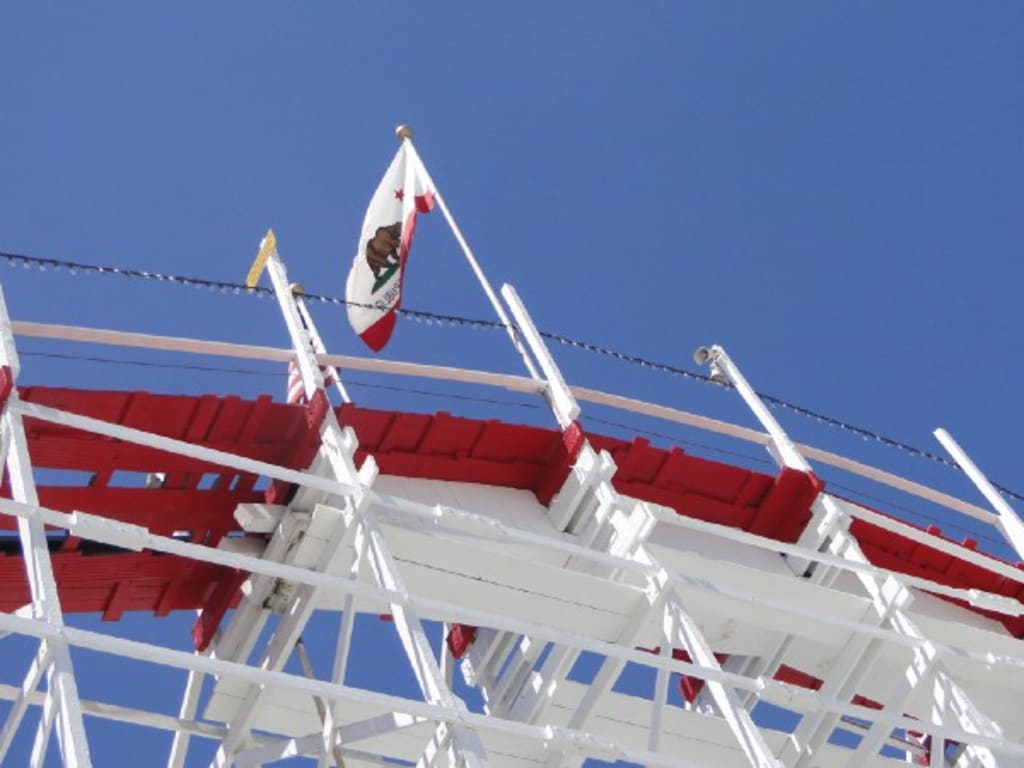 Giant Dipper; Santa Cruz, California. Photo by author.
The first time I left home, I never went back. It took 22 years, a first [real] love, and the dream of living in Hawai'i.
Not my dream, mind you.
Yes, I know how lucky I am to call Hawai'i home. But that can share space with an intense dislike of people calling it paradise. An eye roll is guaranteed. In this time of global pandemic and being stuck at home, that feeling has only intensified. For some of the same reasons, some evolved — my perspective has changed. I've learned a lot about what home means; what privilege and responsibility look like. I've come to conclusions about — and comfort in — my attitudes about what it means to live in Hawai'i. Live here.
It's been almost 18 years. My time in Hawai'i — Oahu, to be specific — is almost to the age of maturity. I grew up in California, yes; completed schooling through a couple of years of community college; learned to drive; had my first job. But Hawai'i raised me. It's held me to those age of maturity implications; the privileges, responsibilities, knowledge, and comfort in oneself.
***
It's not that I didn't want to live in Hawai'i. I moved here because I believed in someone else's dream. More than he did, as it turned out. He was from one of those families that vacationed in Hawai'i every summer. The resort-type. He had a love of the ocean and doodling dreams of designing boats and floating sustainable islands. I had a complete lack of direction. The University of Hawai'i seemed a logical move. A long, somewhat related story short, I really should have done a better job vetting his aspirations and ambition. He lasted four years and now lives in a landlocked desert state. Eh.
I was a kid who wore shoes and socks to the beach, and a questionable swimmer. It really is an unforeseen life I'm living.
The coming of age implications of my adolescent time in Hawai'i is not that much different than the ones everyone else goes through from the ages of 20–40. I've had my most devastating heartbreaks and painful moments here. I navigated through college while working full-time; I've had to find homes and make careers. I've made a family. Standard stuff. There were times early on that I most definitely should have gotten on the first plane back to the mainland because I was way over my head in young-adulting in Hawai'i.
But I'm still here.
It hasn't been easy. Hawai'i isn't always the picture daydreams conjure up. It's expensive; the median home value just surpassed 1 million dollars. Those of us trying to buy forever homes are at odds with those buying retreats from a reality that isn't much different than our own — 25% of what's being sold is not going to locals. We've slipped to #2 in homelessness behind New York. Our public school system is ranked 40th in the country. The traffic is horrendous. We have a local government that looks like a Democratic stronghold, but you'd never guess it based on their corporatist policymaking. We have racism. Lots of it. And we have an unsustainable level of tourism that has wreaked havoc on the local environment, and our daily lives.
Tourists are everywhere; no longer confined to resorts or manufactured- culture magnets. We don't venture to Waikiki often, but I can't help but wonder how nobody else seems to mind that it smells like urine. Nobody is bothered by the prostitutes that come out at night? They don't mind spending an hour in rush hour traffic that starts at 3 pm to get anywhere? The countless number of tent cities? The potholes? Does nobody see the potholes?! The casual visitor's lens of paradise cannot possibly be clean.
And then there is the small but mighty and growing vocal population of Native Hawaiians that are fighting with everything they have to regain control of a land and culture that is being bastardized.
***
My husband was born and raised here. One side of his family has been here since the first boats of Japanese immigrants shipped out to Hawai'i. Through a series of events in both of our lives, that prove who you know and connections made are vital to survival here, we both landed at the Hawaiian charter school where we would meet. It is there that I would experience the biggest spurt of my Hawai'i rearing.
After college, I had the opportunity to work for one of our more senior state senators. A life-changing experience in more ways than just professional. While there, I worked on a project to encourage the governor to release appropriated aid money to a Hawaiian homestead in our district that had been devastated the year before in a biblical weather event — 40 days and nights of intense rain. The passion in this community was obvious, but so was their need. The need for immediate resources and help to build and secure foundations and waterlines, obvious. But also, their self-advocacy for their culture — their way of life — needed support too. Deserved it.
I landed back in this community after my stint in the Hawai'i State Legislature by chance. It was not easy being a California girl in a school devoted to cultural revival and stewardship of a land I had reluctantly been living in for only a handful of years. It was not easy being a proud, born-on-the-4th of July-American, in a group so passionate about self-governance and Hawaiian sovereignty. I found ways to mold those sometimes uncomfortable circumstances into my own personal and professional growth. Never deflecting from, or arguing about the why, because it was not my place. But also because nothing makes enemies faster than speaking u as a white girl, straight from her job in local government. I tried my best to approach things with the how in mind. How can this be done better, and how can I be a better ally.
Kaleponi is the word for California(n) in Hawaiian. An affectionate nickname, that bordered derision.
***
I don't know that I was always the best ally. I can't say that I don't still roll my eyes at the frequency of truck parades, flying their upside-down Hawaiian flags. It's a battle to live in a land that is not your own; one that you do not have an ancestral claim to. But with clarity and an altered perception of what my place here means, I can see it as a "nation in distress," and also not always agree with the solutions served up by my former coworkers in the native community. When you make a home somewhere, you bear the burden and privilege of protecting it for your family. And on an island, we are all family — dysfunction guaranteed.
As I've watched tourism roar back, and the unsurprising catastrophic turn in our Covid battle, I know that Hawai'i is 100% my home. That comes with responsibilities — kuleana. It means returning to Hawai'i what it has given me. It has meant having candid conversations with friends from the Bay Area who have wanted to escape the fast-paced lifestyle for something more laid back. They don't get it. 'I just need to get away,' they say. Yea, so do we.
Early in 2020, there were times when we couldn't even go to the beach as part of our lockdown orders. I watched as friends on the mainland would take weekend trips up and down the coast or anywhere you could get to in a car. Oh, the countless days I've yearned for such freedom! And they still needed an escape to paradise. *Deep breath, Jen.* We are now about to enter a phase of vaccination passports and mandates, and much like the rest of the country, we have a small minority causing a fuss. I just learned we are a few hundred signatures away from the loud minority initiating recall proceedings for our mayor. 5000 signatures are all that's needed on an island of over 1 million people to disrupt the majority.
It's 2500 miles away from where I grew up, but not much is different out here after all. Call it beautiful. Call it unique. But paradise is a resort bubble that has burst and burdened the people that call this home. Not a retreat. Not a getaway or a break from reality. Home. When outsiders buy peace of mind, they're participating in the buyout of the people that have ancestors buried here and can no longer afford to raise the next generation here. The fights for equality, justice, affordability, quality infrastructure, and good schools, are not much different than any other state in the union. The resources and controlling interests are different. The history is different. And so is the passion behind the fight. I had no idea what was going on when I moved here, but now I cannot ignore it.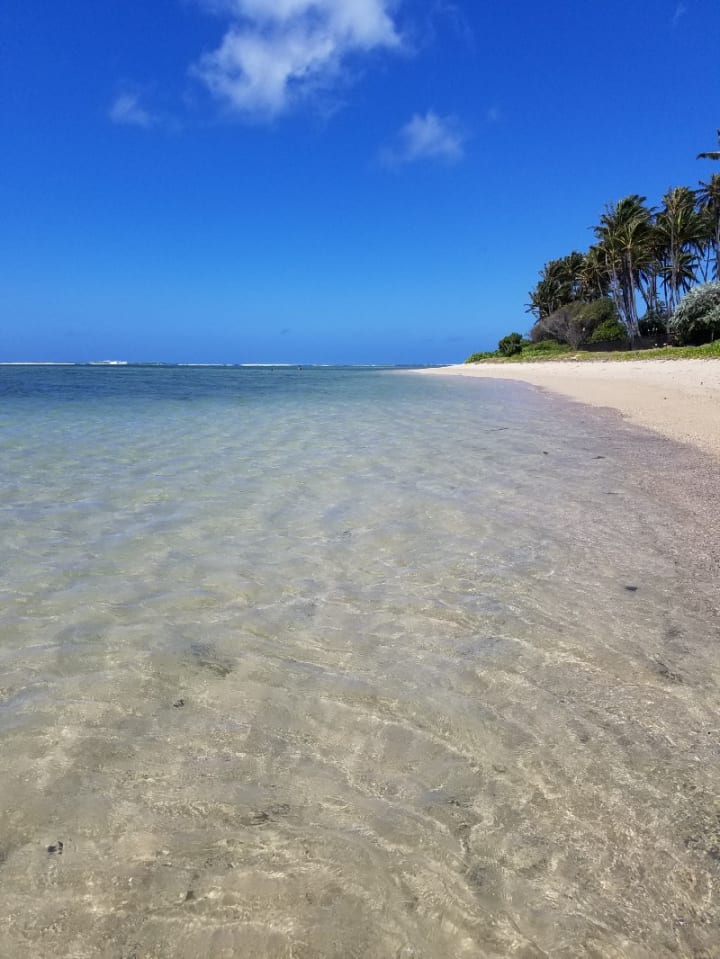 Home and paradise are words that I desperately want to be interchangeable, especially in a time when it's not as safe or feasible to get away. I initially moved here to start an adult life, not escape the reality I had. It's a defining difference I see between myself and so many others relocating here, be it temporary or permanent.
There have been many times in the past 18 years I've wanted to leave their idea of paradise to find my temporary place of respite. California would be nice. My most loved and missed people are there. It's where I'm from, but every time I go back, it feels less and less like home. I don't recognize it. People have changed it, as people do. I'm sure I've been a ripple of change in Hawai'i as well. My hope — and intent — is that's a net positive. It's no longer just my home, but that of my kids. Feeling lucky to live in Hawai'i is no longer enough.
***
Originally published on Medium, as a writing prompt for leaving home.
I am sharing this for as many eyes as possible as a piece of food for thought as life starts resembling normal. Hawai'i is finally past the latest surge in Covid-19 cases. Dozens are still in the ICUs and hooked up to ventilators. Seeing double-digit deaths per day the past couple of weeks has been disheartening, but hopefully, we are past the worst of it—for now.
The powers that be are discussing whether or not to ease the Safe Travels requirements, and it looks as though requiring a booster is off the table. But, I still beg you to think before you travel, especially to places that might have fewer resources than mainland America.
Be careful with what you believe might be owed to you, especially as some grapple with a new normal. We (Hawai'i and many other places, I'm sure) are also in a period of awakening to how the old ways are no longer sustainable.

travel
About the author
California girl, living my questionably best life in Hawai'i. Wife and mom. A lover of sports, books, craft time, black coffee, and overthinking.
Reading and writing helps me make sense of the world—big W global one, and little w mine.
Reader insights
Be the first to share your insights about this piece.
Add your insights