It Is Never Too Late to Reconcile Personal Issues
Before we pass away, it is important to reconcile with loved ones and allow forgiveness to overcome personal issues.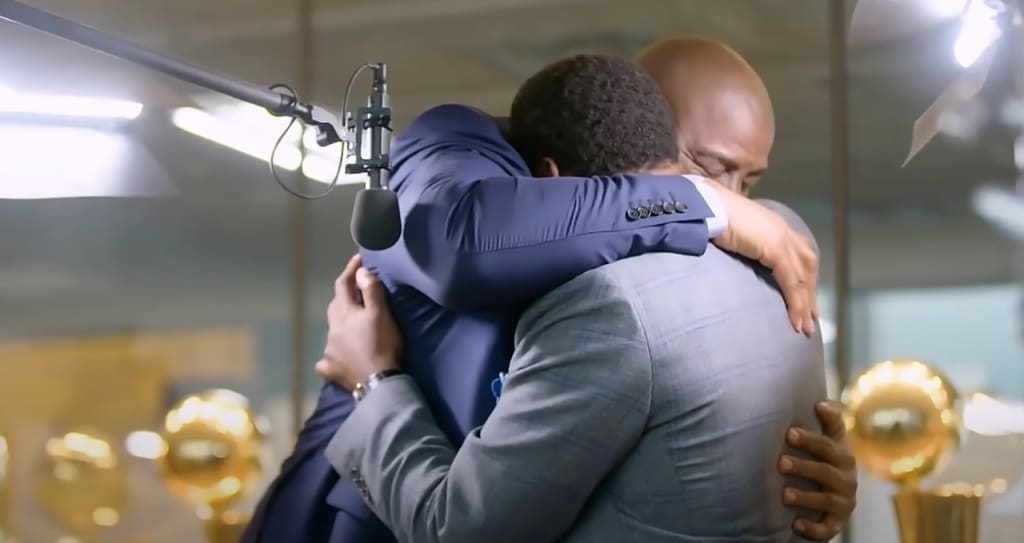 Image Credit: @YouTube
Life can teach us so many things and how we perceive them differently. Life can teach us how to meet all walks of life, live well, build healthy relationships with friends, learn from mistakes, overcome failure, not give up, keep hope alive, create memories, and most of all, love each other unconditionally.
The love aspect of life is what keeps us alive and well. Because of love, we can build healthy relationships and develop strong bonds with loved ones. A loved one can be a family member, friend, co-worker, classmate, or even a mentor who gave you helpful advice along the way.
A perfect example is about two close friends who started close, competed against each other, engaged in personal conflicts, and finally reconciled their lost years. I am talking about NBA legends Magic Johnson and Isaiah Thomas.
Magic Johnson-Isaiah Thomas Full Interview
After 25 years of disconnect, both Magic and Isaiah reunited and showed us what real friendship looks like. The two legends finally met face-to-face in a sit-down interview to discuss life. As a disclaimer, this interview happened 4 years ago. The interview between Magic and Isaiah inspired me to write this post and I hope it touched someone who has yet to reconcile with their loved one.
Both Magic and Isaiah had some memorable and heated games during that great era of basketball. They were close friends on and off the court. The bonds were tested and tried. Magic and Isaiah would challenge and push each other beyond their limits, especially during playoffs and championship games.
Most of all, both men took accountability for not being present after many years of disconnect. In addition, there was no acknowledgment of the conflict that hurt them, which led to a lot of pain. It hurts when a close friend never talks to you for a long time until one day, that friend decided to reconcile with you. It takes a lot of aptitude, dignity, courage, humility, love, and a forgiving heart to say "I am sorry". That is all it takes to assure a loved one that you meant it and will make the necessary changes to do right.
Out of all the other 'Players Only' interviews I watched, this one by far was the most heartfelt. You could feel Magic and Zeke have a great friendship despite the on-court battles. This interview speaks to young men who are still struggling to reconcile with their lost friends.
One day, there will be tons of reconciliations to even count. We need to see Kevin Durant reconcile with former longtime teammate Russell Westbrook. Even Ray Allen and Kevin Garnett's reconciliation moment will be a must-see for sure.
Takeaways
This was truly touching to see Magic and Isaiah share memories and forgive each other after all those years. The ending was deep and is a true example for humanity to follow at the highest levels - to understand, forgive, rebuild stronger bridges, and have a love for each other. Just look at all the pain that instantly was released when Isaiah heard the words "I'm sorry" come from Magic's mouth. He had been carrying that pain for so long. All he needed was a heartfelt apology and you can see him release the pain cause he knew Magic meant it.
This interview was so emotional, that I started crying like a baby. It doesn't matter if they don't see each other in so many years. They will always be together as brothers. I love how Magic immediately said "I can change" when Isaiah said something about him having a tie on. He then changed his attire to make Isaiah comfortable. Magic has always had a humble spirit and for good measure, he wasn't trying to outshine Isaiah.
The message that Magic said was very powerful, "If you can open your mind and relate, you will learn a lot". There were a lot of wasted years but in the end, true friendship will always find a way to work. These were special players but also special human beings as well.
In the end, I learned that it is never too late to apologize for what you have done in the past. After watching this interview, it gave us a reason to revisit the past and learn from the mistakes we didn't take accountability for. Magic and Isaiah taught us that love and forgiveness can heal our pain.
Let me know in the comments how you were able to reconcile with a loved one and why it took you a long time to make that decision.
Real friendship never dies.
Thank you for reading!
If you enjoyed reading this post, don't forget to like and subscribe so you won't miss any new posts.
Also, if you are new to my content, and enjoy reading them, don't hesitate and start the pledge to support.
Stay tuned for the next post and have a great day!
humanity
About the author
Sports Writer | NBA watcher | LeBron fan | WWE fan | enjoy reading nonfiction books | Truth bombs
Reader insights
Be the first to share your insights about this piece.
Add your insights