I'm Giving Vocal a Try
After 3 months on Medium!
Hello fellow Vocal writers! Newbie here.
A few days ago I came across an article on Medium, where I have been writing for 3 months now, and learned about Vocal. The article had some good insights to the platform, so I decided to bring some articles over from Medium, just to see how they would do.
I've been posting to Vocal for just 4 days, and already I have $10.21 in my wallet! If that isn't enough encouragement to keep going, I don't know what is.
So, I guess my trial period is over, and I will continue on with what I have been doing.
For those that are just joining me on my journey, let me fill you in.

We sold everything!
In 2017 my partner and I sold all of our possessions and started traveling full time. Since then we lived in Central America and the Caribbean for 2 years, then found ourselves in Morocco at the beginning of 2020.
Read my post about selling everything: How To Sell All of Your Things and Travel Full Time
2 years and a pandemic later, we now find ourselves in East Africa, where we have been hanging out for more than a year. Specifically, right now, we are in Uganda.
My partner and I paint murals for a living. We paint them for free, in exchange for accommodation in the places that we travel. Sometimes we also get free food. It has been a great way to see the world on a budget, meanwhile leaving our artwork in our wake.
"The meaning of life is to find your gift. The purpose of life is to give it away." ~ Pablo Picasso
Though we started doing the murals in 2018, we didn't build our brand Artistic Voyages until the beginning of 2020.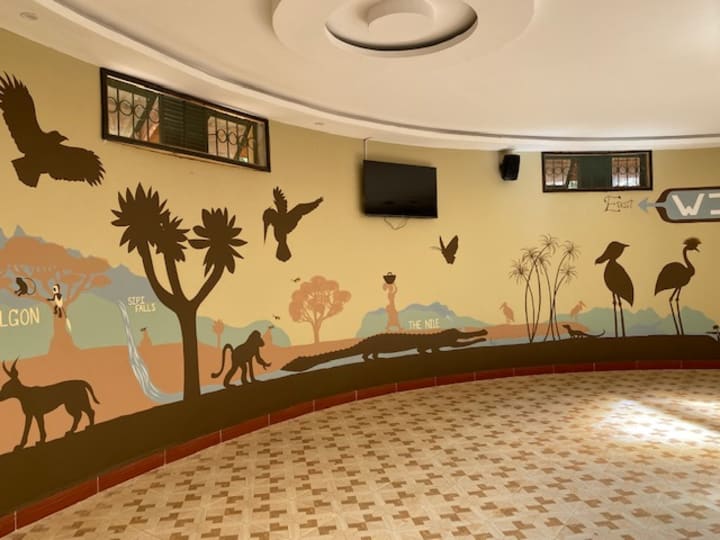 In the beginning, we only painted for accommodation providers, but recently we have been painting for impactful organizations like the Uganda Wildlife Conservation Education Centre (UWEC) and now for the Uganda Community Tourism Association (UCOTA). These organizations contribute to the lives of many people, and we are happy to volunteer our time to groups that are making positive impacts on the world.

A life-changing experience.
Last year we found ourselves in an interesting scenario. After being in another Ugandan village for one month while painting a mural there, we learned that most of the village was quite literally starving.
An extended drought season had killed all of their crops, and Covid had killed their local economy which depended mostly on tourism. They literally had no resources to pull from.
Thanks to many friends and family around the world, we were able to fundraise money to purchase food for them for 10 weeks. We fed the whole village, plus brought them clean water and medicine. You can check out our GoFundMe here. Read through the more than 60 updates if you want to see the full scope of our project.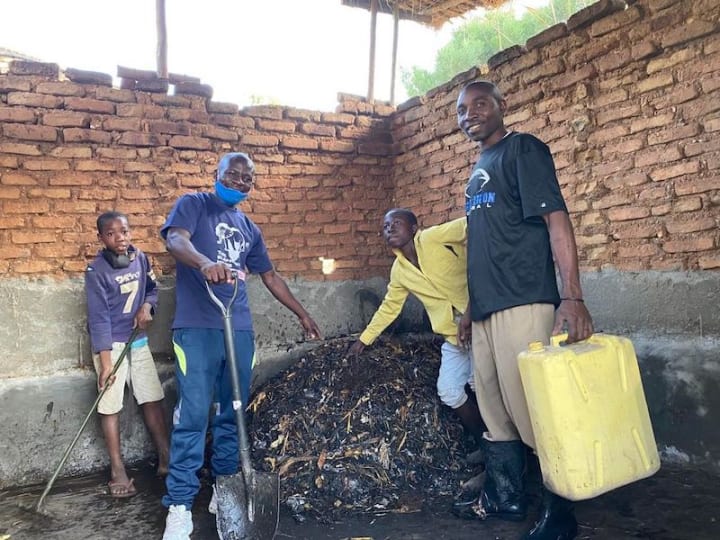 But we also started teaching them about composting and gardening in a sustainable way. Much of the soils in the area have been damaged by bad farming practices that were taught to them by the colonizers many years ago. So we are trying to help them learn about their relationship with the soil, and that they also need to give back to it, instead of constantly taking from it.
This initiative led to us securing a 5 year loan of a property in the village where we are growing a community garden and compost facility. We are so excited by the learning potential there, and we truly feel that we are making a difference in their lives.
We didn't set out to do this work, it came to us. And now we are more passionate about it than anything. Well, maybe not more than our art:)

Where are we now?
Currently, we find ourselves in a village called Ruboni. It sits high up in the foothills of the Rwenzori Mountains, Uganda's highest peaks, and one of the tops in Africa!
Village life here is peaceful, but they have a problem. Mother Nature has been sending huge rainstorms in and their bridges keep getting washed away. As the river rages stronger and stronger, they can't keep up with the issues that arise because of it.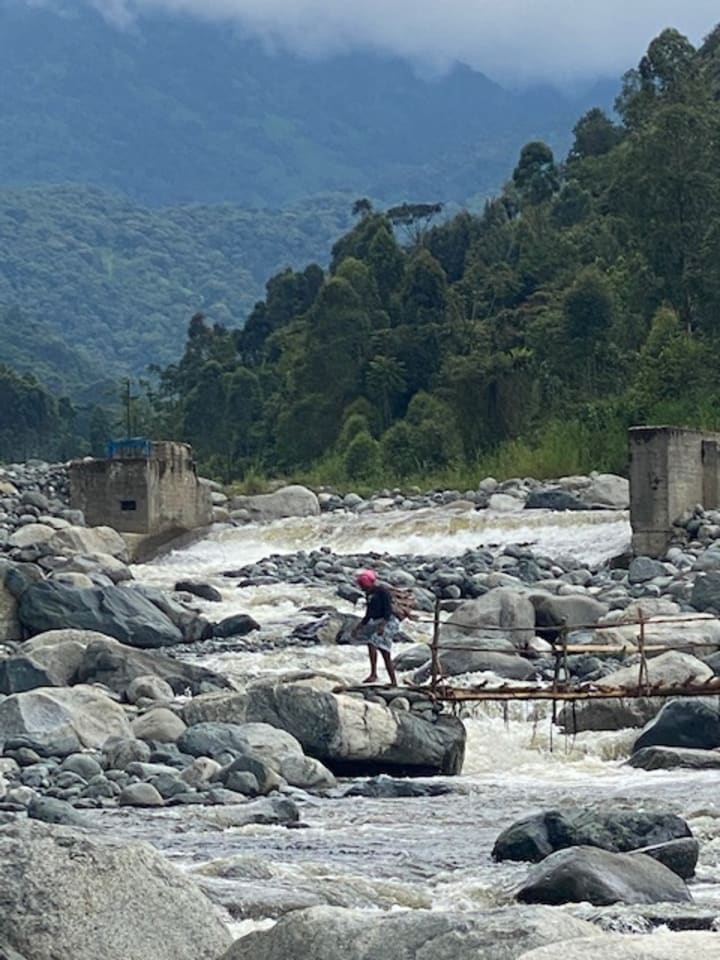 We are in the beginning stages of starting some fundraising for these guys as well so that they can build a high suspension bridge across the river, one that they will not have to replace 2 times per week.
It is a lofty goal, but with the right network of support, I think it is doable.

This last year has been amazing.
This last year in our lives has taught us so much. Taking the initiative to help the village last year, has made us realize that we really can make a difference in the world. We just have to do it one-step-at-a-time. We can't get wrapped up in the big picture (I know we will never fix all the problems of the world), but we focus on what is right in front of us, and do what we can to make an impactful difference in peoples lives.
If you have been wondering how you can contribute in a positive way to the world, look around at problems in your area.
Ask yourself; 'Can I do something about this?'
Believe me, when you realize that you can, it is the most empowering feeling in the world.
Thanks so much for joining me here on Vocal! I guess we are just getting started:) In the meantime, don't hesitate to check us out and what we have been up to through the links below. I also have over 100 articles written on Medium if you are looking for a mix of travel, nature, art, and random stories.
xo Jill

Hi there, we are 2 Canadians, Jill and Chris from Artistic Voyages. We have been nomadic since 2017 living in numerous different countries, and experiencing the life and diversity of our planet on the ground and firsthand. We have now been on the African continent for over 2 years!
Join our adventure by hitting the links below!
Website | Instagram | Facebook | Twitter | Patreon| YouTube | Medium
humanity
About the author
Hi there, we are Jill and Chris from Artistic Voyages! We sold all of our possessions in 2017 and have been traveling ever since. We paint murals as we travel, and aim to spread love through our art. We have now been in Africa for 2+ years!
Reader insights
Be the first to share your insights about this piece.
Add your insights