HONESTGANG Fashion & Entertainment, Adidas & Champion, What A Launch!
An Interview With Canadian Entrepreneur & HONESTGANG CEO Jay Honest

HONESTGANG | Fashion & Entertainment
1. Tell us about HONESTGANG, how did it begin?
I started HONESTGANG in 2019 solely a record label, in the hopes of helping indie artists around the world, achieve success and exposure in the industry. by early 2020, we helped our clients gain over 5 million streams. By 2021, we have now branched out, working with many sponsors along the way, gaining verification on Instagram & credible press around the globe, we have now launched our Fashion brand offering even more of our artistic creativity to the world. From production to songwriting, photography, fashion & music, there aren't many labels in the world like HONESTGANG.
2. Who is HONESTGANG?
HONESTGANG is comprised of 4 main individuals, being myself (Jay Honest, Jordan Poirier Whelan) as CEO and Founder, Alaska Greyy (My Wife) who handles anything art related as well as PR for our clients, Nicki Tha Great (Dominique Phanor) being the VP and Lead Vocalist of the label & motivational influencer Nick Laureano, owner of ONLY THE MOTIVATED! But HONESTGANG is also a collective of supporters, fans, likeminded artists & dreamers, all trying to achieve success within their owns lives.
3. Tell us about CHAMPION & ADIDAS, how did that happen?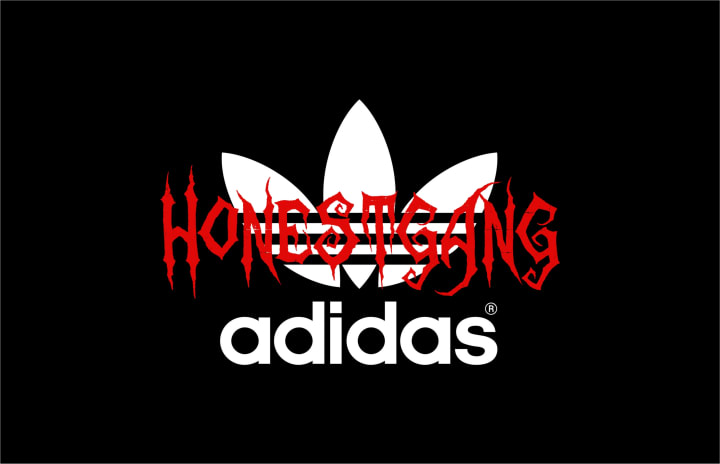 After my first attempt at creating our fashion line, unhappy with the company I was previously dealing with, I went on a hunt, and contacted as many people as I could until I found an answer.... partner with a better company! Using the 100k verified instagram I've amassed over the years i'll be the first to admit it was a bit easier to get in contact with companies directly than most starting their businesses. Now offering 11 items with CHAMPION and 4 items with ADIDAS in our first month of launching the brand (October 1st 2021), I am confident we are headed in the right direction.
4. What makes HONESTGANG unique compared to other fashion brands?
Offering Sizes From XS to 5XL with no up charge, Express worldwide shipping, 9 distribution locations making for extremely fast delivery, discount codes for repeat customers, our own in house artist, premium embroidery as a standard and extremely competitive pricing, HONESTGANG is easily the fastest rising Canadian clothing company launched by an indie rapper we've seen in decades.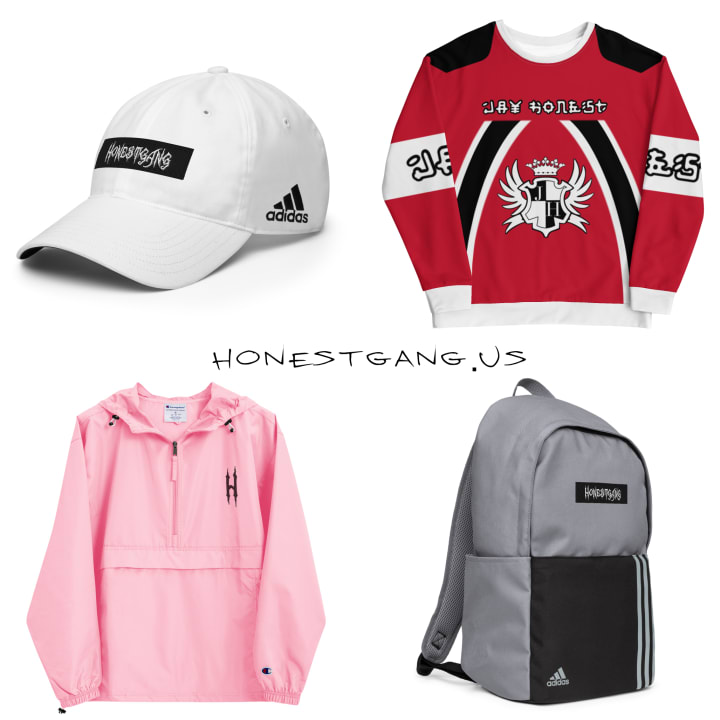 5. HONESTGANG Footwear? How does a rapper drop his own shoe line?
I knew I wanted to stand out from other rappers dropping ''merch'' and selling Gildan sweaters for 80$. I did my research & found a company that has a similar vision as me, with the ability to design them myself, it was a win win. Our first release was our High Tops and Low Tops, as well as our Combat Boots in Red, Black, Yellow & Blue, and plan on making much more after this Holiday season.
6. Where can we find your shop?
You can find us on our official website HTTPS://HONESTGANG.US as well as on Instagram under @HONESTGANG @HONESTGANG.SHOP & @NickiThaGreat and Facebook @HONESTGANG.SHOP
We also have some exclusive items on WISH
7. Any upcoming announcements or releases you'd like to share before we go?
If this is your first time hearing of our company, we have just launched a collection with ADIDAS & CHAMPION, alongside 7 collections and over 100 items, you will not be disappointed by checking us out. Having recently added Nick Laureano to the team, you can expect some extremely motivational content sure to keep you inspired during the holidays, as well as a feature with Jay Honest in the works as we speak. On the topic of the holidays, we just dropped our HOLIDAY collection filled with goodies and accessories for everyone to enjoy. Stay tuned for Valentine's day drops!
interview
Founded in 2020, our goal was to bring exposure to creators around the world thru credible press releases. Since our debut, we've been responsible for over 70 publications, 6 verifications and 5 million streams worldwide!
Receive stories by Capital Heat Canada in

your feed