For all of the Menopausal Moms and Outlander Fans
And anyone else attracted to a Celtic accent... or tweed.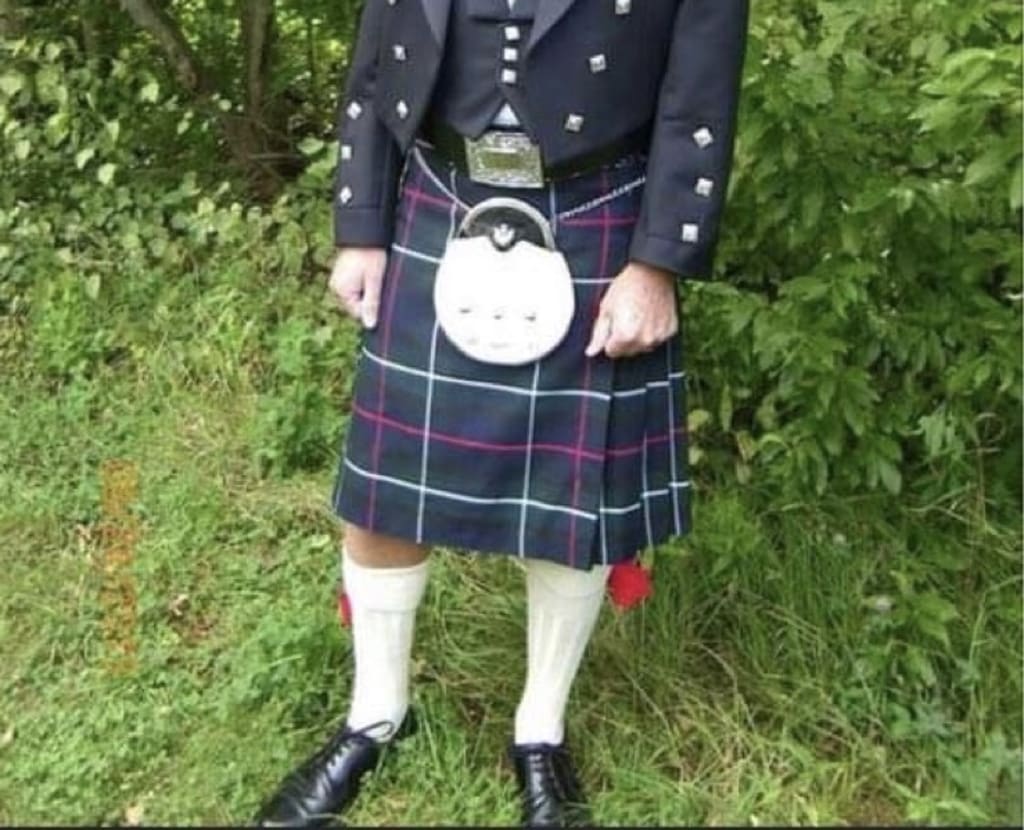 Secretly, we all have a thing for a man in a kilt.
I had a full-on Mrs. Robinson moment earlier this week.
To put this story into context, it helps to know that I have taken a real interest in the Diana Gabaldon "Outlander" series of books and the subsequent television series of the same name. Since COVID turned our world upside down and introduced this "new normal", in which we currently live and isolate, I have been reading the books. I am currently on Book 4: Drums of Autumn.
For those of you not familiar with the brand, Outlander is a story of love and adventure that goes back and forth in time between the 18th and 20th centuries, where a woman named Claire Beauchamp Randall learns quite by accident that she is a time traveller. In her initial trip, she travels through the stones to the pre-Battle of Culloden days of the Scottish Highlands where she meets and marries Jamie Fraser, a complicated but right bonnie warrior (His character on the show is played by the deliciously handsome and brawn Sam Heughan). In any event, it is a delightful series and an engaging story with several wonderful characters, fiction based in history in an oddly familiar intertwining fashion as Forest Gump – but in a much different style. Anyway, suffice it to say, I got hooked on the series while visiting friends in London, England in the fall of 2019 - to the point where I grew concerned that I would return to Eastern Canada with a Scottish accent.
Since that time, I basically work at my real job by day and in my imagination, I travel to Scotland each evening before bed. The story is generally fresh in my mind each day.
One of the members of our local running group hails from the UK - Wales in fact. About a month ago, his younger brother passed away over there, COVID-related unfortunately. Sad circumstances, especially because of the lockdown and travel restrictions. In response, members of our running group have been dropping off food – as Maritimers do.
Earlier this week over my lunch hour, I decided it was my turn to spread some comfort, so I hastily set out to deliver some gluten-free mini cheesecakes (that I obviously didn't make myself, but rather bought – support local!). I'd been working from home, as is my custom these days, so I was sporting my usual work frock: wine-glass patterned leggings, a sweat shirt and no bra, my unwashed salt-n-pepper shoulder-length hair up in a high pony tail swaddled in a very bedazzling running bandana to create the illusion that I had done or intended to do something fitness-related. I may have brushed my teeth and applied a layer of lip-gloss, but that's it. I am low-maintenance at the best of times, so in keeping with my playbook, it was clear that I had made little if any effort. At least I opted to wear a coat to conceal "the girls" in their natural state. Bluntly, I was dressed to run errands, not make friends.
I'd planned to just leave the bag of treats on the door knob, but at the last minute – for whatever reason – I decided to ring the doorbell.
Anyway... doesn't his 20-something year old son answer the door. Moreover, doesn't he look and sound a lot like Roger MacKenzie from Outlander! Well J*sus Chr*st! I was standing there blushing, frozen in my slovenly get-up, stumbling over my words, apologizing for my dress and for taking so f*cking long to drop off some baked goods - and greeting me is the little professor with a Gaelic name I can't f*cking pronounce.
I swear I could hear little birds singing and saw little sparks fly through the air, like something out of a Disney cartoon. Of course, he is cute as a button with his wee beard and sweet little accent and name I can't f*cking say without sounding like an alien from another planet. I know it is spelled "Ieughan" but it may well be pronounced "Marvin" for all I know. I tried to be cool and all "woke" and said "Ewan, is it?" Nope. It's "Yen" or "Ian" or "Alfredo" or some f*cking thing. He did correct me, but I'll be damned if I remember what he said. He just looked so adorable standing there humouring me for trying. He has no doubt heard a full warehouse worth of botched attempts to say his name properly.
He was tripping over himself thanking me for thinking of him and his family, asking me my name twice because I'm sure he wanted to be able to tell his parents which specific crazy middle-aged step-sister to Cinderella had dropped by.
In leaving, I decided to add, "Oh, and those cupcakes are keto-based and gluten-free…" He smiled politely, confirming that I am THAT doting old woman. "Nice going, Carroll. So smooth. Go get back in your car and don't break a hip," I muttered to myself.
I walked away, cringing and silently apologizing, mostly for being a horny, menopausal woman with no sense of tact or dress.
So I guess when I finish reading all of the Outlander books, I'm going to watch Bridgerton... and then stalk my little Welsh rose (or anyone else local of legal age with a UK accent) all over town.
I'm sure there is a special place in Hell for an old dame like myself for a great many of my sins, not the least of which would be for ogling a poor grieving nephew simply because he has a charming Celtic accent.
I guess I should just be grateful that he didn't answer the door sporting a kilt.
Then again, maybe we should ALL be grateful for that.
About the Creator
Ms. Carroll is a 40-something year-old veteran public servant and mother of three adult children. She and her partner Hal live in Amherst NS with a sweet, anxiety-ridden rescue dog. Shelley loves running, red wine, and laughter.
She/Her
Reader insights
Be the first to share your insights about this piece.
Add your insights