Fly on, little wing.
A tribute to my mom and Jimi Hendrix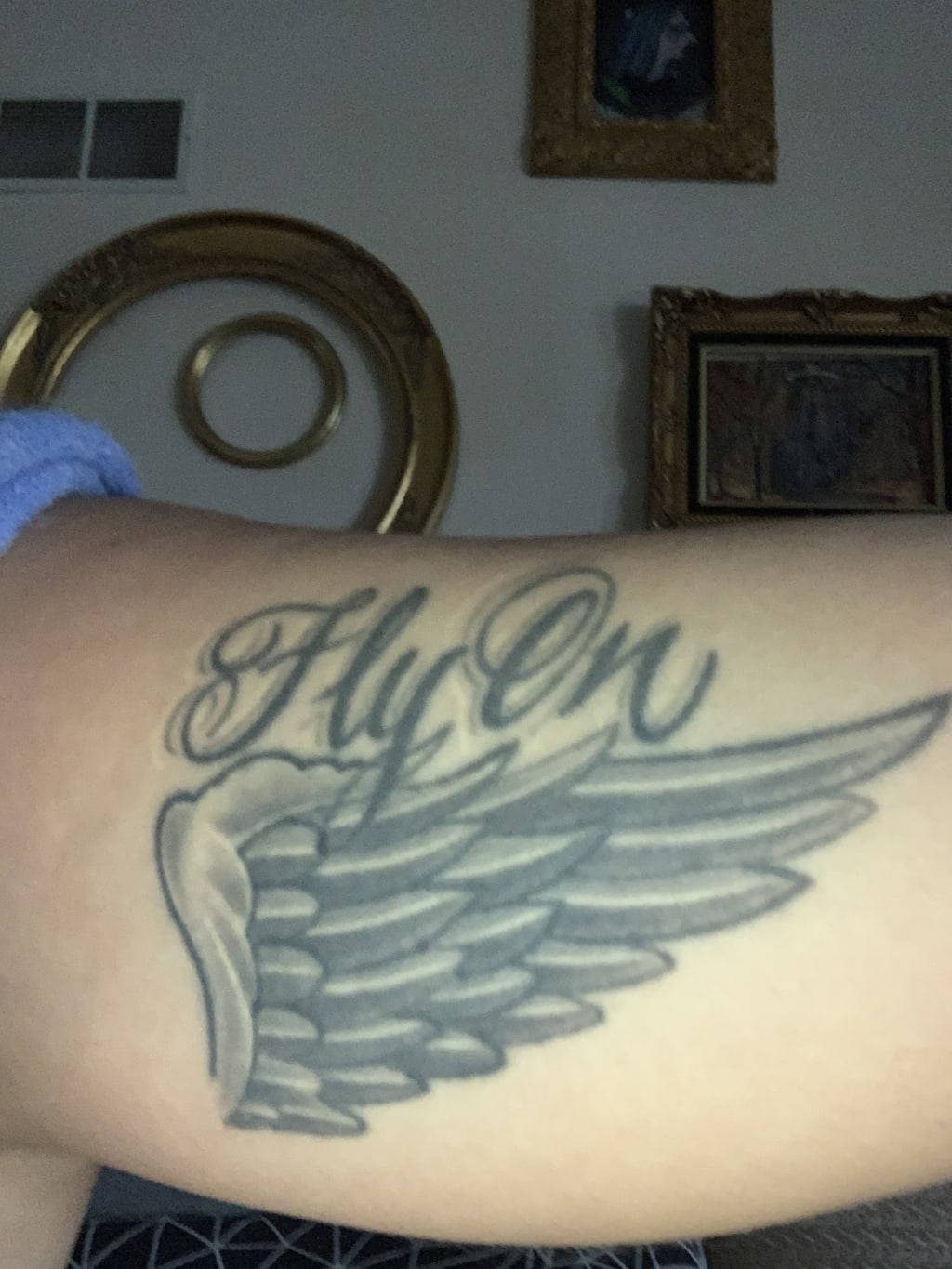 I got this tattoo when I was 22 years old. I had just had a child, and it was the day my husband said he wanted a divorce. I got married young, and it was for the wrong reasons. It was arranged marriage. He was very controlling, and bi polar disorder. When things started to get abusive things got rocky. I was on the verge of a melt down. I was thinking about the future: what will I do next? Where will I go? How will things be now? I remember when I was about 15 years old and I told my mother that I just discovered this guy, Jimi Hendrix, and I love the song "little wing." She laughed Because she is a musician and knows all too well about Jimi. She said that I probably liked that song so much because she used to play and sing it everyday when she was pregnant with me. That day I knew that I had to get "fly on" from the song tattooed on me. I knew I was going to fly on for the rest of my life. The tattoo artists loved the idea. He took his time on it, the white outline as lasted all these years. The journey hasn't been easy. After we separated, he went to prison. I had to provide for my daughter myself. Luckily with my mothers help with my baby, things were possible. I often worked two out even three jobs to provide. We have had many set back, but had always managed to make it. My mom has also always been an inspiration to me. Her life was not easy. Her parents passed away in her early twenties and she was lost. She also was with abusive men. She became a heroine addict, among other substances. She married my father in a contract marriage as well. There were three of us girls, one from a previous marriage and another with my father. My older sister passed at the age of nineteen, which was really hard on my mother. Her mental issues, such as schizophrenia, set in after that. Her marriage started to fail with my father. She was on her own again. It took her a long time to get it back together. After a stint back on drugs, and dealing with depression she finally was able to get on the right medication. This had taken years. She is now 65 and living a completely different life. She lives in the country. She a grandmother, and playing the roll well. She is so good with children. She hosted a summer camp and even got a grant to do it. She is appreciating life and taking care of herself. This inspires me to not let the negative take over. Use our wings to overcome. I am now a college student. I qualify for grants to help. And I work part time. My mother and father both went to college and they wanted that for me. Better late than never. And I want my daughter to look up to me to get a higher education as well. I am happily engaged now to a wonderful man who treats my daughter like his own. He takes us snowboarding, dirt bike riding, mountain biking, wake surfing, traveling and all kinds of adventures. We have a home that I love. And a dog that we adore. I never would have thought I would be here. And I never would gave thought my mom would be where she is now. Every time things get hard, that tune comes in mind and I see that tattoo. Anytime I need to overcome something hard. This will always be a piece of me.