Favourite picks from Murakami's short story collection: After the Quake
Translated from Japanese by Jay Rubin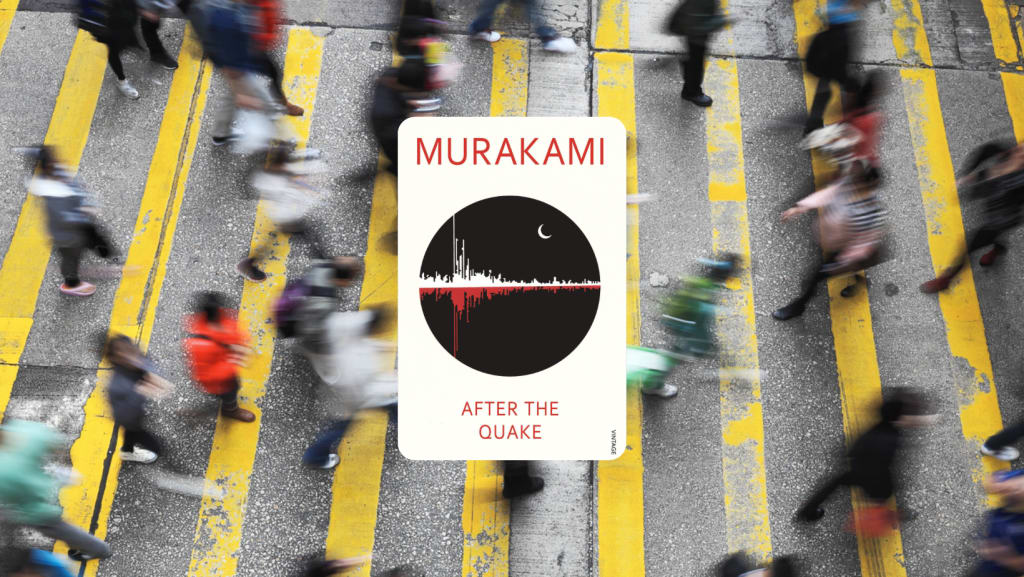 Created using Canva. Background image by Canva Pro
In this collection of short stories, Murakami offers six gripping tales about the aftereffects of living in Japan after the 1995 Kobe earthquake. The stories take place in February, the month between the Kobe earthquake and the gas attack in Tokyo that year. A very common theme is present in all the stories: the feeling of emptiness and loneliness. Every story concludes with an odd sense of hope that perhaps the emptiness is not that vast after all. If I had to pick, my favourites from this collection would be:
Landscape with Flatiron
It follows the story of Miyake, a 40-something year old man residing in the town of Ibaraki, who lives his days almost monotonously. He paints often and builds bonfires during the winter. He befriends a young lady named Junko through their chance encounter at the convenience store that she works at. During one of their conversations, Junko discovers that Miyake does not own a refrigerator in his home. We later learn that he experiences vivid dreams in which he is dragged into a refrigerator by cold, unknown hands. Which makes one wonder, is his love for bonfires a way to beat his never-ending fear of dying in the cold? The feeling of emptiness is prevalent throughout the entire story, with the characters revealing their broken past as they struggle to mend themselves whole again.
People's eyes have something honest about them when they're watching a fire.
Thailand
In this story, Satsuki, a pathologist, is on her way to Thailand for a medical conference. After attending the conference, she decides to spend the rest of her trip relaxing in a resort in the mountains. She is accompanied by a Thai driver named Nimit, who becomes her official guide during this trip. As their friendship progresses, Nimit then takes Satsuki to an old village were she is met by an elderly woman, who we discover is a person who "treats people's spirits." She informs Satsuki that there is a stone inside her body, and she should get rid of it. She informs her that she can do so in a dream, where she will encounter a snake. She is instructed to grab hold of the snake with all her might until she awakens from her slumber. The snake will then swallow the stone for, riding her of this burden. At this point I couldn't help but wonder, is this stone a resemblance of a long-lasting grudge? Did her deep hatred for the people of her past solidify her sadness and emptiness into a hard rock that eventually weighed down on her spirit?
I am the one who caused that earthquake. He turned my heart into a stone; he turned my body to stone.
Super-Frog Saves Tokyo
In this surreal story, a banker named Katagiri comes home from work one day to find a giant Frog in his apartment. He is taken aback by the sight of it and the fact that it can speak, and begins to wonder whether he is hallucinating, or perhaps someone is trying to pull a prank on him. The Frog, who we later learn is only seen by Katagiri alone, plans to save Tokyo from an upcoming earthquake, and proposes that Katagiri join him in his mission. A huge Worm filled with rage is set to shake the earth on February 18th, and Frog hopes to prevent this catastrophe from happening by fighting Worm head-on. Katagiri doubts his ability to take up such a huge responsibility, but Frog assures him that Katagiri's character is exactly what he needs to help him through this battle.
Katagiri, a single man in his forties, has nothing to offer besides his tenacity and big heart. Despite doing the right thing all his life, he is never really recognised or appreciated for his efforts. It is people like Katagiri, the strongest of their kind, that fight big battles in absolute silence. They save us without expecting any recognition or praise in return. And this fight, after all, is a very lonely one.
Because Mr. Katagiri, Tokyo can only be saved by a person like you. And it's for people like you that I am trying to save Tokyo.
book reviews
About the author
Civil Engineer | PhD student | based in Melbourne, Australia
As the saying goes, the only real failure is not trying.
Reader insights
Be the first to share your insights about this piece.
Add your insights