Endurance
Chapter 2: The Start Line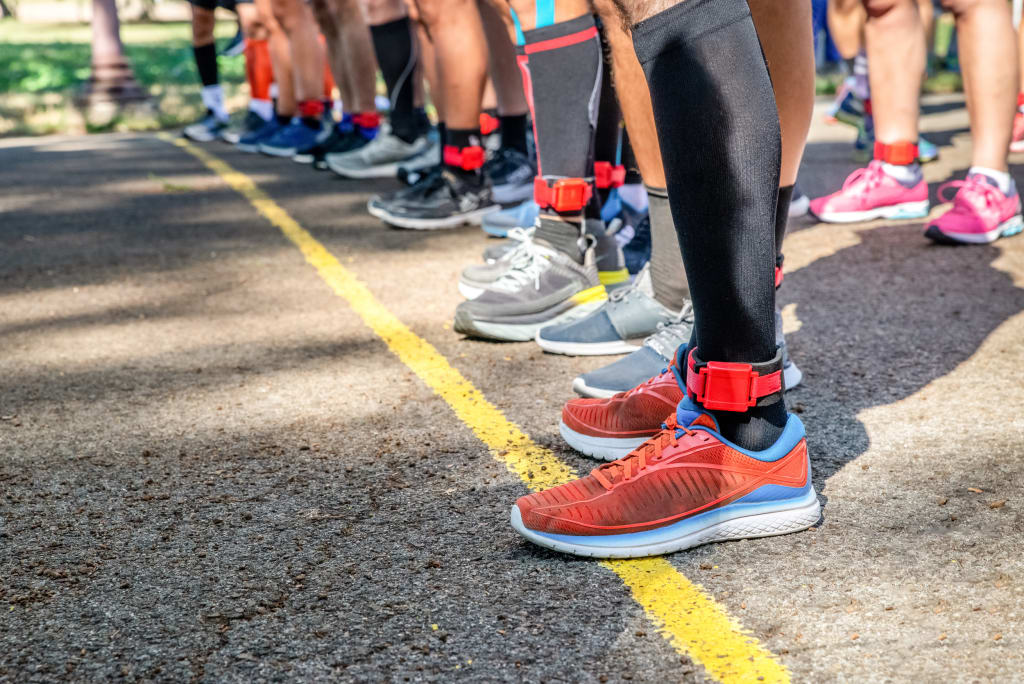 Monroe and Columbus 7:25 AM
The runners are gathering at the start line. The P.A. announcer is making announcements in the background.
Nick- Michael, how long have you been running?
Michael- About five years now. I finally qualified for Boston last year, and finished in 2 hours and 28 minutes.
Nick- (smiles) That's great, buddy.
Michael- I also have some experience in high school running cross country. I led my school to the state finals.
Nick- So, you're no stranger to running at all. Why did it take so long to make it to this level?
Michael- Personal stuff.
Nick- Well, it's great you're finally able to live your dream.
Walter- Now you're rolling with the big boys.
Michael- I just wish my friends could be here with me.
Walter- They're not running this year?
Michael- No, but they'll be along the course.
The trio notice Willie near the front of the group. He's stretching in front of them.
Walter- I can't stand this guy. He's so cocky.
Nick- Yeah, but he can back it up.
Willie turns around, and he notices Nick and Walter standing behind him. Willie flashes a smile at them.
Willie- Nick, good to see you. Here to take another loss?
Nick- Funny.
Walter- Same old humble Willie.
Willie- Walter, it's good to see you, too, you wanker.
Walter- Whatever, bro.
Willie notices Michael staring at him.
Willie- Who's he?
Michael- Michael Lewis. I'm here to compete in my first elite run.
Willie- (laughs) Compete? I have no clue who you are. You don't belong here. Shouldn't you be in Wave D or something?
Willie turns his attention back to the start line.
Nick- Don't sweat it. He's like that to everyone.
Michael- Yeah, okay.
As the P.A. announcer continues to introduce the start line runners, Michael waits in the middle of the crowd behind them.
P.A. Announcer- Representing Kenya, Absko Kajibe is a former Chicago Marathon Champion, current Boston Marathon Champion, current Berlin Marathon Champion, has two Olympic Gold Medals, and holds nine Kenyan records.
Absko waves to the camera.
P.A. Announcer- Representing Great Britain, Willie Davis holds the Great Britain records for marathons and half marathons, is a 3-time Olympian with four Olympic Gold Medals, a 3-time London Marathon Champion, former Chicago Marathon champion, and former New York champion.
Willie waves to the camera.
P.A. Announcer- Representing the United States, Nick Daniels is a 2-time Olympian, holds the national record for 10,000-meter events, finished third in last year's Boston Marathon, and has one marathon victory in the Olympic Trials.
Nick stoically stares into the camera.
P.A. Announcer- Also representing the United States, Walter Watkins is also a 2-time Olympian, holds many American 10,000-meter records, finished third in last year's New York Marathon, and finished third in last year's Chicago Marathon.
Walter waves to the camera.
P.A. Announcer- Representing Ethiopia, Kaleb Dibaba is the current Ethiopian record holder for four national records. He is the Olympic Silver Medalist, a former Boston Marathon Champion, former World Athletics Champion, and holds the American record for half marathon.
Kaleb continues warming up by hopping on his feet.
P.A. And representing Kenya, Sarki Kipkosgei is the defending Chicago Marathon Champion, a 2-time Boston Marathon Champion, a 2-time Olympic Gold Medalist in the marathon distance, and the Kenyan national record holder for the marathon distance.
Sarki waves to the camera.
Sarki- Hi, mom!
Moments later - 7:30 AM
The air horns sound, and the race begins as the runners start running. The runners leave Monroe Street, and run north for Grant Park. Willie is leading the runners, and has a pack of Kenyans and Ethiopians behind him.
Michael is running right behind Nick and Walter, and they are running within the pack. The spectators stand alongside Columbus Drive cheering on the thousands of runners as they leave the start line area, and make their way through the overpass, and on their way to Grand Avenue.
Michael notices the crowd of spectators cheering, ringing cowbells, and holding signs of encouragement. Within the crowd on State Street, Michael notices his best friends Steven Page and Doug Williams, and their girlfriends Jacqueline and Lauren cheering him on. Michael gives them a little nod for acknowledgement, and he keeps running.
Nick- People you know, Michael?
Michael- Those are my friends I was telling you about. They helped me get out of a dark time in my life.
Nick- What was that?
Michael- Long story. They were there when I was going through a divorce five years ago.
As the runners continue running on Grand Avenue, Michael notices a familiar building, and he sees a familiar man named Jacob Johnston, his attorney. Jacob is holding up a sign, which says "This Is Just The Beginning".
Michael- (to Nick) Speaking of divorce, there's my attorney.
Nick- Small word, huh?
Michael- Very.
As Michael continues running, he starts having a flashback.
Flashback: Divorce
Six months after the game show incident, a divorce proceeding is taking place in a law office.
Michael is seated with his lawyer, Jacob Johnston. Abby is seated across the table from Michael, and next to her lawyer, Debbie Meadows. Michael can barely look at Abby, who is staring directly at him.
The judge hands Debbie paperwork, and she slides the paperwork to Abby, while staring at Jacob, who is staring back at Debbie. Abby signs the paperwork before sliding it back to Debbie.
Debbie slides the paperwork forward to Jacob, who reads it over before sliding it to Michael. Michael signs the paperwork before sliding it back to Jacob. Jacob hands the documents to the judge.
Judge Drake- (awkwardly adjusts his tie) Well, it is settled.
Moments later, Michael and Jacob are walking out of the office building.
Jacob- I've done over 500 divorces, and this is the first time I've ever felt this uncomfortable.
Michael- Because of Abby, right?
Jacob- No, because of Debbie. She is a complete…
Jacob hesitates to say another word.
Jacob- Well, she and I obviously don't get along. I never thought I'd see her again until today.
Michael- Whoa, what happened?
Jacob- We were married at one point.
Michael- Oh… right. Well, I gotta go. Thanks for everything.
Michael starts walking away.
Jacob- Hey, you let me know if you need anything. Okay?
Michael keeps walking.
Jacob- Michael, keep your head up! You're going to have a good life, and you will finally be able to follow your dreams! This is just the beginning!
Michael keeps walking away.
One Week Later
Michael is at a local bar in Lincoln Park. He is seated at the bar with Steven and Doug. Steven, a medium-skinned Black American man dressed in jeans and a hoodie, is seated to Michael's right. Doug, a tall and thin Caucasian man with red hair dressed in jeans and a plaid vest, is seated to Michael's left.
They are watching the Cubs game. Steven and Doug cheer as one of the Cubs players hits a home run.
Steven- Man, that Javy Baez is a beast! Great bat, great glove… He may strike out a ton, but that man is their best player by far.
Doug- He's a beast, but he ain't their best player. Rizzo still holds that title.
Steven- Whatever, man. Rizzo can't do half the things Baez can do, but that man sure can hit though.
Doug- The Cubs need to pay that man.
Steven- Rizzo?
Doug- No, Baez.
Michael is inebriated.
Steven- Man, it's good to finally hang out like the old days. When was the last time we all hung out together?
Doug- Since about 5 years ago when Michael married that witch, Abby.
Michael- Yeah, a long time. She wouldn't let me do anything. I couldn't hang out with my friends, I couldn't run the marathon… All I did was work, pay bills, feed her, and all that crap that married guys do. What did I get in return? She freaking slept with that punk, Todd. You guys saw that show. You saw that crap she did.
Steven- Dude, she ruined you. She controlled you, bro. What happened to that Michael Lewis we knew before you met this woman? Dude, you were the alpha male. You never let some woman control you, and then Abby comes into the picture.
Doug- She ruined you.
Michael- Not helping, guys.
Steven- Michael, Abby obviously wasn't right for you. You know the kind of woman you need? You need someone like… Jamie. What about Jamie? She likes you.
Doug- Yeah, she's single, too. Single, and independent. She's not quite as hot as Abby, but very cute.
Michael- Jamie? You think a religious woman would want to see me with booze in my hand?
Doug- Man, I still can't believe Abby did that crap on live television. I still can't believe she did that to you. See? This is the biggest reason I never want to get married. Why do wives cheat so much?
Steven- Guys cheat too, Doug.
Doug- Whatever. I'm gonna just stay single. No relationships, no commitments, no drama. All I want to do is what I want and who I want.
Steven- That's probably why you're single now. Your cynicism is killing the vibe right now, bro.
Doug- Shut up, Steven.
Michael- Hey, enough already. Can a man just drink in peace?
Michael continues drinking his whiskey sour.
Doug- You know what your problem is?
Steven- Don't do it, Doug.
Doug- I know what you need, Mike.
Steven- Don't do it, Doug!
Doug- You need to get laid.
Steven- Damn it, you did it.
Doug- You need to go and buy one of these broads in this bar a drink, take her home, and have fun with her.
Michael looks behind him, and notices a group of women smiling and giggling at him. He turns his attention back to his drink.
Michael- Screw you, Doug.
Doug- Come on. Look at all these fine chicks in here! Pick one. Heck, I'll pick one for you.
Steven- Doug, come on, man...
Michael- Leave me alone. I just want to drink. I don't want to be married anymore, I don't want a relationship, and I don't want to get laid. I just want to drink my shot, and I want to get the hell out of here. (to the bartender) Barkeep, give me another one.
Bartender- Don't you think you should--
Michael- (interrupts, glares at the bartender) Give me another shot of Tequila.
Steven and Doug are surprised by Michael's tone.
The bartender reluctantly pours Michael another shot of Tequila. Michael pulls out two $20 bills, and places it in front of the bartender.
Michael- Keep the change, sir.
Doug- Man, you're wasted…
Michael- You gonna tell me how to live my life? Get out of my face.
Steven- Michael, we're really concerned about you, bro. Come on, man. We need you to get yourself together.
Michael takes his shot of Tequila before getting up from the bar.
Michael- I'm outta here. I'm done with this crap.
Michael staggers away from the bar, and towards the door. Steven tries to help him out of the door, but Michael pushes him away.
Michael- I'm fine. I got this. Leave me alone.
Michael staggers out of the door. Steven and Doug stand in disbelief.
Doug- Man, he's really falling apart. I hope he doesn't do anything crazy out there.
Steven- Right.
End of Scene
literature
About the author
I am an aspiring screenwriter, a marathoner, and a blogger. I love to write screenplays in my spare time, and I thought I'd share some of my work on here. Please feel free to check them out as I post, and let me know what you think.
Reader insights
Be the first to share your insights about this piece.
Add your insights