Dreams of Being the Joker
One Dream of many that have learned my soul, and brought me to life with inspiration.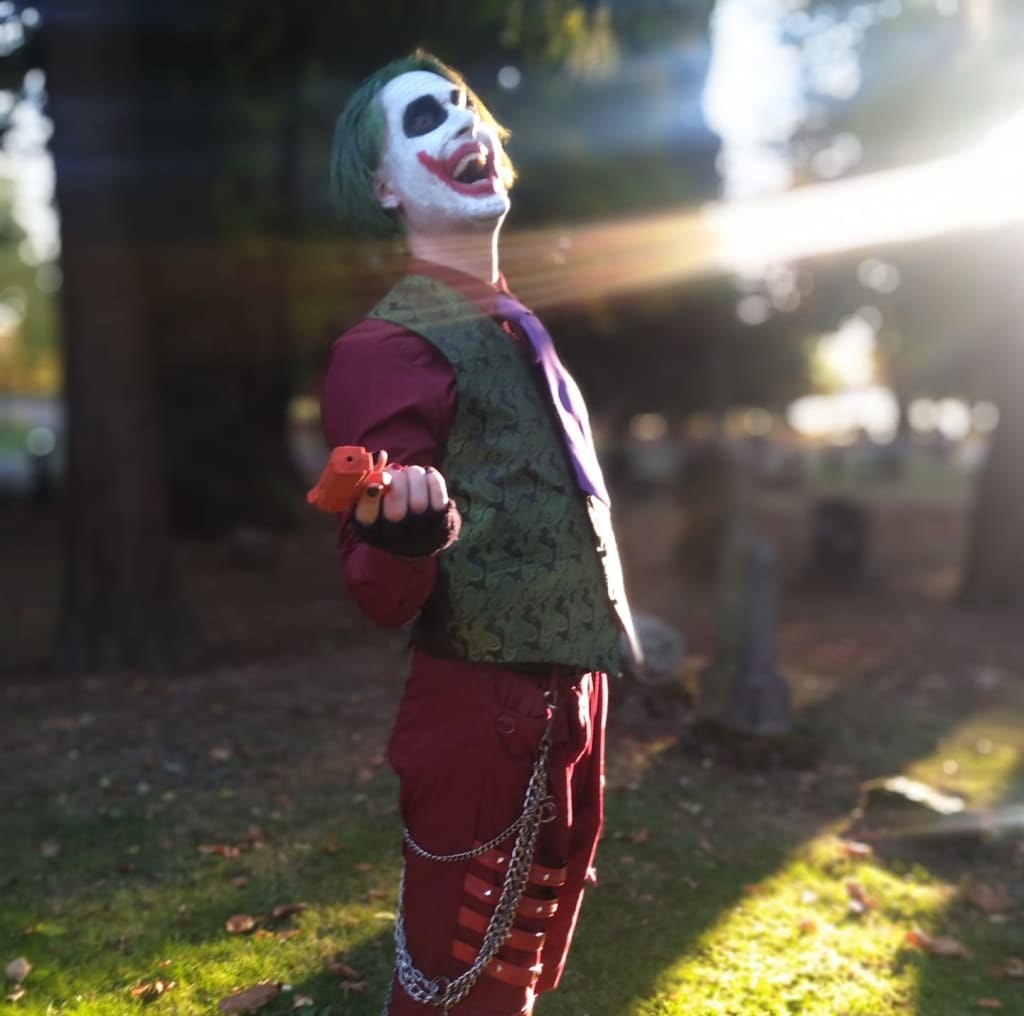 Picture from Halloween 2020 - Lone Fir Cemetary
Dreams of being the Joker.
It was in a grand hotel, ocher street lights lead to the front door. The lamps of each floor are off and the windows blocked, the interior is setup for Halloween. The top seven floors of the building are all linked for the party, each floor its own unique design. I was heading to my room, seeing so many people along the way and enjoying their reactions to me and my costume.
The more people I ran into, the more I felt myself becoming my own Joker. The laugh, the voice, all coming to its own fruition. The mannerisms all kicked in once I'd arrived at my room. Where I saw someone outside on the ground laughing, I kept popping in and out of my door. Cracking reactions in different ways to keep the person laughing. Climbing above the doorway, creating the illusion that gravity and I made a pact. That it would offer me freedom in exchange for being its friend. I ended up making myself laugh of course, especially as I slid my face as close to the floor, mocking their disability.
It was dark throughout the entire hotel except the entrance lobby. Which means haunted lighting was on each floor, in the bedrooms where people stayed. There lit lanterns above the doorways were occupied, with most of the rooms filled, means it was a huge party.
Before I had a moment to myself, I crawled up and took out the lightbulb, so to be left undisturbed. And of course everyone was entertained by my dramatic attempt to crawl with the top of the doorframe to remove the light bulb without touching the lantern itself like a spider would. It was hot, but not as much as the show I put on. Once I had it! I couldn't know where to put it! I placed it in my pocket, knowing I had to be even more careful in climbing like a weirdo back into my room.
Once I was in the room by myself.
No one I knew was here at this party. As far as I knew...
And it didn't bother me in the slightest.
I felt like I could fully let loose, having no one there who "knew" who I was. I was free to be as silly and mad as I felt I needed to be.
When I finally gave myself time in the room, before joining the rest of the night. I decided that, I had to find a batman or batwoman. I was set on being in character and messing with people until I found a focal point. If they were just a person in a costume, I'd mess with them until they were forced to break into character.
I sipped on scotch from a beaker first. Looking at myself in the mirror, pretending it's some strange potion... Which it is.
in reflection I was remembering the dream of how I got here, (finding a room of lost puppies and dogs) and letting it go.
When I went out of the door, each step was to fully embrace every release I needed. Shedding every ounce of heaviness from my soul, and honoring the pieces that will never fall off, by laughing at them.
At one point I saw deceased cousin Travis in the mirror of the fun house section of the hotel. The hall of mirrors was intense and done so well, most people avoided it for some reason. Taking advantage of that, I talked with Travis in the mirror even tho he wasn't there.
When someone asked who I was talking to, I laughed and wrapped my arm around the shadows and said. "Only to those who listen 👂." Chuckling I turned to the shadow and patted the emptiness (like trying to pat his back) and then fell down on the last hard pat because there was no impact. I turned, shocked, and laughed at myself. "And You'd have to be mad to want to!" And fell into hysteria.
Rolling around on the floor until I found the stairs, where I proceeded to act like I was falling down the stairs. But I strategically somersaulted my way to a new floor. Vanishing from the person who was trying to talk to me.
Further investigating where batman was.
There was karaoke happening in the floor I fell into. I went with the momentum and acted drunk, which I wasn't at all. Honestly I didn't know where my feelings started anymore, and everyone else's began. It was perfect. I lost my sense of caring about what normal people want or expect socially, and was satisfied with breaking that boundary with every action.
Therefore, I didn't stand up until I got to the stage. I was stumbling and falling, and crawling, and using people like logs in the water to pull myself to the stage. Where my demeanor immediately shifted into a calm butler. I was suddenly acting like Alfred. Asking the dj what his repertoire was for the evening?
He had nothing I wanted, except "The Sound of Silence". (The Disturbed version)
I requested it.
And watched the stage, studying. The lights were nice. I asked him if he could turn off all the lights when my song started, and when it ended. And if the mic was wireless. Which it was.
My plan was to start from the back, as far away from the stage as possible so I could hear myself, what everyone was hearing of me. And as the lights slowly came on, I would dramatically make my entrance to the stage with whatever part of the song I was shaping to.
I was able to go into all vocal textures I've been practicing, fully losing myself to the song. Once I was on stage, I was alone, to the sound of the experience.
Once it finished, I looked at the DJ to fade the lights out in the last word.
And as it all darkened, I slinked away again. Not wanting any praise, just to continue my hunt for batman hahahaha!!
Alas, I woke up because my sweet child came to snuggle me for the morning. And, of course I had more to do at this party! What if such a party existed, this would all happen again and more, cause I would have no one to wake me up. I'd be awake until everyone fell asleep, I'd pack up, make my way home, and inch by inch scrape the dead and makeup from my limbs and crash into slumber with a smile.
humanity
About the author
Author, Musician, Vocalist, Voice Actor, World Builder: Seeking the dream team make all the creative work come to life! I've built an entire Universe of stories from my dreams to make; Graphic Novels, Scores, Movies, Series, & Video Games.
Reader insights
Be the first to share your insights about this piece.
Add your insights