'Conversations with Friends' reminded me it's okay to be human
How Sally Rooney's debut novel made me re-evaluate myself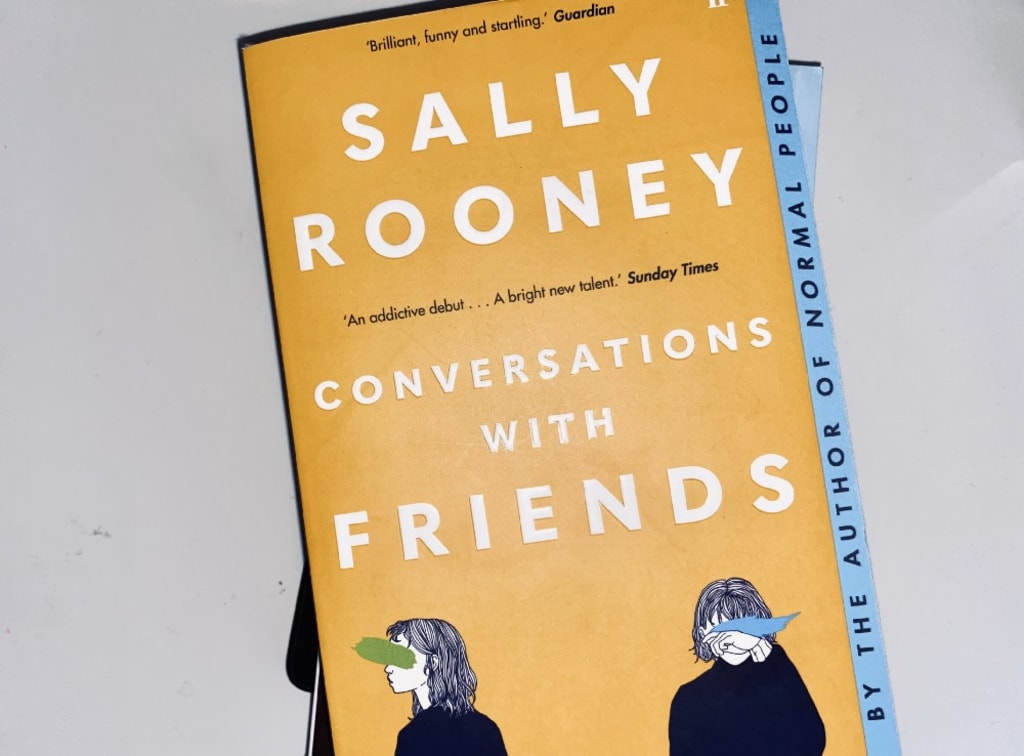 Image: Author
You might've heard of Sally Rooney's honest and raw best-selling novel, Normal People, but you may not have heard of her 2017 debut novel, Conversations with friends. The latter is the story of four characters and their confusing relationships, who seem to stand on the line between right and wrong without ever getting off balance. 
The main character is Frances, who narrates the novel in the first person. She is a 21-year-old aspiring writer who met her now best friend Bobbi in college. She had quickly developed an attraction to her that blossomed into a romantic relationship that lasted for about a year and turned into platonic affection after their break up.
Bobbi is the opposite of Frances: she is outgoing and she doesn't struggle to connect with people because of her charm that is impossible to resist. Frances, on the contrary, is cerebral, sharp, and often feels out of place. 
The two girls perform poetry together, and it is at one of these shows that their lives are turned upside down by meeting an older, wealthy couple: journalist Melissa and her husband, Nick. 
Frances begins to form a more than amicable relationship with Melissa's husband Nick, a reserved actor who never seems to reach his true potential. As an understanding develops between the two that will turn into a sexual affair, Bobbi seems to take a liking to Melissa, until the two best friends distance themselves from each other and Frances must come to terms with her vulnerabilities. 
Before I had read a Sally Rooney book I had heard of her countless times, and to say that opinions on her writing are mixed is putting it mildly. You'll either love or hate Rooney's novels, and although I didn't have high expectations due to the reviews I had read, I can safely say her books changed my life. 
There is nothing more comforting than reading a flawed story with flawed characters. Sally Rooney's books are not for you if you love reading about likable and inspiring characters who always make the right choices. These characters are privileged, don't recognize it, and they're self-absorbed and selfish most of the time, but that's what makes this novel worth the read.
I can't say I agree with all of their decisions, but I am deeply attached to all of them, and here's why. Frances, Bobbi, Melissa, and Nick are unlikeable in the way we all are, which is what helped me connect with this story. 
This book raises many questions that you'll ask yourself throughout the entirety of the novel. I couldn't help but think about what I would've done, and if my choice would've actually been wiser. I couldn't help but ponder what might've driven them to embark on that course of action. Who determines what's right or wrong? Is it wrong to put yourself first? What is it that makes someone a good friend? 
The truth is that to love this book, leaving aside the magnificent and capturing writing style, you have to empathize with the characters, and I'm convinced it's impossible not to. Each of the four characters is so complex and written with so many nuances that relating to them is inevitable, even if you'll want to deny it.
The Irish writer has the ability to immerse you in the story and captures your attention so that you don't miss any details, which are crucial to the story as it's character-driven and has no real plot. Don't get me wrong, reading about the different dynamics and the extravagance of the older couple's lifestyle compared to the typical young adult lives of the two best friends makes up for the absence of an actual plot. 
The themes are many, including sex, class differences, and political philosophy. Masochism, self-destructive behavior, incommunicability of feelings, and insecure characters masking their insecurity are explored and present in Rooney's most popular novel, Normal People. 
Something that I found extremely fascinating is that the characters are mostly disconnected, there are very rare mentions of social media, and they usually communicate through emails. It seems set in a time before our own, which makes the dynamics all the more interesting.
This made me reflect on how social media has changed the way I connect with people in an age where technology has an enormous impact on anyone's life. 
It was refreshing to see a portrayal of a character that made me feel seen. I love reading about characters that make me want to be a better person and that influence me positively, but when they're flawed, the reading experience feels heightened because it's real. 
I knew Frances was one of the rawest characters I had encountered while reading when she described her crippling physical pain and she brushed it off, acknowledging that suffering wouldn't make her special, and pretending not to suffer wouldn't either. 
There's nothing better than feeling seen, and this novel will do that and so much more. It will anger you, move you and make you laugh in a little more than three hundred pages. 
Conversations with Friends is nothing more than an exploration of the power dynamics between extremely realistic characters. Reading Sally Rooney's books will make you realize so much about yourself that you were probably avoiding understanding. She is pessimistic and incisive, and there's something special about the world she creates that feels so similar to the one in our heads and that will make you fall in love with her work.
book reviews
Communication major & writer. Travel and fashion enthusiast. Lover of every form of art.