Chop Queen
By Arlen Fuentes.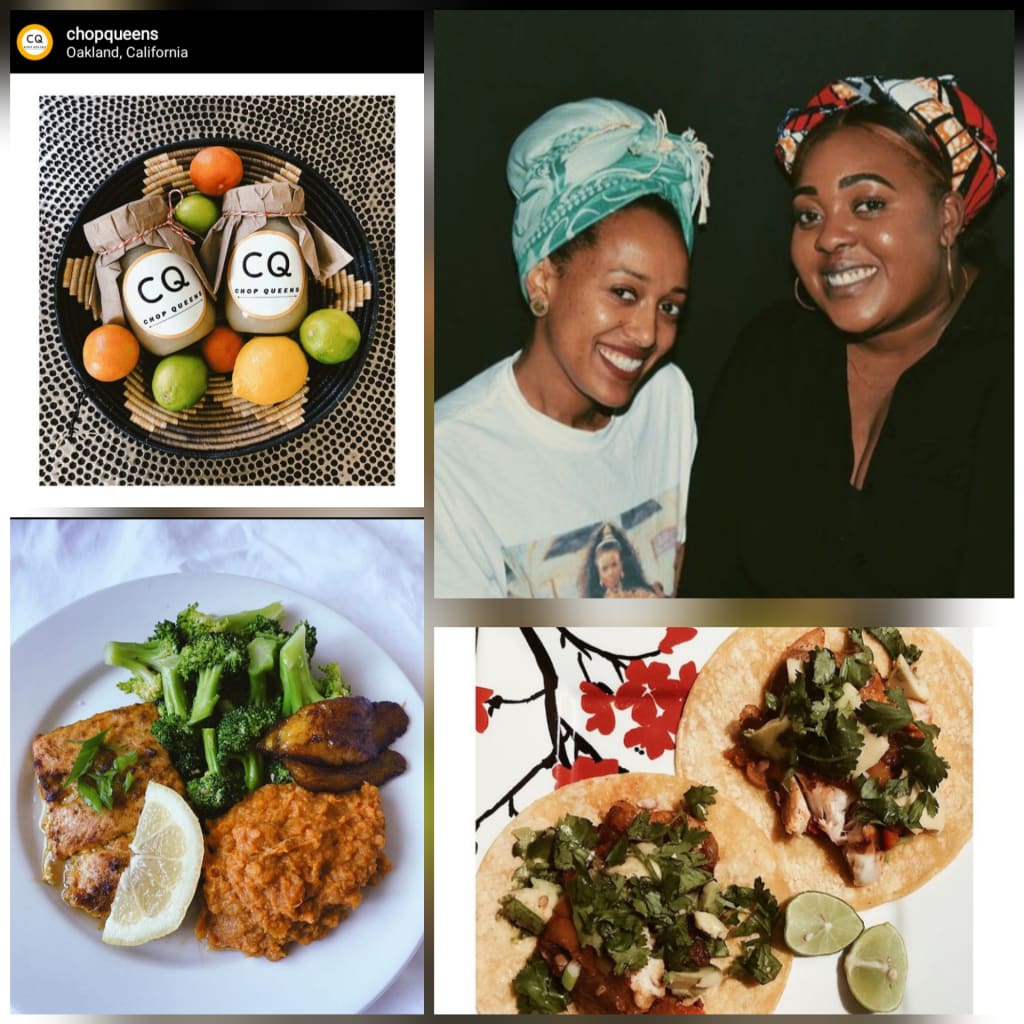 Photos courtesy of Chop Queen's Instagram page: https://www.instagram.com/chopqueens/
To know Tonja is to know that God manifests his divinity through Black women. I first met T. T (as I affectionally call her) in the fall of 2015, four years before she co-founded Chop Queens, with her friend, Beth, who is also a culinary chef. When I asked Tonja what the purpose of Chop Queens was, she stated:
"Chop Queens is about Cooking with intention… If you put love and positive energy into the food it will transfer to the people eating it… It's about using traditional Afro-Caribbean and Asian cuisine and putting a healthy twist to it."
The Bay Area Chef duo have also branched out to catering events with their stunning array of plant-based and vegan meals, and launching the brand's line of organic three- day Juice cleanses and Trinidadian Sea Moss Gel, which has aided many during the ongoing COVID-19 pandemic, by providing healing minerals that keep respiratory systems clean and healthy. It is an honor to shine a spotlight on these two amazing Black women entrepreneurs who are striving to change our relationship with food by building a healthy and sustainable bond through alternatives that are good for you. Seeing the success of T. T warms my heart, for if anyone is ever so deserving of happiness and success is my dear friend, along with every Black woman.
She has a heart and has been the backbone for a lot of individuals, like myself, who in time have lost their way. When I was twenty-one, I found myself homeless, sleeping on public buses, and at SFO, where Tonja and I both worked. I was so lost during this era of my life, struggling with addiction, carrying heavy demons. Many people close to me overlooked my situation and turned away, everyone except Tonja, she did not let me walk alone. At a time in this writer's life, when I was being forgotten by individuals whom I never thought would erase me from the repertoire of their minds.
She housed me.
It took God and Tonja to carry me through that tough time. There was never any judgment she always had words to uplift me and validated my existence by always encouraging me to write and share my stories with the world. We went through plenty of emotions together that year that I lived with her, in 2016, as the political climate in the country reached extra levels of devastating injustices. I can still see us watching the live-streamed shooting of 32-year-old Philando Castille, when only a day earlier Alton Sterling was shot to death by Baton Rouge Police. It was a heartbreaking reminder that the world is cruel to those that are deemed sociologically different.
Being a gay man, I've known the feelings of hatred and rejection, starting from the time I was four years old. This drew me closer to her, as I analyzed the collective situation marginalized groups of people still face to this day. Black women have never been safe, Gay men have always been hated, and though the two can not be compared, one thing remains the same: The need to be accepted as humans.
In writing this piece, I look back at all the wonderful Black women in my life that have given me lifelines. Whether it was my sixth-grade teacher, Ms. Powell, who saw my writing potential and told me to hone my gift or eight grade AP English teacher, who awarded me my first win for a writing competition, to Tonja, who saw past my destructive pain and allowed me to heal. Entrepreneur, Culinary Chef, Wife, Mother, Daughter, Humanitarian and great friend, Mrs. Tonja Robertson, I congratulate you this Black History Month and always.
Love,
Arlen.
friendship
About the author
I'm a dirt person. I trust the dirt. I don't trust diamonds and gold.
-Eartha Kitt
Bay Area Raised 🌉.
Writer/Poet/Designer,
Son of God & California.
♍ 🇺🇸🇸🇻🇭🇳🏳️‍🌈
Reader insights
Be the first to share your insights about this piece.
Add your insights