Blake McCoy on Tips for Planning Your First Fundraising Event
Blake McCoy | Chicago, IL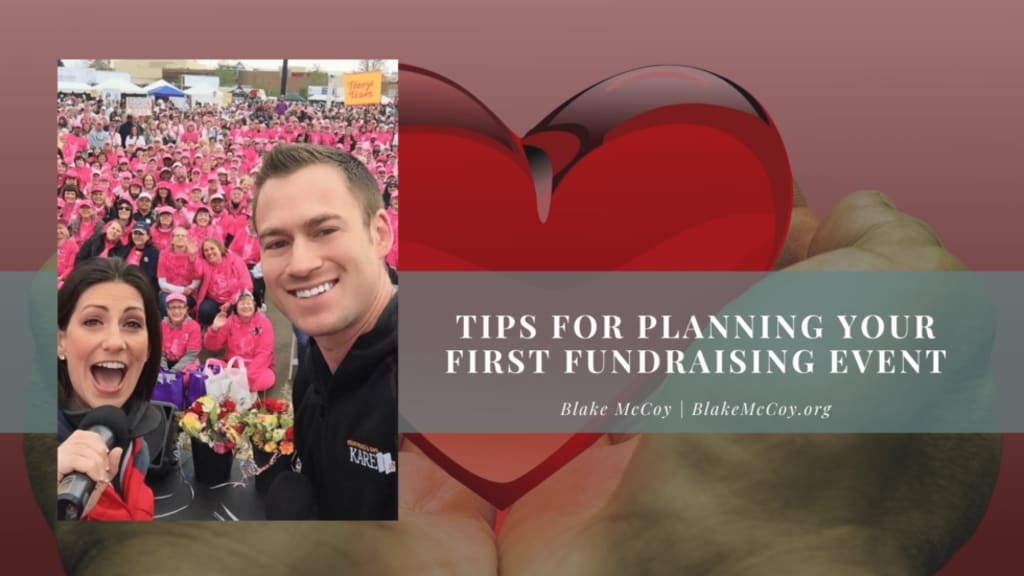 https://vocal.media/humans/charity-spotlight-national-industries-for-the-blind-blake-mc-coy-chicago-il
Planning its first event is one of the most critical factors a new nonprofit needs to consider when developing its operations. These tips will help you plan a fundraising event that will leave a lasting impression on your attendees and help build a stronger relationship with them.
Ask Yourself If An Event Is The Best Option
Although events can be fun and beneficial, they may not be the best option for your organization. Instead of an extravagant affair, consider holding a more feasible event, such as getting sponsorships, grants, or individual donations.
Think About The Audience
Before you start planning an event, it's crucial that you identify the people who are most likely to attend and support your cause. This will help you determine the type of people most interested in attending and help you reach your goals.
Develop a Goal
As the event planner, you should brainstorm a clear call to action that explains what your attendees should expect. Make sure that the goal that you're planning on setting is specific and measurable. Having a goal that's not specific and measurable can be very harmful for an organization.
Create a Budget
If you're planning on holding a fundraising event, make sure to limit the amount of money you spend on various items. If you're worried about funding the event, contact corporate sponsors.
Choose an Event Style
The type of event that you're planning on holding should also be based on your audience, goals, and budget. Even though the traditional fundraisers might be successful, it's also crucial that you try something new. Instead of following the same old formula, try organizing an event different from the usual one.
Excite Your Guests
Ensure your event shows the community how your cause can make a difference. You can inspire people and get them talking by using inspirational quotes from your previous victories. If your guests or non-attendees are inclined to give, they can do so by making a monetary contribution beyond the registration fee.
Advertise
You can use word-of-mouth to get the word out about your event and encourage your community members to do the same. One of the most effective ways to get people talking about your event is by posting on various social media platforms.
Reflection
After the event, you must look back to see if it was successful. You'll also need to figure out what went wrong and how it can be improved in the future. This is very important to help you find a process that works for you and your supporters.
About Blake McCoy
Blake McCoy has established a career as a skilled broadcast journalist. Blake has anchored top-rated newscasts in Washington, DC, Minneapolis, Las Vegas and Boise, ID. As a recognizable face delivering news to those communites, Blake McCoy has looked for ways to give back and highlight important causes. Blake also spent several years as a Correspondent for NBC News, traveling the country reporting for Nightly News, TODAY, and MSNBC. Alongside his professional career, Blake McCoy is focused on giving back and supporting his community. He is involved with multiple charities and organizations, both as a volunteer and donor. Blake has co-hosted the annual Susan G. Komen Twin Cities Race for the Cure, a Mother's Day event that raises millions for breast cancer awareness and research and draws more than 50,000 people.
Blake McCoy was also Ambassador for Dining Out For Life Minnesota, an annual event that partners with local restaurants to raise money for HIV/AIDS resources. In his role as Ambassador, Blake leveraged his position at KARE 11 to generate excitement and raise awareness. On the day of the event, Blake visited as many restaurants as possible to thank the owners, greet diners, and take photographs which were then used to promote the local restaurants. A symbiotic boost to everyone involved and an annual event that helped forge new ties within the community.
Throughout his career, Blake McCoy has tapped personal connections to help inform and direct his giving. A former colleague and co-anchor, Shawn Yancy, created Girls' Night Out by Shawn Yancy in 2010 as a way to promote charities that benefit the wellbeing of women and children in the Washington, DC region. In 2019, she officially registered Girls' Night Out by Shawn Yancy as a nonprofit organization and established its mission to transform the futures of underserved women and children by empowering their lives.
About the Creator
Blake McCoy is a dynamic, engaging broadcast journalist with a depth of experience. As a network news correspondent, Blake has traveled the country sharing stories of human triumph and tragedy, struggle and perseverance.
Reader insights
Be the first to share your insights about this piece.
Add your insights