Behind the Drawings
Never judge a book by the cover.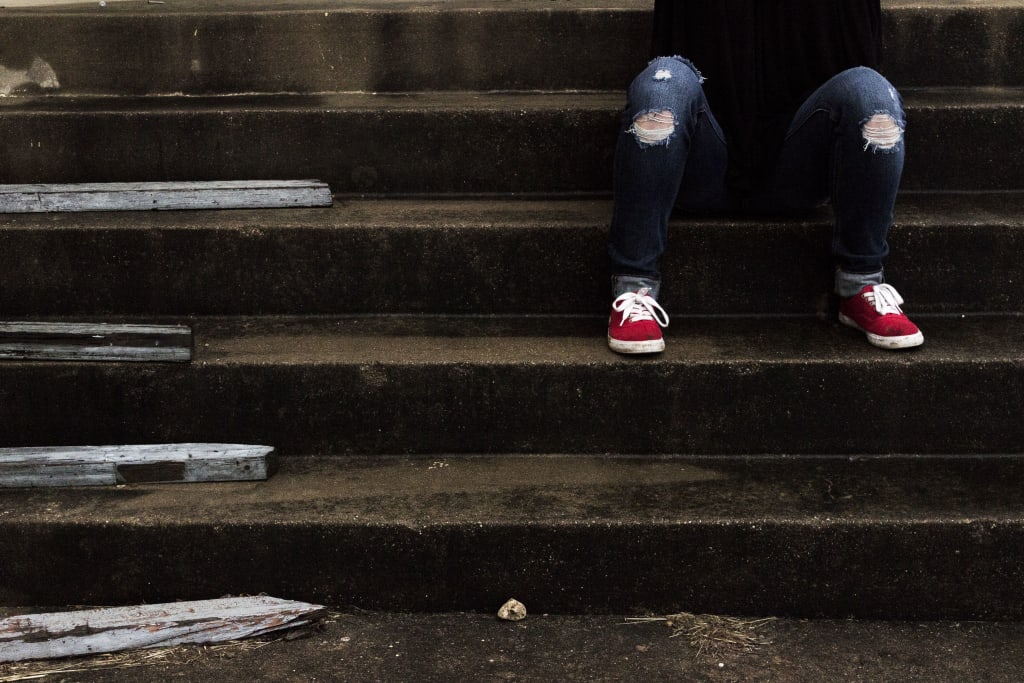 Have you ever noticed how there are people in your life that you have known since like kindergarten but you've never really gotten to know them? Maybe because of the way they dress or the way they act around people? This was the case for me freshman year, when I finally broke through a girl's wall that had been going to school with me since elementary and even lived by me, and I found out that there was more to her than amazing drawings and quiet thoughts.
It was another ordinary day at school, people rushing to classes after lunch, others taking their own sweet time, obviously in no hurry to explore the wonders of education. I was headed to art class, which happened to be my favorite class during 9th grade. There were a lot of people in my class, not just 9th graders either. It was a mix of all grades; freshmen ready to take all four years of art, sophomores excited to be back, juniors that either loved the class or the teacher enough to come back a third time, or the few seniors who had decided that they simply needed a goof-off class in their schedule. I took my seat with my group of friends that were in the class, only to notice that someone else had joined our group of desks. I looked at the girl, who was busily sketching a drawing of some object, person, or place, I really had no idea, and then glanced at my friends. They too were looking at the girl with the same puzzled expression as me. After a good five minutes of us probably being too rude and staring at her and the way her hand was flying across the page, she looked up. I felt my face burn with embarrassment and quickly looked away, feeling bad for staring. I glanced back again though, and realized that the girl happened to live right next to me. Not in a house exactly though, it was more so a garage type dwelling. I decided to speak up, just to figure out if I had the right person in mind, considering the girl I was thinking about was always really quiet, not talking to anyone in the halls but always carrying a sketch pad with her. So I looked at her again and simply asked "Don't you live by me? In a like two story type house?" The girl looked up slightly startled and after a few seconds replied rather bluntly, "Its not a house, it's my garage. My house burnt down a year ago."
After that response I felt really terrible for even bringing it up. Her statement jogged a memory for me though. I actually recalled hearing the ringing of a firetruck striking through the air as her house started to burn down in flames. I didn't know it was her at the time though. I had always thought that she was just some strange quiet girl, who kept to herself and was almost too rude to even bother with others. For that accusation, I never even attempted to talk to her. I snapped back to reality though to find our art teacher talking away about the artist of the week. I usually never paid attention to this, considering it was always the really talented artists that got the honor, and the really talented artists consisted of about four students, so it was always the same people. At that moment however, the teacher said the name of the drawing and my head whipped towards the screen at the front of the room. At the top of the screen read the title "Decieving Looks." Underneath the title was a haunted drawing of a girl, all in black and white, except for her eyes, which were a dark green color, that made them seem like they looked right through you. Somehow, I just knew that the drawing was completed by the girl. Art was, as a matter of fact, a way of expressing yourself. Just as I thought this, the art teacher asked the girl to stand up, so that people would know she was the one who drew such a mesmerizing picture. People applauded politely here and there, as did I, but as soon as she sat down, I told her that her drawing was hands down the best drawing I had ever seen. She just thanked me, not even looking at me, and got back to work scribbling in her sketch pad.
That girl taught me a lot that day. You cant just judge someone just because they are not what you want them to be. This girl wasn't an outgoing, preppy cheerleader, she wasn't student body president, and she wasn't part of any school sports. She wouldn't be remembered for winning state in basketball or setting a record in track, but in my opinion she should be remembered for being an amazing artist who was too humble and too polite to brag about her amazing work. I accepted her for who she was, knowing that there was way more to her, than what she played off. She was a prime example of learning to not judge a book by its cover.