Before We Were Yours Book Review
The power of resilience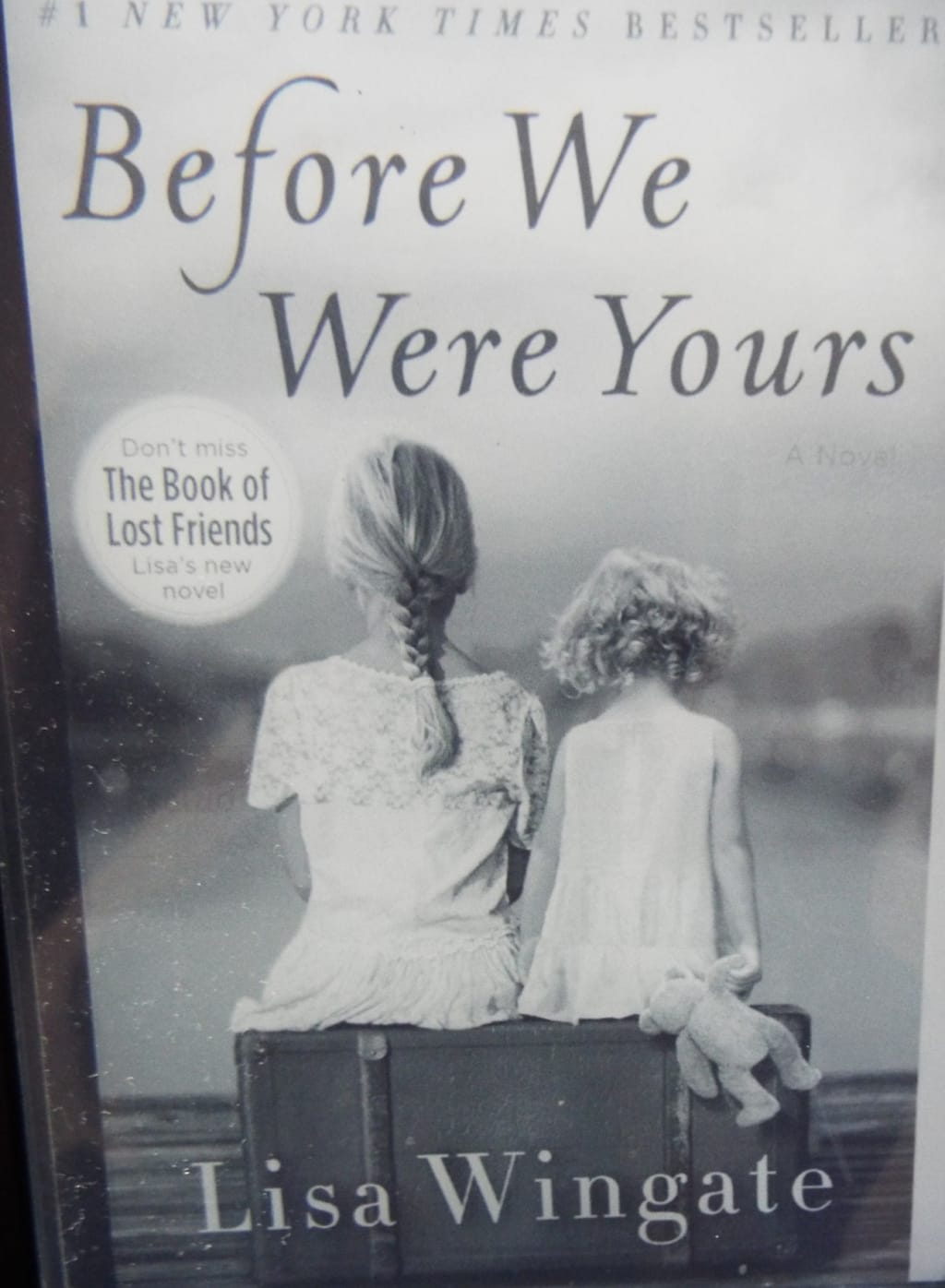 "Before We Were Yours", by Lisa Wingate, is a work of fiction. It is, however, based on true events, real people, and their stories.
Knowing this makes reading "Before We Were Yours" extremely difficult. It is alternately horrifying, sad, and infuriating, yet also hopeful, encouraging, and inspiring. It is ultimately a good read.
You may wonder how one book could be all these things. In the hands of author Wingate, it is seamlessly so.
The story is told in two time frames, 1939 and the present.
In 1939, you meet Rill Foss, a "river gypsy" and her four siblings (Fern, Lark, Camellia, and Gabion), who are left alone when their mother Queenie is rushed to the hospital after experiencing complications during an at-home birth. Before their parents return, the police come, and the children wind up in the hands of Miss (Georgia) Tann at the Tennessee Children's Home Society (TCHS) in Memphis (both Georgia Tann and the TCHS are real and easily researched online).
In 1939, Rill and her siblings think they are being held at the TCHS until they can be reunited with their parents, but begin to realize this may not be the case, though they never give up hope. Things at the TCHS are not good. The Foss children, and the many other children there are not treated well, but what's ahead for them is even worse.
It turns out that Miss Tann and the TCHS are a child-trafficking ring, and while some of the children who wind up in their hands were actual orphans, some end up there after their parents were tricked into signing away their parental rights, and some were kidnapped off the street.
Some of the children end up being adopted out to rich and famous families. Some of the children disappear and no one knows what happened to them. All of this is described in heartbreaking detail, yet the author manages to keep it from being too maudlin.
In the present day, in Aiken, South Carolina, the main character is Avery Stafford, a well-to-do but down-to-earth politician's daughter, who may also be the heir apparent for his political seat, given that he's fighting cancer.
At an event at a local nursing home, Avery meets a patient named May, who recognizes a bracelet Avery wears. May has a picture in her room that reminds Avery of her Grandma Judy, who is herself in a different nursing home.
This is how the stories of Rill and her siblings, and Avery and her family, separated by many decades, converge and ultimately come to conclusion.
Usually, when I read books with two timelines, I find myself liking one of the timelines much more than the other, and it's always been a bit of a problem for me, as I tend to skim more in the less enjoyable one.
That was not a problem at all for me in this book. Wingate has given both timelines characters that are likeable, interesting, and not shallow cardboard cutouts. It's not just the characters that are well fleshed out, either. The situations they're in and the locations, all work well together.
When the author switches from one time to another, there's a brief initial sadness, if you will, for being pulled from a wonderful storyline, but it's only a sentence or two in the new time frame before I'm fully involved in that. With each timeline I can't wait to find out where it's going.
There's a bit of suspense in "Before We Were Yours," as well, and I found it compelling. You know that Rill and her siblings have grown up and are part of the present-day story, but who are they? Who is May? Who is Grandma Judy? I made guesses, got some right, and got some wrong, but that's part of the fun. I couldn't read fast enough to get the answers.
This book doesn't end with a happily ever after for everyone. As the author herself states, because this book was based on true stories, it ends as many of the real-stories ended: with some unanswered questions.
"A Note From the Author" at the end of the book is well worth reading to understand this. I found it as interesting as the rest of the book. And after reading that, I went online and did more reading about Georgia Tann and The Tennessee Children's Home Society.
This book is haunting and infuriating, but it's also a wonderful testament to resilience, and hope, and family.
"Before We Were Yours," by Lisa Wingate. Ballantine Books, 2017. (I read this book in Kindle version.)