Anna's Botanicals
Episode One: Fresh Starts and New Beginnings–Written Oct 2018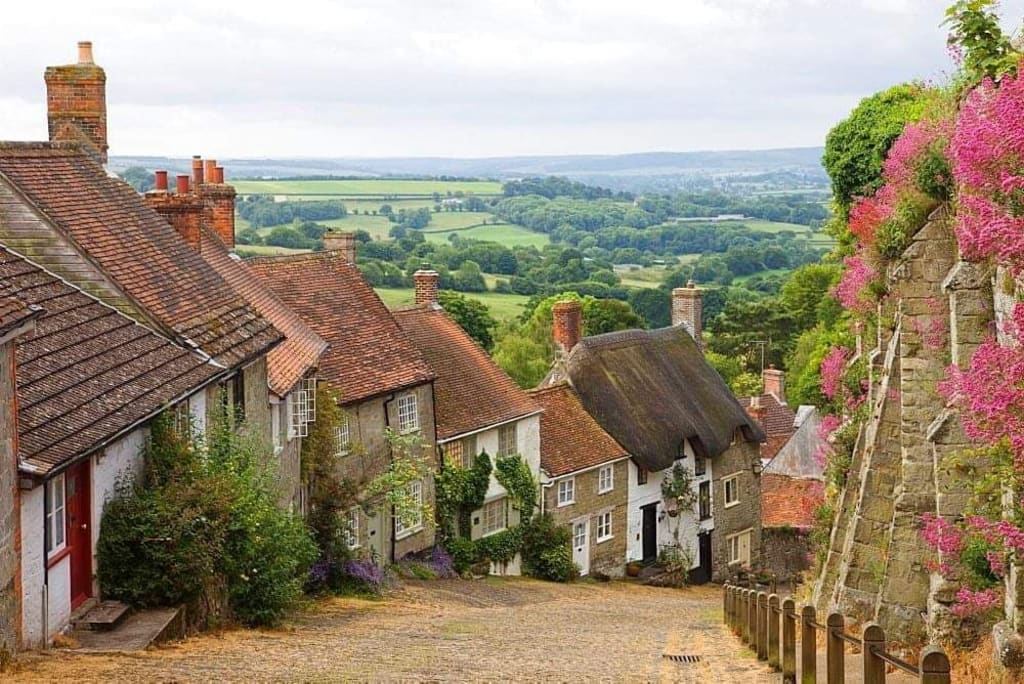 FADE IN
INT–DAY–LEEDS COFFEE SHOP
(CAMERA POV BEHIND GEORGE, OVER HIS SHOULDER, OUT THE WINDOW)
GEORGE is sitting at the window table, drinking coffee, depressed, brooding over what's happened and what he's done over the years, and how it's taking its toll on him. In his hand, he holds a business card, he flips it back and forth, then looks at it. The back side says "She CAN Help You! - M" in handwritten letters. He turns it over, looks at the front, and it says: Anna's Botanicals & More, [email protected], the address and the phone number. GEORGE looks at the card, then looks out the window, across the street at the shoppe. He purposefully finishes his coffee, gets up, throws out his cup, walks out the door, and across the street.
INT - DAY - ANNA'S BOTANICALS SHOPPE
(CAMERA POV ON ANNA'S SHOPPE)
He walks up to the door of the shoppe he was watching, there's a handwritten sign on it "I'm Truly Sorry, this location is closed permanently. Thank you for your patronage! - Anna."
GEORGE
Damn.
He sighs, puts his hand flat on the door gently, takes his hand off, looks at his hand, then turns and walks away.
FADE OUT
(Other Story line)
FADE IN
EXT - AFTERNOON - FIELDS NEAR PLAY AREA AND FOOTBRIDGE
(CAMERA POV ON CHILDREN)
Some of the younger kids are all picking herbs and flowers that match pictures they are holding. They're discussing the new shopkeeper, ANNA DUNWYTHE.
JOHN
She's nice, if a bit unusual.
KATHY
Can't believe she's paying us to pick flowers and weeds.
AUTUMN
(matter-of-factly)
They're called herbs.
CLIFF
Wonder what she needs these for...?
FADE OUT
(Other story line)
FADE IN
EXT - DAY - THE LOCAL PUB
(CAMERA POV FROM THE LOCAL PUB TOWARDS ANNA'S SHOPPE)
GEORGE pulls up in front of the The Pub in the Discovery, gets out, closes the car door looks around the town and spies a woman (ANNA DUNWYTHE) standing in front of a storefront with a moving van and moving men; she is trying to direct them as they carry a box spring, bed frame, and mattress in the door.
ANNA
That goes in the back room, please, gentlemen.
ANNA DUNWYTHE, 40ish, a few extra pounds, is dressed in a long black skirt and white embroidered blouse with long auburn hair and a floral waistcoat, she's stepping backwards into the street to get out of the movers' way, clearly not realizing how far into the road she's going. GEORGE is watching her, somehow mesmerized. Suddenly there are tires screeching as two cars come tearing around the corner from the church, right towards ANNA. GEORGE starts walking quickly towards ANNA as RILEY, EVERETT and FIONA rush out of the Cafe' and CINDI, MATTHEW and VESPA rush out of the Local Pub to find out what the noise is. The movers go in the door with haste.
RILEY (yells)
Watch out!
ANNA turns towards the voice, away from the oncoming cars, GEORGE runs full speed and grabs ANNA around the waist, out of the path of the oncoming car and they land on the ground next to the door of the shoppe.
(CAMERA POV ON GEORGE AND ANNA IN FRONT OF SHOPPE)
GEORGE holds ANNA tight against him, pulling his jacket over their faces to protect them from flying debris and rocks. The vehicles continue out of the village, as more villagers come out to see what the commotion was. GEORGE uncovers their faces and gently brushes the hair out of ANNA's face.
GEORGE
Are you alright?
Hope glimmering across his face as he looks to her for an answer. ANNA looks up at him and blinks.
ANNA
Yes, I think so.
GEORGE gets up, then holds his hand out for her, ANNA reaches for it, and feels a shock between them, withdraws her hand slightly, GEORGE feels a tingle in his hand, looks at his hand and at her questioningly. ANNA takes a breath, takes hold of his hand and he helps her up. ANNA brushes herself off as RILEY walks over.
RILEY
(questioningly) Anna? Anna Dunwythe?!
ANNA
(surprised) Riley?
RILEY reaches his arms out and she steps into his hug. GEORGE looks at RILEY, then at ANNA with a slight look of surprise.
RILEY
Are you alright?
ANNA
I was distracted telling the movers where to put my bed and this good samaritan...
ANNA turns to GEORGE.
ANNA
(continues)
I'm sorry, I don't even know your name.
GEORGE
George, George Frederick.
ANNA looks into his eyes, then quickly breaks the eye contact, turns to RILEY,
ANNA
Mr. Frederick saved my life.
ANNA turns back to GEORGE.
ANNA
(continues)
Thank you, I am forever in your debt.
GEORGE starts to protest, putting up his hand and she notices his jacket is torn from their landing.
ANNA
(continues)
And I shall attempt to start repaying you by repairing your jacket, if you will allow it.
GEORGE nods and removes his jacket, handing it to her. Their hands brush skin to skin again and they look at each other again, in mild surprise, as another slight electric shock/tingle passes between them.
ANNA
I'll have this ready in a couple of hours.
ANNA caresses the jacket lovingly. GEORGE shifts weight from his left leg to his right and winces now that the adrenaline is wearing off.
GEORGE
Shall I come by your shoppe?
ANNA
Hold on, you're hurt.
GEORGE
No, I'm fine.
ANNA looks at him and shakes her head slowly,
ANNA
No, let me help, please.
GEORGE nods once, slowly.
ANNA
We'll have a proper catch-up later, Riley, but first I need to tend to my good Samaritan.
RILEY kisses ANNA on the cheek and walks back to the Cafe. The rest who came out to see what the ruckus was, all stand where they were, jaws dropped in awe of GEORGE and his actions.
GEORGE
(in protest)
Madam, you make me sound like an invalid.
ANNA
Nonsense, those who saw what happened, know that bumps, bruises, and scrapes are to be expected.
The others walk off as ANNA shows GEORGE her bleeding left elbow and the ripped fabric of her blouse. The movers have finished, one holds out a clipboard for ANNA to sign, and hands her a pen. ANNA signs, hands him back the pen, and they get in the van and leave. ANNA and GEORGE walk in ANNA's shop, leaving the door open.
FADE OUT
(Other storyline)
FADE IN
INT - DAY - ANNA'S SHOPPE
(CAMERA POV ON SHOPPE FROM LEFT CORNER OF SHOPPE)
Packed boxes neatly stacked next to the shelves and the center counter. GEORGE is sitting on a chair by the center counter, looking around the shop, his jacket hung neatly on the back of it, as ANNA rummages through a box for her first aid kit. ANNA closes her eyes for a moment, thinking, and while her back is turned to GEORGE, she inquires of him.
ANNA
It's your left ankle, isn't it?
GEORGE
(surprised)
Yes, how did you know?
ANNA
You must have hit it on a rock when we landed.
She takes out her mortar and pestle, puts it on the counter by the kettle, then walks to another box and thinks about the items she needs.
ANNA
(continues)
Are you allergic to any plants?
GEORGE
No, not that I'm aware of.
ANNA opens the box and takes out two ornate jars, setting them on the counter, we see the labels– 'Arnica', 'Turmeric.' ANNA takes a spoonful of each item, places it in the vessel, and mixes it up. Just then, the children walk in with their baskets of flowers and herbs. ANNA turns on the kettle.
JOHN
Miss Anna, here are the plants you wanted gathered from the pictures.
ANNA walks behind the counter with the laptop/register, takes a small money bag out from under it and walks over smiling brightly at the youngsters.
ANNA
Ah, yes
ANNA looks at the almost overflowing baskets and smiles,
ANNA
(continues)
You all did wonderfully. These will do nicely, thank you.
ANNA reaches into the bag and hands them each a 5-pound note.
AUTUMN
(starts to protest)
Miss Anna, this is more than you said you'd pay.
ANNA
Is it?
ANNA smiles knowingly at AUTUMN and at the note in her hand.
ANNA
(continues)
Well, so it is, and with good reason. You all brought me more than I expected. May I count on your help again?
The CHILDREN nod and smile brightly.
ANNA
A job well done, Thank you all, I'll post a sign in the window again when I need you.
The CHILDREN walk out the door, AUTUMN closes it gently behind them and the kettle clicks.
GEORGE
You're very generous with them.
ANNA
I believe good work deserves a proper reward, it builds a good work ethic in the young.
ANNA puts the money bag away, walks to the mortar & pestle, pours the ingredients into a small glass bowl. She uses a plastic spoon and scrapes them all in, she then pours a little water from the kettle into the bowl as well. She then puts two tea bags in the teacups sitting on the counter, pours some milk from the little pitcher that is sitting in a bowl of ice water, drops in two sugar cubes each, then pours hot water from the kettle into them. ANNA stirs the bowl gently, then tends to the tea. She picks up a clean cloth and dampens it with the water from the Kettle.
GEORGE
I find it curious that you had two teacups readily sitting there.
ANNA
(laughs softly)
It's no more curious than how many chairs there are in a cafe or how many sticky buns they have on hand to sell for the day.
GEORGE
(smirks)
Touché.
GEORGE'S smirk turns into a small smile, as he watches ANNA, as she brings over his tea and sets it down next to him.
GEORGE
Where did you learn about all this?
ANNA returns to get the bowl and the damp cloth, touching the paste inside with her knuckle to test the temperature, then sets it on the table next to GEORGE as well. ANNA retrieves a small cloth bandage, and a couple of wide ribbons from her first aid box, then takes the bowl, cloth, bandage and ribbon and kneels down in front of GEORGE, who lifts his leg across his knee, he takes off his shoe and sock, folding the sock neatly inside the shoe, and placing it on the floor. GEORGE starts to put his foot on the floor and ANNA taps her thighs for him to put it there instead, which he does. ANNA then takes the damp clean cloth and gently wipes the wound. ANNA then takes the piece of cloth, scoops out some paste, gently places the cloth and paste on the scraped part of his ankle bone, GEORGE winces slightly, then relaxes.
ANNA
Self-taught, most of it. Lots of book reading. I love nature, and usually carry a basket or a linen bag with me on walks to gather what I need.
ANNA fastens the cloth bandage on his ankle with a ribbon.
GEORGE
So were you ever a medic in the military, a nurse or a doctor?
ANNA
No, I was never able to get into the military, can't stand needles to be
a nurse, and was not allowed to be a doctor, but that's a long story.
GEORGE
One I hope you'll allow me to find out eventually.
ANNA
We'll see. How does your ankle feel?
GEORGE
That feels pretty good, a bit warm.
ANNA
Good, it's supposed to, Arnica is an antiseptic and Tumeric is a pain reliever and increases circulation for healing, hence the warmth.
ANNA rolls up her tattered sleeve, rinses off her elbow with water, dries it with a nearby towel, then walks back to the table, and attempts to put the paste on her elbow.
GEORGE
May I help you with your elbow?
ANNA turns so her elbow is facing him, GEORGE does as she did, uses the piece of cloth bandage, scoops some paste onto it, places it on her wounded elbow, fastening it with another ribbon.
GEORGE
I'm sorry about that.
ANA
For what? You saved my life, those cars could have killed me.
GEORGE
For your elbow being scraped.
ANNA
It's nothing, it will heal.
ANNA takes the bowl, mortar & pestle, spoon, etc. to the sink and washes them, then dries her hands.
GEORGE
So how long do I need to keep this on my ankle?
ANNA
About 15 to 20 minutes.
GEORGE
Well, as long as I'm sitting here, may I help you unpack?
GEORGE takes the initiative and starts handing ANNA the jars out of a nearby box as she walks over. ANNA takes them from him, taking care to not brush skin to skin.
ANNA
Tell me about my good Samaritan. Who is George Frederick?
GEORGE gets a brooding look on his face, wondering how much to tell her. ANNA places the jars in their appropriate places on the shelves already labeled, then returns to get more from GEORGE.
FADE OUT
(Other storyline)
FADE IN
INT - DAY - ANNA'S SHOPPE
All jars are on shelves, boxes are broken down and stacked in a corner. GEORGE is up and walking easily with no limping or wincing. ANNA steps back and looks at the shop, nodding and smiling. GEORGE takes hold of one of the small baskets the children brought in.
GEORGE
What will you do with these?
ANNA (walks over)
These get tied in small bunches and hung upside down on the pegs over there.
ANNA nods to the pegs on the far wall and picks up one of the already cut twine nearby, winds it around the bunch and ties a double bow in it, then sets it aside. GEORGE picks up a large bunch and ties it resembling hers.
GEORGE
What is this one?
ANNA
Rosemary.
GEORGE looks at ANNA's bunch, then looks at his.
GEORGE
Oops...
GEORGE tries to undo the twine and has trouble, ANNA moves to his side of the table and holds her hand out for the bunch.
ANNA
May I show you an easier way to get the twine off?
GEORGE hands it to ANNA, their skin brushing again, and a tingling/shock again, they look deep into each other's eyes. GEORGE leans in to kiss her, she leans back a bit.
ANNA
Too soon.
GEORGE
My apologies.
GEORGE looks at her questioningly as she rolls the twine loop off the stems. She then re-ties the bunch after separating it into smaller bunches.
ANNA
No worries. How is your ankle feeling?
ANNA takes the now tied bunches over to the pegs in the wall and hangs them up. GEORGE sits down in the chair, and takes the bandage off his ankle, inspecting the skin, seeing it's almost healed already.
GEORGE
It's almost healed. How is your elbow?
GEORGE puts his sock and shoe back on, folds the bandage up and puts it in the trash bin by the counter, putting the ribbon on the first aid kit.
ANNA
Oh, good, didn't think it would take long. Mine should be about the same.
ANNA takes the bandage off her elbow, folds and tosses it in the bin, putting the ribbon in the waistband of her skirt, GEORGE nods as she rolls her other sleeve up to match the torn one. ANNA picks up some of the stacked boxes and walks to the back room. GEORGE picks up the rest and follows suit into the back room as she walks out. GEORGE walks back out and turns to face ANNA.
GEORGE
May I take you to dinner?
ANNA
Yes, my treat though, until I can figure out a way to properly thank you for saving my life.
GEORGE
(matter-of-factly)
I'll come get you at five PM.
ANNA smiles and nods as GEORGE walks to the door, turns to smile at her, then goes out, closing the door behind him. ANNA takes a deep breath, turns on her music player, she starts humming, picks up her sewing kit, his jacket, and sets to work repairing the sleeve.
EXT - DAY - "Anna's Botanicals" shoppe
GEORGE closes the door, smiles to himself, starts whistling, then stops suddenly and looks around to see if anyone noticed.
FADE OUT
(Other story line)
FADE IN
INT - EVE - THE LOCAL PUB
Door opens and ANNA enters, carrying the suit jacket, with GEORGE right behind her. They look around and find an empty table. GEORGE holds the chair out for ANNA, who smiles and sits down.
GEORGE
What would you like to drink?
ANNA
Water with lemon, please.
GEORGE goes to the bar, CINDI walks over to him.
CINDI
(nods toward ANNA) (snarky)
Your latest conquest?
GEORGE
(calm, COOL and collected)
No, the new shopkeeper, Anna.
CINDI
What can I get you?
GEORGE
A coffee and a water with lemon please.
COOKE walks out of the kitchen and next to CINDI.
COOKE
Would you like something to eat?
GEORGE
Two of your specials, please, Cooke.
COOKE
I'll bring them over when ready.
GEORGE
Thank you.
GEORGE takes out his wallet and puts a 20-pound note on the bar, CINDI takes the money. CINDI and COOKE exchange looks and COOKE walks into the kitchen.
GEORGE
If she tries to pay, please tell her it's on the house, for the new shopkeeper in town?
CINDI
(nods)
Can do.
CINDI fixes the drinks. RILEY walks in while GEORGE is at the bar, RILEY spies ANNA and sits down at the next table. GEORGE notices RILEY while waiting for the drinks, and watches with great interest.
RILEY
Anna, I haven't seen you in over a year, how have you been? What are you doing in our quaint little village? Wait, where is Gary?
ANNA
I've been ok, dealing with life, or the lack thereof. Gary died in a car wreck on his way home from work last year, after we saw you and Missy. I remembered you said you lived here, so I'm here looking for a fresh start. Missy told me what happened between you two, I'm so sorry.
RILEY
Yes, well, I suppose it's for the best. I'm sorry to hear about Gary, he was a good guy.
ANNA
Yes, he was, to everyone else, but if I'm honest, he preferred his computer games and videos to spending time with me.
RILEY puts his hand on ANNA's hand and she puts hers on top of his.
RILEY
I'm so sorry, Anna, I didn't know.
ANNA
Well, things like that you don't find out until after you've been married a while, it seems.
CINDI hands GEORGE the drinks, and he walks back over to the table, causing RILEY to pull his arm back as GEORGE puts the drinks down, and sits across from ANNA in time to hear ANNA explain what's happened.
ANNA
Thank you, George. Rumours had started floating around that I had killed Gary. Then, I was accused of being a witch, casting spells, of all things. I was harassed and run out of town, can you imagine?
RILEY and GEORGE shake their heads in disbelief.
RILEY
Well, this is a good place to start fresh. If you need anything, let me know.
ANNA
I will, thank you, Riley, and likewise, you know what I do, if I can help, let me know, please?
COOKE walks out of the kitchen with their food and approaches the table.
RILEY
Yes, I do know, I'm sure you'll find you're very needed here. I'll see you later, enjoy your dinner.
RILEY gets up carefully, kisses ANNA on the cheek, nods to GEORGE, then goes to the bar. GEORGE feels a pang of jealousy, then tries to dismiss it, but not before ANNA sees it, he awkwardly smiles and looks at her questioningly.
ANNA
Riley, Missy, and I have been friends for years. He's been like an uncle.
GEORGE relaxes a bit and ANNA raises her drink in a toast.
ANNA
To my good Samaritan, George Frederick.
GEORGE
(smiles)
To fresh starts and new beginnings.
ANNA and GEORGE tap their glass/cup and drink. PATRICK, MARCIE and FELIX walk in and over to the bar. FELIX looks around and spies GEORGE and ANNA. FELIX taps MARCIE on the arm, and nods toward GEORGE and ANNA, MARCIE follows his gaze. GEORGE only seems to have eyes for ANNA and doesn't see the new arrivals as they eat.
FELIX
Wow, you think he fancies her?
MARCIE
One would never have guessed, wonder who she is.
RILEY
She's the new shopkeeper, Anna Dunwythe.
MARCIE
Oh! The botanicals shoppe? I wonder when it opens.
COOKE
Oh, that's her? Ah, Autumn said she paid a few of the children five pounds each to pick flowers and herbs for her.
FELIX and MARCIE nod, obviously impressed, and turn back to the bar as they see GEORGE stand up and move ANNA's chair out for her. ANNA gives GEORGE his jacket and he loops it over his arm, ANNA picks up the dishes and carries them up to the bar. GEORGE stands just behind ANNA, watching on.
ANNA
That was delicious. I'd like to settle the bill please.
CINDI
It's on the house, for the new shopkeeper.
ANNA looks at her questioningly.
COOKE
Autumn's my daughter, she really likes you. She told us you're opening a new shoppe in town. When is the Grand Opening?
ANNA
Oh! Thank you very much. Yes, The botanical shoppe, over the road. Autumn is a sweet girl. The children all picked more than I expected them to. I'll be having my Grand Opening this weekend.
MARCIE
Wouldn't miss it.
COOKE
I'll see if I can come on break.
ANNA
Great! I look forward to seeing you all then.
GEORGE smiles at ANNA, puts his hand on ANNA's lower back, then he opens the door for her and they walk out. GEORGE still does not even notice MARCIE and FELIX.
MARCIE
(in a low voice)
I thought he was barred.
FELIX
He obviously doesn't remember.
PATRICK
Wow, I don't think I've ever seen anyone so besotted with someone before.
CINDI
After I saw him save her today, I wasn't going to cause a scene in front of her. But on the other hand, he's smiling, would have thought his face would crack.
FELIX
He's going to have a hard time proving that he's changed.
CINDI
One time of behaving nicely in a pub isn't going to do it.
PATRICK
Wonder what she's done to have that hold over him.
RILEY
I agree, one time is not going to fix things with George, and those he wronged. But, you should know, I saw him risk his life to save Anna from getting run over today. The kind of gossip you're trying to start about Anna is exactly what she's trying to get away from. She's an herbalist, a damn good one, outgoing, caring, and has a unique gift for helping people. Can we give her the benefit of the doubt please, instead of creating rumours?
RILEY slams a note on the counter and walks out in a huff leaving the others with their mouths open.
FADE OUT
(Other story line)
FADE IN
EXT - EVE - TOWN ROAD
(CAMERA POV ON GEORGE AND ANNA AS THEY WALK ALONG)
GEORGE and ANNA are walking toward her shoppe, her arm is looped through his.
ANNA
It's been quite a day. Relocating is always an adventure.
GEORGE
Indeed, some days more than others, (Pause) Anna, may I see you again?
GEORGE turns and looks at ANNA.
ANNA
I'm sure we will see each other again.
GEORGE
Yes, I know that, but…
ANNA
Oh, you mean, as in, be a couple?
GEORGE
Yes, unless you're seeing someone else.
ANNA
No, am not seeing anyone.
GEORGE and ANNA stop in front of her shop.
ANNA
I don't see any reason why we can't be exclusive.
GEORGE
Until later then?
GEORGE takes ANNA's hands in his and kisses them, he feels the tingle, licks his lip and she winces-feeling the shock, though he can't see it in the dark, then releases them. ANNA takes out her key, unlocks and opens the door.
ANNA
Goodnight, George.
GEORGE waits until she closes the door and locks it, then he turns to leave as it starts to drizzle just enough to see the drops on his coat. GEORGE smiles, looks up at the sky, letting his face get wet, then walks off, feeling happier and dancing a bit to a song in his heart.
END of Episode