Angels Abound!
I'm not going to have a very good birthday tomorrow, Papa.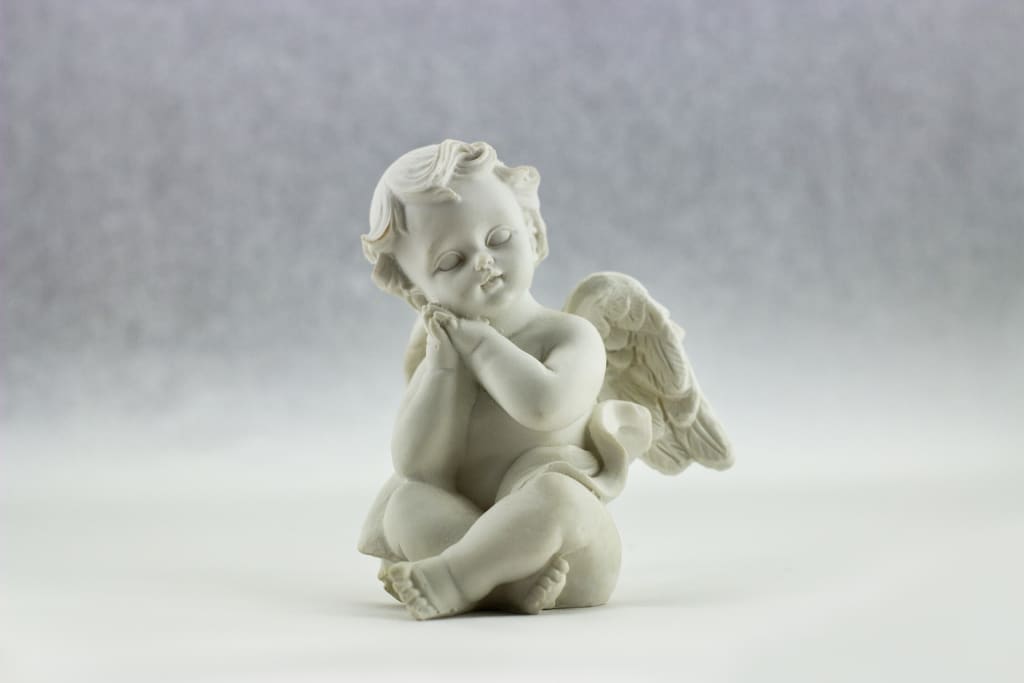 It was the day before Cameron's ninth birthday. I expected to hear an excited voice on the other end of the phone in Windsor, but there were only sobs and tears. Cameron's classmate, Destiny, had died suddenly two days before, and my youngest grandson was feeling deep, deep sadness. "I'm not going to have a very good birthday tomorrow, Papa," was the only clear sentence he managed to articulate at that point. This is the rest of the conversation as best I can recall.
"Cam, I want to tell you a little something you can do so you WILL have a super birthday tomorrow."
"What's that, Papa?" he whimpered.
"You know when you say a prayer before you eat?"
"Uh huh."
"Well, you can start saying special little prayers and send them to Destiny's mom and dad and brother. Every time you send them a prayer they will feel a little angel on their shoulders, and that will make them feel better."
"Really, Papa?"
"Really and truly, Cam. So, you can send them little prayers all day long tomorrow or anytime you want, and that will make them, AND you, feel better."
There was a few moments of silence, then "Can I go and send them a prayer now?"
"You sure can, honey, and I'll talk to you on your big birthday tomorrow, ok?"
Now, I don't know if Cameron did this or not (I didn't bring the subject up again), but when he called the next day, he sounded bright and happy as he recounted his birthday events.
This little story doesn't end there, however.
Cam's year-older brother, Corbin, goes to a different school. One of his classmates is Liam. Liam is a huge fan of the hometown Ontario Hockey League player, Taylor Hall, who plays on the Windsor Spitfires (they won the Memorial Cup in 2009), and is being touted to go number one in the upcoming NHL draft. Liam is also Destiny's cousin. Hold that thought.
My grandson's mom, my oldest daughter, Sara, has a cool and very funny male friend, Tracy, who took Corbin to a Spitfire's game the day after Destiny's passing. My beautiful niece, who's been dating the captain of the Spits for a few years, arranged for Corbin to meet Harry Young and the team in the dressing room after the game (which the Spits handily won).
On the comedic side, Tracy, not really knowing if Corbin was a dyed-in-the-saddle hockey fan, asked him how many periods there were in hockey, and, when Corbin was clueless, decided to buy him a 20 dollar hat instead of a 75 dollar jersey.
Harry met them at the pre-arranged place, and they walked into the dressing room, hat and program in hand. Corbin then got the autographs of all the Spitfires.
It's what else Corbin did that amazed me. He took out his ticket stub and went over to Taylor Hall, and told him about his friend's cousin's death, explaining that Liam was his biggest fan. He then asked Taylor to write something for his friend and sign the stub. Taylor was only too happy to oblige.
The next day at school Corbin gave the gift to his friend in mourning.
Angels abound in this world!
Author's note: Taylor Hall, Harry Young, and the Windsor Spitfires did indeed win the 2010 Memorial Cup. Taylor went number one overall in the NHL draft to the Edmonton Oilers (and is now a star on that team), and Harry was signed to the New Jersey Devils.
©Rick BeneteauWebsite