A Trepidatious Beginning
And the biggest mistake of my life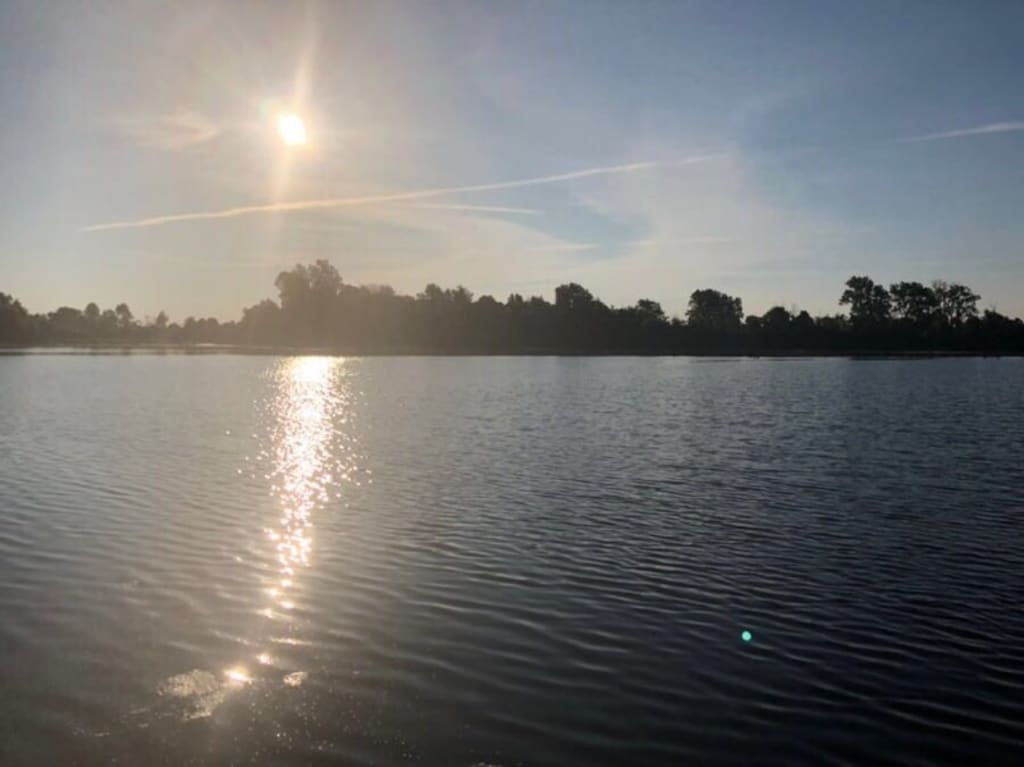 The airport was blindingly lit from sunlight shining through the glass walls and ceiling. The icy air conditioning made her shiver after the warm spring day outside. Among the milling people, she was nearest the doors where the passengers would appear. She craned her neck to see him. They had talked online for two years and video chatted daily, but this was their first real meeting. Living over 2,000 miles apart had made it difficult to get together.
There he was. Tall with blonde, curly hair and eyes echoed by his baby blue t-shirt. She held her breath and waited for their eyes to meet. Chris smiled and walked towards her. "Anna. I worried you wouldn't come." They embraced. She melted into his powerful arms. There was no enemy that might attack her, either in the real world or her own mind, that could overpower his strength and fierce protection of her.
"My dad drove me," she informed him. He was astonished. He thought her family would reject him, but they greeted him warmly. They arranged to meet for lunch and parted ways at the mall. The couple walked and discussed what they had planned for that day.
"Are you sure that you want to do this?" Chris asked.
"Absolutely. I can't wait to be free. They're so busy with church, I'm just a bother. You're the only one who really cares about me." Anna feared that if they did not get married immediately, her parents would find ways to keep them apart.
Chris had told her about his ex: how she had been a vulnerable teen with an abusive stepfather. He swept in and carried her away to safety. Sadly, she returned to her family and cut him out of her life. She now lived a depressing life without him. He was a hero, and now he was Anna's champion.
Chris replied, "I don't want you to be hurt. Ever. Especially not by anything that I've done." He looked away.
"You could never hurt me," she persuaded. "Believe me, it's better this way. They'll never approve of us getting married." A minister's daughter marrying a recovering alcoholic from Las Vegas that she met online in a depression support chat room? Not a chance. They probably thought she was destined to be a pastor's wife like her mother and grandmother, but she refused. The church had taken enough from her, she would not sacrifice her marriage, and her future children's father, to it as well.
"As long as you're certain," he replied.
A short walk took them to City Hall where they applied for a marriage license. The woman issuing it asked where they would get married. They looked confused. "We thought we'd do it here." She replied that City Hall only issued marriage licenses, a minister would have to perform the marriage. There was one nearby, however, that might be available. They thanked her and walked over nervously. What if he was booked up? What if he refused? Would their entire plan be ruined?
He was available that afternoon! It would allow time to meet her parents for lunch and come back. They encountered another hurdle when they returned. "Where are your witnesses?" the receptionist inquired. "Witnesses?" they asked, shocked. Two witnesses were required to carry out the marriage ceremony. Anna slumped in her seat. They would have to reschedule and convince two friends to participate without informing her family.
"The couple scheduled after you has arrived. You could ask to borrow their witnesses." The receptionist offered the astounding suggestion. They asked the couple and their witnesses if they would consent to this. The witnesses happily agreed to participate in both weddings.
After the minister pronounced them man and wife, they kissed for the first time. Leaving the chapel, Chris took Anna's hand in his. Her heart thrilled. She could conquer anything life threw at her with this man by her side.
His motel was a few minutes from where she worked as a live-in nanny. She did not stay there on their wedding night, not wanting to confess to her employers yet what she had done. They would not approve and she feared they would tell her parents.
In the morning, her employers invited the couple to join them for lunch after church the next day. Anna decided to spend that night with Chris. He was her husband, after all, and there was nothing wrong with spending the night with one's spouse. He would leave the next day to return to work so it was their last chance. She could not go home with him as she had to give and fulfill her two weeks' notice first.
They waited on the edges of their seats in the motel lobby for her employer to pick them up for church the next morning. His face was difficult to read. Anna presented their marriage certificate to prove she had done nothing wrong by spending the night. "I thought it might be something like this," he sighed.
"Please don't tell my parents," she pleaded, wringing her hands. "Chris and I will tell them together." He agreed. After church, they sat through an awkward lunch. She gave her two weeks' notice before her father picked them up to take Chris to the airport. Her husband would return in two weeks so they could tell her parents together, then she would leave with him and say goodbye to her current life.
They were also taking a family friend for his flight. He met Anna at the back of the van. Taking her hands in his and meeting her eyes, he said, "I bless your and Chris' future together." Her eyes grew wide. She asked him, "How did you know?" His clear face became disturbed. "How did I know what?" he asked. Now she was confused. "We got married. Two days ago." She could see from the look on his face that she had misunderstood his blessing on their future. Now her mother was at their side and they could say no more. He hugged her goodbye with an apprehensive look.
The two men disappeared into the airport together. Her heart tore in two as she was wrenched apart from her beloved. She knew that it would be a difficult two weeks but she had no concept of just how dreadful it would be.
A week later, her employers fired her – effective immediately. They felt they could no longer trust her with their children due to her irresponsible behavior. She moved back home and waited fretfully for her husband to return. Somehow, her parents found out what she had done. They confronted her, but she refused to confirm or deny anything until her husband was by her side.
After a week of high tensions, her father again drove to the airport. When they returned, the new couple and Anna's parents sat together. The room felt claustrophobic. Her heart thundered in her ears as she struggled to maintain control of her emotions. She waited for the castigating that she knew was coming.
Her father started: "We thought that he was coming back to ask our permission to marry you." Anna scoffed inside. As if they would allow that! Her mother continued, "We were prepared to say yes, and to bless your marriage. You have stolen that opportunity from us. You've robbed me of the experience of helping my daughter prepare for her wedding, of your father walking you down the aisle. You think that this only affects you, but whose doorstep do you end up on with two children in tow if your marriage doesn't work out? Ours."
Facing Chris, she continued, "It's as if I spent 19 years – Anna's entire life – working on a precious painting to be presented to someone very special. I was preparing it for you. Instead, you broke into our house and stole the painting. You've broken our trust in you. You took from me the chance to GIVE that precious work of mine to you. Nevertheless, you are married now. We bless your marriage. You've chosen a hard way to start a life together."
Anna reluctantly received an envelope from her mother, assuming it was an angry letter, expressing the difficult words that her parents couldn't bear to speak aloud. "Here is the value of the shares in my company that I gave to you for Christmas ten years ago. We figured you could use the money to set up your new home." It was equal to six months of nannying wages.
Anna's mouth dropped. She had expected to be verbally cut to pieces and disowned. Instead, she was blessed beyond measure. She anticipated anger at the embarrassment that she had caused her family but did not think that her parents cared that much about her. The many blessings when she was expecting the exact opposite wrecked her defenses.
"I'm sorry. I'm so sorry." Anna bawled. She had misjudged her parents and drastically changed the course of all their lives with her ignorance and presumption.
I would have given anything in that moment, even my life, to go back in time and undo the biggest mistake of my life.