A Spiritual Journey
A Week Of Synchronicities: Part 3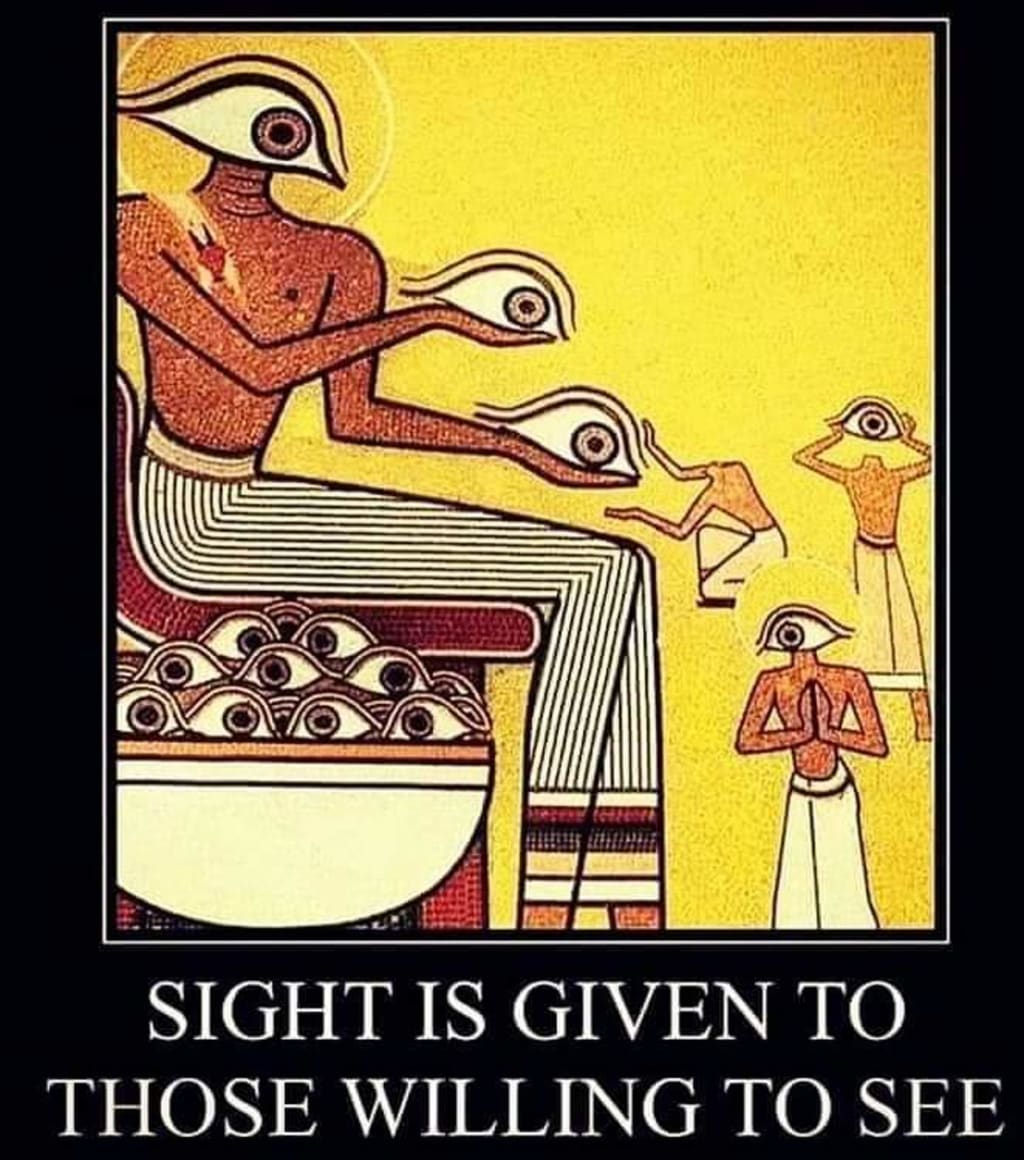 12th Jan 2020
I was still sat in the library as the staff arrived and people started their day, after a while I went to get a coffee and some breakfast.
I ate slowly and took my time with a few bowls of muesli, fruit and vegan yoghurt. People came and went around me, but I was maybe lost within myself, thinking about what had been happening to me, (within me? Without me?), and how long it had been going on for, which in retrospect, is my entire life.
I finished and headed towards the library and as I walked through the lounge, I saw Rayne and her father sat on the sofa below the mirror. I went and joined them. I had forgotten her Dads name (there's only so much I can remember, maybe?). I learned that Rayne had been living in Birmingham for several years and working at a hospital and they had come to the Peaks for the weekend to visit Chatsworth House. Unfortunately, the house was closed so I joked with Rayne that she hadn't planned her trip very well and suggested she go to Biddulph Grange. The weather wasn't too great so she didn't seem too keen, I suggested they go to Bakewell and explained that it was a nice town with lots of lovely architecture and that it was close to Chatsworth, so they could see if they could walk around the grounds even though the house was not open to visitors.
I went outside for a cigarette and as I lit it the church bells started which reminded me of my look around there the day before, (not mentioned yesterday as I'd forgotten until I was writing today). I opened the door to the hostel and beckoned Rayne to follow me outside, she jumped up and did as I had suggested, when she got out I asked her to listen, she said ' ah, lovely church bells', I replied that I had been there the day before and it may be worth a look around. Thank you she said and went back inside to speak with her father.
I began to take notice of the rain, which had stopped, dripping off the trees and onto the crisp leaves below. I looked at a fern in front of me and saw droplets on the end of each leaf, none of them were dripping off and they seemed to be shining although the sun was behind clouds.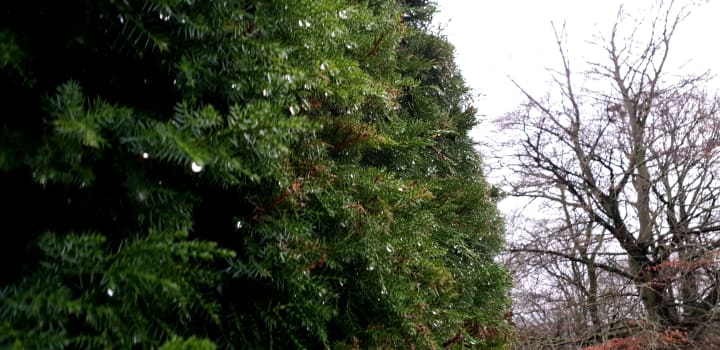 I returned to the lounge just as Rayne and her dad were leaving and said I may see them later, sat on the sofa and chilled for a little while watching the comings and goings. After an hour Andrew came through the door and we began to talk, mid conversation Rayne came back from the church and told us that they did not go in as there was a service being held and they did not want to disturb it, so just walked the grounds and thanked me for pointing them in that direction. Ting Taou asked if he could have a picture with myself and Andrew. We exchanged email addresses and went our separate ways.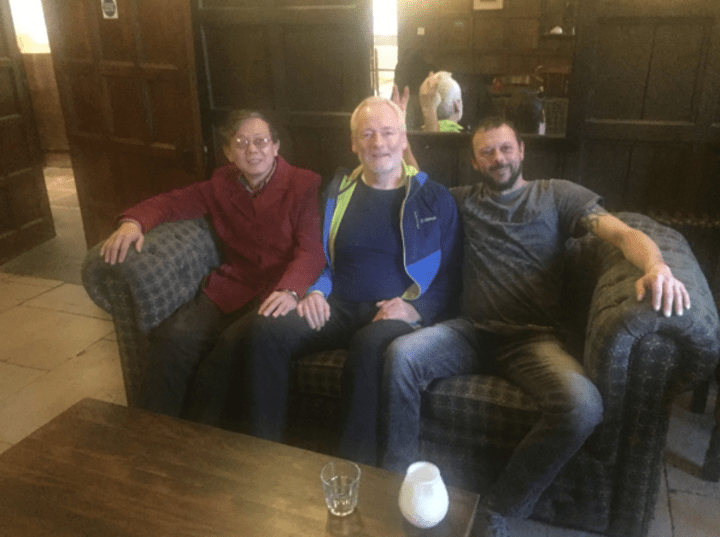 I decided to head to Northampton to see a guy I had been put in touch with a few months earlier and I had learned that he is also on a spiritual journey, via some text messages and Facebook, but who I had never met before. I got in my van and pointed it in the direction of Northampton, thinking I would stop along the way. It began to rain as I drove out of the car park but everywhere was still beautiful. I continued my journey and didn't stop anywhere along the way and as I came to junction 15 of the M1 the rain stopped, and the sun came out. I arrived at Guys house around two and he said he would be back in half hour, so I stopped the van and made my phone call to Coadi. We spoke for a little while and arranged to go out for dinner later.
I knocked on Guys door and there he was stood in front of me, it felt like we had known each other forever and we hugged. I went in got offered a drink, asked for a coffee and sat down on the couch. We chatted for the next few hours, me telling him this story interspersed with parts of his story. During this time his daughter came to the house, Jaycee, and she works in a local hospital that deals with mental patients. She is also quite spiritual and dislikes the way some of the staff are only there to earn money. She has some learning to do but is in the perfect position to help lots of people with their demons.
I also met Guys wife and son, I did not have to much to do with his wife but Sebastian, who I believe is quite a shy boy, was very interested in me and everything I had to say. Time was getting on, so I said my goodbyes and headed to pick Coadi up.
I arrived outside Coadis' house and saw him looking out of the upstairs bedroom window. I began to clear the passenger seat of some of the stuff I had collected over the last week, so he would have somewhere to sit, and just as I was about to get out of the van he was at the passenger door. I let him in and we headed to lakeside to get something to eat. I knew where I was going but got a little lost as we were talking, and I was so happy to see him I wasn't really paying attention to where we were going.
We ate and chatted about what had been going on in the last few years and I learned that there had been many ups and downs, as that is what happens when there is not much balance in your life.
After dinner we headed back to his mums house and I went in, I had a little hesitation as our relationship has been very difficult over the last 15 years. I entered and said hello to Viccay and her youngest daughter, Kitty, and was offered a coffee which I accepted and sat down on the chair opposite where they were sitting.
We spoke a little and then Coadi asked me to go upstairs and look at his reptile setups that he has made over the last few years, this boy has a gift and started reeling off all the Latin names of the snakes, lizards, frogs and spiders that he has. I learned that he looked up the Latin names on the internet, wrote them down on a sheet of paper and remembered from that moment on, oh to have a photographic memory.
We went back downstairs and I asked Viccay if it would be ok if I took Coadi back to my brothers flat to stay tonight so we could spend the day together, she said no problem, so he got an overnight bag and we jumped in the van and drove to Bedford.
We arrived at the embankment and I let myself in to Steve's flat, Coadi was the first to enter and I don't think Steve recognised him by the look on his face when I followed a few seconds later, then he said, 'Wow hello Coadi, what are you doing here?'. We sat down and I told Steve a little about the last week and then let them talk. I was shattered, closed my eyes and fell asleep.
13th Jan 2020
I woke with a start around ten this morning remembering that I had arranged a meeting in Romford for a business idea I had had for a while, so woke Coadi and told him to get dressed. We got in the van and drove to Romford via Mcd's for a drink, I had coffee, Coadi had a strawberry milkshake and we talked all the way there.
On arrival I saw the stores men and talked with them, while I had a smoke before climbing the stairs and entering the office door. Sat at the desk furthest from the entrance was Jody, typing away on the computer in front of him. To my left, sat opposite each other, were Viki and Andrea. I got a hello stranger from Viki and Andrea got up and gave me a big hug, which felt so good. I introduced Coadi and sat at Jody's desk. We discussed my plans and was told to make it happen I would need at least a hundred grand in the bank. This could be a bit of a stumbling block, but I believe there are ways to get this and if it is what I should do, the universe will provide.
We said goodbye to everyone, and I got another big hug from Andrea before leaving.
I decided that I was going to go to Chelmsford and speak to some people in the office I had left before Christmas. As we headed north up the A12 Coadi and I were chatting about reptiles and his set ups when he said, 'Oh look at that number plate, it says miss jew', and laughed. I looked and saw M155 YEW on the vehicle ahead, I said, 'No mate that says miss you!' and thought nothing more of it.
We arrived in Chelmsford and pulled into McDonalds for lunch, ate while I made a few phone calls.
I got an address for where the PM was and went to see him, we spoke and he told me to speak to Tony as he couldn't give me the info that was needed, so I called Tony, who was in a meeting but told me he could not give me that info either and I would need to speak to John. This was getting interesting, so I headed for the exchange. I parked up and asked the boy to stay in the van for a little while, headed up towards the rear entrance where one of the BT coordinators was just opening the door, I said hello and followed him in. I walked up the stairs and went into the office to be greeted by Aaron of all people, we spoke about my plans and I was told again that I would need to speak with John, so I asked if Aaron could give him a message to call me due to the fact that it seemed that John did not want to speak with me.
I went back to the van and decided that Coadi and I would go to my caravan via Colin's, who owns abbey aquatics nearby, I knew that Coadi would like the shop and would have plenty to talk about with Colin.
We got there about an hour later and spent the next hour chatting with Colin while he showed Coadi his stock of reptiles and spiders, then we headed to Stonham so I could show him around a little and introduce him to the area I have made home, for now.
We sat in front of the T.V for a while and the phone began to ring, it was John and after a short chat about my plans I found out that it was going to be a little more difficult than I envisaged, as to become a contractor through him I would need lots of things in place, one of which was health and safety and an employee or myself having IBOSH qualifications. I thanked him for the information, hung up and told Coadi we were going to see his brother in Cambridge on the way home.
We got to his house and walked through the back door, there was no-one downstairs, but I could hear Ryan on the phone upstairs. I told Coadi to go upstairs and surprise him. He creeped up the stairs to find Ryan in the bath, they had a laugh and Coadi came back downstairs.
One of Ryan's mates came through the door and we waited for him to come down. I asked where his mum was and was told she was at the premier inn around the corner while the boys were at football training. We decided to go there and get a bite to eat.
While we were waiting for our food to be served, I began to show Sam my pictures while telling her where I had been. I told her about Hartington Hall as the pics came up and she told me about a conversation she had had with my mother, (who died at the end of September last year, details will be in the next book I write.) about a year ago regarding an episode of country file they had been watching. This episode had a feature on that very place.
As I continued with my slide show a picture of Biddulph Grange came up and we were both dumbfounded when she said that one time she had been visiting my mum, they were sat on the sofa watching an episode of Gardeners world that was on Biddulph Grange and they were saying how much they wanted to go there. These coincidences are too much to ignore now.
We finished dinner, I dropped Ryan and Jamie off and drove to Rushden to take Coadi home.
I went in to have a coffee and speak to Viccay. During our conversation I learned that she was not in a good place, her boyfriend had left her on the Friday before for the third time, her Nan had died on Christmas eve, exactly a year after her Grandad died and their dog, a big rottweiler called Rocko had been poisoned just after new year.
I could feel the low vibrations within the house and realised I had been sent there to begin repairing the damage that had been done over the years, partly by myself.
Kitty came down stairs and I could see she wanted to say something, she sat cross legged on the floor and began to say how unhappy she was at school, with tears in her eyes she explained that she felt the teacher did not understand her and she was picked on, she has lots of friends but doesn't like the way they all bitch about each other to her. We had a little talk and I explained a few things to her, got up and gave her a big hug, told her to go upstairs and get some sleep and we could talk more another time. She smiled and headed up the stairs.
I now turned my attention back to Viccay and continued with the story that you have just read, whilst showing her my pictures. As I told her about my travels, I noticed that they were interspersed with memes I had saved from Facebook as I had obviously been browsing during my travels. It seemed strange that these memes were the exact ones she needed to see as we were talking about her troubles.
Also as I showed her the pictures that I had taken in Bakewell she pointed out the nativity scene at the end of the church (this is why I told you to remember it), and said that she had got a box of Christmas decorations from her Nan, you know the old ones, that hung from the ceiling and spanned the room from the lightshade. Within that box was a miniature replica of the nativity scene which she had decided not to put up. These coincidences are now too great to ignore, and there is another coming in the next sentence.
One Meme that stands out was a quote that said, 'just when the caterpillar thought her life was over, she became a butterfly.'. Viccay gasped and said that was one of her tattoos, she showed me that exact quote with some butterflies.......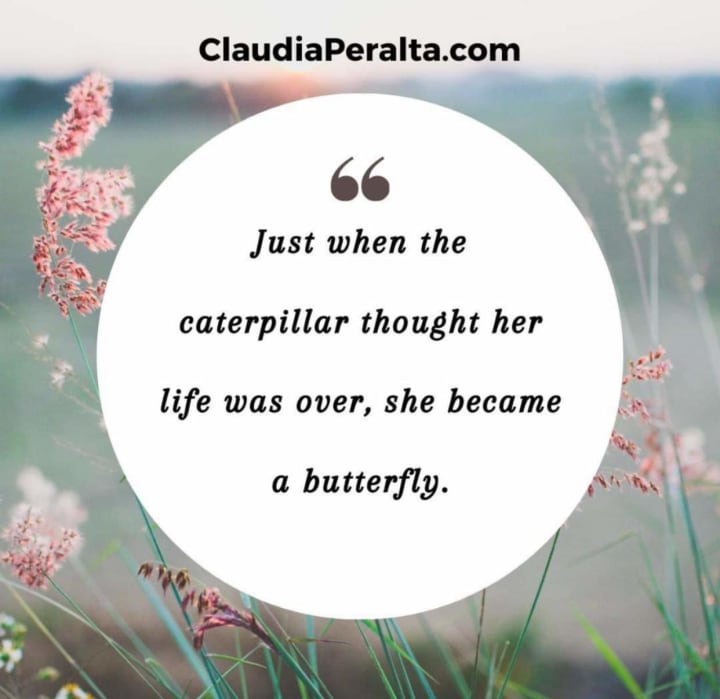 As our conversation continued, we felt a presence, Viccay said she could here something, so we stopped talking and listened. I felt that my mother was in the room and she was saying sorry to Viccay then we felt that there were two more people in the room. They were Viccays Nan and Grandad. I believe that they have met up in the next life and discussed what needs to happen to heal the past hurts of our family line.
Viccay and I talked until 7 in the morning and she is beginning to let go and let be, we will continue a friendly relationship and everything is going to be ok.
We look forward to the next chapter………………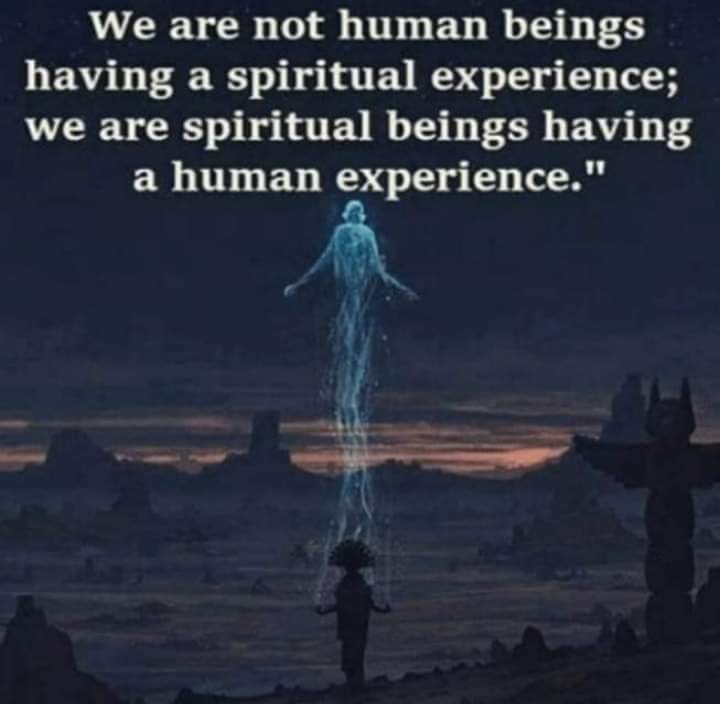 This is all I have written so far. I intend to release a story of the last 42 years of my life, which I think has been one hell of a rollercoaster ride, but looking back I understand that everything has happened for a reason. Nothing lasts forever and if you are having a hard time at the moment, please, don't give up. Keep on keeping on because you are hear for a purpose you just don't know what it is yet.
Visit my blog at www.universalfamilycollective.com
Visit my Facebook group, like and join ;) https://www.facebook.com/UniversalFamilyCollective
I have a vision to help heal the planet, if you resonate and believe that I can do this please leave a tip as all funds will be used to achieve my goal.
Namaste.
G xx