A Lineage of Hometown Dilutions
I couldn't call it a hometown until I left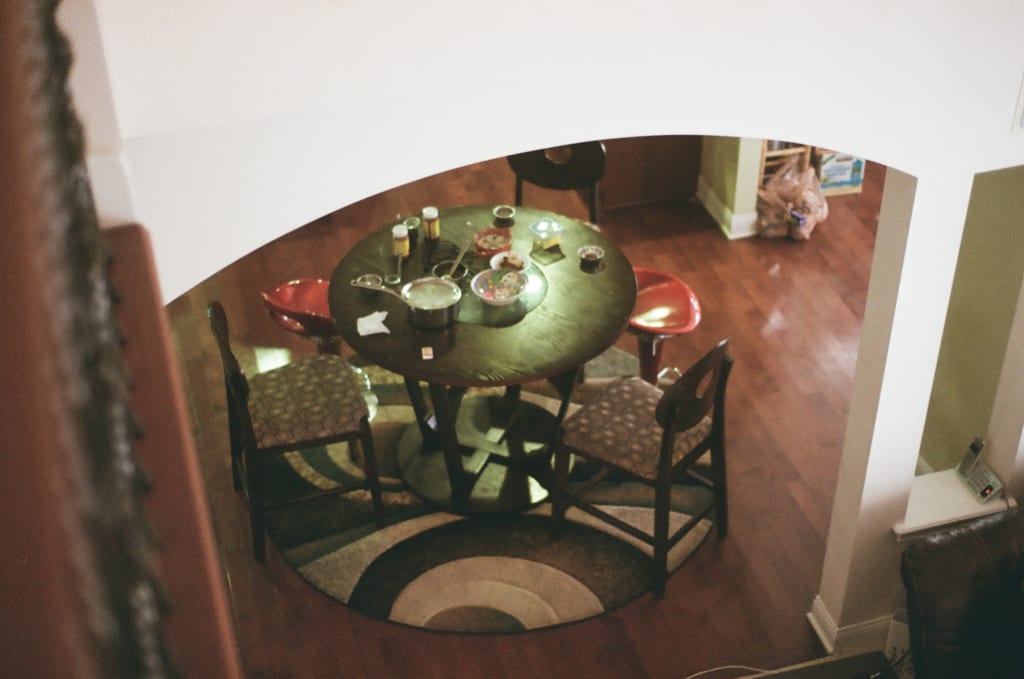 See here is a home. I did not call it home until I left it. When I left, I saw how the walls came first, and then we set the bones. The bones are imports, spices, and incense - they make coming into our home a sensory experience, a hometown-ception. The hometown we are in holds a home, and that home is a microcosm of a hometown we left. We are legion, who come from a lineage of hometown dilutions.
I have found that the farther I drift from my hometown, the stronger my sense of it becomes. It has always been easier to define home as a place I leave than a place I am: I could say I left home for college when I was 17 and I would be talking about Okemos, Michigan. I could say I left home for America was I was 6, and I would be talking about Ontario. I could even say I left home a generation before I was born, and I would mean when my parents left India after their wedding.
From these hometowns I must choose one. The hometown of India was distilled by my parents into my possession. There, I feel like a vestige. My Indian summers are a respite where I spectate - my uncles, aunts, and cousins elbow deep in days that my fingers trace ephemerally. The whole of India I know is a mere pause for them. Sometimes even my mother, born and raised there, says she feels herself slipping through the cracks of her hometown.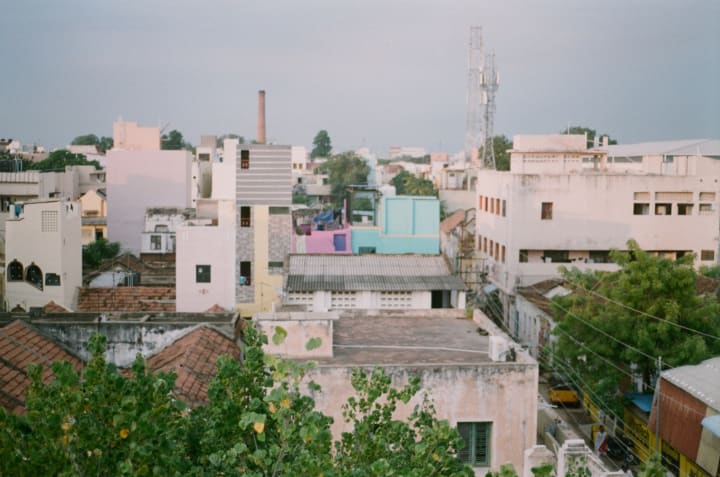 While we can no longer stay in India, we need it to reset our bones. I need the humidity of the tropics to lubricate my joints so I feel my 27 years of youth. I need the heat of the sun as an excuse to stay in inside until the evening breeze sweeps me back out. Near the equator, the sun sets almost the same time everyday - I need these doldrums to re-tune my circadian rhythms at night.
It's most comfortable to call Okemos, Michigan my hometown. It's the place I left last, and where I come back to every few months. This time, the town is blank and blanketed in fluffy snow. With all this snow, there is nowhere to go but inside. We are wintering, ritually insulating from nature until spring sloshes back. Then, we burst out like tulip bulbs who have been holding their breath all winter. On this trip back home, I see how the loot of stolen summers in India spill onto our Michigan tables.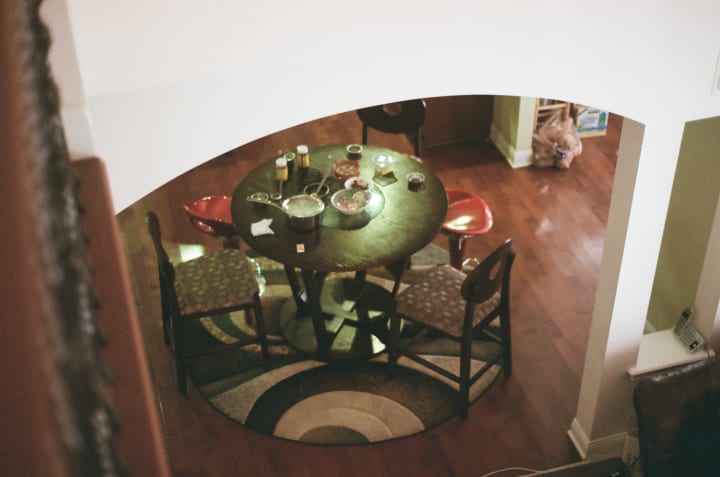 See here the table of provisions. We will use it to sustain ourselves this winter. Scuttling to our local Meijer cannot satiate like these imported delicacies. Last summer we snuck spices and mixes through customs and now, in the dead of winter, we peel back the plastic wrap. We add water and oil to the fragrant packets and they are transformed to home food. How funny, to import our home food.
Outside my home but inside my hometown, I tread lightly on snow. My body is ill-defined in masses of winter apparel, purchased at JC Penney at least 6 years ago. No need for new ones, for they get so little wear. Our meltable gardens are untouched for five months, but inside my home there is a green house canopy.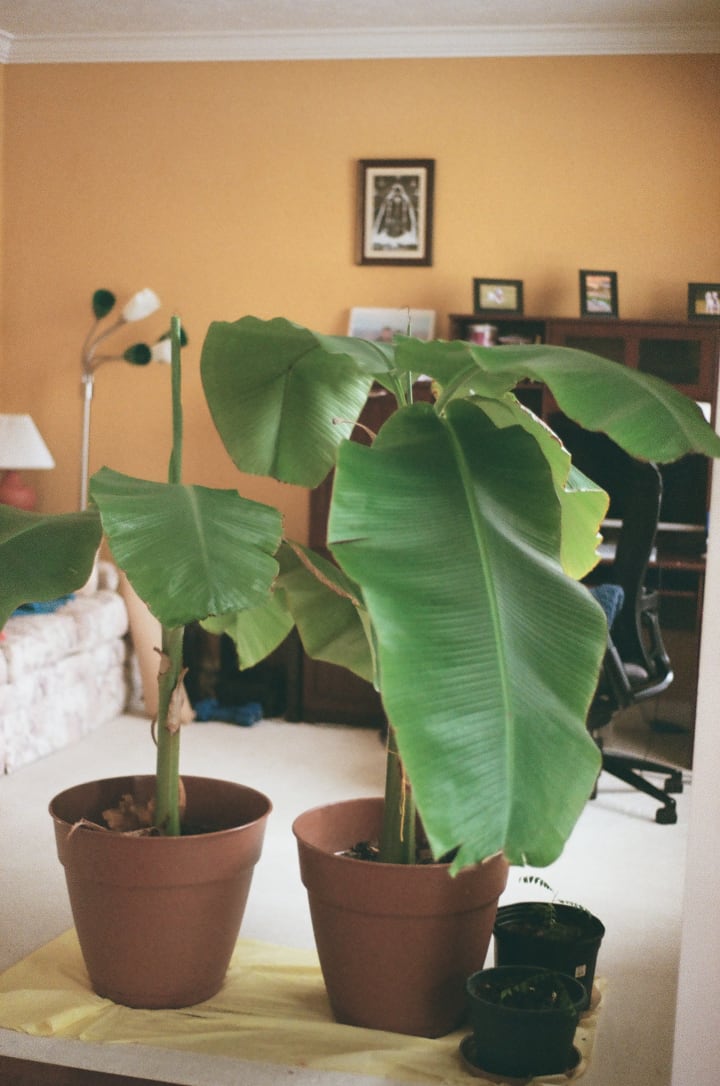 At our entrance is a grand spectacle, banana leaves as big as a small human. We fill our home with aromatic herbs and tropical flowering trees. These plants don't respect the boundaries of the seasons, and instead are busy unfurling fronds well into January. They are on a permanent chlorophyll retreat, basking under the magnification of the sun on them. How strange, to make a home with plants uprooted from their native lands. Can these plants tell that if we moved them aside just 10 feet, they would die in the snow?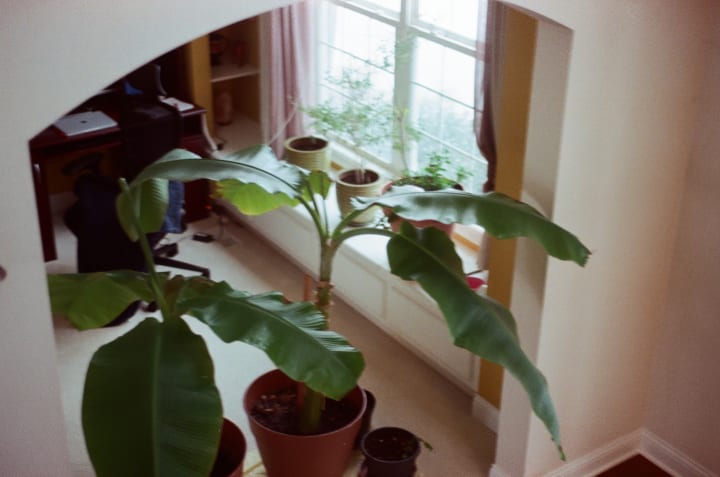 As I leave the plant sanctuary (as if the plants needed rescuing, rather than us), I wind up the stairs into my bedroom.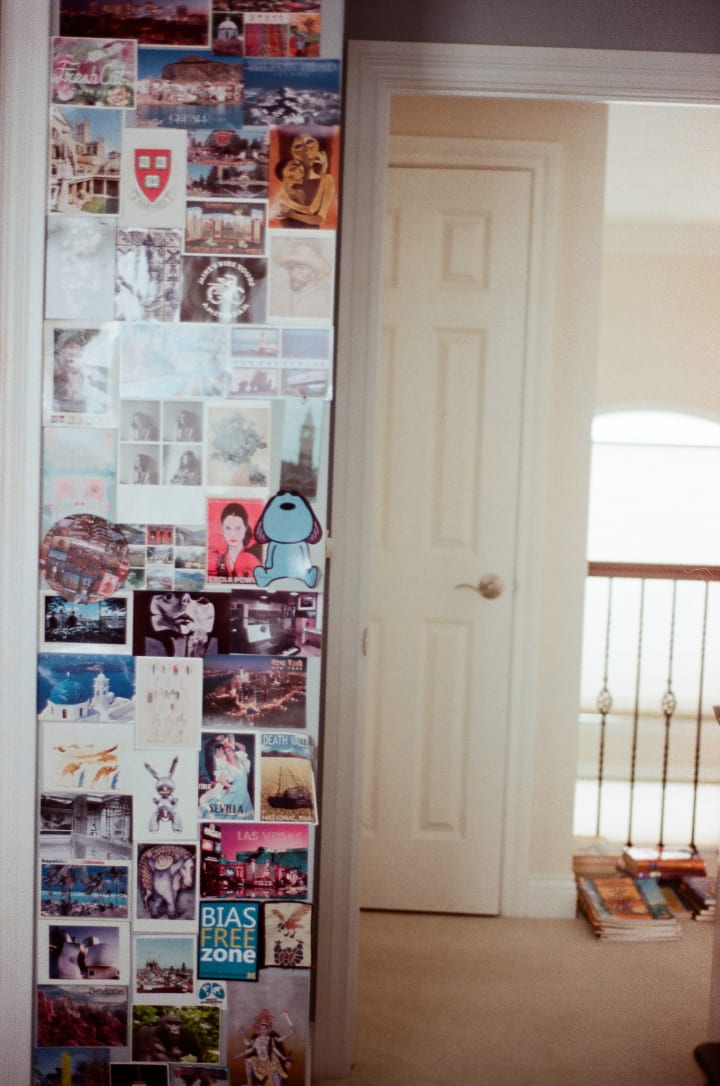 My room is a living diary, a mausoleum to my teenage self. See here how I wallpaper with postcards - documenting each time I stepped away from home, as if those moments more strongly represent me than my home itself. I wonder if my house feels good about that.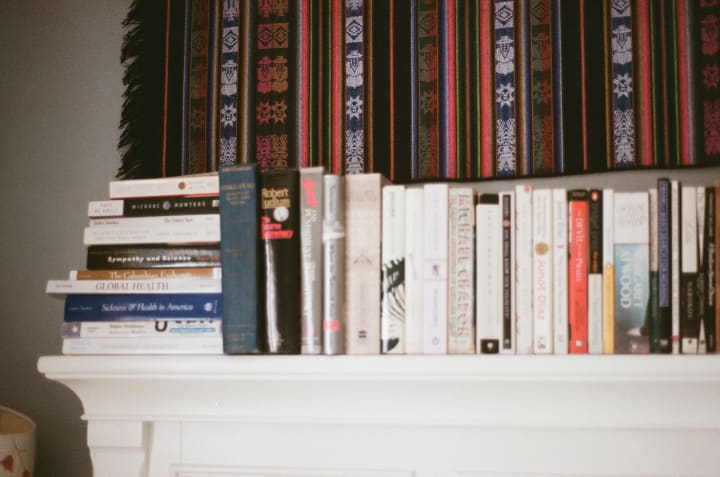 Every surface of my room is lined with books. They are relics of who I was, the classes I took, the people I knew, the ideas I held. As a kid, I let words written by others journal my story.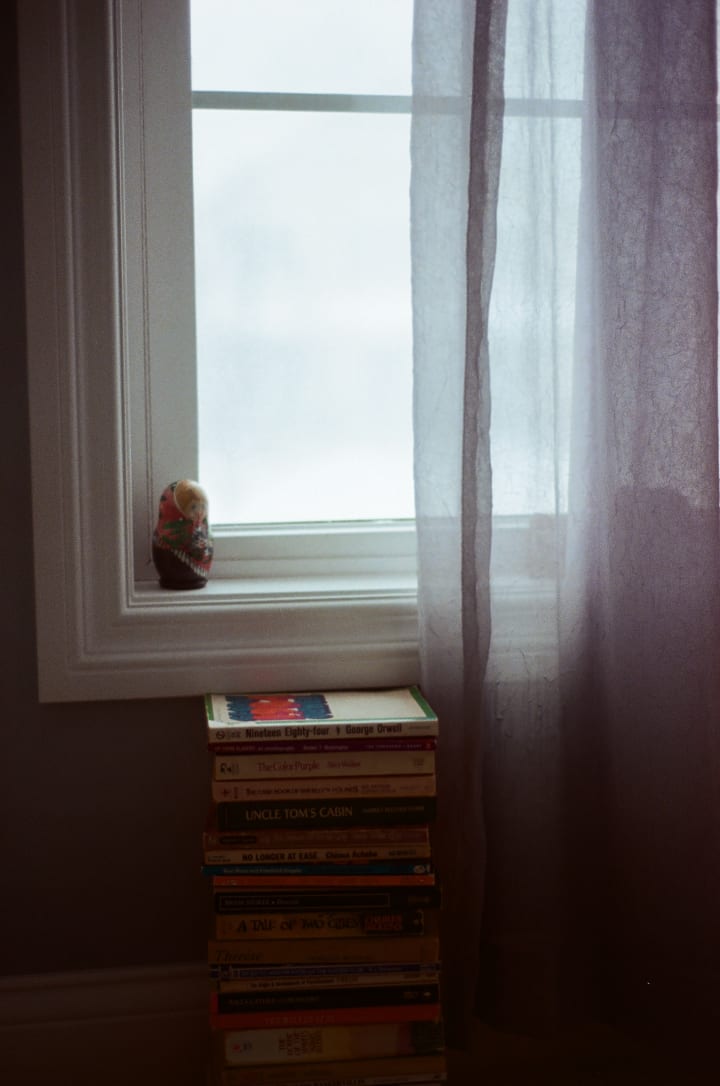 See here a pile of classics, which I ironically use to write my future. I pile them in my home, occasionally flipping through the serrated pages to ensure they have not over-crisped under the sun. I discard the non-viable books, and keep this pile as a collection to pass on. One day my progeny will inherit this pile of 45 cent paperbacks and I will feel like I did something for them. I would have just given them the pieces I already had, nearly rotting in my hometown sun.
Above the books is a window I peer out of. The snow is falling in piles, muffling itself. The gray van in the driveway is buried in snow, and will probably remain there until spring melts it back into use. There is one set of tire tracks in and out, slowly being erased by the snow - a taming of the story of yesterday.
Yesterday, we brought my husband into our home. As if spending a few days here would make it more his. A few hours in, he remembered his slice of home in our garage. He dusted his slice off and lugged it into the living room. We repurposed a coffee table and set his slice onto it. A carrom board parlor.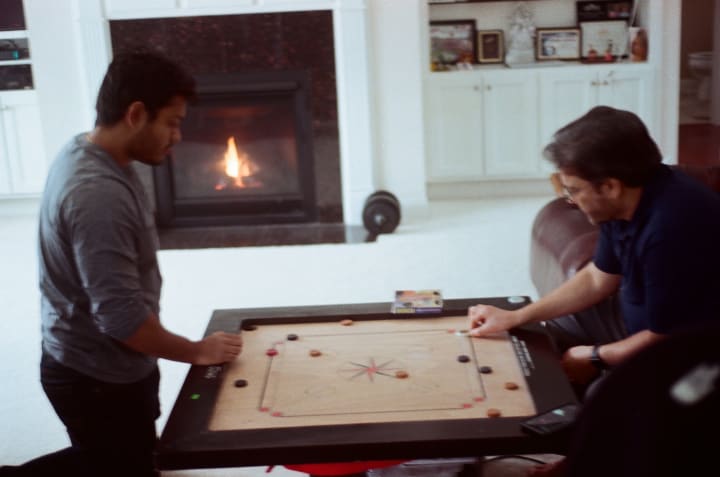 See how my carrom man flicks carrom-men across the board. A fire roars heat onto his back, egging him on. I can see in the way he flicks that this slice of home only amplifies that he is not quite home.
In a few days we will drop off him off to the airport, back to California. I will follow suit in a week, with a backpack of spices, seeds, and books. Some of the foods are prepared already by my mom. I will triapse to Oakland with food diluted from India, distilled in Michigan, and now, to be refurbished in Oakland. These are portable bones I will plant anew, coming back to my hometown to remember how to make my next one.
family
Reading when I'm not writing - @booksnailmail for book gems, book drops, & diverse recs
Cash makes me happy! Tip below :P
Receive stories by Swati Sudarsan in

your feed