8 Top Tips for Online Dating Success
From an online dating success story perspective.
The concept of online dating isn't new but over time it has evolved and become the preferred mode of finding a hookup, wedding date, friend, and spouse for ALL age groups. This blog post will cover eight top tips for online dating success and how they affected my experience.
But before we get to those tips, here's my success story.
My Story
My husband and I met on Match in February 2020. But let's back up to the five minutes before the first message...
I was looking for the "Delete Account" button.
My six-month subscription was ending and I had decided I wasn't going to renew it. My luck had failed me over and over again and I just didn't feel like putting any more effort into it. I had resolved to let whatever happened happen organically out in the wild. Then the first message came in...
"Let's tell our kids we met in a library." -The man of my heart
He didn't know that I was a sucker for books. We had never seen or talked to each other before for him to know I had a love of libraries. I was hooked.
"I won't tell them if you won't." - Me
After church the next afternoon we met up for coffee at a nearby Starbucks. Our first date was a winner. There was that natural, introverted awkwardness from both of us at first but we quickly clicked and talked for hours about your typical first date topics; where we're from, why we moved to Dallas, what we do for a living, etc...
Date two comes and goes without a hitch and we share our first kiss. Date three rolls around and I am having a really awful mental health day. It also just so happened to be his birthday. I pull myself together to go out for lunch with him and a couple of his friends. We go out for ice cream and then decide to break away and go for a walk. I had so many things running through my head. Was I enough for him? Did I want to give up most of my free time for this guy? Was this just lust or true feelings? All that awful stuff we make ourselves believe when things are too good to be true.
I asked for a break. Being the respectful, patient guy that he is, he said,
"Of course. I completely understand."
That entire week after his birthday I was praying, I was soul searching. We had no contact and finally, that Friday he texted me wanting to grab a drink. It was like a switch was turned on and I was in it to win it. I truly believe it was a God thing. I decided to go grab that drink.
A week or so later after talking and seeing each other some more, I had this strange sense of urgency like I needed to lock this guy down, there's no way I can let him go now. I called him up on March 9, 2020, we met where we had our first date. He was super busy at work at the time but he dropped everything to come see me. We made it official right there in my car and even took a selfie.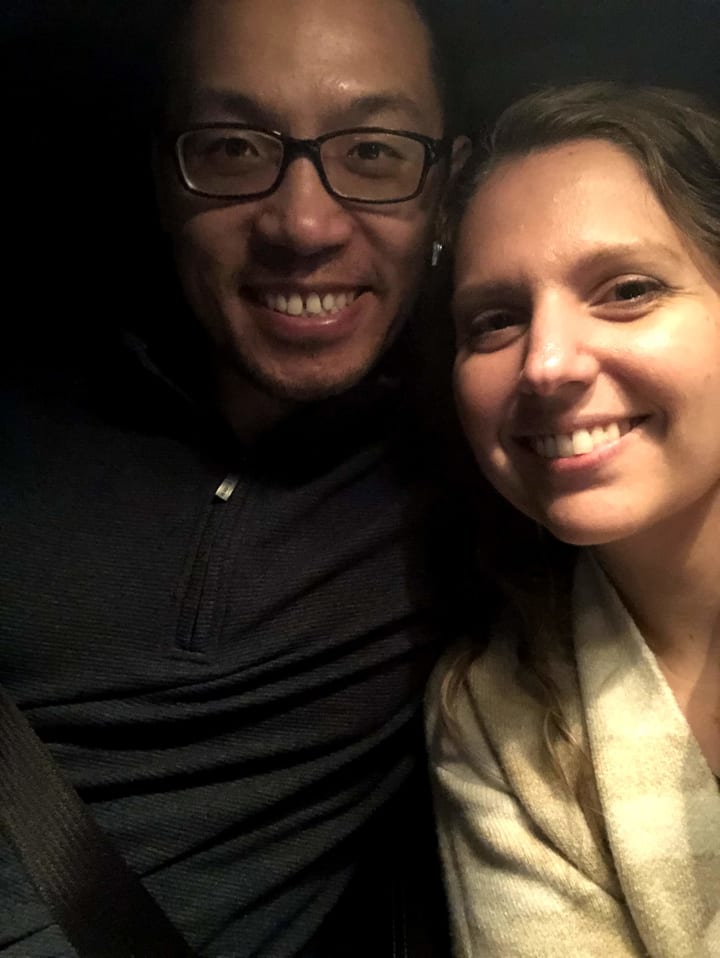 About a month or two later we said "I love you". Then in January 2021, he proposed after I recovered from COVID.
We got married in May 2021 and we haven't killed each other yet. So, I say I won big time.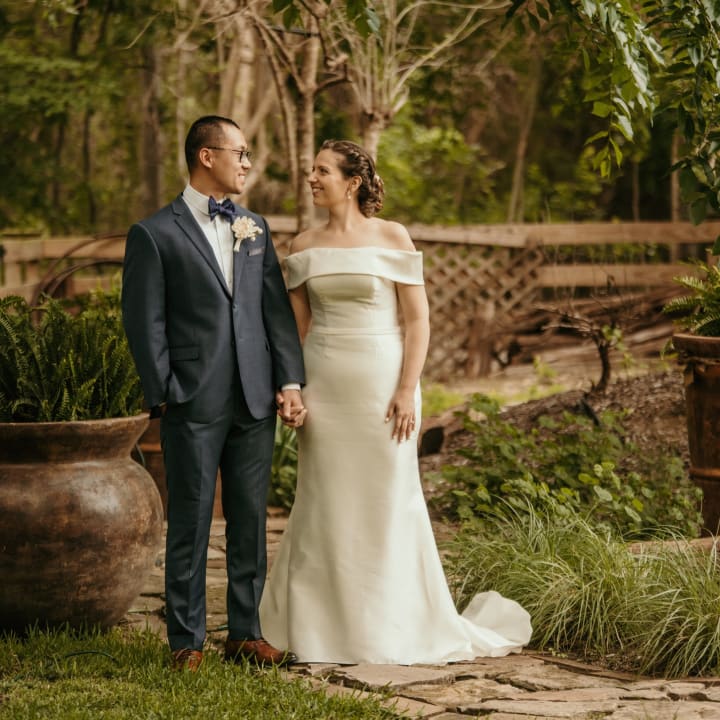 There were a few things I learned while going through the whole online dating thing. I wasn't perfect at it but it definitely was a learning experience. These tips may be self-explanatory to some but enlightening for others so if this is where you leave me, at least you got a cute love story out of it.
Let's get to it!
1. YOU ARE ENOUGH!
Like organic dating, online dating can play mean games with your self-esteem and mental health if you allow it to. There were many days when I swiped past a guy because I didn't think I was pretty enough for him or I didn't have the right career, or I was too boring, etc...If you think this way, I suggest taking a break from dating and focusing on getting your mental health in a good place. Take a deep breath and think of all the wonderful, amazing attributes you have. You do bring something to the table of life. You were fearfully and wonderfully made just the way you are for a purpose (Psalms 139: 14). God makes NO mistakes. With Jesus, YOU ARE ENOUGH, and the right people who come along will see that and encourage you and uplift you.
2. Make your intentions known.
Before you even download a dating app or sign up for a website, ask yourself what you are looking for. What are your intentions? Are you looking for a hookup or a relationship? In my profile, I had something to the effect of "I'm looking for something long-lasting." Even if it didn't eventually lead to marriage, it meant I wanted something meaningful. It always pays to be honest and upfront (in a respectful way).
3. Don't leave your profile blank.
When someone's profile was blank it automatically told me 1) they don't really care to be there, 2) they're lazy, or 3) they were a fake account. You don't need to type out your entire life story. All you need is to fill out the basic information and specifications, then add a couple of sentences to introduce yourself and say why you are there. If there are questions to answer, answer them honestly.
I ran into a phenomenon when looking through profiles when guys would take a selfie of themselves with a severely smudged camera laying in bed with their headboard in the background. In the same respect, I even noticed some women will take a selfie from high above to get a particular angle that both hides what they don't want to be seen and shows what will get them noticed. In all honesty, the headboard shots and the airplane angles aren't the best options when putting photos on your profile. Add clear, crisp photographs of you doing things you love (it's when you're happiest), people who share the same interests will be drawn to your profile and could be potential matches. Throw in some photos of you with friends and family or with your pets. I had a picture of me and my dog and it was a great conversation starter.
4. Go with your gut.
If you do not get a good feeling from the person you are talking to over an app or website, or don't like how they speak to you, end it. If you decide to meet someone in person and you just aren't comfortable being in their presence or feel in danger in any way, leave any way possible. You are not obligated to make yourself uncomfortable or put yourself in danger for someone you met online. Unfortunately, not everyone is trustworthy or has your best interest at heart. If you decide to try online dating, please use your head and be discerning of the people you choose to come into contact with.
5. Meet in a safe, comfortable place.
I used my "mom" voice when I typed this; Your first meeting NEEDS to be in a public place whether it's at a restaurant, coffee shop, mall, etc. Even if you've met this person before, meet in public places until you feel comfortable enough to be in private with them. My husband and I didn't go to each others' apartments until we made our relationship official and we had known each other a little while. Go at your comfort level. If the other person wants to speed things up and begins pushing that boundary you've set, then you either need to have a hard talk with them or go your separate ways. Again, you are not obligated to make exceptions to your boundary lines for someone you don't really know.
6. NEVER give money to people you meet online.
I never ran into this but I do know people who have had this problem. Here's a scenario; you've been talking to this person for a while, you may have even met up with this person and had a few dates. Suddenly, they disappear and tell you they had to take a sudden trip overseas and they had their laptop or phone stolen and they're using someone else's phone to call you. They ask you to wire $2463 to their bank account so they can get a new laptop or phone...Do you see where I'm going with this? Think about it.
Why would a stranger contact "you"? What if you were put in that situation? Would you contact a stranger you met online and met maybe twice in person ever? No, probably not. I know I'd most definitely call a family member or close friend for help. As I said in tip number 3, please use your head. Stop and think. Is this a good idea? No, it's not.
7. Consider a premium subscription.
If you don't feel you're meeting quality matches on the basic subscription plan of the app or website you're using, maybe set aside a few bucks a month to pay for a premium subscription. But only do this if you are financially able and want to take it seriously. I bit the bullet and paid for a 6-month subscription to Match. I found that I had more matches that were aligned with what I was looking for.
8. Be patient.
My husband and I were seconds away from deleting our apps for good. He thought he'd send just one more message before he got rid of his. And boom married a year later. If you feel online dating is the only way for you to find the one, just be patient. Heck, if online dating isn't for you and you're actively dating in the outside world and just not finding someone you click with right away, still be patient. You never know what you're going to stumble onto while you're waiting.
I hope you enjoyed these tips and found them helpful. Please comment and let me know some of the things you learned while online dating. If you have an online dating success story please share it in the comments, I'd love to hear it!
marriage
About the author
I'm Camille Wang! I work hard, nap hard, and annoy my husband on a regular basis.
Youtube: CamilleWang
Instagram: @thecamillewang
Twitter: @thecamillewang
Reader insights
Be the first to share your insights about this piece.
Add your insights