8 Things I Wish Someone Had Told Me About Planning My Own Wedding
Nothing causes more stress than trying to plan your perfect day...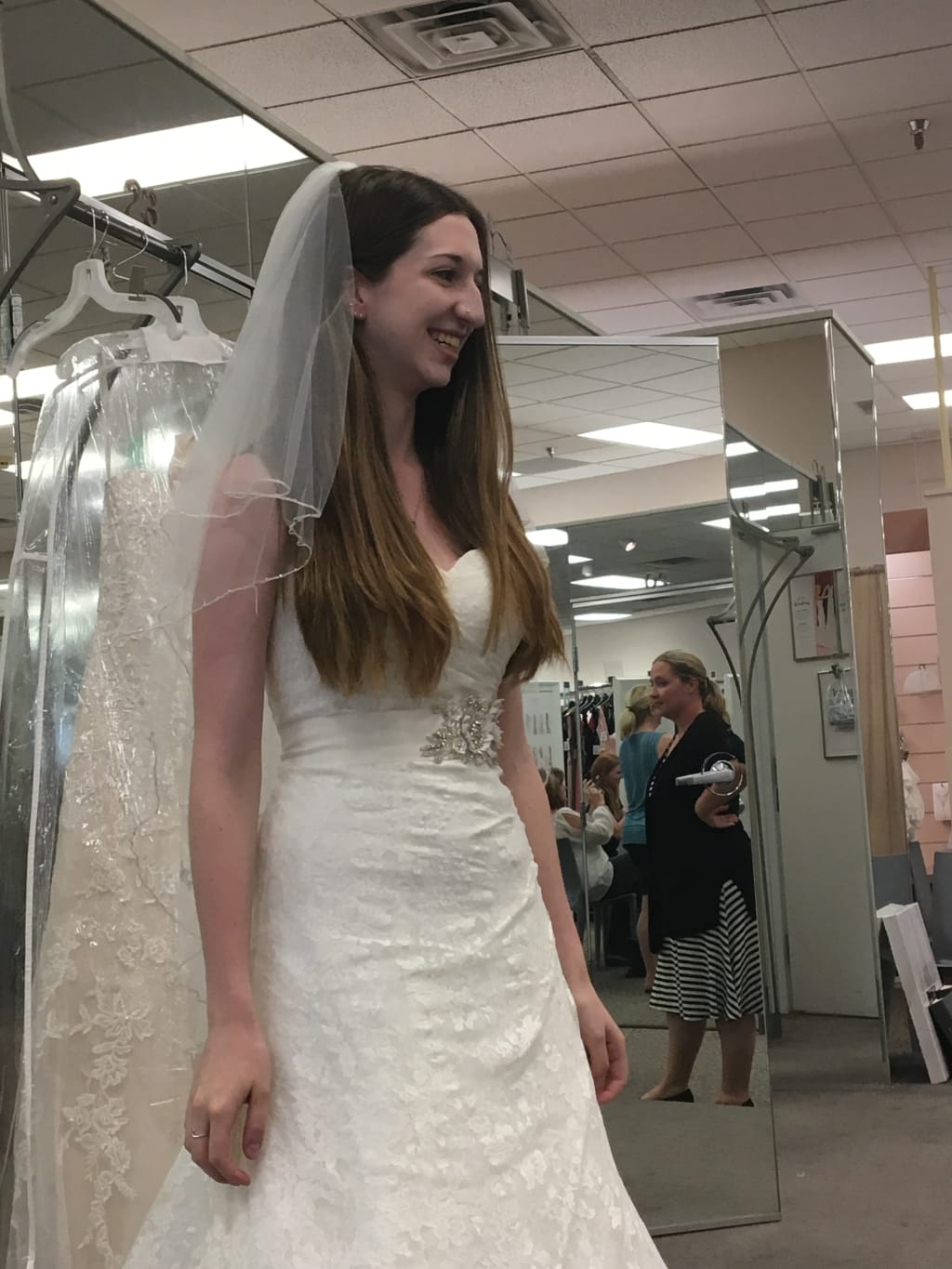 Getting engaged is one of the happiest occasions. You get to celebrate with friends and family, you get some new bling that your coworkers will inevitably ask about, and you get to start putting your dream wedding into place. But it's not all cute favors and tasting wedding cakes—there's a reason the wedding planners charge you $50+ a hour for consulatations. So here's eight things I wish someone had told me about planning my own wedding before I started.
1. Everyone has an opinion about EVERYTHING.
When you start telling people you are getting married, everyone asks the usual questions. How did it happen, have you set a date—the typical happy couple info. But when you do actually start planning for your big day, everyone and their uncle have opinions about what you should do. Whether you ask for their help or not, suddenly your entire family and group of friends have ideas about the location, colors, your dress, who you should invite, and every other little thing you didn't even begin to think about when it comes to your big day.
My family has always been rather laid back when it comes to each other's important milestones, so I wasn't worried about them impeding on my big plans. But even if your clan keeps their ideas to themselves, there will nevertheless be a group of people asking what they can help with. And sometimes delegating important details of the wedding can be even tougher! No matter how close you are to your family or future in-laws, be prepared for an onslaught of opinions while you plan, everything from the rehearsal dinner to which distant relatives to send invitations to.
Which brings us to #2.
2. You don't have to do any of it!
That's right. Even with everyone telling you what they think you should do—you don't have to do any of it! The most helpful piece of advice I received didn't have anything to do with the decorations or food—it was that our wedding day is OUR day, and we can do whatever we want. Whether you are getting married in a backyard with only 15 people or in a banquet hall of 250, it's YOUR day and you can invite whoever you want, eat whatever you want, and chose whatever wedding traditions you do or do not want to partake in.
Don't want to spend money on flowers? Don't! There are plenty of cheaper alternatives! Think favors are pointless? Disregard whatever your great aunt may think, and don't have favors. We wanted to have a more laid back day (which we were paying for almost entirely) so we decided to cut out a lot of extravagant wedding details that we didn't think anyone would miss. We didn't invite anyone we hadn't seen in the past two years, including distant relatives.
It's your wedding, so make it through the never ending comments and do whatever you want to anyway.
3. Chose your wedding party wisely.
I have heard way too many stories about bridesmaids flaking the night before, or friendships being ruined because of a bridezilla. You are about to rely on a group for people for a lot over your engagement period, to help you with nearly everything up until the "I do's," so pick people you can trust. Not only do they need to make sure YOUR visions as a couple are carried out, but also to relieve you of some stress—not add to it.
Don't get caught up with the ideas of who should and shouldn't be in your wedding party, just because you might have been a bridesmaid or groomsmen for someone else's wedding doesn't necessarily mean they need to be in yours. Sometimes a smaller wedding party can mean less stress for coordinating your big day!
4. Don't get caught up in the family politics.
When it comes time to stamp those invitations and get them sent out, there will always be the last minute people you are wary about inviting. Maybe they are a distant relative you haven't seen since you were a kid, or a friend from high school that you just kind of fell out of touch with, but think they will be offended if they don't get an invite. And don't even get me started on trying to plan a seating chart when inviting divorced couples or step children.
If you are anything like my family, there are step siblings, estranged uncles, and plenty of drama to go around. In our case, it meant trying to make wedding memories with a stepfather and my mother, my father and his fiancée, my husband's divorced parents, and an abundance of siblings and step siblings, all at the same time!
Just remember, this is your day. Unless someone is going to throw punches at the reception, your family can suck it up for one day. Weddings are supposed to be about unity and bringing a couple together, not trying to reconcile old family issues. If they can't be polite to each other for one day, then it might be best for them to skip the wedding anyway. You don't need to deal with family politics on top of planning this special day.
5. Weddings are, like, crazy expensive.
Until you have planned a wedding, you don't realize how fast it all adds up. Even the master of DIY-ing is going to spend a pretty penny on planning a wedding. So if you are one of the couples who ends up paying for the majority of things (us!), then here are some tips to keep you out of debt after throwing this huge party for everyone you know.
If you have a family member or friend who has talent with a camera, with baking, or picking great music, use them to your advantage. Not only will it make meeting up and talking about your day easier, but it also keeps you from dropping a lot of cash for someone else on your big day. Family members and friends were responsible for our music, photography, wedding video, and my maid of honor even did my make up.
We wanted a relaxed day that wasn't going to cost us a fortune, and we got it. Instead of trying to coordinate a bunch of different vendors, I just made lists and phone calls to my best friend's sister and one of my stepbrothers with what we wanted for pictures and music. So DIY what you can, and try to maximize people's (or even your own!) talents, it honestly was a lot more fun to do a lot of crafting on our own than trying to buy what we had envisioned.
6. You can register for pretty much anything, at wherever store you want.
Wedding guests have basically three responsibilites: RVSP to the wedding, show up to the wedding, and buying the couple whatever they registered for.
My husband and I were already living together when we got engaged, so we had a lot of typical household stuff already. Dishes, silverware, glasses, rugs—we really didn't need all the classic household goods that people usually register. We also live in a different state and held our wedding in our home state, where the majority of our family and friends were. So resigtering at a typical department store proved to be a little more difficult when it came to getting our gifts back home with us.
Thankfully, in the age of the internet, you can register online and have everything shipped to you! And there's so many possibilities for items, not just new dishes or a blender. Many people have registered online at target.com or amazon.com, and even Bed Bath and Beyond has online options. As you can probably guess, registering on Amazon leaves you virtually anything and everything to ask for, which is exactly what we needed in our case.
We registered for tools, books, kitchen equipment, and even gift cards. And everything could be shipped directly to our house, so we didn't have to worry about packing it all back with us to Washington. Register for what you actually want, not just the traditional house stuff. Camping gear, experience packages, food, baby/pet stuff, media, and gift cards are all fair game!
7. Just stay the same size.
Countless people say they are going to lose weight or get in shape for their wedding. And I'm here to tell you that losing weight or gaining muscle before the big day is honestly just more work and even more stressful for fitting into your suit or dress. Really. Even if you just plan on losing a little weight, your body is constantly changing and it would be terrible if your outfit didn't fit the week or morning of your special day. Unless your wedding date is far enough in the future or you want to spend lots of time getting your outfit altered, just try to stay the same size.
After all, your future husband or wife proposed to you because they love YOU, the way that you are.
8. Don't be afraid to ask questions and use a professional's help.
There are SO many websites and books out there dedicated to the wedding industry. Planning a wedding yourself, it can be easy to get overwhelmed with all the options and details to think about. After all, most people just plan ONE wedding, and there are professionals out there who have planned hundreds. So don't be afraid to ask your family members, your caterer, or your hairdresser, for their opinions and recommendations. Most venues have a dedicated person there who has the sole job of helping couples out when it comes to weddings!
It can feel daunting to try to coordinate everything on your own, so use your resources to make it easier on yourself! Your wedding is supposed to be a fun day to celebrate your love with your family and friends, so don't get so caught up in the little things that you miss out in the fun.
Wedding planning doesn't have to be a time consuming and stressful time. It should be a fun and creative activity with your future spouse to plan the party you want with your loved ones. Everyone has different ideas, budgets, and plans, so no two weddings are ever the same—just try to sit back and enjoy yours.
Reader insights
Be the first to share your insights about this piece.
Add your insights