2| The value of memories
"The worst part of holding the memories is not the pain. It's the loneliness of it. Memories need to be shared." – Lois Lowry
Yesterday Lucy visited her university, wandering around the buildings and library where there were the best and most unforgettable memories between Mark and her. It was so peaceful to see everything was unchanged. Although she was so different, she was not as warm, sweet, pure and naive as she had been, her emotions for this place was still the same. Maybe she only needs something like that, something unchanged through ups and downs in her life.
Without those things, Lucy may be like a fish out of water. When she suffered great misery, when she dealt with new horizons and failed, when she realized that she was just a loser in her own love story and when Mark who was her whole world left her. That is when she knew the answer for the question: "What does she need from people surroundings?". Don't be too big, just something small but unchanged so that she could keep in her heart to be herself, to trust and to smile.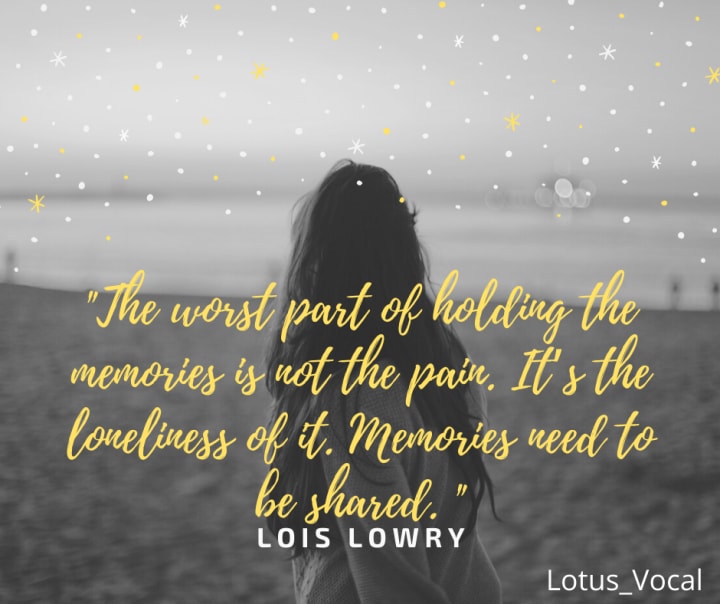 For Lucy, this place used to be a sky of romance but now it is full of silence.
Mark is not there anymore, in her heart. But sometimes she reminisced about beautiful moments. That time, the lawn behind her classroom was so picturesque and the sunset was so fanciful. He asked her if she would like to be the grass or cloud in the sky. She forgot what her answer was.
The university is still gorgeous without him. Everyday she went to work so early, stopped at a small shop near the university, bought a nut and seed milk and lighted small joy by herself. This university and stories about him were always confusing and scaring things for her but she refused to understand or remember.
Lucy found herself in the game of fate with questions about ambitions, dreams, happiness and meetings … Someday, she realized that her life was defined by moments. When her heart was full of emotions, when she looked deeply in someone's eyes and saw herself there, when she worked hard without tiredness, when she kept loving someone passionately, she knew those moments were worth appreciating and she deserved to live even as a little point in this infinite universe.
In a new painting for her current life, between "simple" and "deep", she never hesitates to choose "simple".
Instead of reminding of memories, she will plant a tree.
Instead of meditating, she will come to a bigger grass to enjoy the blue sky above.
Instead of writing something sad and push herself to loneliness, she will cook a meal.
Instead of going back to familiar places, she will come to her little garden, look at the trees' growth and listen to the sound of leaves, and then she will love that corner more, love her peaceful life more.
At least, Lucy knew she could not please everyone in this world. She could make mistakes, she could not know something, you might not find the right answers for every question but people are all imperfect, she learns to respect herself and forgive herself for her limitations. Although her life is full of ups and downs, she believe that she will be fine if she trusts yourself and keeps trying for better life chapters. If she calls those experiences, they are experiences. If she calls those pains, they are pains.
Maybe you think happiness is the same with everyone but it is not. Listen to your heart, choose a definition of happiness for your own and be strong to live with that. Your one may be different from old standards; it is still fine because what makes you happy is the most invaluable.
Anyway, this world has more and more pieces of slander. Hope you take more care for your little beautiful world to know that no matter what happens, you will be fine and this confusing life is still beautiful.
_Lotus_
humanity
About the author
A little girl in this big planet wishes to coddle and hug all the hope and peace in this world to bring a placid place among busy and complicated life out there!
Reader insights
Be the first to share your insights about this piece.
Add your insights