10 Facts You May Not Know About Kahlil Gibran
Part 3 of the "After the Fires of Day" Series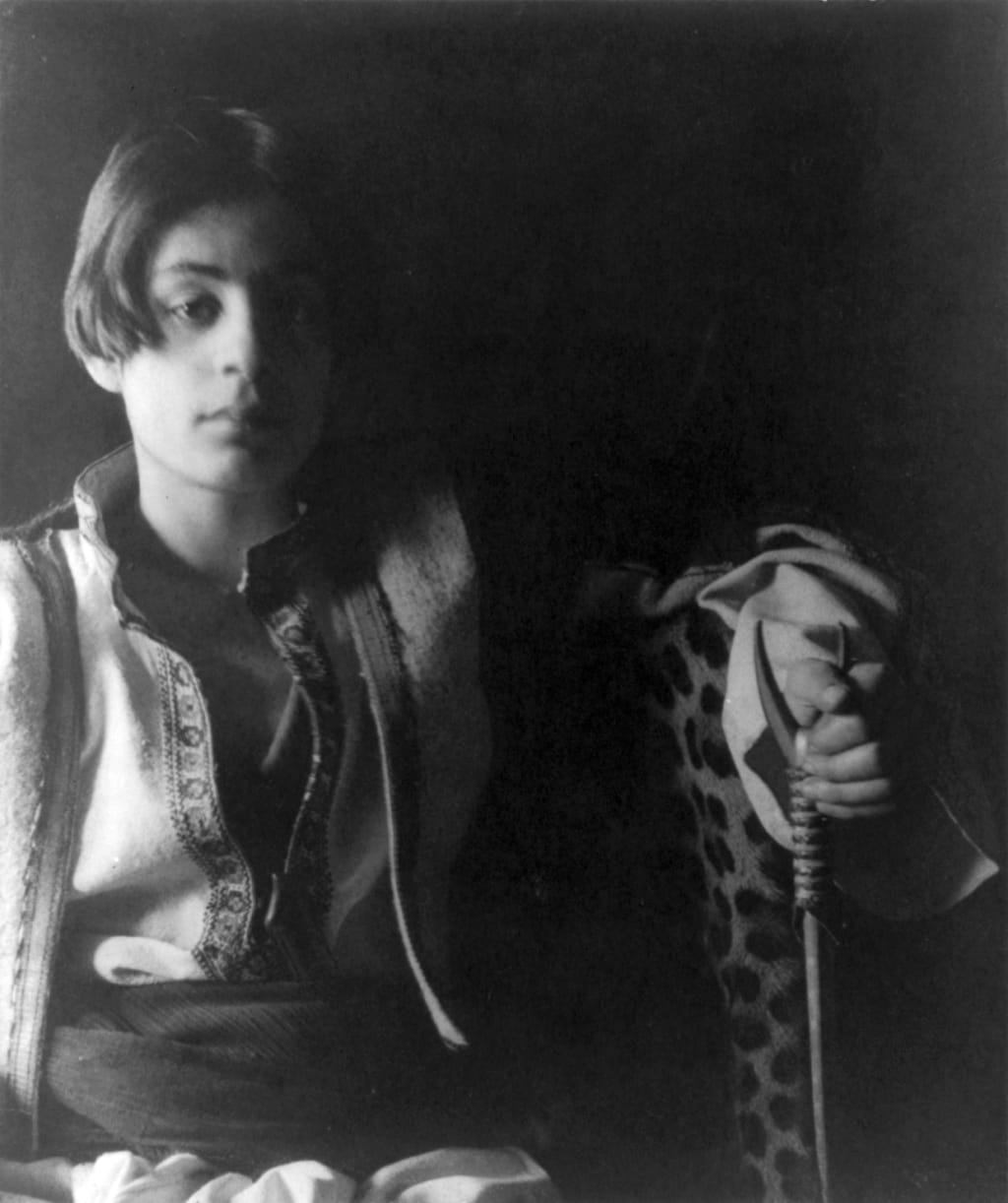 Kahlil Gibran, ca. 1898. Photo credit: F. Holland Day (via Wikipedia)
This post is part of the "After the Fires of Day" Series, which celebrates the release of After the Fires of Day: Haiku Inspired by Kahlil Gibran & Alphonse de Lamartine.
In part 1, I shared 10 incredible quotes from Gibran's books. In part 2, I highlighted 10 of his visual masterpieces. That article also includes a brief review of The Prophet, his most famous book.
Today, I have 10 interesting facts to share with you. How many do you know?
1. Gibran (1883–1931) was a philosophical essayist, novelist, poet, and artist. Born in Bsharri, Lebanon, he spent most of his life in the United States. The cause of his death was recorded as "cirrhosis of the liver with incipient tuberculosis."
2. Gibran is the third most widely read poet in history, after Shakespeare and Lao-Tzu.
3. Also known as Khalil Jubran in English, he was born Gibrān (Jubrān) Khalīl Gibrān (Jubrān) bin Mikhā'īl bin Sa'ad. "Khalīl" means 'friend'; "Jubrān" means 'to console, comfort'. Gibran had to Americanize his name when he moved to Boston with his mother and siblings in 1895. His first name was also dropped around that time.
4. At the age of 15, in Beirut, Lebanon, he studied Arabic literature (and learned French) in a Maronite-run institute. He and other students created a magazine and he was made the "college poet." He graduated with high honors three years later.
5. Gibran learned painting in Paris. He also lived in Boston, Beirut, and New York, and wrote in both English and Arabic.
6. In 1920, Gibran and several U.S.-based Mahjari poets launched a literary society called "Al Rabitat al Qualamiya" (The Pen-bond Society or Pen League). The goal was to promote Arabic literature and was a re-formation of the movement started by Nasib Arida and Abd al-Masih Haddad in the 1910s.
7. The Prophet has never been out of print since its first publication in 1923. It has been translated into 100+ languages and was one of the best-selling books in the 20th century in the U.S. alone.
8. Gibran's work has influenced many artists. Elvis Presley talked about The Prophet his entire life. John Lennon used a slightly altered form of a line from Sand and Foam (1926) in the song Julia, which appears in the Beatles' White Album. David Bowie mentioned Gibran in the song The Width of a Circle. Other names include Uruguayan musician Armando Tirelli and Israeli classical music composer Gilad Hochman.
9. Gibran's cousin was renowned American sculptor (and namesake) Kahlil G. Gibran, who passed away in 2008.
10. In the U.S., Gibran has a plaque, garden, and public schools named in his honor: the Gibran Memorial Plaque (Boston), the Kahlil Gibran Memorial Garden (Washington, D.C.), the Khalil Gibran International Academy (Brooklyn), and the Khalil Gibran Elementary School (Yonkers, N.Y.). Lebanon also celebrates him with its Gibran Museum (Bsharri, his birthplace) and Gibran Khalil Gibran Garden (Beirut).
For more information about Kahlil Gibran visit http://www.gibrankhalilgibran.org/Home.
--------------
I hope you enjoyed today's list of facts. What else would you add? Feel free to share with me on Twitter. I'm @haiku_shack.
Interested in checking out After the Fires of Day: Haiku Inspired by Kahlil Gibran & Alphonse de Lamartine? Click the link below.
-----------------
If you enjoyed this article, please consider supporting my work. Here are three ways you can do it.
Visit my store and grab one of my books. You will find poetry, photography, short stories, theatre, humor, and social media guides.
Purchase one of my photos. Treat yourself to a mug, print, card, iPhone cover, and more.
Click the "Pledge" or "Donate" button below.
Thank you!
This post was originally published on my blog.
list
About the author
Artist⎜Multi-genre Author⎜Co-founder of Auroras & Blossoms / PoArtMo⎜(Co-)creator: flashku / kindku / pareiku / reminigram / sixku / vardhaku⎜Podcaster
Website: https://creativeramblings.com
Reader insights
Be the first to share your insights about this piece.
Add your insights