Weapon of Choice: These Are the Most Outrageous, Original Weapons In Horror Films
We all know many horror films use knives, chainsaws and axes, but some horror takes weaponry to a whole other level with their cruel creativity and deadly, inexorable inventiveness.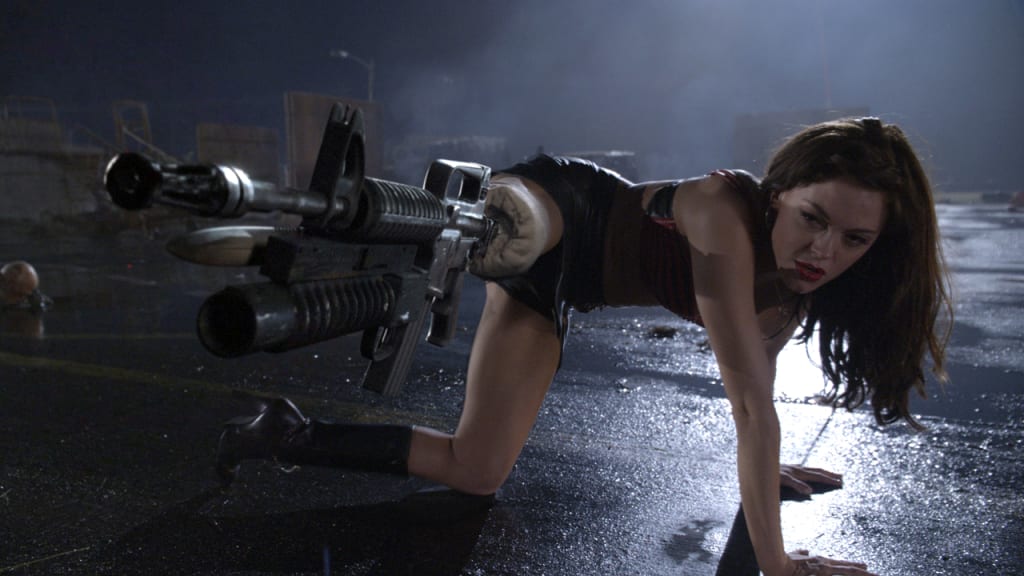 Credit: Pardo.ch
What is the best part of a horror movie? The villains? The gore? Death counts? For me, one of the most exciting aspects of a cinematic slaughter fest is the inventive weapons.
1. Grindhouse — Machine Gun Leg
This film is made up of two equally captivating feature-length segments: Planet Terror and Death Proof, with Planet Terror being the part that features a machine-gun leg. The film focuses on a group of rebels trying to survive an attack from zombie-like creatures. In this setting, having a machine gun for a leg is a fantastic way to protect yourself.
Rose McGowan plays Cherry Darling, the mono-legged enchantress who loses her limb during a particularly violent zombies attack. Her love interest El Wray later attaches an M4 carbine/M203 grenade launcher to the place where her wooden leg use to be. While one might think that having one less leg would weaken this character, it only served to strengthen her—and created some explosive scenes, to say the least!
The machine gun leg was a great tool for this retro-styled zombie flick. Does horror weaponry get more creative than this? Well, I'm glad you asked.
2. Slumber Party Massacre II — Power Drill Guitar
The 1987 sequel to The Slumber Party Massacre is about a group of teenagers who are terrorized by the Driller Killer, a man who wields a deadly guitar. Needless to say, this was a pretty cool idea—but why a guitar?
The villain is a supernatural rock star, so it makes perfect sense to turn that guitar into a lethal weapon. It's fantastically scary and if you were a sleepy teen in this film, I'm sure you'd be petrified too.
This is a murder weapon that the killer can easily disguise, making it a fantastic idea to take something so normal and turn it into something so terrifyingly deadly.
3. A Nightmare On Elm Street — Clawed Gloves
Horror icon Freddy Krueger is, of course, the star of A Nightmare on Elm Street, and he wears a horror weapon that is iconic — his clawed gloves.
Krueger made this lethal weapon out of sheet metal, pipes, fishing knives, rivets and an old leather glove. His backstory tells us that he then used this murderous mitten to torture and kill children, until his arrest. He was later released on a legal technicality to continue his life of crime. Furious with his release, local parents sought revenge by burning him alive. However, his evil spirit lives on as a dream demon who continues killing adolescents as they slumber, even after his death. Who knew a glove could be so gruesome?
4. Phantasm II — Sphere
In Phantasm II, Mike Pearson (James LeGros) is released from an asylum after a sinister encounter with the Tall Man. Hoping to finally end the killing spree, Mike sets out on a mission to find the superhuman villain. Things soon take a sinister, deadly turn, with sphere's flying into peoples bodies and faces, giving them a painful and bloody death.
The silver sphere has sharp blades around its circumference, whereas the gold one has a drill and is twice as big, making it even deadlier. These spinning orbs will destroy anything that gets in their way and are not to be trifled with.
Horror films are brilliant to watch, but when they have an unusual murder weapon, they're so much more exciting. The best part about this evil ammo is that they create bizarre deaths that are super thrilling. If you're a massive horror fan and you haven't seen these films, then they should definitely make it onto your watch list.