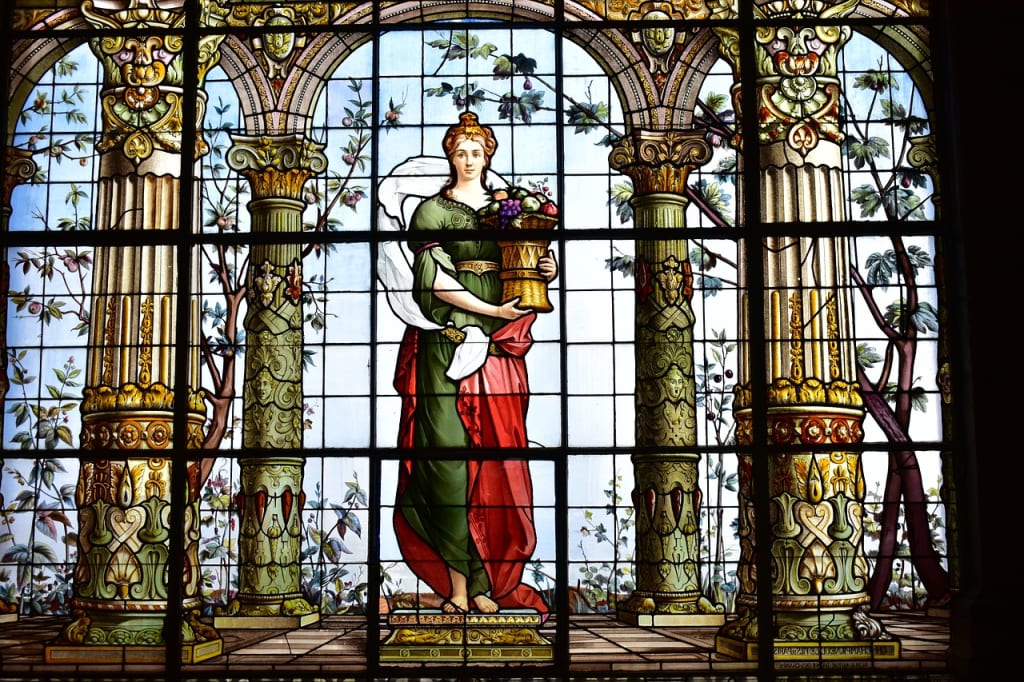 Wake up. Coffee. Go to class. Do homework. Go to bed. Repeat. I woke up and had my coffee. I met Jazlyn at the café on the hill on the way into campus. The warm bitter air rushed over my skin as I stepped in to the café. Jazlyn was already sitting at an empty table with two coffees. She was all bundled up in an oversized sweater and a coat on top of that. I was jealous, because I forgot to check the weather and was only wearing a t-shirt under my own coat. Jazlyn stood as soon as she saw me and handed over the coffee.
I stopped by the student board in the café to see if there were any rooms to be rented out, and there were. Only, there were three from the same person and I did not want to know why that person could not keep a roommate for more than a month. There were some ads for text books, for jobs, and the occasional missing person poster. Well, there were a couple more missing person poster than usual.
"Why did we think taking Latin at eight a.m. was a good idea? Correction, why did YOU decide this was a good idea?" Jaz shoved me a little as we walked up the hill through the stinging cold. The frost had settled on the grass all throughout campus and all the windows on the building. It made me nostalgic for a childhood I never had.
"Listen, you let me pick and I picked the class that would force me to be awake and also maybe make me sound sexy." I thought my reasoning was good but the look on Jaz's face told me it was not. "You don't even go to class! That's why we met AFTER class!" I held the library door open for Jaz and we went to look for a table. The library was large and old and ornate and… God, the library was heaven. The sun shone through the stained-glass windows and decorated my peers and their notes.
Jaz found a table in a back corner. It was huddled in between two book cases and seemed tucked away from all the stressed and depressed students, like a little refuge. It had just a sliver of colored light that kissed the table from a window above. The window's glass was art of a faceless woman with brown hair. Even with no face, she appeared to be looking down at the desk. It was almost comforting.
Jaz swore under her breath. "Hey my mom needs help with my brother. I got to go." She practically threw her Latin notes at me before rushing out of the library and catching the bus home. Suddenly, I was alone. Well I was not totally alone. There were students quietly crawling across the library aisles in search of some sort of knowledge. I stopped procrastinating and began to copy down the notes from Jaz's stack of loose paper into my notebook. To make chaos into order. Pen to paper.
"Is this seat taken?" A woman with brown hair stood over the chair that Jaz was just in. She was ethereal. The light from the window bathed her in a multicolored glow. Her long white dress was out of place considering the weather and she didn't even have a bag with her. She had… nothing with her. I stopped staring for a moment just to mutter quickly that she could sit there. The woman nodded with a slight bow before dragging the chair closer to me and sitting down. The sunlight seemed to follow her, but I was so entranced with her that I didn't notice until thinking back.
"Can I help you with something?" I asked as she peered over to look at my notebook.
"Scisne latine?"
"What?"
Her chuckle was light and comforting. "Do you know Latin?"
"Uh, haha. No. Not really. This is my first semester taking it and I have skipped more than a couple of classes."
"Oh. I could help you then." She brought her chair closer to mine and put her hand over mine. Her hand was so cold. It was winter and her clothes were inappropriate for the weather but who am I to judge? Maybe she is from Alaska or something? Her hand was so smooth with no imperfections. Like glass. Like glass?
Up in the window. The window. Oh no.
The woman in the window. She was gone. She was gone. She was gone.
I yanked my hand back and clutched it to my chest.
"You're the woman."
"What woman?" She followed my eyeline and turned around. When she turned back to me she had a smile on her face. "Ah, yes."
It was now I realized that the library was quiet. Like, no paper moving, no hushed whispers. I jumped out of my seat as I fast as I possibly could and ran to the center of the library. No one was there, and it looked like they were never there.
"Where did everyone go?" I started rushing towards the door but I tripped. I tripped on nothing.
"Do not try and leave." She was behind me. I looked back and she was towering over me.
"Who are you?"
"You know." She kneeled down and put my head into her lap. She was gentle. I wanted to fall asleep there. I knew there was danger. I knew it. But, all I wanted to do was sleep. I felt safe.
"Please, what do you want with me?" I did not realize it at first, but I had started crying. The tears kept streaming down my face and she was getting blurry.
"Switch ad opus"
It all went dark. At least for a while. I wish it had stayed dark. I wish I had never gone to the library. I wish I didn't see her walking with Jaz from my window. I try to light the woman up from my window. Give Jaz a warning that that thing, that thing wasn't me.
I can only watch.
fiction
About the author
Hello! I am one semester away from graduating with my English BA. I work as an informal STEM Educator and Writing Tutor. I like to write and get my thoughts out in my essays and short stories. Stay tuned :)
Reader insights
Be the first to share your insights about this piece.
Add your insights