The Unexplained
Can you believe what you see?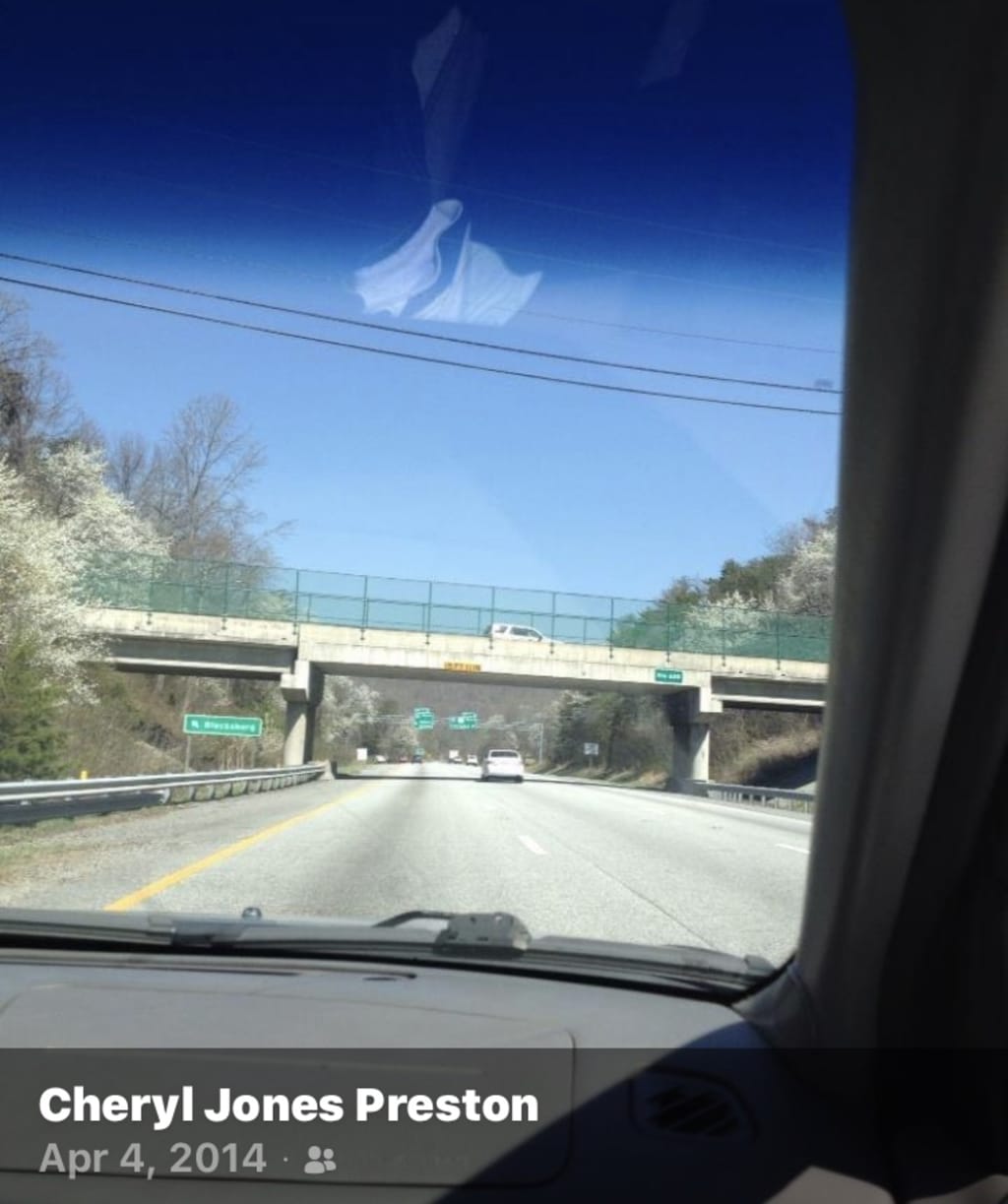 Unidentified floating objects
On the afternoon of April 4, 2014, my husband and I were driving home from the Radford Virginia area. We were on Intersate. 81 near the exit for Salem Virginia. Just before we got near an overpass I noticed something strange in the sky. It looked like two white sheets positioned to appear like ghosts. I was intrigued, as I do not believe real spirits look like the image that Hollywood has given us. The reason white sheets are associated with departed spirits began in England in the 17th century. The British buried their dead in white linen shrouds so it was assumed when the dead came back they would be wearing their burial clothing. White sheets representing ghosts became popular in America when the Ku Klux Klan put them on to frighten the newly freed slaves after they were set free in 1865. They knew the African Americans believed in ghost tales so they took full advantage.
Even so, I snapped two photos of the floating objects, one immediately and the other just as we got to the overpass above us. Once we drove under it we saw this sight no more. At first I thought it was two oddly shaped clouds but as you can see the sky was cloudless. When I enlarged the photo the objects looked like two tissues. You can see in the dashboard I. the first photo and there were no tissues in it to give a reflection. Even if there were, they would not have been seen so high in the air. The reglection should have been closer to the dashboard.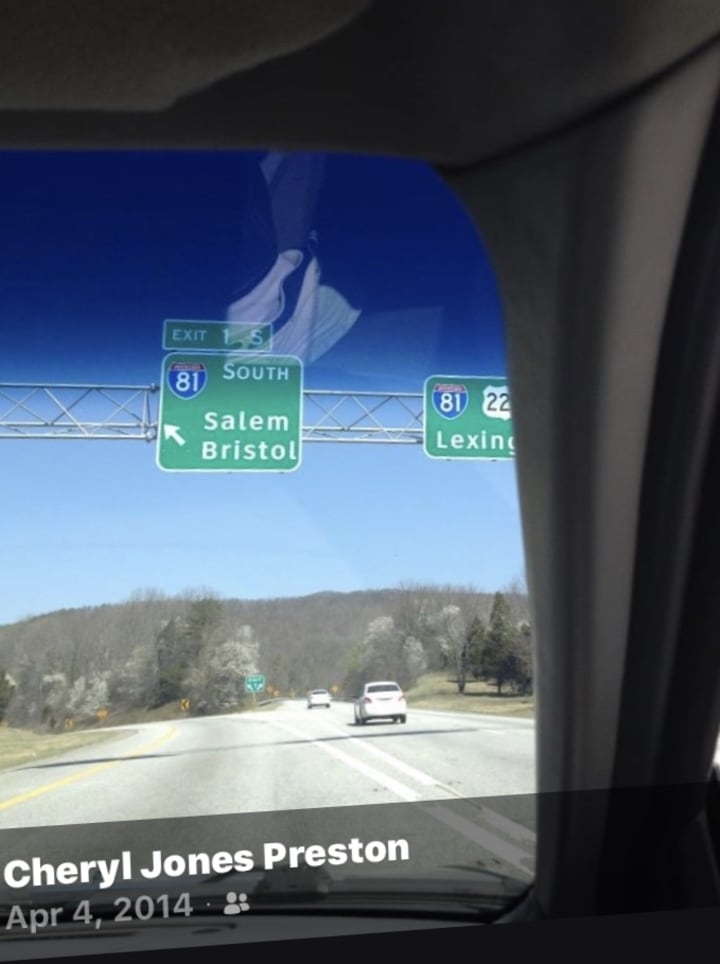 There are no arms, legs or human features such as a face and neither do these images appear malevolent. All I can tell you is that I caught these two items on camera and I have no idea what they are. There have long been ghost stories about this area of Virginia and one came from my oldest son. He was a student at Radford University and one night while returning to campus his car stalled. He called me at 12:30 AM and said that "something" was walking along the road in his direction. He said it was dressed all in white appeared to be a man and was limping. I prayed with my son and immediately I heard his vehicle start up. He informed me that whatever had been coming in his direction had just disappeared."
In that same area, about 8 miles away is the old Saint a Albans sanitarium. There have been many stories about the ghosts of deceased patients roaming the building but I don't know anyone who had actually seen anything. I know a few people who attend an annual Halloween haunted house but only mention being frightened by the man made horrors. My husband and I had visited the sanitarium that day but could only look from the outside. Could something have followed us from there and onto the highway? Perhaps it was confined to that area and that's why we saw nothing more after we went under the overpass.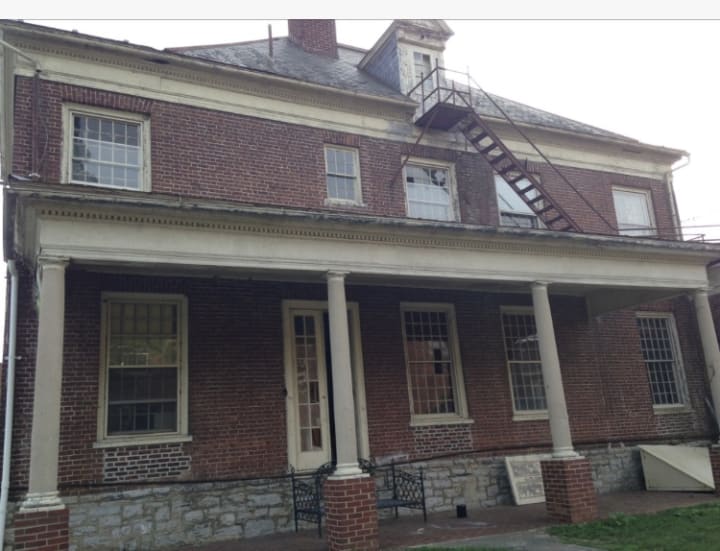 This is all speculation as I have no idea what I caught in film. There is no way to figure this mystery out so all that can be done is to take the photo at face value. According to the History Channel, ghosts in white sheets became popular in the theater during Victorian days. Spooky music and special affects were used to set the mood for the audience. I have not found one reference to indicate that spirits really are traveling through the land in white, but on paranormal television shows it has been alleged that they do.
If you examine the two photos carefully you will see that the second " ghost" is slightly different in the second picture. I have no way to account for that. In the first image the second "specter" is flat like a tissue. In the second photo it has a slightly more defined shape. The first object is the same position in both pictures. This is truly an unexplained mystery and it might never get solved. It does, however, make for good conversation during this spooky time of year. Whether it is paranormal, fiend, foe, optical illusion, angels, or a pair of unidentified flying objects, this is real, and was caught on camera. There is an old saying that truth is stranger than fiction. This pair of objects floating through the air are proof this is an accurate statement. Everyone I shared this image with felt there was something supernatural about it. You the reader can decide for yourself.
About the Creator
Cheryl is a poet, freelance writer, published author and former Newspaper columnist. She has degrees in Psycology and Biblical studies. She enjoys sharing natural cures, and Nostalgia related info. Tips are greatly appreciated.
Reader insights
Be the first to share your insights about this piece.
Add your insights