The Mothman: An Investigation into the Fluttering Phenomenon
Maybe It's Just a Really Big Bird… Nah!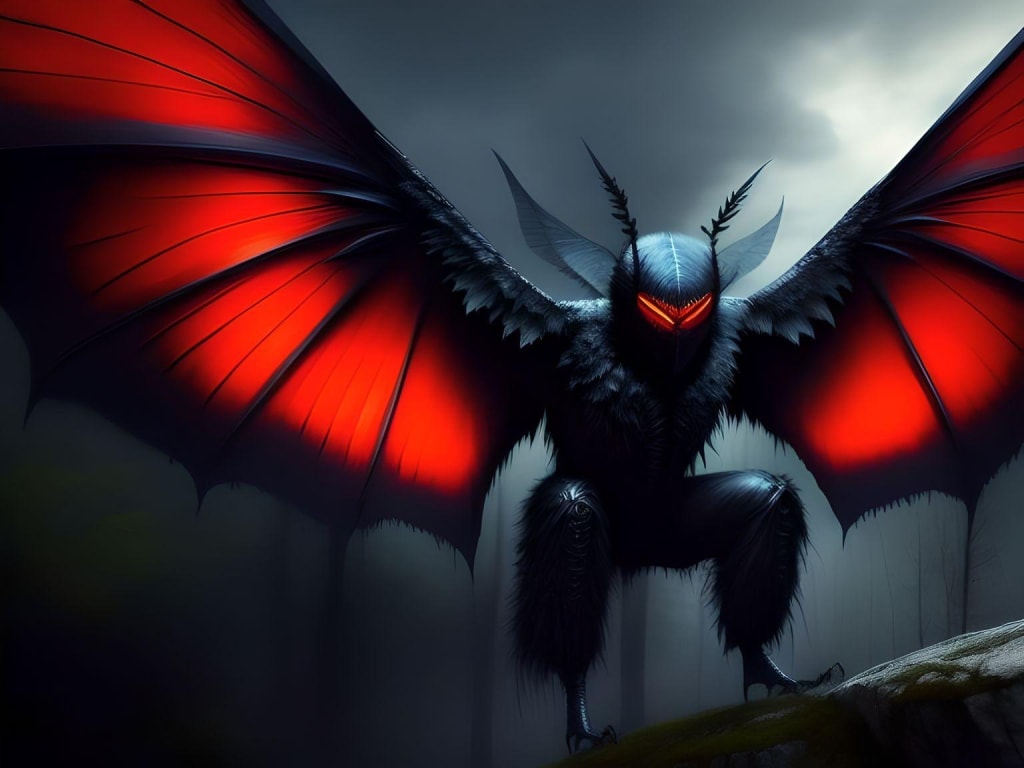 Photo by author using GoArt
The world is full of mysteries. And no, I'm not talking about how that one sock always goes missing in the laundry, or why we still haven't found out who let the dogs out (that's a mystery for another day… and evidently that song is actually really racist if you do your research…). Today, I'm diving deep into the realm of cryptids – those elusive and enigmatic creatures that exist on the fringes of our understanding. Specifically, I'm going to flap my wings and take a closer look at the infamous Mothman. Bias Alert! This is my all-time favorite cryptid alongside the Loch Ness Monster and the Jackalope.
For the uninitiated, Mothman is a creature that's been sighted throughout the years, particularly in West Virginia. This cryptid has been described as a large, winged humanoid with glowing red eyes, striking fear into the hearts of those who encounter it. Some believe it to be a harbinger of doom, while others think it's just an oversized moth that's really bad at navigating porch lights.
But before we go any further, let's address the elephant (or rather, moth) in the room: recent sightings. After all, what's a good cryptid story without some fresh encounters to keep us on our toes?
Recent Sightings: Mothman Returns
In late 2020, a flurry of Mothman sightings were reported in and around Chicago, Illinois. Witnesses claimed to see a large, winged creature with glowing red eyes, swooping through the city skies like a bat out of hell (or a moth out of someone's closet).
One particular sighting involved a man named John Amitrano, who spotted the creature while working security at a popular Chicago bar. According to Amitrano, the Mothman was perched atop a nearby building before taking flight and disappearing into the night. As you can imagine, this incident left John quite shaken – but also thrilled to have witnessed such a legendary creature.
Now, you might be thinking, "Surely these recent sightings can be easily explained away as misidentified birds or elaborate hoaxes." And while that's a fair assumption, the sheer number of reports and consistency in descriptions is enough to make even the staunchest skeptic raise an eyebrow.
But let's take a step back for a moment and explore the origins of this enigmatic entity.
The Birth of the Mothman Legend
The first recorded sighting of the Mothman was on November 12, 1966, near Clendenin, West Virginia. A group of five grave diggers claimed to have seen a large, winged humanoid soaring above the trees. Little did they know, their encounter would spark a wave of similar sightings in the area.
The most famous event took place just three days later when two young couples from Point Pleasant reported seeing a "large flying man with ten-foot wings" and glowing red eyes. Their harrowing experience garnered significant media attention, and the legend of the Mothman was born.
Over the next year, the Mothman was spotted numerous times around the Point Pleasant area, culminating in the tragic collapse of the Silver Bridge on December 15, 1967. The disaster claimed the lives of 46 people, and many locals believed that the Mothman sightings were a forewarning of the impending catastrophe.
Mothman: Harbinger of Doom or Mere Misunderstanding?
Since those early sightings, the Mothman has become synonymous with doom and disaster. Some claim that it appears before significant tragedies, serving as a dark omen of things to come. Others argue that the creature is merely misunderstood and has no connection to catastrophic events.
One possible explanation for the Mothman's ominous reputation is its association with John Keel's 1975 book, "The Mothman Prophecies." In it, Keel delves into the numerous sightings and explores the potential connection between the Mothman and the Silver Bridge collapse. The book's popularity helped cement the creature's status as a harbinger of doom, especially after the 2002 film adaptation starring Richard Gere.
But what if the Mothman is just an innocent bystander in all of this chaos? After all, correlation does not equal causation. Perhaps it's just a curious creature with a penchant for dramatic entrances and glowing red eyes that make it impossible to go unnoticed.
Ruffling Feathers: The Skeptics' Perspective
Of course, no discussion of the Mothman would be complete without addressing the skeptics' perspective. Many argue that the creature is nothing more than a case of mistaken identity, with witnesses misinterpreting sightings of large birds such as owls, cranes, or even herons as something far more sinister.
Others point to the power of suggestion and mass hysteria as explanations for the widespread reports. With the Mothman becoming ingrained in popular culture, it's not hard to imagine that people might be more inclined to interpret an unusual sighting as an encounter with the legendary cryptid.
Regardless of where you stand on the Mothman debate, one thing is undeniable: this enigmatic creature has captured the imaginations of countless individuals, earning its place in the annals of cryptid lore.
Embracing the Mystery
The Mothman remains one of the most intriguing and controversial cryptids of our time. From its ominous beginnings in West Virginia to its recent resurgence in Chicago, this winged wonder continues to elude definitive explanation.
Whether you believe the Mothman to be a harbinger of doom, an innocent victim of circumstance, or a mere figment of overactive imaginations, there's no denying the allure of its legend. So, as we continue to ponder the existence of this enigmatic entity, let's remember to embrace the mystery and appreciate the captivating stories it inspires.
After all, who doesn't love a good cryptid tale to keep us on our toes and make us question the limits of our understanding? Just be sure to keep an eye on the skies – you never know when the Mothman might make its next appearance.
About the Creator
Meet the mistress of words who weaves tales that transport you to other worlds. With a unique perspective and a gift for storytelling, my writing will leave you spellbound and craving more.
Reader insights
Outstanding
Excellent work. Looking forward to reading more!
Top insights
On-point and relevant

Writing reflected the title & theme

Easy to read and follow

Well-structured & engaging content

Expert insights and opinions

Arguments were carefully researched and presented
Eye opening

Niche topic & fresh perspectives

Masterful proofreading

Zero grammar & spelling mistakes

Excellent storytelling

Original narrative & well developed characters

Heartfelt and relatable

The story invoked strong personal emotions

Compelling and original writing

Creative use of language & vocab
Add your insights