The Eye Blasting Yellow Horror of Witch's Butter Jelly Fungus
A tragic true tale of ick and grue for your Halloween reading pleasure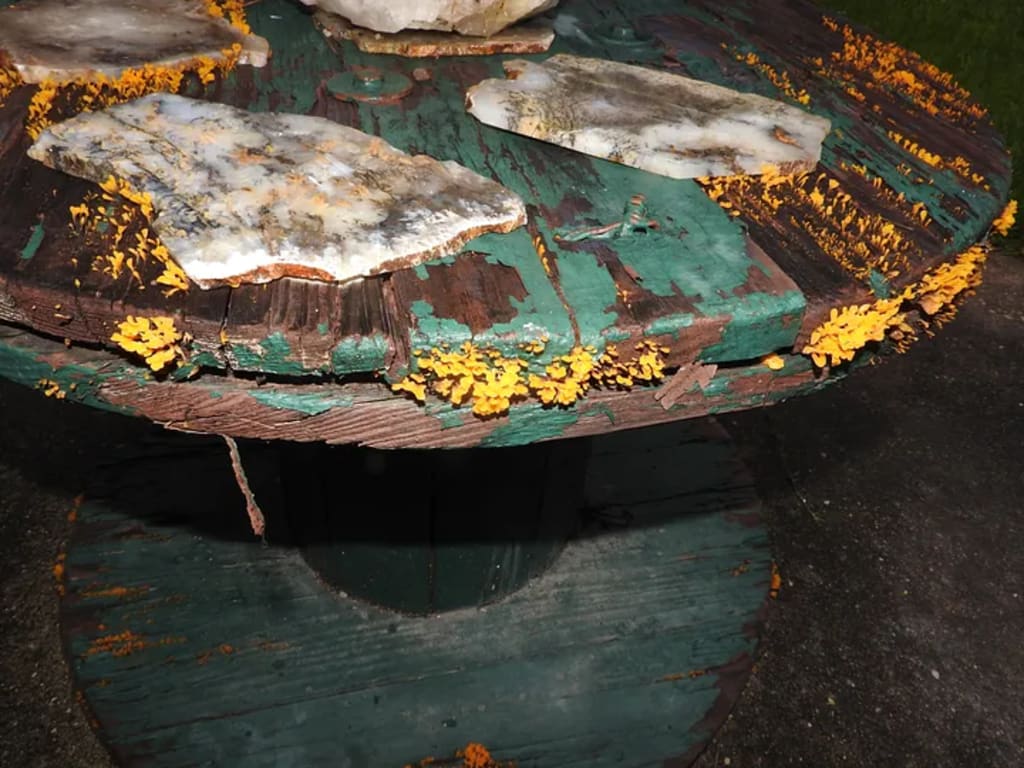 Witch's Butter Jelly Fungus/all photos by the author
Raise your hand if you were able to identify the colorful yellow fungus that has completely consumed this ancient spool table from the 1980s.
In the next picture, I pull back to give you a better view of the full table — so you can see that it has, indeed, been completely infested by the Horror From Within.
The table collapsed into a pitiful heap of rot a few days after I grabbed these photographs.
And I do mean pitiful. I came out one morning to find this poor table reduced to a slick, damp pile of ick.
At least, it was easy to shovel up and throw away.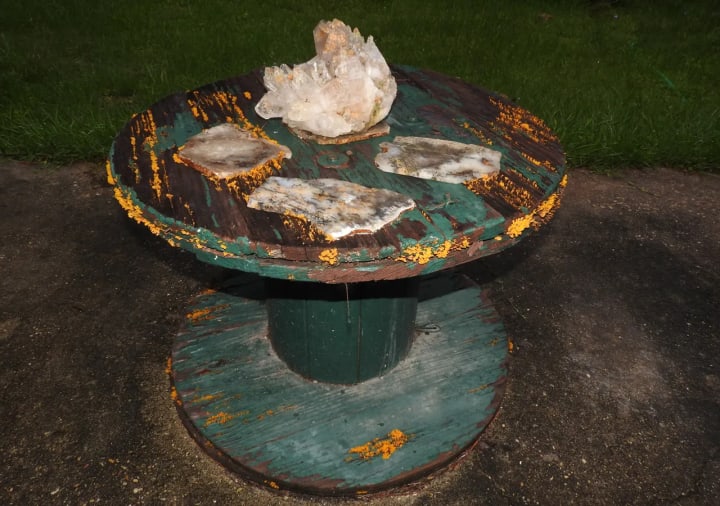 Witch's Butter Jelly Fungus is a Parasite on a Parasite
Witch's Butter or Witches' Butter is hard to spell because nobody seems to have decided which way it's supposed to be spelled. You can check out of the whole debate, and call it by its Latin name Tremella mesenterica if you like.
By any name, it's easy to blame for your outdoor furniture's internal rot and collapse.
The reality is otherwise.
Witch's Butter is a symptom, not a cause. This fungi is a parasite that feeds on… tah dah… wood rot fungus.
So, the table was already being eaten away by a quieter, sneakier fungus species when Witch's Butter barrelled in to steal the show.
And that's where the story stood for a year or so.
The Witch is Back
If you've been reading me for a while, you might have read my story about my minor adventures with a tree fall in 2021:
You see the tree back there that lost the $1,700 branch?
Two years of being enthusiastically pecked away at by my happy woodpeckers hasn't done much to improve its health. After the baby woodpecker season was over, I checked it out more closely-- only to discover the first hints of Witch's Butter growing on its trunk.
I surmise that wood rot has been doing its thing inside that tree since July 2021 first let it in. And now the Witch's Butter is sliding in to feast on the wood rot fungi.
So there may be another sudden collapse of ick in my future.
(A note: I can't remove the tree pre-emptively because it's not on my property. Nor do I necessarily wish to remove it because it's still serving as a host to many friendly woodpeckers.)
As you can tell from all the holes, this recently fledged Red-Bellied Woodpecker (and several others, along with their parents) have done their part to police the tree. Alas, I'm pretty sure they're only gobbling down tasty insects-- not nasty fungi of questionable intent and flavor.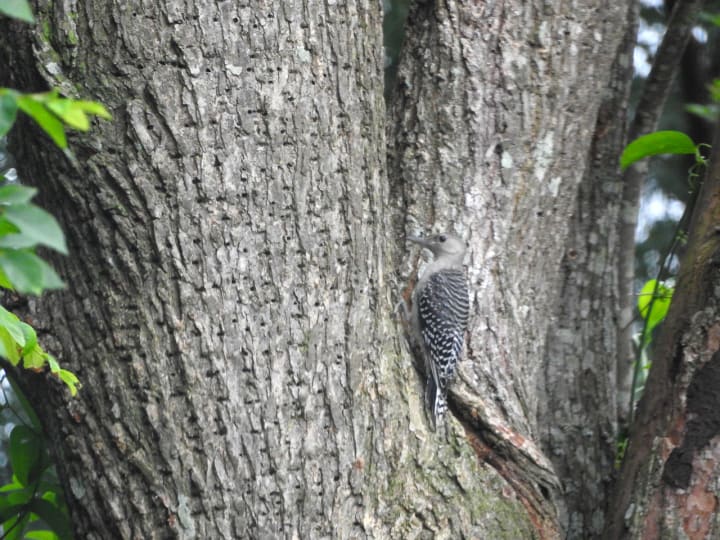 The sex life of jelly fungus
While we're here, you might as well be squicked to learn that Witch's Butter Jelly Fungus is capable of sexual reproduction. When two Witch's Butter Fungi care about each other very deeply, one of them develops what's known as a mating tube, and they get down to the dirty game of expressing their feelings in a more tactile way.
No, really, it's science. Here's a link that goes to the Encyclopedia Britannica, so it's not even fancy new research that's gonna be redacted three days after Halloween. This is established science, yo.
You may draw whatever analogies you feel appropriate to the human condition.
Witches' Butter is edible although you might ask why
Our friends at the Missouri Department of Conservation inform us that Witch's Butter is edible.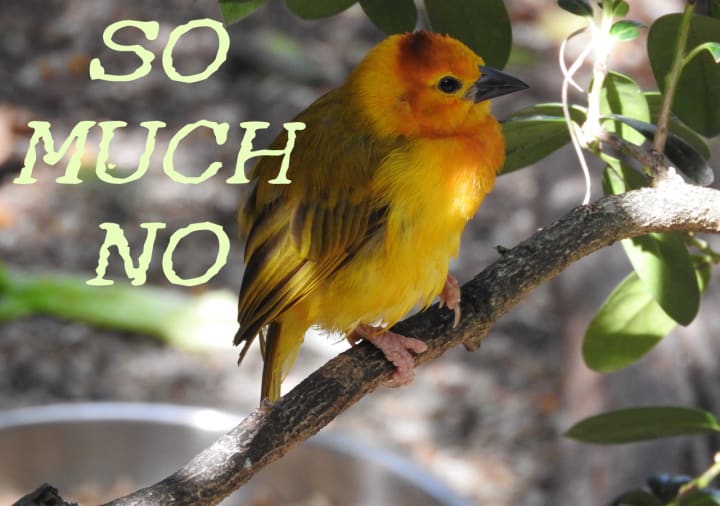 Maybe so, but this lady from Louisiana is gonna vote nah. I don't usually like to cast aspersions on things I haven't tried, but nope, nope, no bleeping way, nope.
Author's Note
A shorter version of this story was originally published Oct. 16, 2022, to Weeds & Wildflowers, a Medium publication. I've updated, expanded, and added a new photo for this year's Halloween giggles. If you enjoy reading my stories without a paywall, please take a moment to <3 or comment. Thanks!
About the Creator
Seeker, traveler, birder, crystal collector, photographer. I sometimes visit the mysterious side of life. Author of "The Moldavite Message" and "Crystal Magick, Meditation, and Manifestation."
https://linktr.ee/amethystqu
Reader insights
Be the first to share your insights about this piece.
Add your insights