Silhouette lady
Spooky short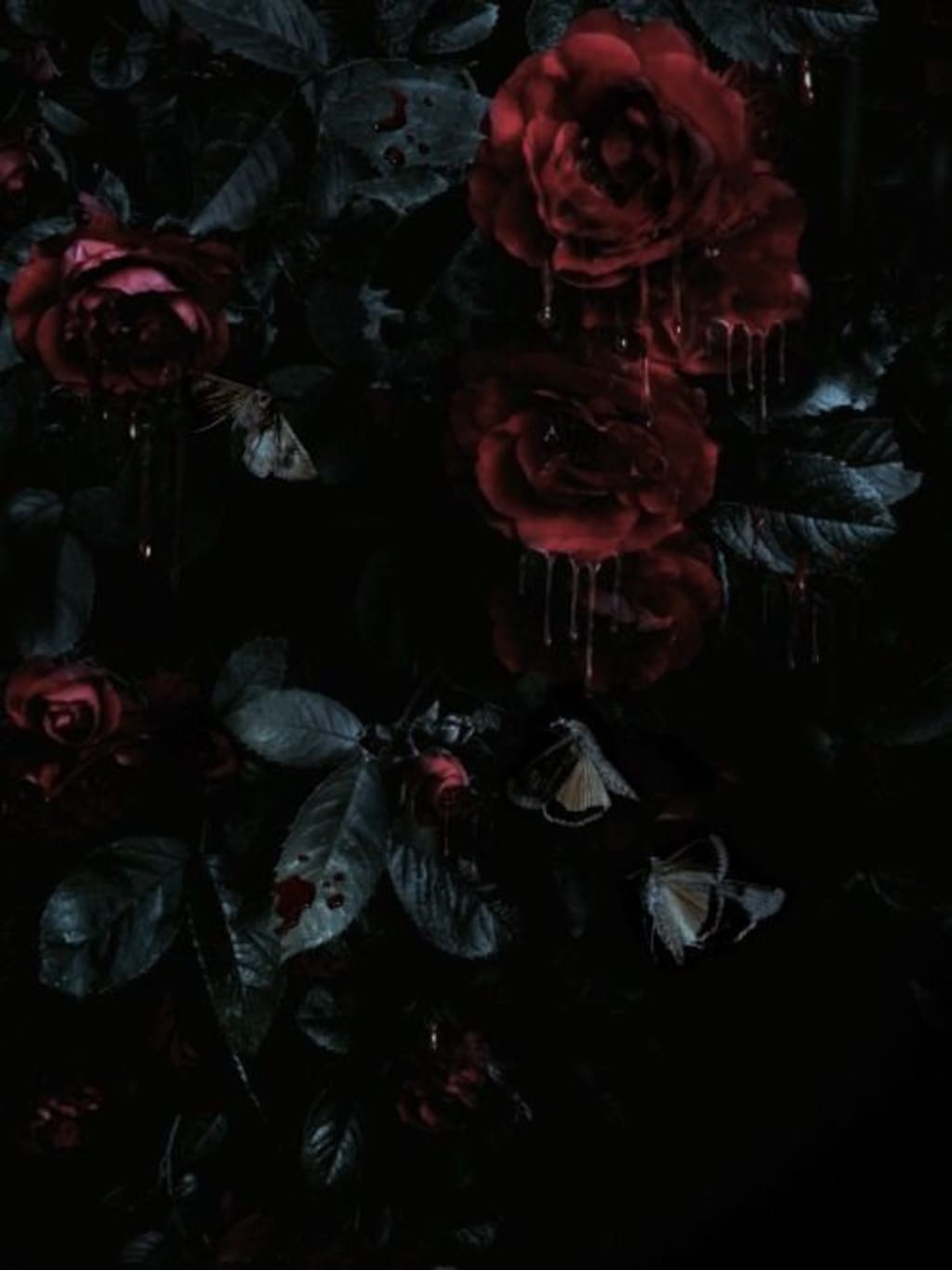 Tick. Toc. Tick. Tock. The white noise of the clock. She lays there with only her silhouette casting amongst the wall. The wall which the close is carefully hung upon. Her head slowly tilts to the clock as the clocks hands move backwards. The door creaking. No one enters.
Glass shards on the floor, in every corner. Some covered in the sinning blood of those less fortunate. Those who came here for answers. Those who came for thrill. And most importantly, those who came here for vengeance.
What lies in the alternate universe we don't know, however, she did. Yet she does nothing. Just lies there, with her petite figure casting silhouette. Skin blue and lifeless, long lilac hair that touches the floor and shards of glass embedded in her flush yet mulberry lips. Her body wrapped in a sheer silk. Silk that's white but stained. Stained with what, no one knows. It drapes long over her legs, as it rests on the floor. She tilts her head back and looks at the clock. From one am it is now twelve thirty. The haunting hour has ended. But in her eyes it's just begun.
Her eyes dull and lifeless. Were nothing lies behind them. No inner thoughts just a brain with fog. Desperate for a way out.
Pitter. Patter. Pitter. Patter. The sounds the rain makes as her teeth chatter. The room isn't cold but those who aren't warm blooded don't feel the same we do. The leaking roof. It leaked along the hardwood floor. The home humid and wet. Yet the scent is nothing pleasant. In fact, it's plunging and intoxicating. Fetid, with a hint of damp roses. Damp roses that should be nothing more then dried withered roses.
The door creaks open. And the footsteps trickle in. She lies there, unfazed. He walks through the cobwebs. And the spiders scatter in each and every direction. He sat beside her. And began to pull out wishes he was hoping she could grant. He pulls her hand and gives her three mear post it notes. She lies there finally opening her eyes. Heavy eye lids unsure of where to even look. Then her eyes meet his. And she pulls herself near him. And gives him a kiss. The shards of glass touch his lips and suddenly he collapses. The kiss of death. His heart still beats. As she begins to slowly cut his skin with the shards of glass. Tearing away and into every little vein. Blood gushing in every direction. His mouth unable to scream. She takes the shards of glass and fills his mouth with them as she sews his lips shut. Little did he know that his wish wasn't her command. His pulse stops. And she begins to feast. Sitting in the spot of her silhouette. This time as an animal tearing away the mans skins off his bones.
He should have known not to come. Yet he did. His hopeful post it noted lay on the floor. Face down. Was it greed, was it lust, was it envy? No one will ever know. One may try and enter the home. But who knows if they would make it out to tell the tale.
She now lies there with nothing, just a silhouette painted against the wall. Slowly rocking, back and forth. Back and forth. Until, the clock ticks 11. The door inches slowly. No one enters, as they shouldn't. After all, why should they. The house was in no condition for guests, and neither was the silhouette lady.
The clock still ticks yet time moves backwards. So did this all happen, or was this in her head.
fiction
Aspiring science student, who adores cooking, fashion, and nature. Thus, I am here to learn and guide in my passions.