Phantom Island-"Origins"-12
Story 3-"Kelly & Byron"-Part 4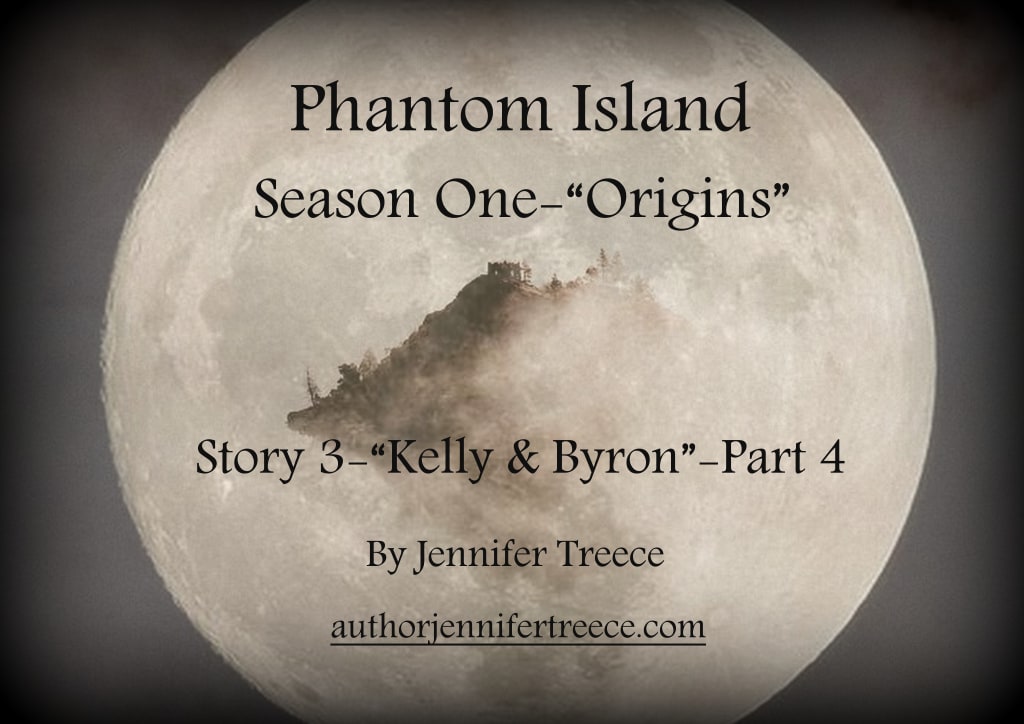 Kelly was humming happily as she finished setting up the dining room for Byron's surprise when she heard his car pull into the driveway. She quickly ran out of the room and pulled the drapes over the doorway so he couldn't see it until she was ready.
She was there waiting to greet him when he walked through the door, as she had been every day for the past six months. He came in and threw his arms around her, lifting her up as he hugged her tightly to his chest.
"Happy anniversary!" he was saying repeatedly between kisses.
Kelly laughed. "Happy anniversary right back to you." she said.
When the kissing started transforming into something more intense, she pulled back and had him to put her down.
"Hold that thought." She told him. "And wait right there. Do not go into the dining room!"
A sneaky smile played on Byron's face. "The dining room, huh?"
"I mean it!" Kelly said.
Byron started to move in the direction of the dining room entrance and she jumped in between him and the door.
"Stay!" she commanded in her convincing voice.
With him frozen in place, Kelly ran up-stairs to change into the cute little dress she had bought for today's celebration. They had been together for a blissful six months today, which was a milestone for them both. Byron had never been with anyone this long and Kelly had only ever surpassed it once before.
She willed her thoughts back to the present; she refused to allow the memories of him to flood her today.
She finished applying a quick, light layer of makeup and took her hair down; she had done her hair earlier and clipped it back so she could get ready faster this evening.
She took one last look in the mirror before running back down the stairs to unfreeze Byron; who was still smiling. She couldn't help it, she laughed.
Once he was free, Byron chuckled and rubbed his face. "Maybe wait until I stop smiling next time…" he started to say but when he saw her, he halted as if he was entranced again. "Wow" was all he could manage.
Kelly giggled and blushed. "Are you ready for your surprise now?"
Byron made his way to her and put his hands around her waist. He began kissing her and she had to pull away again.
"Not that." She said through laughter.
He stopped kissing her but didn't move away. She grabbed his hands and planted a kiss on each one before positioning them by his sides. He looked disappointed until she moved to pull the curtain aside. He had forgotten about that.
Kelly pulled back the curtain to reveal a fully decorated dining room. She had balloons in every corner, streamers all around, ribbons hanging from the ceiling, and a table cloth on the table; but these weren't the typical cheap party decorations.
Kelly had been meticulous about every detail. The colors were black, maroon and gold; Byron's favorites. The table cover was maroon velvet with black and gold lace around the ends. There was even a golden throne where Byron's usual dining chair had been; not a real golden throne of course, just his chair made to look like one.
There were pictures with golden borders hanging from the ribbons and his favorite foods and desserts on the dinner table. The pictures were of them together over the past six months; at the park, in the woods, lying in bed talking and on the couch watching movies.
Byron was overcome with emotion; no one had ever done anything like this for him before. No one had ever truly cared about him like Kelly.
He turned to her with tears welling in his eyes. He wanted to say so many things but couldn't speak; words wouldn't be enough anyhow.
Kelly rushed to throw her arms around him and he picked her up. He wrapped his arms around her and held her tight against his chest. She pulled back and took his face in her hands. She wiped his tears away with her thumbs and kissed him.
When she ended the kiss, they stared into each other's eyes and knew everything was different now. For Byron they were bound forever; for Kelly, forever meant something else entirely.
"Let's open presents first." Kelly suggested.
Byron smiled and gave her a quick kiss before setting her back on her feet. "I like that idea." He said. But when he looked around, he didn't see any gifts.
"Honey… where…?"
Kelly laughed. "It's in the basement."
Byron raised his eyebrows at that.
"Come on!" she exclaimed as she tugged at his hand.
Byron followed her into the basement where he saw the biggest gift he'd ever laid eyes on. "Whoa."
Kelly giggled. "Open it!"
Byron made his way over, removed the giant bow and began tearing at the gift wrapping. Kelly rolled her eyes and rushed over to rip away the wrapping in a hurry.
He laughed. "Oh, you're one of those people?"
"Absolutely!" she laughed.
Once the paper was gone, he stood back to see that it was a display case for his knives, complete with a backboard display for his saws. He stared in awe.
She had found out about his exes and his knife collection the same day; about four months ago. He had thought she would try to run but she had surprised him by saying "thank goodness that part of your life is over now". He couldn't have agreed more.
"Now you have a proper place to retire your old toys." Kelly said as she patted his shoulder.
Byron laughed and turned to sweep her into a hug but she dodged his grasp and ran up the stairs, making him give chase. Man, he loved this woman!
When he reached the top of the stairs, he heard her voice from his right say "stop" and felt his body freeze.
She giggled and came around to face him. "Let's eat dinner before we get to the rest of your gifts." she said. Byron's body began to follow her at her suggestion. Once they were back in the dining room, she instructed him to sit and then released her hold.
"That was completely unfair, lady. I think I may have to get you back for it." He said through his smile.
Kelly laughed and shook her head in agreement. "After dinner." She said. "Then we go upstairs so you can un-wrap your other gift. I promise to let you take your time with this one."
Byron felt a warm shiver travel the length of his spine. This was the best day of his life.
The next day, Kelly and Byron awoke to someone knocking on the front door. Byron jumped up and pulled on the black silk pajama pants Kelly had given him and ran to answer the door.
When she came down the stairs, Byron was letting a man in a gray suit inside. He was obviously some type of law enforcement, even though he didn't seem too enthused about it.
"Kelly, this is Derek Fisher. He is the new hostage negotiator in our department." Byron announced.
Kelly held out her hand and Derek took it into his and let out a weary breath. He looked as though he was relieved to meet her; strange.
She saw a flicker of rage pass over Byron's eyes and quickly ended the greeting. "Would you like some coffee Mr. Fisher?" she asked as she started making her way toward the kitchen.
"No ma'am. Thank you. I just needed to ask Byron a couple of work questions." Derek replied.
Kelly saw another flash of rage in Byron's expression before he smiled and invited Derek to the basement to see his anniversary present from Kelly.
Kelly stiffened. Had he just invited someone to his basement? A cop, no less? He sounded proud of his gift and eager to show it off, but there was something about his tone that gave Kelly goosebumps. He was up to something.
"Sure." said Derek casually. "And happy anniversary."
Kelly smiled her thanks and Byron laughed as he thanked him and proudly told him that Kelly was the best woman in the world.
As the two men made their way down the basement stairs, Kelly crept slowly after them; Byron was definitely up to no good and she couldn't just stand by and allow him to do whatever he was thinking of doing.
When she reached the top step she heard Derek ask about a missing woman named Vivian; Byron's ex-girlfriend. This was trouble.
Kelly rushed down the stairs just as Byron lifted a hammer from his work table. "No!" she shouted. "Stop!"
Byron froze with his arm in mid-swing.
Derek moved away quickly, grabbing Kelly by the hand on his way back up the stairs; but she refused to budge. Byron was fighting her hold with everything he had.
"Come on!" Derek yelled.
"You go ahead." Kelly replied calmly.
Derek wore a confused expression the entire way out of the house.
Kelly moved to stand in front of Byron. His expression was of raw hate and fury. "I can't let you do this." she said gently as she removed the hammer from his grip. "You can never cause harm to another living thing."
She released him and he tried to grab her but found himself restrained by her command. He growled and started toward the stairs. Kelly followed.
Byron went up to the bedroom and changed into what he called his break-up clothes. He then grabbed his phone and called the station to ask the whereabouts of their new recruit.
Kelly couldn't believe they told him. He didn't sound even remotely sane. They had to know something was… it suddenly occurred to her that they did know. This could be a setup; though she wasn't sure yet if it was for Byron or Derek. Either way, it meant big trouble.
Byron was reaching to open the front door to leave when she froze him again. "Wait for me." she said.
Kelly could tell he was furious with her. He kept glancing at her throughout the car ride and muttering under his breath. He clearly didn't want her tagging along.
Once they got to Cliffside, he was out of the car and stalking up the hill before she could even unbuckle her seatbelt.
She rushed to catch up with him. "Stop." She said. He managed one last growl before halting. "Why are you doing this?" she asked.
"Because he was intruding in my business!" shouted Byron. "He knew damn well what happened to Vivian before he stepped foot into my house and asked stupid questions about her! He was making a fool of me!"
"I think you're right." Kelly replied as she released him.
Byron stood and stared at her in shock.
"You're going to let me handle this?" he asked.
"I'm going to let you choose the kind of man you want to be and the kind of life you want to live. Run away with me and never do this again or continue with your plans on your own."
Byron was devastated. He couldn't be without her now but he couldn't just let this guy go either. He looked down at Kelly who was patiently awaiting his answer and smiled. "I will find a way to have both."
Kelly sighed as she watched Byron's back disappearing into the trees and brush ahead. Taking a deep breath, she marched after him; he made his choice and there was no turning back now.
When Kelly came upon him at the edge of the cliff, she began to hear people talking. Byron turned toward her, his face a mixture of fury and confusion.
She peeked over the edge and saw the police force; complete with Derek on the mic. It had been a set up for Byron.
She took his hands in hers and smiled at him.
"I told you pajamas were bad luck." he said.
Kelly giggled. "Yes, I guess you did."
Byron ran his thumb down her cheek and apologized for being upset with her. "I don't know where the anger comes from." he stated sadly.
"I accept your apology." she said.
Byron smiled. "Kelly?"
"Yes?"
"Would you mind doing that little mind trick on me?" Byron asked.
Kelly didn't have to ask what he meant. She let the tears fall freely as she shook her head.
He leaned in and gave her a long, sweet kiss. She placed her hands in his hair and held his head in place when the kiss ended.
With their lips nearly touching she said "Together we take the leap."
Byron laced his fingers with Kelly's and together they jumped off the cliff.
END of Story 3-"Kelly & Byron"-Part 4
Thank You for reading! Visit my profile to read stories 1 and 2!
Gift me a dollar to show your support! Donations can be made here on Vocal or on my website at authorjennifertreece.com! Thank you!
About the Creator
I'm Jennifer. I am an indie author. I write novels, short stories, and poems. My genres are mixed and include mystery, supernatural, and paranormal.
You can also find me on my website authorjennifertreece.com!
Reader insights
Be the first to share your insights about this piece.
Add your insights