My Love Affair with Dario Argento
Sometimes it's the imperfections that make someone special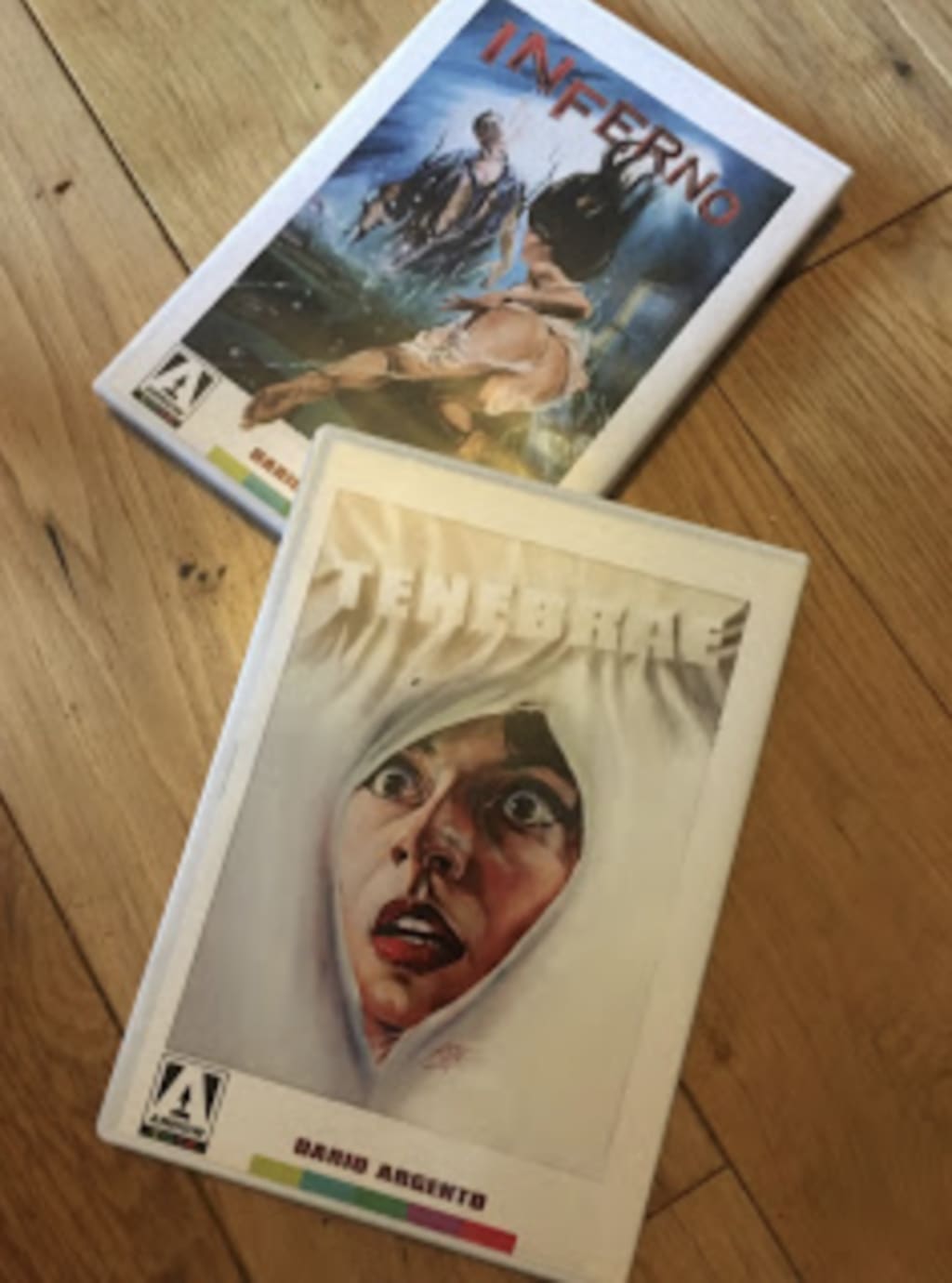 I became slightly obsessed with Italian horror director Dario Argento about five years ago. I don't know how it happened – we were only ever casual acquaintances before.
I can't say it was love at first sight. My first taste of his work was Suspiria way back in the late eighties. This encounter took place at the wonderfully seedy Scala Cinema in London's Kings Cross. The cinema is now a night club, and you'd be hard-pressed to find anywhere seedy in this rejuvenated district. I thought the film was fun, but I didn't really get what all the fuss was about. Of course, I may have been distracted by the drunks, punks and pot-smoking patrons that littered the floors and seats of the Scala. Whatever the reason for my lacklustre response, there was no second date – not until that fateful evening five years ago when Dario and I just seemed to click.
I started warming towards him during The Bird with the Crystal Plumage(1970). This was Argento's directorial debut and the film credited with relaunching the giallo sub-genre. I'm not sure how I even decided to watch this particular movie, although I think the excellent documentary Horror Europa, presented by horror superfan Mark Gatiss may have had something to do with it. (I highly recommend this and the entire History of Horror series to anyone looking for an entertaining introduction to horror movies).
I'm pretty certain it was Mark Gatiss that introduced me to the horror sub-genre of giallo. Giallo, literally translated as yellow, is the name given to Italian horrors predominantly from the 60s and 70s, which featured stylish serial killers, normally wearing black gloves! Many of the plots are influenced by pulp crime novels, which at the time generally had garishly yellow front covers – hence the name.
Whatever led me to watch The Bird with the Crystal Plumage, I'm grateful. I was tantalised, then seduced by the garish colours, the apparent style-over-substance, the beautiful women and leather glove-clad killer. Everything I'd heard about giallo was here. And I liked it!
Of course, no relationship is ever perfect, and I soon began to pick holes in the plot. Why would a police force co-operate with an amateur sleuth – particularly when he was also a suspect? Why would the main character leave his stunning lover alone, knowing she was on the radar of a serial killer? And wasn't the twist ending just a little bit predictable?
But pick as I might, I couldn't help but fall for its charms. Even the slight disconnection between dialogue and characters – Argento filmed without sound, adding dialogue post-production – was somehow endearing.
If Bird with a Crystal Plumage helped me develop a crush, then Deep Red(1975) took it to the next level. Basically, Birdremade with more subtext, more tangents, more humour and better characterisation, this was the Argento I had been searching for.
Apart from Argento's artful direction, the film is lifted above the ranks of other Gialli by the chemistry between its leads. Significantly, the lead female role was played by Argento's future partner and muse, Daria Nicolodi. She appeared alongside British actor, David Hemmings – star of cult thriller Blow Up. With Deep Red, I felt like I was getting to know Argento on a more personal level. Our relationship was truly flourishing.
No relationship is without its ups and downs, and mine with Argento floundered slightly during Phenomena(1985). Perhaps I should have watched more of Argento's more classic giallo output, before settling down with this tale of a young girl who communicates with insects, and enlists the help of a fly to track down a serial killer. You can see why I was confused. But by the end of the film – with numerous other bizarre details thrown into the surreal mix, including a razor-wielding chimp and a hideously deformed boy – I decided I liked Argento's random nature. Just when you think you know him, he throws a curveball, and it's like starting the relationship all over again. In fact, now I'd rate Phenomenaas one of my top five favourite Argento films.
Obviously, with a passion growing, I needed to revisit Suspiria (1977). For those who haven't seen the original, it's the story of ballet student, Suzy Banyon, who enrols at a prestigious dance school in Germany. Her arrival coincides with a spate of grisly killings which, not surprisingly pique Suzy's curiosity. Her investigation leads to the discovery that the school is under the influence of an evil coven of witches. For Argento, Suspiria marked a departure from classic giallo. It's a modern Gothic chiller, complete with thunderstorms, grotesquely deformed villains and a terrified but plucky heroine.
It became Argento's most acclaimed movie and the one to which all others in his vast canon would be compared.
The success of Suspiria didn't stop Argento returning again and again to giallo, perhaps most memorably with Tenebrae (1982), in which a successful author attempts to track down a serial killer who appears to be using his plots as inspiration for his murders. Prior to making Tenebrae, Argento was faced with his own crazed fan, a man so obsessed with Suspiriahe threatened to hurt the director in a way that would express his devotion. It takes some backbone to take an experience like that and turn it into inspiration for a blood-splattered serial killer movie – but that's my Dario for you.
To understand Argento more fully, I wanted to get to know more about the giallo genre, its origins and major influences. I scoured the Internet and bookstores for information about this vibrantly violent world I'd discovered so late in my horror life.
Perhaps the biggest influencer within the genre is Mario Bava. With such giallo classic as Blood and Black Lace and The Girl Who Knew Too Much, Bava is credited with creating the template for these stylish, colourful serial killer movies.
Like Bava, Argento always tried to inject a little depth and style into his work, unlike many directors working in the genre, who set out purely to titillate. That said, Argento is never shy about revealing female flesh in order to titillate his audience, and many scenes would be seen as exploitative to a modern audience. Somehow though, packed in the lurid colours and jarring rock music of an Argento movie, this gratuitous nudity seems as far removed from reality and as inoffensive as a non-PC joke in a Carry On film. Many will disagree.
If Bava is Argento's father in the giallo family tree, then Lucio Fulci is the errant brother. Not surprisingly, from the director of gore-soaked movies such as Zombie Flesh Eaters and City of the Living Dead, Fulci's take on giallo was always going to be more brutal. Indeed, even with a seasoned horror eye, some of the violence against woman in films such as New York Ripper, is hard to watch or justify watching, even when taken in the context of the time and the genre.
Having spent time with giallo's wild child, I was glad to return to the more cerebral Argento. By now, however, I had already watched every available film from my new favourite director's golden age, and as I delved into his later output I was pained to discover a distinct loss of passion, and at times a desperation to rediscover the earlier magic. It was in films outside the giallo tradition that the spark seemed to re-ignite, not least in Inferno, the second in the Three Mothers trilogy, of which Suspiria is the first. (it concludes with Mother of Tears).
The director's most recent foray into yellow, was with Giallo (2009). Even the title suggests a lack of imagination! If a relationship is going to last, both parties have to put the effort in, and Giallo, for me, was a sign that the fire had gone out. Perhaps it was the influence of American studios and writers, but Giallofeels more like a parody of the genre than a homage.
If a final nail in the coffin was needed to end the love affair, it was hammered home with Dracula 3D(2012). It hurts to even think about this travesty, sold to audiences as 'a sexy spin on a classic tale', it was more a cheese-fest that defamed the good name of Argento and Dracula.
I don't want to end what started as a love letter on a bitter note, however. Argento enriched my horror-hungry life with some mind-bending, garishly beautiful, gloriously blood-drenched movies, and for that reason, my love lives on.