My Best Friend's Exorcism: A Book Review
Not your typical horror novel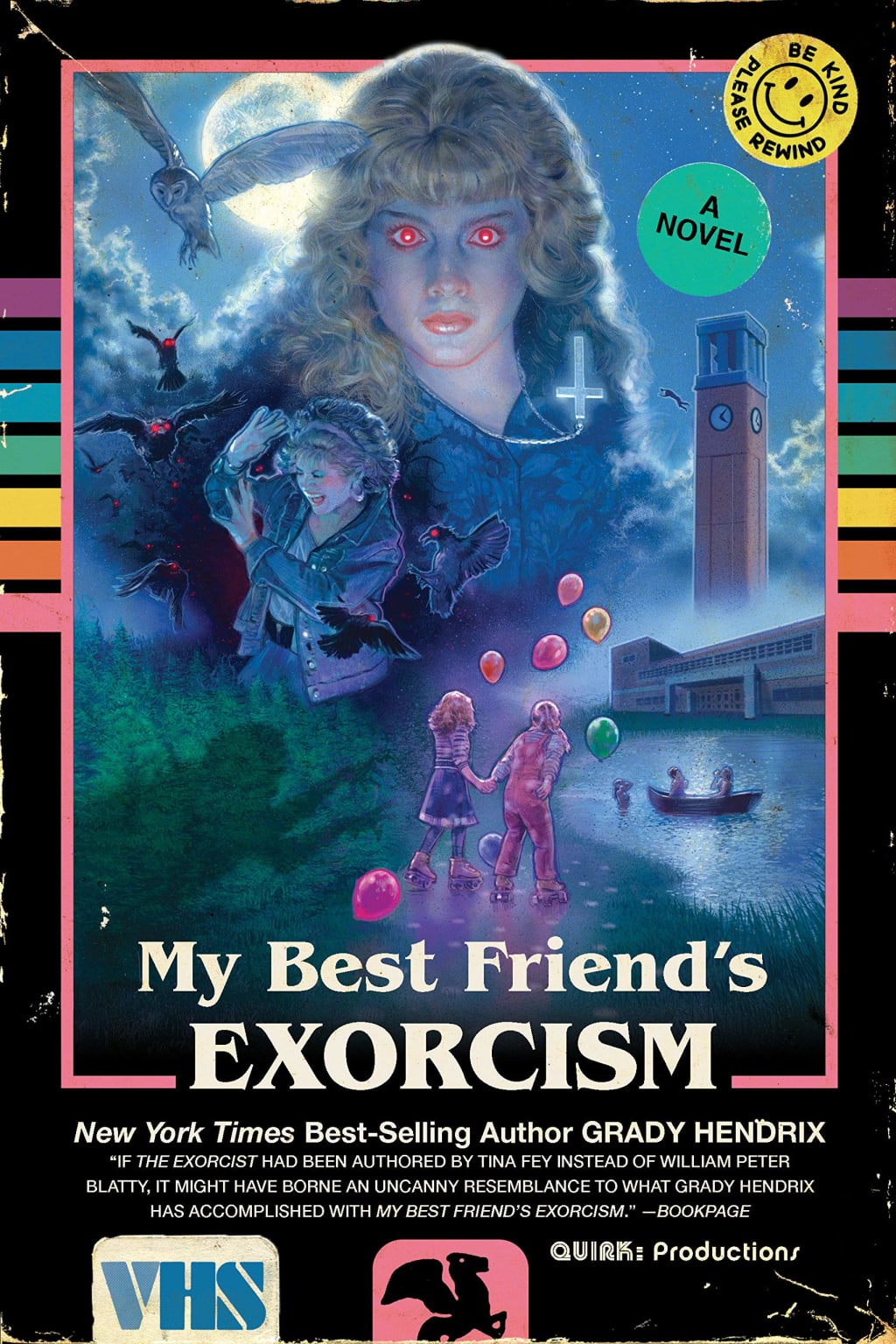 Image: Quirk Books
"The exorcist is dead."
That is the opening line of Grady Hendrix's 2016 novel My Best Friend's Exorcism, and if that doesn't grab your attention, I'm not sure anything will. The novel is the follow-up to his hugely successful 2014 debut, Horrorstör, and cemented his place with readers who like their horror mixed with a little humor.
I came late to the sometimes-terrifying joy that is Grady Hendrix's work, having only heard of him earlier this year. I am not a huge reader of horror myself, having been permanently traumatized by reading Stephen King's The Shining at 11 years old. Since then I can usually only read horror during the day unless it is something I just cannot put down, like Joe Hill's Heart-Shaped Box, which I at least read past dusk.
But roaming through the bookstore a few weeks ago, I stumbled across My Best Friend's Exorcism. First the cover art grabbed me, then the back cover blurb hooked me:
The year is 1988. High school sophomores Abby and Gretchen have been best friends since fourth grade. But after an evening of skinny-dipping goes disastrously wrong, Gretchen begins to act…different. She's moody. She's irritable. And bizarre incidents keep happening whenever she's nearby. Abby's investigation leads her to some startling discoveries — and by the time their story reaches its terrifying conclusion, the fate of Abby and Gretchen will be determined by a single question: Is their friendship powerful enough to beat the devil?
Being a proud member of Generation X, the time in which Hendrix chose to set his story was another selling point for me before I ever opened the book. I am far more likely to recognize pop culture references from decades ago than I am if a novelist mentions the latest YouTube star, and Hendrix has them aplenty. Unlike many books set in the 1980s, however, these references are not nostalgic pandering; they serve a key plot point.
Horror novels (and films) typically pit a protagonist against some malevolent force, sometimes supernatural and sometimes simply an evil human. Hendrix throws in an intriguing twist: what if that malevolent force was your best friend?
For all the scares in this book, and there are many, at its core it's the story of the friendship between Abby and Gretchen, starting when they are 10 years old and hitting its climax when they are 16. He clearly remembers what it's like to be the odd kid out, to navigate the cliques of high school, and to deal with checked-out parents (a dynamic that reached its zenith with the latch-key kids of my generation). If you lived through high school, you'll recognize yourself in at least one and probably more of the characters.
It is this navigating of adolescence that Hendrix uses to bring much of the humor amid the horror; Springsteen was right when he sang "someday we'll look back on this and it will all seem funny." If King had used a little more humor in The Shining, I might not be so leery of horror novels today. Hendrix uses the humor judiciously, never allowing the narrative to descend into the realm of campy slasher-film knockoff.
Perhaps his greatest achievement in this novel is the characters themselves. Remember that this is a male author writing about two teenage, female main characters; this could easily have been a disaster, but Hendrix nails it. As a male author myself, I can attest to the fact that writing believable female characters is no simple task, and I imagine it's much the same for women writing male characters. Maybe he had sisters, maybe he's a keen observer of people, or maybe it's just a gift; the main protagonist in his first novel, Horrorstör, is a completely three-dimensional female character as well. As a side note, that first novel is set in a haunted knock-off IKEA, the book itself is in the form of one of their ubiquitous catalogues, and is excellent as well.
In the end, while My Best Friend's Exorcism is a fine horror novel, it is ultimately about friendship, what lengths we will go to for those few best friends, and the power of belief to overcome the worst evil, though not the kind of belief you might expect.
Originally published on Medium.com.
book reviews
I'm a writer, podcaster, and bookseller whose ultimate goal (besides being a roadie for the E Street Band) is to make reading, writing, and books in general as popular in Texas as high school football. It may take a while.