Movie Review: 'Pearl' is Among the Best of 2022
Mia Goth is brilliant and Ti West delivers his best yet with Pearl.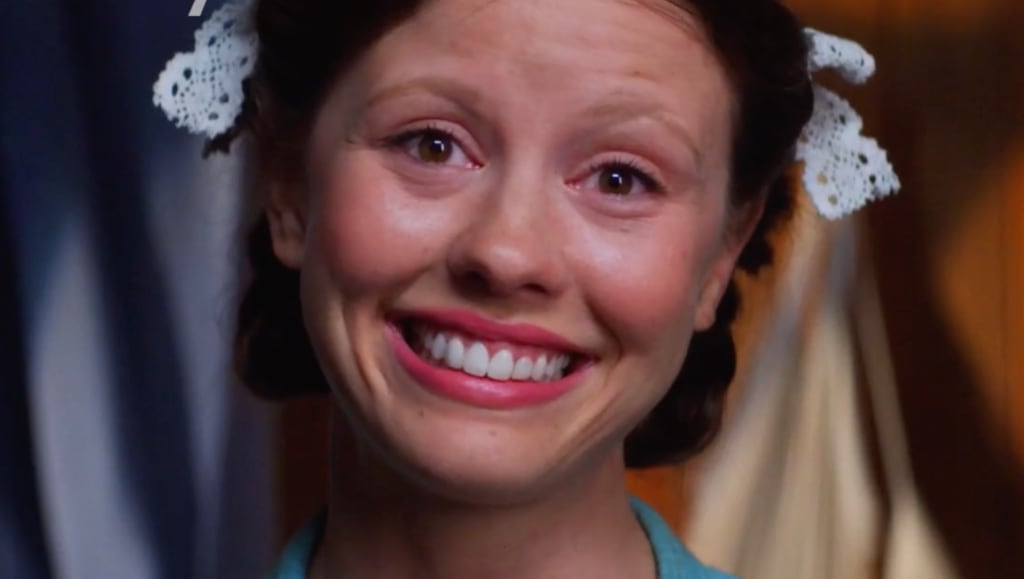 Pearl (2022)
Directed by Ti West
Written by Ti West
Starring Mia Goth, David Corenswet, Tandi Wright, Emma Jenkins
Release Date September 16th, 2022
Prequel to X (2022)
X was a brilliant homage to 70s grindhouse horror from a director in Ti West who has mastered the form of homage. My proof for for his mastery comes with his new movie Pearl. The horror movie starring the utterly brilliant Mia Goth, riffs brilliantly on MGM movies of the 30s and 40s mimicking them down to the credit font and pitch perfect score. Using the innocent memories of movies like The Wizard of Oz for a series of transgressive gags feels so fresh and different that this horror movie becomes honestly refreshing.
Mia Goth stars as the title character, Pearl. Pearl is a teenage dreamer, a 19 year old who dreams of nothing but the burgeoning movie industry. The movies in her small hometown have become her home respite from a difficult home life. Pearl's mother, Ruth (Tandi Wright), is a severe German taskmaster who believes that her daughter should have to suffer as she has to provide a home and a roof over Pearl's head. Ruth has become the primary worker on their Texas farm after Pearl's father (Matthew Sunderland) was struck with Spanish Flu and suffered complete paralysis.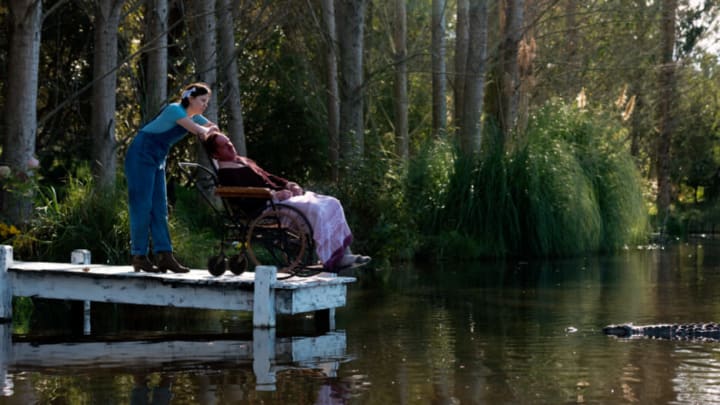 The first indication that something might be a little off about Pearl comes via her father. After a night of arguing with her mother, Pearl takes her father to a pond on their land that is home to an alligator that Pearl has been feeding for some time. Pearl pushes dad's wheelchair to the edge of the dock while calling on the gator which responds to her. It appears that Pearl may dump daddy in the lake until mom arrives to make the save. The juxtaposition of Mia Goth's sweet, simple innocent look and the malevolence of her actions is part of the electric charge of watching Pearl.
Similarly the way Pearl chooses to bathe in front of her father's paralyzed form, his darting eyes demonstrating his extreme discomfort, is another unsettling symbol of Pearl's transgressive personality. These scenes pitched against the numerous references to classic MGM musicals and those oh so innocent adventures of the 30s, 40s and 50s, makes Pearl, in general, a movie that transgresses our expectations and conspires to make us part of the dark meta joke of Pearl.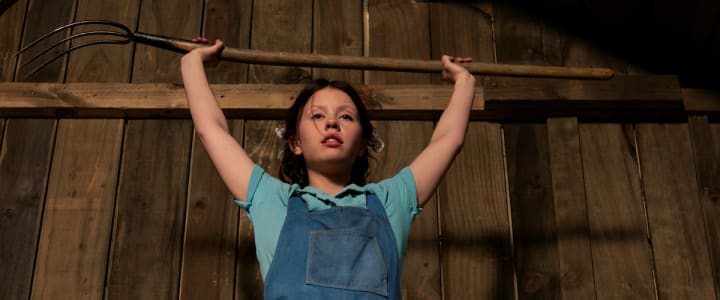 Call it hyperbole if you must but, I believe Mia Goth deserves an Oscar nomination for Pearl. Goth is incredible. Few actresses can portray malevolence with such an air of innocence and curiosity. When she goes super dark in the third act, Goth is given a monologue that lasts nearly 10 minutes and it's engrossing. You can't pull your eyes away from Goth as she lays out her madness in a mildly angry tone that betrays the horror of her actions. It's amazing to watch, legitimately some of the best acting I have seen in some time.
Ti West's direction is similarly ingenious and highly unlikely to receive the recognition it deserves. My guess is that many older Academy members won't appreciate the way West uses the memories of Wizard of Oz and those lovely, innocent MGM musicals to give an edge to his horror work in Pearl. It's a shame because the meta joke is absolutely brilliant and jaw-dropping in its exceptional execution. I'm not one to praise a credit font but indeed, the credit font of Pearl sets the tone for the meta beautifully. Then there is the score. Wow!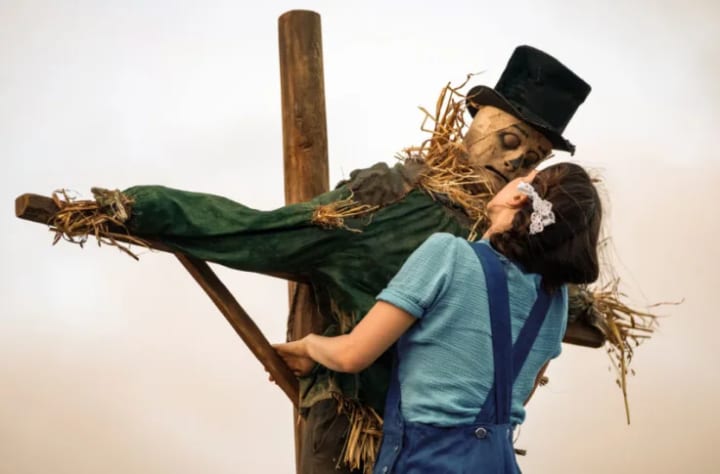 The music of Pearl by Tyler Bates and Tim Williams is absolutely perfect. The way the strings evoke movies of the 30s and 40s is breathtaking. Each of the touches that act as homage to MGM work but the score is the standout. If you told me that the music of Pearl was done by an orchestra in the Wizard of Oz era, I would believe it. It sounds almost mono-recorded, it sounds aged 90 years old while also sounding fully mastered for play today. I'm failing my description here because I want to say something more than it's brilliant.
Pearl is one of the best movies of 2022. It's an incredible horror movie and just a great movie in general. From a filmmaking stand point it's lively and ingenious and from an acting standpoint, it's outstanding. X remains a terrific movie, potentially a top 10 of the year level movie, and somehow, Pearl is even better than that. Ti West is on an amazing run and I cannot wait to see what he does next. Same for Mia Goth who should become a massive star from this. She's brilliantly unconventional with the sensitive looks of a Shelley Duvall and the ferocity of Faye Dunaway. Goth is the revelation of 2022.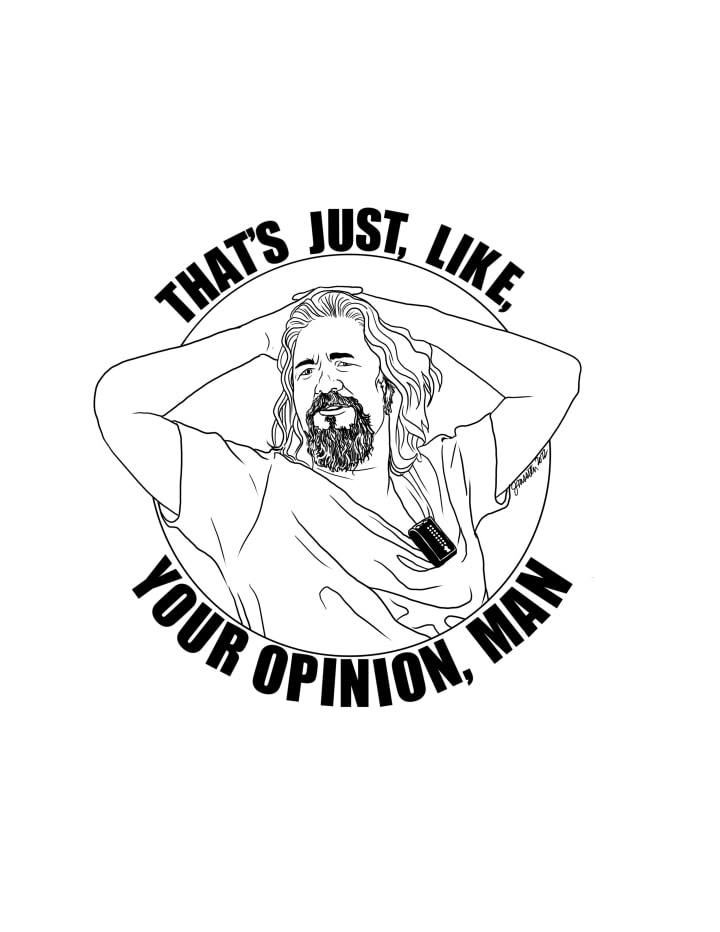 Find my archive of more than 20 years and nearly 2000 movie reviews at SeanattheMovies.blogspot.com. Follow me on Twitter at PodcastSean and follow the archive blog on Twitter at SeanattheMovies for random reviews from the past 20 years. You can also hear me talk about movies on the Everyone's a Critic Movie Review Podcast. If you've enjoyed what you've read consider subscribing to my work here on Vocal. You can also support my writing here by making a monthly pledge or leaving a one time tip. Thanks!
About the Creator
Hello, my name is Sean Patrick He/Him, and I am a film critic and podcast host for Everyone's a Critic Movie Review Podcast. I am a voting member of the Broadcast Film Critics Association, the group behind the annual Critics Choice Awards.
Reader insights
Be the first to share your insights about this piece.
Add your insights