M Block
Here in The Halls many women are imprisoned as it was found out they have special powers. The elders of The Halls, they've figured out how to channel those powers for their own purposes... with no regard for the source of the powers.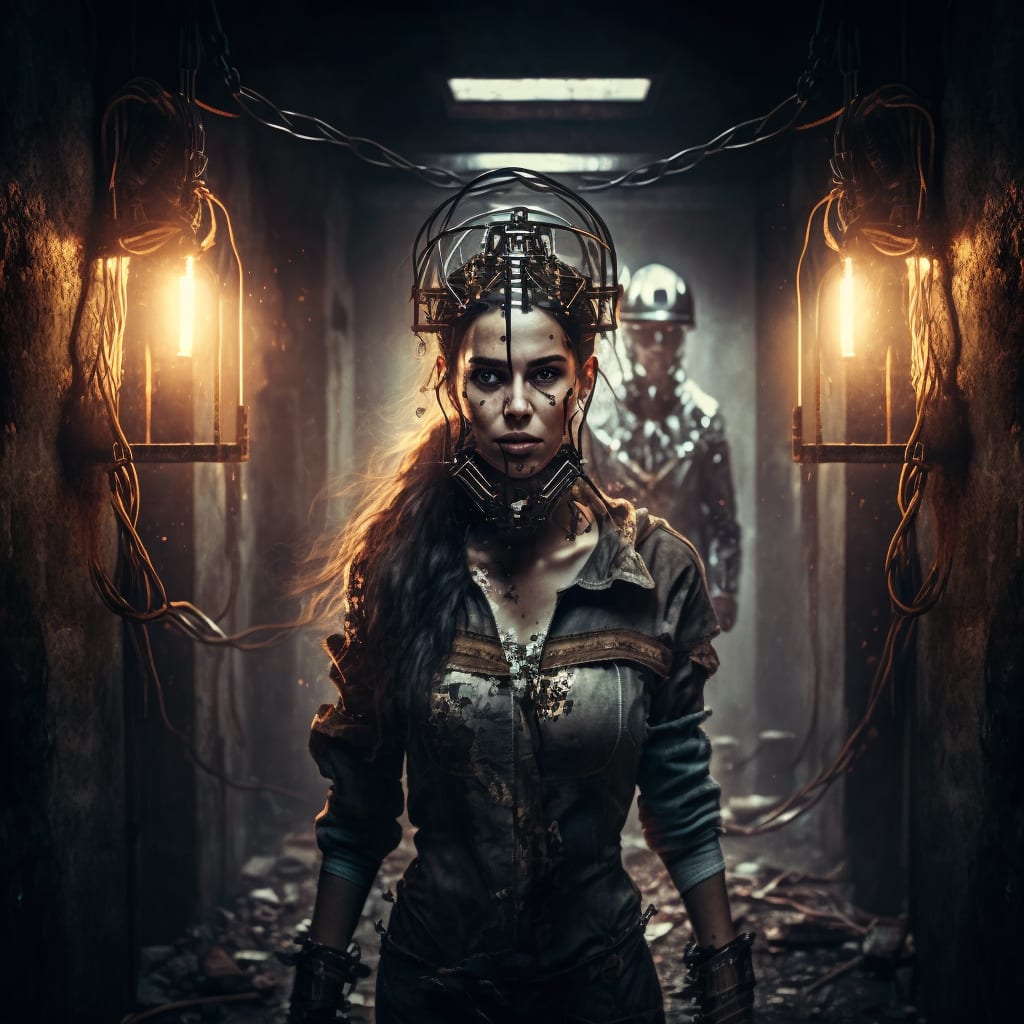 Woman with metal apparatus on her head being led down a prison hallway - AI image using Midjourney
Here in The Halls many women are imprisoned as it was found out they have special powers. The elders of The Halls, they've figured out how to channel those powers for their own purposes... with no regard for the source of the powers.
**************
The metallic rattling of the gate to Alejandra's room wakes her abruptly. Her eyes pop open just as the gate slams with a clang into the wall. There stands Otto, the big brute, another metallic head apparatus dangling from his meaty paw.
Alejandra peels herself off her tiny cot, the cheap sheets clinging to her dirty skin. Alejandra estimates it's been about a week since Vanessa and the elder women have given her a bath, three days since the last hose-down. Alejandra feels the weight of the current apparatus on her head… "The M Block" as it's known in The Halls.
The Halls. Her new home. Her new reluctant home. For almost a year now… if these tally marks on her gritty stone walls are accurate. Last she checked she had about 345 tallies.
Otto lumbers towards her, flexing the arm gripping the new M Block. He grasps the current M Block atop Alejandra's head with his other hand. The wires of the apparatus hang down all around her head, some peek into her peripheral vision. She can see and feel the quality of this current M Block is deteriorating. Otto can see too. That's why he has the new one.
"You need switching out." He grumbles.
As Otto removes the old M Block and starts to fit the new one to Alejandra's head, her mind wanders. It's best to stay still and think of other thoughts as Otto uses his heavy hands to clamp this thing to her skull.
Alejandra thinks of this last year here in The Halls. The horrible things Vanessa and these women have had her do ever since they found out she has magical powers and trapped her here. Bringing her to The Channeling Room and having her carry out their deeds. Put a sickness on someone here, bring peril to the life of another there. Casting her powers out into the world, past the vast landscapes of this country. Alejandra's powers can travel far. But as long as they keep her fitted with this rhenium M Block, her powers cannot work at close range. It blocks her powers from being able to harm anyone in her direct vicinity.
Why rhenium? Alejandra found out once when Otto's papers fell to the floor. Even as powerful as Alejandra is, more powerful than any of the other women here in The Halls, rhenium is so strong. It has one of the highest melting points of any metal. 3180 degrees Celsius. Even she can't destroy that… not all at once. After several uses, lots of exposure, yes, the rhenium M Block will begin to deteriorate. Otto will order more rhenium, fashion a new M Block, and fit the new one to Alejandra… as he does to all the rest of the imprisoned women here. But with various metals. The rhenium is ordered special for Alejandra. She is special. She is powerful.
A slight pinch as Otto clamps down too hard on Alejandra's skull. Alejandra feels the lightness of this particular M Block. Much lighter. Otto lifts her up and guides her out of her room and down the hall towards The Channeling Room. Another poor soul that Vanessa and the other women here want Alejandra to harm, no doubt. But Alejandra is confident her plan is going to work. However, she does need confirmation.
As Otto leads her down the hall, they pass by his work room. Alejandra glances in. She sees the open box discarded in the corner. The box that the metal came in. The metal Otto used to fashion this particular M Block. On the label, the chemical symbol, Rh.
Now, many would assume Rh is the chemical symbol for Rhenium. But no, Re is the symbol for Rhenium. Rh is the symbol for another metal, Rhodium, one with a much lower melting point. 1963 degrees Celsius, if the books from the library were correct. Vanessa and the other elder women made a mistake in allowing Alejandra access to books. Sure, she has powers… but books have always been her superpowers. Of course, accessing Otto's computer when he wasn't looking was a big help too. Making some edits to his spreadsheet, swapping some chemical symbols around, ones he wouldn't notice, that helped… clearly… as he ordered the wrong metal.
A weaker metal.
A metal she can work with.
Otto shoves Alejandra into The Channeling Room where the women wait for her. Zoe, Letitia… and Vanessa. Zoe and Letitia shove Alejandra down into the wooden chair. Vanessa grabs a photograph off the sole table and shows it to Alejandra.
"This man. Fever." Vanessa says plainly, dropping the photograph on Alejandra's lap. "A hot fever."
Everyone stands back. Alejandra looks at the photograph… but she concentrates on her own knees. She concentrates on her own body. She feels the weight of the M Block on her head. She senses the wires hanging all around her. She homes in on the rhodium, becoming cognizant of every fiber of it, able to feel it… everywhere… even in the palms of her hands. She squints her eyes… and she begins to release her power. Letting it all out, extracting every cell of energy from her body.
Her whole body heats up. She is aglow. Then, slowly, the M Block on her head begins to drip. It begins to melt. Hot, liquid metal drips down her temples, drips down her forehead and the back of her neck until…
… the entire M Block has melted away…
…and Alejandra's head is exposed, free, and open for business.
The women all gasp, terror haunting their eyes! They back away, but it's too late. Alejandra's hands and arms are glowing, light emanates from them, her pupils fixate on the three of them. The whole room warms up.
"This fever's going to be really hot."
**************
That was Part 1. Head here for Part 2.
**************
If you enjoyed this story and want to read more of my work, then please come check out my website where I post all my latest work, plus you can even subscribe for updates!
About the Creator
I'm a creative writer in the way that I write. I hold the pen in this unique and creative way you've never seen. The content which I write... well, it's still to be determined if that's any good.
Reader insights
Outstanding
Excellent work. Looking forward to reading more!
Top insights
Excellent storytelling

Original narrative & well developed characters

Easy to read and follow

Well-structured & engaging content

Masterful proofreading

Zero grammar & spelling mistakes
On-point and relevant

Writing reflected the title & theme

Eye opening

Niche topic & fresh perspectives

Expert insights and opinions

Arguments were carefully researched and presented

Compelling and original writing

Creative use of language & vocab

Heartfelt and relatable

The story invoked strong personal emotions
Add your insights