Interview with Horror Writer Ryan Lieske
#Supportgrandrapids Interview Series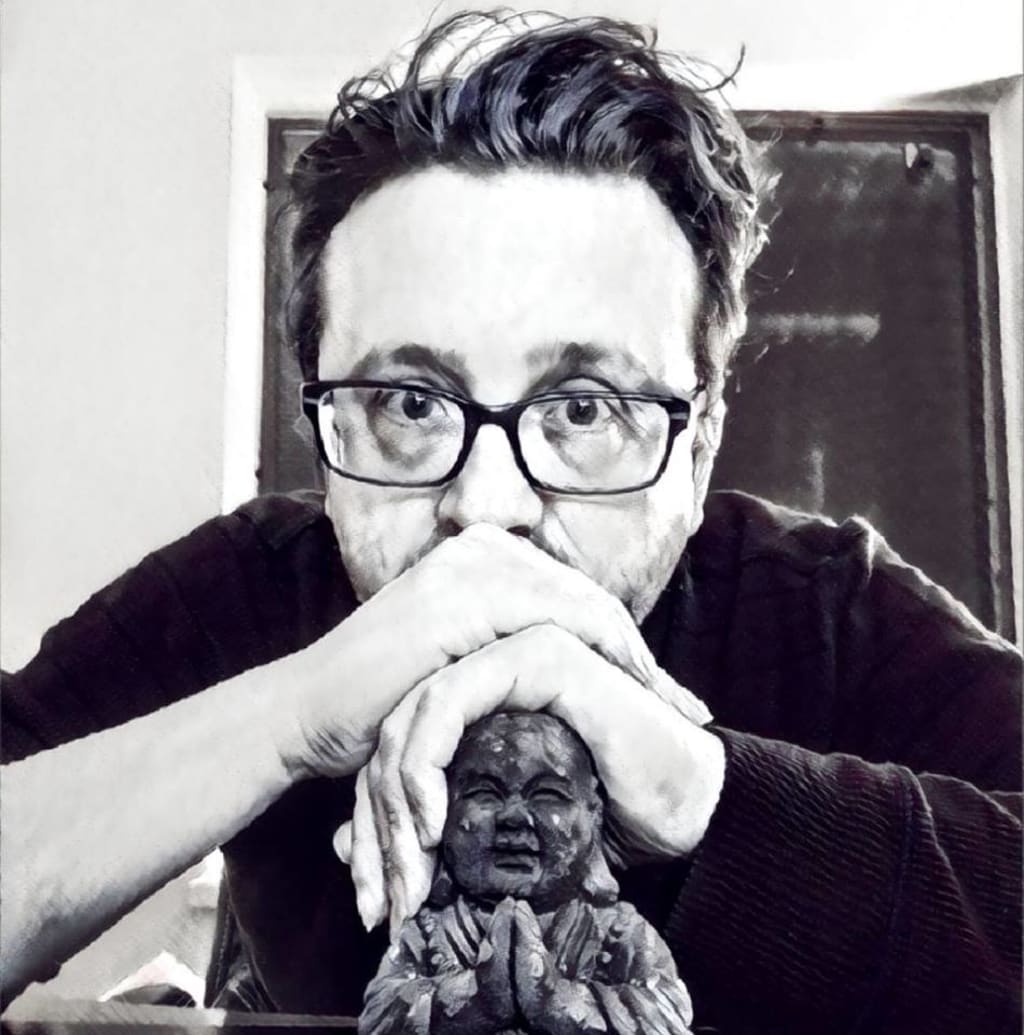 Photo submitted by Ryan Lieske
A few months ago I reviewed Ryan Lieske's first novel, Fiction. Ryan is a longtime friend of mine, and as a fan of his movie work and his book, I wanted to take an opportunity to get some info from him on his writing and creative processes.
About Ryan:
Ryan Lieske is a writer living in Grand Rapids, MI, although he considers the entire planet his home. He writes novels and short stories, along with the occasional screenplay. From 2010 to 2013 he was heavily involved in the Grand Rapids film community and made a handful of award-winning short films and music videos. He is currently on indefinite hiatus from all that nonsense. His debut novel, Fiction, was released by Burning Willow Press in January of 2018. Readers and critics really seem to like it, and he's happy about that. He is currently at work on more writing projects than he has time, or sanity, for, but sees no end in sight. That makes him happy too.
Yvonne Glasgow: What got you into writing?
Ryan Lieske: As a child, I was always into stories. Reading them, telling them, having them told to me. As far back as I can remember I've always been enamored of the process. I devoured books, TV shows, and movies. Any and all I was allowed to read and watch, or that I could get my hands on. I would make my own book order forms for titles I thought up, and then give them to my parents. If they ordered a specific title, I would then write the book for them. Same with comic books. Loved them, and I would write and draw my own. I would create TV shows in my head and cast my action figures in the parts. I would spend all day at school plotting new episodes, dialogue, and action sequences. When I made it to the seventh grade, that's when I began to seriously contemplate writing. I knew I wanted to spend my life telling stories, in some way, shape, or form, and writing fictional stories was the easiest for me. My family didn't own a Camcorder until I was in high school, so while I longed to make movies, I just didn't have the means. But I had scrap paper and notebooks, so writing seemed like a natural way to go. Started writing my first novel in seventh grade. Scrapped it. Then about a year later I began plotting this huge horror/fantasy epic and filled notebooks with characters, scene ideas, monsters, etc. Then the summer after eighth grade I finally started writing the first book in what I hoped to turn into a trilogy. It was called The Familiars, and it was about witches. Very juvenile stuff. But I finished that first book. A whopping 100-page epic! As I grew older and entered high school, I let it fall to the wayside because I began to experiment with more "mature" writing, about what I was going through during my adolescence. I eventually started a production company in my 30s, and called it Familiar Productions, in honor of that first finished novel.
What is your process for creating a screenplay? A novel?
My process is pretty much the same for both. Mainly, I start with an idea, a scenario, a character, or even sometimes just a title, and I write it down on a scrap of paper or in a notebook, and then let it simmer. From there it either comes to a boil or evaporates. It's a weird thing, how a story develops. I just know when one is ready. And one of the biggest signs that a story is ready for me to tell is when I've envisioned its ending. For real. I don't start writing anything unless I know how it ends. If I have an ending, then I have a story. And I work towards that ending with every word I put down.
What made you decide to turn Fiction into a novel, and move away from the screenplay version?
Well, the film was shot but never completed in post. That's a long story. But once I made peace with the fact that the movie would never be finished I still couldn't shake the story. I knew it was good and that it deserved to be told. So for years, I entertained the thought of one day turning it into a novel. And I mean years. Then, in 2015, I had the opportunity to attend the World Horror Convention/Bram Stoker Awards weekend down in Atlanta. While there, I booked pitch sessions with a couple of big name indie publisher. Just to see if I could do it, really. I never expected anything to come of it. The only 100 percent, start-to-finish thing I had to pitch was Fiction. It was a lark. But it worked. The indies I pitched it to loved it and told me to send it to them when it was finished. So I spent the next eight or nine months writing it and working on it with editors. In that time, one of the publishing imprints folded, and the other... well, let's just say their representative that I pitched it to got fired for very good reasons. I tried my best to still get the book to them, but the imprint was in such disarray that I got lost in the noise.
Will you step back into movie making at some point?
Oh, I'm sure I will. I love movies and I love making them. Writing has always been my first passion, but movies are a very close second. Right now I'm focusing entirely on my writing career. Making movies is a headache. So much bullshit. So many empty promises and false starts. Most days it's just not worth it. And I'm happy to be out of it for now. I'm proud of the work I did, but ultimately it lead me nowhere. I now have my foot in the door with a publisher, and with the Horror Writers Association, and I intend to take full advantage of the opportunity. Honestly, if I can continue to publish books and stories but never be able to make a movie again, I'll be fine.
What's the best part of the next thing you're doing?
Currently, I'm working on several short stories, two novellas, and outlining my next novel (which is also based on a screenplay from an aborted film project). The best part is simply the fact that I'm doing it and have real opportunities to publish them. I'm too old to be nervous about any of it. I worked hard to get here, for many, many years, and I'm going to take it as far as I can.
How do you find the confidence to put your work out there?
I don't. I just do it. I'll never be entirely confident with what I create. I don't really want to be. As Arnold Schwarzenegger says, "I want to stay hungry." I fear complacency. To me that equals entropy. And I have no desire for that. I'm going to keep doing what I do and as long as people enjoy it and get something out of it, well, I guess that's all the confidence I need.
What gets you up in the morning?
I don't know. It depends. I suffer from depression and anxiety, and though I am medicated, it still takes its toll. I would love to say I leap out of bed every morning with the overwhelming urge to create and grab life by the short-hairs, but right now that's just not the case. I'm overwhelmed by a lot, to be honest. A lot of fear. But I do what I can. And someday, hopefully, my outlook on life will change for the better.
What is your favorite part of being a writer?
Having my work read by others. While, yes, I do write mainly to exorcise demons (personal or otherwise), I am not one of those writers who is content with just the process. A story without readers, to me, is a useless dead thing. That's just me, okay? I certainly don't intend to cast aspersions on anybody who makes things different. But my exorcisms only work if others bear witness to them. I write to be read, and I'm blessed that people actually want to read my stuff.
What goes into writing your novels?
Every piece of myself that I can spare. In some way, shape, or form, I'm in every word and sentence.
How do you feel when you get praise for Fiction?
Relieved. I have very little confidence in myself or my work and I spend most of my time feeling like a poser who happened to stumble into a bit of luck. Or at least I tell myself that to keep myself grounded and real. All joking aside, of course, it makes me happy. I write for readers, and if readers have a good experience with my work then that's all I need.
What do you want to be doing until the day you die?
Telling stories. Even if it's only to my cats.