Film Review: 'We Are The Missing'
A young woman's disappearance is only the beginning in this emotionally intense mockumentary.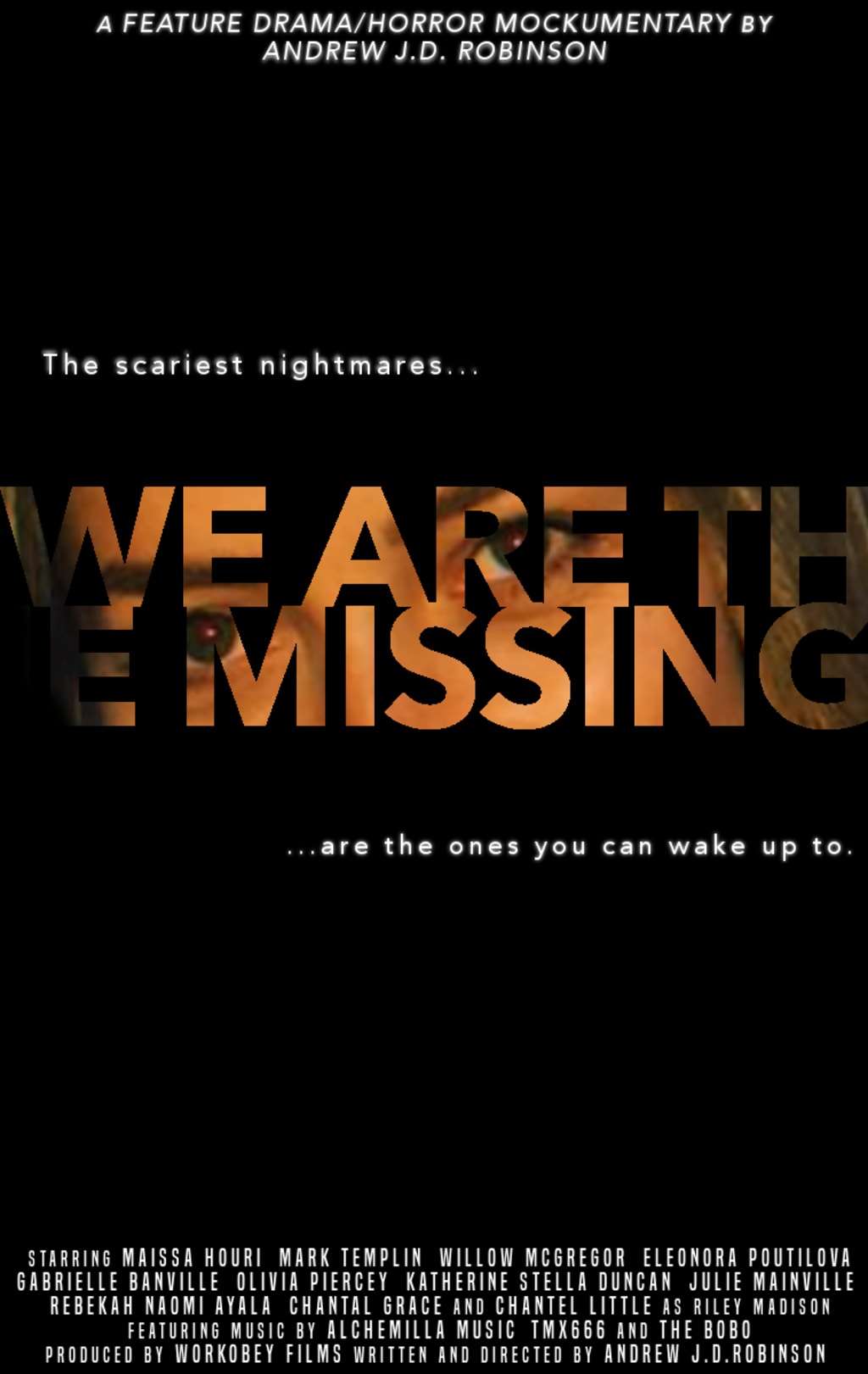 One day was all it took to uproot the Madison family's life forever, as 22-year-old Riley Madison (Chantel Little) abruptly disappeared, leaving her phone and other belongings behind. While her parents Angie and John (Maissa Houri and Mark Templin) were initially hopeful she would simply turn up in a few hours, it soon became clear that something had happened to their daughter. Despite the best efforts of Riley's best friend Mackenzie (Willow McGregor) and various search parties, no valid leads turned up and it appeared that Riley was nowhere to be found.
But months after Riley's disappearance, alarming new developments arise in the case, leaving filmmaker Carter (Eleonora Poutilova)--who had been making a documentary about Riley--searching for answers. Little does she know that the answers she seeks will prove far more sinister than anyone could've imagined...
Following such strong short films such as We Know You Are Home and The Becky Carmichael Fan Club, Andrew J.D. Robinson presents his first feature-length film in the form of We Are The Missing. A mockumentary-style horror film centering around a bizarre disappearance, We Are The Missing replicates The Becky Carmichael Fan Club's effectiveness at being a film that is as scary as it is meaningful. The first half of the movie, in fact, derives much of its chills and thrills from the brute realism of its story.
The film opens on a bleak statistic revealing how 600,000+ people remain missing across the country each year, which serves as the perfect segue into We Are The Missing's largely somber storyline. For the first act of the movie, we learn about the details of Riley Madison's disappearance, as well as how her sudden vanishing put a strain on her already troubled family. Much of this time is spent on accounts from Riley's parents Angie and John, with Maissa Houri and Mark Templin bringing rich authenticity as we see the different way each Madison acts as they recount going through a parent's worst nightmare (with this difference in delivery coinciding with the different ways Angie and John go about coping with their shared tragedy). These moments with Riley's parents set up what proves to be the theme of We Are The Missing's first half: when a person disappears, the loved ones they leave behind--in a way--also become missing as they end up lost in their efforts to find closure.
It's once we reach the second half of the film and the case of Riley's disappearance becomes more complicated, however, that We Are The Missing becomes more traditionally scary. As the pieces of the puzzle come together to form a disturbing picture, the audience is left in rapt attention as we watch to find out what happened to Riley and who (or what) is responsible. While there are moments when you might find yourself antsy when the film's slow pace begins to feel more like padding, We Are The Missing more times than not keeps the viewer engaged with its intriguing and blood-chilling mystery as it gradually unfolds. The fact that this all takes place after the film's comparatively less intense first half makes it all the more startling as we delve deeper into the mystery.
(The fact that said mystery shares more than a few similarities with our current nationwide health crisis--a truly horrifying situation for many people--adds to the dread as the viewer connects the events of the film with our current alarming reality)
The rest of the film's cast proves as strong as Houri and Templin, with Willow McGregor following the latter's lead in delivering Mackenzie's sorrow for her friend's disappearance in a realistically subdued manner. Gabrielle Banville brings raw emotion mixed with determined strength as Mackenzie's sister April, and Olivia Piercey (in her debut role) has a spectacularly acted scene as Riley Madison's sister Paige, which adds a bit of complexity to how the audience should feel about Angie and John after the first act of the movie built them up as flawed but well-intentioned parents. Joining Banville in Workobey-Films-regular cast members are Tristan McIntosh and Julie Landriault, with both familiar faces (along with those playing similar roles) bringing palpable poignancy as their characters plead to the public for help finding their missing loved ones. A final notable member of the supporting cast is Rebekah Naomi Ayala, who sells her character's journey throughout the film with painstaking authenticity--especially in her final scene.
Along with We Are The Missing's occasionally lethargic pace, the film makes two other blunders that temporarily take the viewer out of the story. The music and sound design have moments when it gets in the way of the plot, proving either distracting or loud enough to overpower the dialogue. The first act of the movie also contains a few brief "comedic" segues, which are so brief and confined to one part of the movie that their inclusion sticks out in the worst possible way. But for the most part, We Are The Missing is an effective feature-length debut for Andrew J.D. Robinson that's as thought-provoking and emotional as it is scary. The film also boasts some excellent use of cinematography to maintain its puzzling atmosphere, with the visuals being all the more impressive considering they were done on a $300 budget. Put it all together, and We Are The Missing is definitely the kind of movie best enjoyed on a late night in bed with the lights out...
We Are The Missing is currently available for free viewing on YouTube. Follow this link to watch, and pay attention around the 43-minute mark to see if you spot a familiar face!
Score: 8 out of 10 imaginary friends.
movie review
Aspiring writer and film blogger: Lifetime, Hallmark, indie, and anything else that strikes my interest. He/him.
Twitter: @TrevorWells98
Instagram: @trevorwells_16
Email: [email protected]