Faded Green Dress
Happy Birthday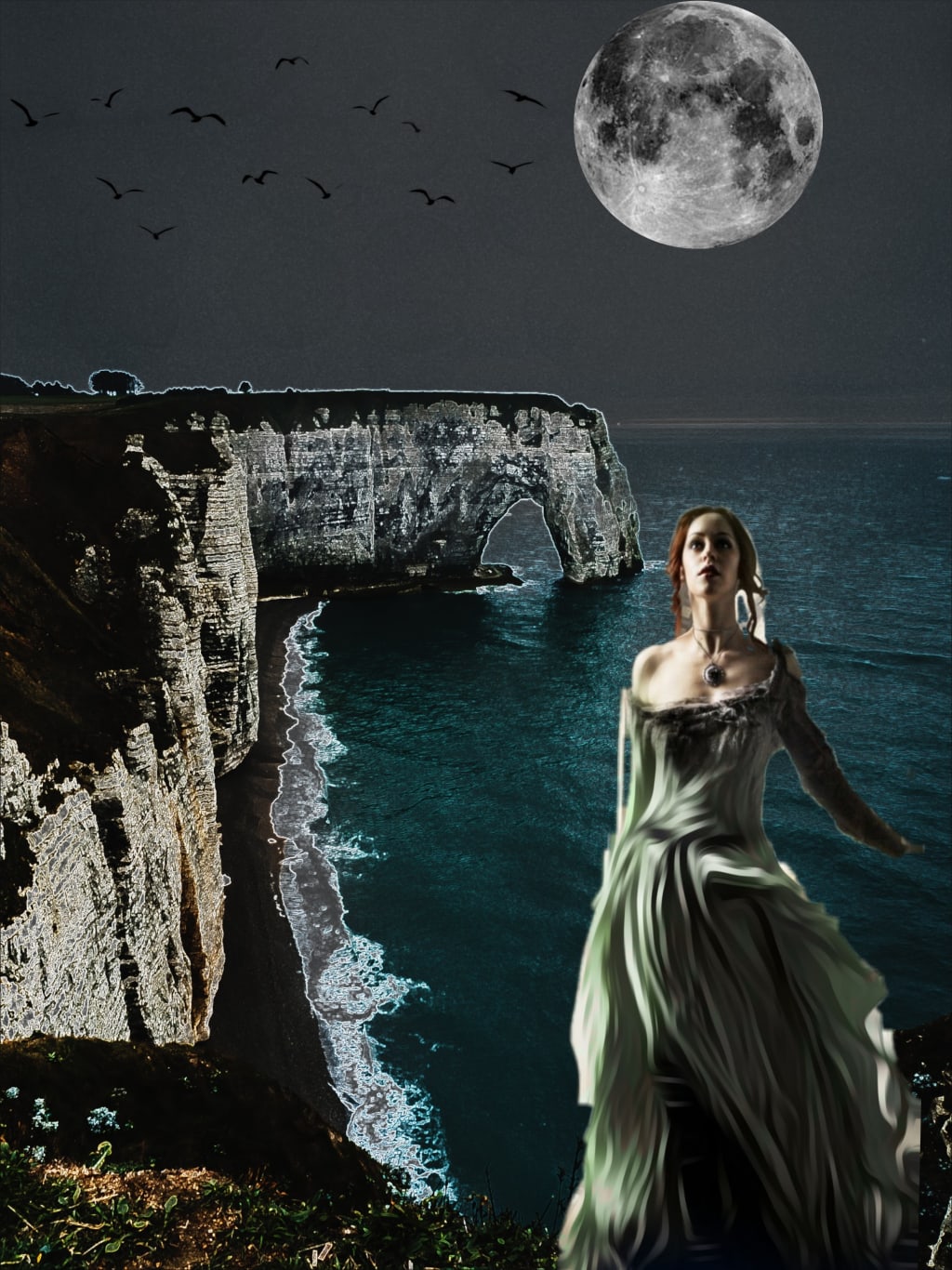 https://picsart.com/i/image-freetoedit-cliffs-ocean-woman-greendress-fullmoon-285484704001201
It was a perfect spring day—clear blue skies with a slight breeze, carrying whiffs of orange on the tantalizing wind. Tammy stood at the top of the jagged cliff overseeing clear turquoise waves rolling gently across the ocean surface before kissing the cliff's base below. Every year for the last twenty years on the same spring day the seventh of May, Tammy came back to this spot.
Her beloved Mark knew this was her favorite place to celebrate her birthday. Every year Tammy would pack a picnic basket with egg salad sandwiches (Mark's favorite), a chilled bottle of Stella Rosa pear, chips, and chocolate cake. Load up the car with blankets and pillows and drive to this very spot and have a birthday lunch as they soaked in the tranquility of the Ocean. She loved celebrating her birthday this way.
Tammy ran her hands over the soft silk of her dress. It had faded over the years. Once, it had been Emerald green, and the silk hugged her body like a second skin caressing her chest with delicate hands. The dress was by far her favorite present from her loving husband.
Her birthday had started like any other day except that day; Tammy had to work. She was a court stenographer and was required to be at a criminal trial scheduled for that day. Mark was unhappy, but he understood. He told her not to worry, that they would go up to their favorite birthday spot the next day.
Smiling with pleasure, Tammy recalled how Mark had gotten up with her, and while she took a shower and got ready for court, he had made her breakfast. Scrambled eggs with cheese, three slices of bacon and an English muffin drenched in butter. He even made her coffee and brought the mug along with her breakfast to the table. He kissed her softly on the lips and whispered, "Happy Birthday." Tammy was so lucky to have such a sweet and thoughtful husband.
That was why when arriving at court and learning, they gave her the day off because it was her birthday, she thought of surprising Mark in return. Tammy knew he only went with her to the cliff because it was her birthday. Today, she was going to make this day about him. Stopping off at Frye's on the way home, she picked up a couple of steaks, baking potatoes with sour cream and a bottle of Stella Rosa Merlot.
Mark loved the dark wines, but again because of his thoughtfulness, he always bought Tammy's favorite wine. She couldn't help thinking of Mark's reaction when she surprised him with dinner tonight made up of his favorites. He loved steak, and since it was supposed to be chilly tonight, maybe it would be cool enough to light a fire in the fireplace as well. That would make the evening very romantic.
Humming softly to herself, Tammy unlocked the entrance door carrying the groceries into the kitchen. While putting the dinner items away, she noticed the gaily wrapped package lying on the dining room table. Emerald Green shiny wrapping paper tied with a lighter green ribbon and topped with a glittering forest green bow.
It was simply gorgeous and she knew she should wait for Mark before opening it, but she had to see what was in the box. Carefully, Tammy gently removed the bow, untied the ribbon, and opened the paper and box. Inside tucked inside the sheets of tissue was this gorgeous Emerald green silk dress. It was so stunning it took her breath away. Slowly she withdrew the treasure out of the box, and it unfolded clinging to her body like a glove. The texture so soft and light, it would be like wearing nothing. She loved it. It was by far the best present Mark had ever given her.
Caressing the dress, Tammy heard footsteps headed towards the kitchen, and looked up with grateful tears in her eyes.
"Mark, this is the best…," and stopped in shock.
Mark wasn't alone. His face looking like it had been hit with a bolt of lightening, had his arm comfortably wrapped around her best friend, Marianne. The look on her face would have been comical if Tammy wasn't stunned herself.
She had been holding the dress up to her chin. She now let it fold in half as her trembling hand reached for the little card that had been on the box. It never occurred to Tammy to open it as the thought of her beloved husband being unfaithful never entered her mind. Pulling the card free and opening it. Sure enough, the name on the note wasn't Tammy's.
"Tammy…I know how this looks,"
Feeling like someone punched her in the stomach, Tammy bent over with pain. Dimly she was aware of a strange moaning noise that sounded like a wounded animal's. Knowing she was the one making the painful noise, tried to stop, but the hurt was too much. The betrayal too deep. She had to get away from them.
Dropping the dress, it fluttered to the tiled floor as she stumbled away from the table and away from Mark's stricken face. Tammy didn't know where she was headed, just following blind instincts to getaway. She heard Mark trying to say something to her, but she didn't want to listen to his lies and kept moving until she found herself in front of the hallway desk.
She knew what laid inside the drawer. Tammy opened the drawer seeing the Sig Sauer P238 lying inside. Another present from her beloved husband. It had a purple handle, and Mark had laughed, but she loved the gun. He even took her out to the range to get comfortable with shooting it.
Dimly through the roaring noise in her head, she heard the sound of Mark's voice, but not the words. It didn't matter. He had nothing to say that she wanted to hear. Tammy caressed the gun with her fingertips as the roaring in her ears got louder until the sound drowned out all noise. She pulled the gun out of the drawer, turning pointed it at Marianne. Tammy could see her lips moving, but nothing came out.
Vaguely Tammy wondered what she ever saw in this person who said she was a friend in the first place. Marianne's face was garishly white. Muscles stretched tight across cheekbones in a grotesque mask, and Tammy felt her finger tighten on the trigger. Then she watched a crimson spot blossom across Marianne's forehead before she collapsed on to the kitchen floor.
Swiveling the sight to Mark, his words finally penetrating the fugue that was her mind
"I love you, Tammy. This is all a misunderstanding. I was ending it with Marianne. I'm so sorry."
Staring at her beloved husband, she replied. "I am too," and pulled the trigger.
Every year on her birthday, Tammy came here to her favorite spot on the cliff overlooking the breathtaking Ocean. Wearing the faded Emerald Green Dress that had been a present from her beloved husband. She paid her respects to Mark as he laid at the bottom of the cliff embraced by the Ocean's cold hands entombed forever in his watery grave while his bitch rotted in an earthen grave.
About the Creator
Verona is an aspiring writer living in Tucson, Arizona. She loves to write about urban legends and history. She is a proud member of the Horror Writer's Association (HWA) and the Horror Author's Guild (HAG).
Reader insights
Be the first to share your insights about this piece.
Add your insights