Epic Failing when you get payback at a Musical
Part One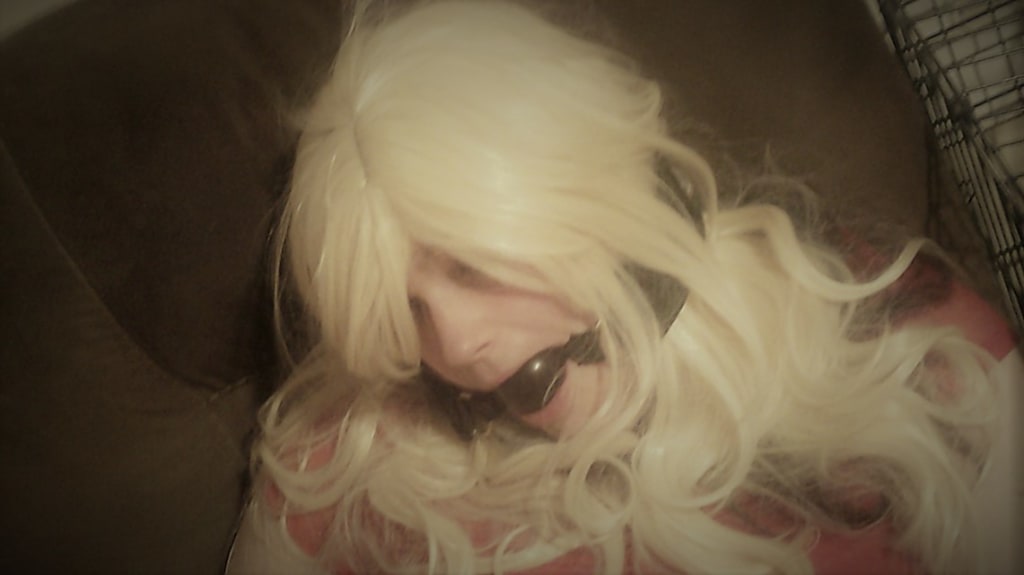 This is just a new cover
In the Godspeed Prison, there's a column of jail cells where those who have turned humans into a Supernatural being or serial killers are. The worse of them was a nineteen-year-old girl named Pearl Garrett, and she's so bad. They bound her wrists as well as those slim ankles with Silver shackles.
She was about to get a visitor, she didn't want. Pearl was worried the guards came out, and the She-wolf had a Ball-gag fitted around her mouth to be transported.
Her binds were removed but then was placed in cuffs for her arms as well as her legs. Pearl had a rope around her neck like something an animal control person would use for a feral animal.
Pearl was pulled into the Visitor's room, a ghost from her past was standing there.
"Hello, Pearl. You want to hear about my day." Olivia said to her, but for this visit to begin, Pearl had to be bound tight in a spread eagle position.
Pearl saw a woman behind Olivia with a knife in her had and a suitcase in front of her. She knew it was Kismet by reputation.
"You couldn't just leave me alone, let me tell you about my day...." Olivia was about to start to talk and then looked down to see Pearl had a Diaper on.
"What happened there?" Olivia asked, and Pearl yelled, "Shut up!"
The two of them laughed their ass off as Pearl struggle to get free and mauled the both of them, but that shock collar made her stop the attempt.
"She was purposely missing the toilet to make everyone complain." The Guard told Olivia, and Pearl growl then got another shock.
When this Actress parks her Car in the Pinnacle City parking lot, a bad memory comes back, and she has to block it out of her mind, or her abilities might show up when it's not needed.
Olivia Luther, she's the lead in the musical, "My Life.", and plays a Diva whose actions from High School to young adulthood lead to someone killing her. As she gets out of her Nissan and looks around, she gets a text...
Have a good rehearsal, I have tickets ready to use...Brooklynn.
The thespian smiles at her Girlfriend's text and opening the Car door, next to her is Bodyguard, Kismet, a Army brat as well Knife throwing mad woman.
Olivia has this bad woman following her because when Pearl was on the loose, she tried to turn Olivia into a Werewolf against her will in this parking lot but failed, the Actress used her abilities to defend herself. She calls it the Death-Defying Note; this is the memory Olivia is trying to block.
"Was that Brooklynn?" Kismet asked.
"She wants me to have a good rehearsal," Olivia answered.
"You'll have a safe one, I could secure that, but as for a good rehearsal you need it because your last numbers were lackluster...In short, it bored me...Just playing...You've hit some sharp notes." Kismet gave her opinion, and so they both went through the backdoor after it was opened.
Director Mariti Trumbull walked to Olivia and Kismet in tiny steps as they went towards the dressing room.
"Olivia, my Love, my star. Kismet, you beautiful amazon woman. Your seat is set, and so is my heart if you ever find yourself single, please take care of our beautiful star as you escort her." She walked off, yelling at everyone in her foreign accent, and Kismet had no words for that exchange. So they walked to the Dressing Room, and everyone greeted them, the lead actor, Corey, gave Kismet a Flower.
"Thank you for watching out for our lead," Corey said and then went out of the dressing room. Just for precautions, she said, "Christo." He didn't turn around. Most Vampires would do that if they were killers, and he wasn't. So she stood outside the door with Knife ready to hurl that sharp, deadly object and then ask questions.
Then another actress comes by, and her name is Michelle Leland.
"I can't believe you are still here, one Werewolf attacks her, and she gets security; I am a star and need protection too." Michelle is actually playing the protagonist in the play and yet is very annoying to work with, just ask the cast.
Kismet just stares at her, and Michelle flips her hair at her then walks in. Olivia is there doing scales, and Michelle walks in, rolling her eyes.
"I don't know why you have to keep your Pit Bull out there," Michelle said, and Olivia was not going to have the Diva try to break her concentration.
The cast member pulled out yet another tea class and pour her Tea in it to begin to warm up. It was this same beverage that "accidentally" was spilled on a dress that Brooklyn gave Olivia to wear on a date. On that same night, Michelle's windows smashed to pieces for some reason, and they couldn't pin it on Olivia.
As Michelle work on her scales, she takes sips of her Tea and is bother because, in her self righteous mind, she believes the lead is hitting sharp notes.
"You are so sharp, it's not even funny, I don't know how Ms. Trumbull sees you as such a star." The young Songstress just ignores her.
She decided to continuously snap her fingers in front of Olivia's face to gain her attention, but it was not broken. After a few more minutes, they were ready. Both Actress walked out, and Michelle made it a point to bump into her hard, she then turned around.
"Go ahead. Come on. Blow me away with that pitchy screech and rip my body apart. Come on! Give me a reason to make you bleed" Michelle gloat her and Olivia wasn't going to do anything.
Kismet opened the door, and Michelle turned around.
"You're leaving, and if you have a problem if that, I'm sure the director would love to hear about this," Kismet told her, and Michelle stomps off. She saw a crystal glass and the Bodyguard motion as Olivia puckered her lips, a low frequency flew out and broke Michelle's tea glasses apart.
"Did you hear her threat?" Olivia asked, and Kismet shook her head yes.
"Hey, Diva. Christo." Michelle flinches a couple of times and then turned around as her eyes became bloodshot red, his fangs came out. She smelled like innocent blood from half-way across the backstage. The Director gasp to see this development, and that created a standoff.
fiction
About the author
I like writing stories and believe that sins as well as tragedies can make you a think
I write about shows and movies from a unprofessional of view.
I could write smut but it's too easy
I am Me
Reader insights
Be the first to share your insights about this piece.
Add your insights