'Crawl' Is the Kind of Dumb, Fun Summer B-Movie That Hits Theaters Once in a Blue Moon
A fun throwback to an underutilised genre is an enjoyable film for any horror fan.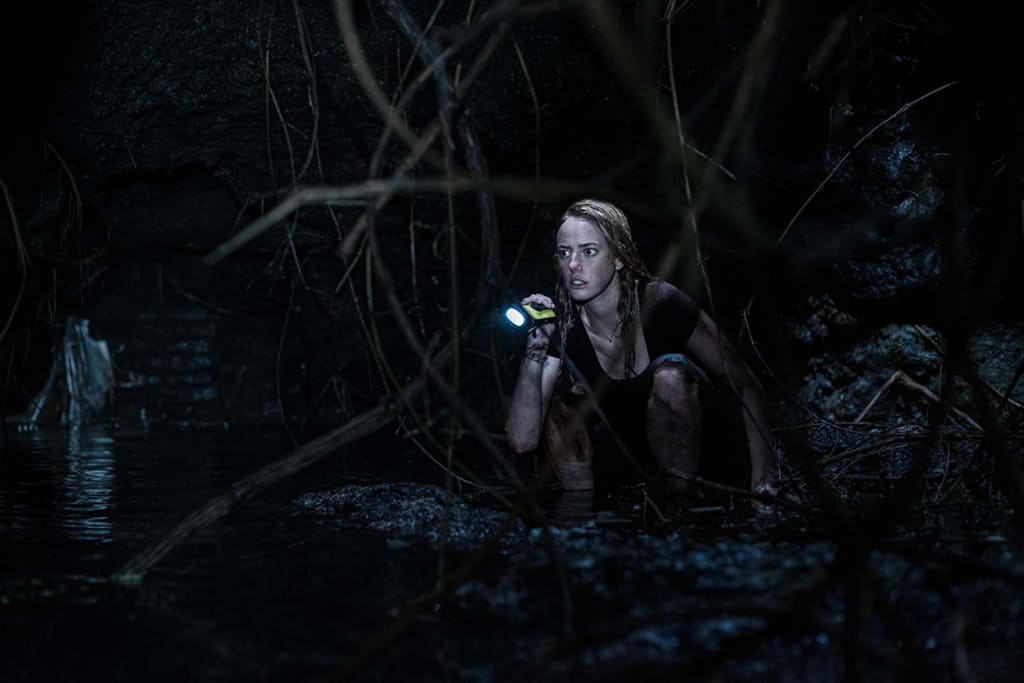 Arriving to UK cinemas at the end of this summer, Crawl has definitely been released at the right time. This film is undemanding, illogical, and silly—and one of the most enjoyable, guilty-pleasure summer blockbusters in years. Yet, it feels weird that a film like this even made it to the cinema. That's not due to quality-level, of course; this film genuinely surprised a lot of critics with its fun and self-aware take on creature-features that are few and far between these days. Of course, there will always be plenty of Jaws knockoffs—this year has seen a sequel to the unintentionally hilarious 47 Meters Down—but Crawl arrives more in the vein of Snakes on a Plane and Piranha 3D. Crawl is also reasonably well-constructed for a low budget film, with some less-than-desirable CGI, with camera angles and shot types that can manage to shock and surprise audiences so accustomed to mainstream horror. Director Alexandre Aja really plays around with his limited amount of locations, cutting back and forth between a handful of characters, and always keeping plenty of background space in view to keep sequences unpredictable, even when characters' actions are obvious and, at times, illogical. It's pretty nifty, and it also knows when not to take itself seriously. Lead actress Kaya Scodelario knows exactly what kind of film she's in, and delivers some pretty on-the-nose dialogue with glee, even when she's completely soaked in gallons of rainwater. Everyone just seems to be doing their best to give their audience some horror-film fun, and it makes the film all the better for it.
The film opens with Haley coming second at her university's swimming competition—a skill very much needed for the latter half of the film, and one which makes her unbelievably invincible through much of the narrative. She comes home to find her dad in the basement, who is unconscious on the floor with a pretty nasty wound on his shoulder. She wraps him in a tarp in an attempt to get them out of the house before a category-five hurricane hits them, but, as always in this genre, she's not alone down there. The pair are trapped in an inconveniently-designed crawlspace that's gradually filling with floodwater, and must escape from drowning and a lot of alligators. Crawl is smarter than some horror films by having its characters know the objectives that will get them to escape, although the pair does spend a lot of time in plain sight, and they walk (and swim) off really serious injuries, like they didn't experience them five minutes ago. But, logic isn't really a main staple in this genre, and what draws people is, of course, the awesome-yet-silly kickass moments. Of course, the film delivers these in abundance. Haley's arm should probably not work when it's in the jaws of an alligator, but it is good fun when she shoots it right down its mouth, or when she parkours over a shower cubicle to trap an alligator, even though it could definitely break the screen she shuts behind it. I haven't yet mentioned how Haley spends a lot of time charging a wind-up torch (that isn't even running out of battery) when she's in a life or death situation. Also, the whole time they're down there witnessing many would-be rescuers getting chomped, their family dog, Sugar, is upstairs in safety, and manages to survive the entire film unscathed. It's so nice to see a horror film so refreshingly and implausibly nice to a dog that it's coated in plot armour throughout the film. To an extent, the protagonists are too, but they struggle through every motion in their efforts to escape. With the tension always ridiculous, it's fun when the filmmakers take it less seriously, and throw in a one-liner.
Buoyed with humour, fun and ridiculous moments, and game-leads, Crawl is a fun, guilty pleasure that doesn't strive to be more than simple summer blockbuster entertainment. By the time "See You Later, Alligator" plays as the credits roll, you'll be sad that you couldn't be an apex predator, for just a little bit longer.