Always Keep the Axe Sharp: Pt. 1
Grampy's Final Lesson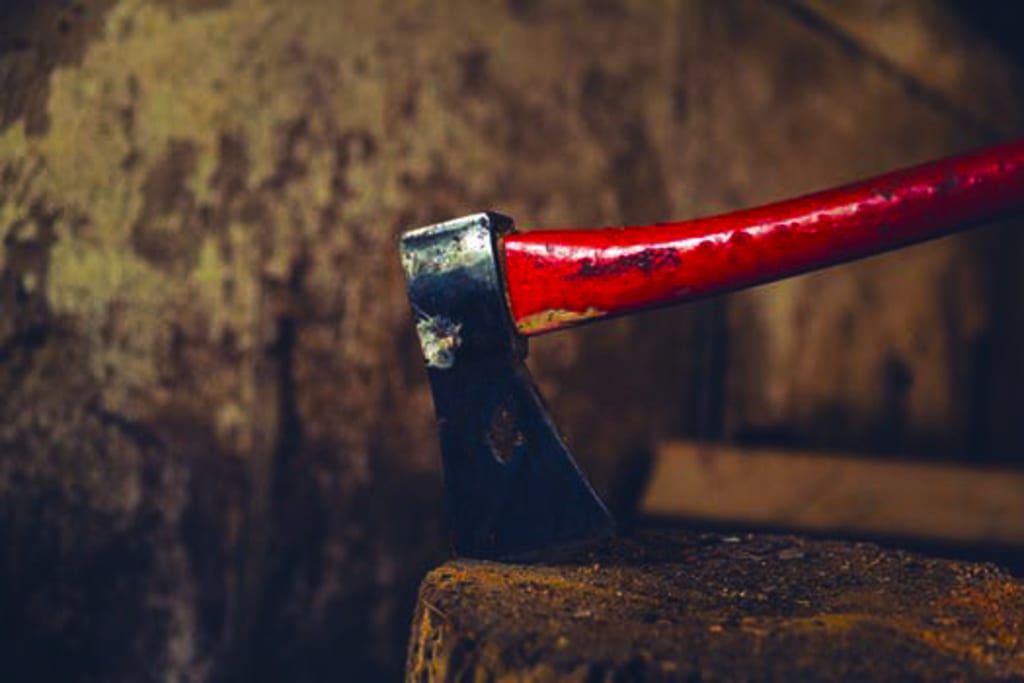 Grampy had a lot of sayings that he would often repeat as lessons, most of them I never truly understood. He spoke in an obsolete vernacular that was often confusing to my ten-year-old self. That and the fact that cancer had taken half his jaw and teeth long before I was born. Probably because of this handicap, he spoke sparingly and when he did it was to convey something he felt was important. I was a child and a late bloomer at that, my mother often commented on how I didn't start talking till I was five or six years old. My childhood memories are scattered, and life on Grampy's farm seems like centuries ago.
We lived there, my mother and I, on and off for the first decade of my life for reasons which always seemed to change at the time. From what I gathered later on my father was not a stable man and for long stretches of time would be out of work, drunk, or institutionalized this was kept from me at the time for reasons I know not. During these periods my mother would return with me to her childhood home and we would stay with Grampy and Grammy on their farm. The farm stunk of dung, and always seemed to have a humidity that hung in the air like stale piss. I remember sweating under the weight of chores I was wanted to help with, what they felt I was capable of.
Grampy was a tall, lean man with wiry muscles, strong from years of farm work, but not visibly so. Under his oversized flannels and overalls, he seemed much smaller than he was. His hair was thin and silver, never tamed and hung about his pale face like vines on a trellis. One of his eyes was milky white with cataracts and useless to see out of but he made due. By the time I was ten he was hunched from scoliosis and walked with a limp and a cane which he drug along the hardwood floors. That sound sent distinct shivers down my entire body when Grampy would come in from the night after finishing the evenings' workload. The stomping of his boots and the scraping of that wretched cane on the floor.
My grandmother was a quiet kind woman with big round eyes and a forgiving face. She would keep Grumpys plate warm in the oven until he would come in for the night. He almost never ate dinner with us, he had too much work to do around the farm Grammy would say, and not enough profit to hire hands to help. Of course, that's where my mother and I would come in whenever we stayed. We would help where we could. I was only a boy but I would help carry firewood, collect eggs from the chickens and various small tasks they would allow me to do.
Grampy was a quiet man, neither harsh nor kind, he moved with the deliberate pace of a man who was resigned to his station in life. He took no joy or discomfort from his life, he just seemed to go through the paces because that's as he had always done. Still, to a small boy, he was an intimidating figure whose maladies made him doubly so. I have to admit that to no fault of his I was quite frightened of him at the time and always loathed the occasions where I was forced to be alone with him. He rarely spoke and when he did the words didn't always come out as he meant them to and they were left to rattle around in his mouth like marbles. When he did speak he spoke in old-timey sayings that he meant as lessons, most of which I have long forgotten.
The one I never forgot, however, the one he held above all others, always getting stern and serious when he spoke it. Making deliberately sure that all the words came out clear... Always keep the axe sharp... He would say with a little wag of his finger. Of course, life on the farm had many uses for such an instrument, chopping firewood, killing chickens for supper, the list goes on and on. For some reason though, this of all Grampys sayings stuck with me even as I was at the age of 11 shipped off to boarding school in Arkham Massachusets.
My father had finally succumbed to consumption and died during the winter of my tenth year. Mother who was always a sensible woman found a new husband who had the means to take care of us so that we'd never have to work on Grampys farm again unless we chose to. I was sent off to boarding school the following fall. It was a welcome change for me as I was weak and never the greatest farmhand. This development seemed to make no difference to Grampy one way or another. He just solemnly went about his daily chores.
I remember my mother telling me to go say goodbye to Grampy the day we left the farm. I found him in the barn across from the main house, it was dark and musty inside, the smell of animals and hay. He sat on a block of wood next to the whetstone, I could see his face lit up by the lantern that hung above him. I walked over to him and told him we were about to leave, he turned to me reaching out a hand. As I took his hand in mine he gently pulled me close and said sternly. "Always keep the axe sharp," and winked at me with his good eye. That was it, my mother and I were off to our new life.
Surprisingly, I took very well to the structured life of boarding school, and before long was top of my class in most subjects. I rarely reflected on my early life as it seemed a million miles from the cloistered walls of boarding school, the dirt, chores and the horrid smells all of it a distant memory. I studied hard and excelled in my classes, and graduated with all the honors one could achieve. I was afforded a full scholarship to the Miskatonic University in Arkham Massachusetts and graduated with a degree in engineering. I soon took up an apprenticeship in Providence where I began to make a life for myself, it was around this time when I received some unsettling news.
I received a telegram from my mother, who was traveling with her husband overseas that Grampy had died, leaving the farm, its grounds and assets to me. I had not been back to the farm since I left it as a child and had not seen Grampy since my Grandmothers funeral several years prior. He seemed unshaken by her passing and said barely a dozen words at the service. Grammy had died in the winter and the ground was too frozen for them to plant her into her grave until the spring, being still in school I was unable to attend her burial. She was laid to rest in a small plot on the farm next to Grampy's parents and grandparents, and his brother who died in childhood.
This news did not come at the best time as I was just settling into my apprenticeship and did not want to leave my post. My employer was understanding however and let have three weeks to return to the farm to get the estate in order. Truth being I had no earthly desire to return to Grampys farm, least of which by my lonesome as the situation dictated. My grandfather's last wishes were to have no church service or formal funeral but to be buried in a simple pine box next to his wife in the family plot. His wishes were carried out on Sunday before I arrived, which suited me fine as I had no wish to see the corpse of my grandfather.
To Be Continued...
fiction
A central Pennsylvania native who has lived in San Francisco, Minneapolis, Gainesville Georgia and now resides in Philadelphia. Scott draws cartoons, designs t-shirts, writes stories, does photography and freelance Graphic Design.