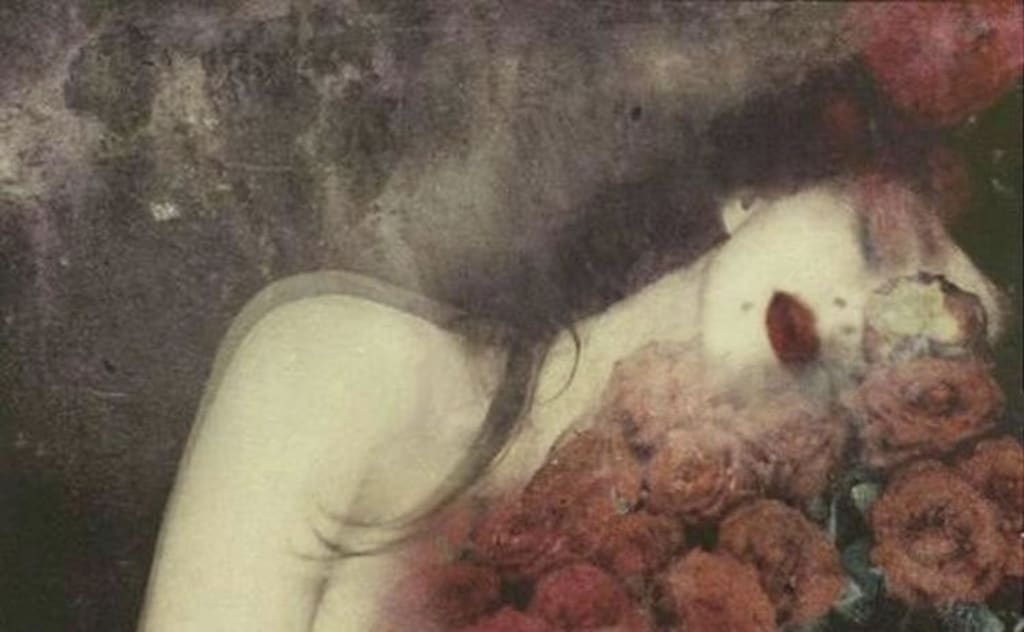 **VIDEO FLASH WARNING**
I can hear the sirens. The shrill echoes envelop me as I dance over a rainbow of neon lights reflecting on the ground. The night is hot, and I ignite as I continue to dance in the memory of a dark summer's day. 
I'll never forget the moment I saw him. He struck me so hard it was as though I saw stars. But the reality is dark. Looking into his eyes, I saw the end. 
With death reflecting in my eyes, I became overwhelmed with an intense toxicity that would soon erupt into a chemical reaction. 
I loved him too much. But is there such a thing as loving someone too much? I would do anything for that man and stop at nothing to have him.
'Darling, know that I be looking to die, so tear my heart out slowly'
He is married. I loved watching them fight, knowing I was the cause. It was as though I were a killer, slain adoration - I say it's good to fall. 
Dear diary, I know it was wrong, but I went beyond it. I love the feel of the rush.
'I know your wife will mind, but baby, that's all right, let the fire ignite. We'll make it out to the other side'
Leaving little love notes was one thing. However, my conversing with his daughter was crossing the line. Why? She and I are friends. But then, what's showing up at his house unannounced?
It was the final nail in the coffin.
He was alone. The whole dwelling was dark except for the effulgent glow of the candles. I moved about the home like a cat, my fingertips softly skimming along the walls that led me to him. 
Dear diary, I do not have a bullshit body count. I have devotion for one man, and it fucking hurts when it's not reciprocated. 
I'm lovesick and consumed by darkness. My mind is destroyed, unstable - null and void. 
The dominant notes of Vanilla and tobacco leaf from his cologne suffocated me sweetly as I came slinking up behind him. I can feel his body heat radiating onto me. My celluloid scenes instantaneously become frenetic, and I envisioned him lying next to me—smoking next to me—
It feels like I'm with God when he's holding me in his arms.
I slowly began to bring the knife up towards his back. Does he know that I would die for him? I would wash away his pain with all my tears. I would twist this knife and bleed my own aching heart for him. 
I would sacrifice everything to make him happy. 
The tip of my blade was just millimetres away from his flesh, ensuring that it wouldn't touch him - But it was close enough that it might just if I let it.
If I can't have you, no one can. I used to think that saying was just a cliche, but it strikes differently now. 
"Let me raise a little hell in your heart; feel the fire through your veins" My whispers make my crush shiver under his skin. 
What followed next was a velvet haze—a whirlpool of opulent destruction. 
Like a trapped doe lit up in headlights, I stood before his Rolls-Royce. 
Am I still the light of your life?
He was laughing; I was running. 
The palm trees softly swaying in the night. 
Flashing lights.
Death reflecting in my eyes.
I can still hear the sirens. They reverberate through the walls. I'm confined to a small space and deemed a danger to others and myself. 
Love can make you do crazy things; that's true. But obsession is worse. Obsession is unhealthy, an unhealthy love, but still a love.
Despite the butterflies being dead, they still live inside me, caged in my ribs amongst my heart. I'll always love him.
He will come to me eventually, shining forth in brand-new skin. He will no longer think looking into my eyes is like looking into a dark mirror.
Dear diary, I'm not unhinged. I'm divine. 
The doctor is coming now.  
Reader insights
Outstanding
Excellent work. Looking forward to reading more!
Top insights
Compelling and original writing

Creative use of language & vocab

Heartfelt and relatable

The story invoked strong personal emotions
Add your insights