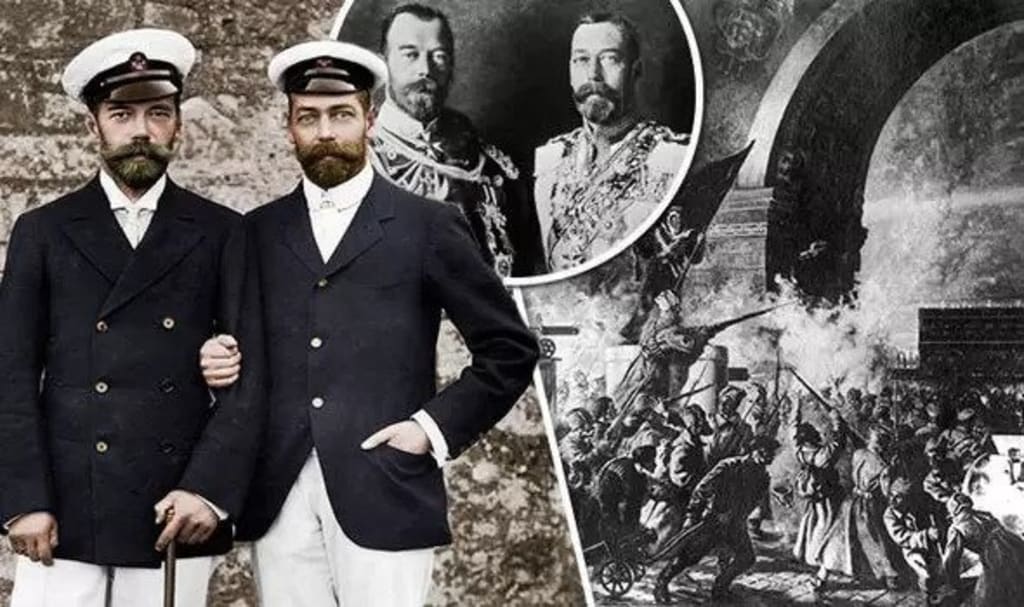 Tsar Nicholas and King George
During these complex and challenging times, a significant segment of the British public, including socialists and republicans, rallied in support of the Russian Revolution. Stamfordham compiled a file titled "Restlessness in the Country," which contained confidential information and various records. These documents, along with millions of other royal records spanning centuries, currently reside in a single file at Windsor Castle.
In the weeks that followed, Tsar Nicholas II of Russia remained hopeful that British Prime Minister Lloyd George would grant him asylum. However, King George V had already made a fateful decision. On April 6, 1917, a royal letter expressing King George's concerns about sheltering the Tsar in Britain reached the desk of Foreign Secretary Arthur Balfour. The letter emphasized the urgent need to rescind the offer of asylum due to growing public displeasure and the potential threat of endangering the British kingdom. Ultimately, the British Prime Minister and the Cabinet withdrew their offer of asylum.
As this decision unfolded, Tsar Nicholas II remained unaware of his cousin's resolve, and Britain prepared to leave him behind. Only six months later, the Bolshevik Party seized power in Russia, and the Tsar and his family met a tragic end. Following these events, Tsar Nicholas's sister, Xenia, and her son, Prince Andrew, were allowed to find refuge in England. Prince Andrew was the father of Princess Olga, who still lives in Kent, London. She shares that Tsar Nicholas always held the British prime minister responsible for denying them asylum, though, in reality, it was King George V's decision.
During this tumultuous time, Lord Stamfordham, the King's private secretary, offered valuable advice to King George and Queen Mary. He urged them to engage with the public to mitigate the risk of rebellion. In the spring of 1917, the Prince of Wales and the future King Edward VIII served alongside their troops on the front lines, earning the respect and admiration of their people. Amidst these complex circumstances, the British royal family was still searching for a new name, and Lord Stamfordham wrestled with this issue until a moment of clarity arrived.
On June 13, 1917, as German planes once again bombed London, King George V stood by a window at Windsor Castle. It was in that moment that the name came to him—the Royal House of Windsor. It was a name that felt undeniably English and eliminated any sense of foreignness. King George expressed his gratitude to Lord Stamfordham for resolving this matter, acknowledging his contribution in a heartfelt letter of appreciation.
World War I came to an end on November 11, 1918, at a tremendous cost, with approximately one million British lives lost. Across Europe, nine monarchs had lost their thrones, including King George's German and Russian cousins. However, the British royal family in London was no longer in danger. Prince Bertie and Elizabeth were wed in Westminster Abbey on April 26, 1923, while King Edward VIII, who ascended the throne after his father's passing, at the age of forty-one, remained unmarried.
In 1934, King Edward found himself entangled in an affair with Wallis Simpson, an American woman with two prior divorces. At the time, royal protocol forbade the marriage of a divorced woman to the King. As a result, King Edward willingly relinquished the British crown on December 10, 1936, to marry Wallis Simpson. Prince Bertie became the new King of Great Britain, retaining the title George VI in honor of his father. The current monarch, Queen Elizabeth II, is the daughter of George VI. She ascended to the throne on June 2, 1953, and remains the reigning Queen, both of Great Britain and the Commonwealth of Nations, celebrated and revered worldwide.
About the Creator
Let me submit, writing and solitude are essential. Writing is not possible in Mahfil Yaran. Why a person writes, how he writes, why he thinks, nothing can be said with certainty.
Reader insights
Outstanding
Excellent work. Looking forward to reading more!
Add your insights